A proposal to add a so-called greenway for cyclists and introduce pedestrian-focused safety measures on a Lincoln Park side street has sparked an outpouring of attention from neighbors.
The bikeway would run along Dickens Avenue, just north of Armitage Avenue, from the Lincoln Park Zoo west to Clybourn Avenue.
While Dickens is a one-way street for vehicle traffic heading westbound, the city proposal includes adding a contraflow bike lane, allowing bicycle traffic to head both east and west. The city says similar bikeways in other neighborhoods have increased bike traffic and decreased crashes.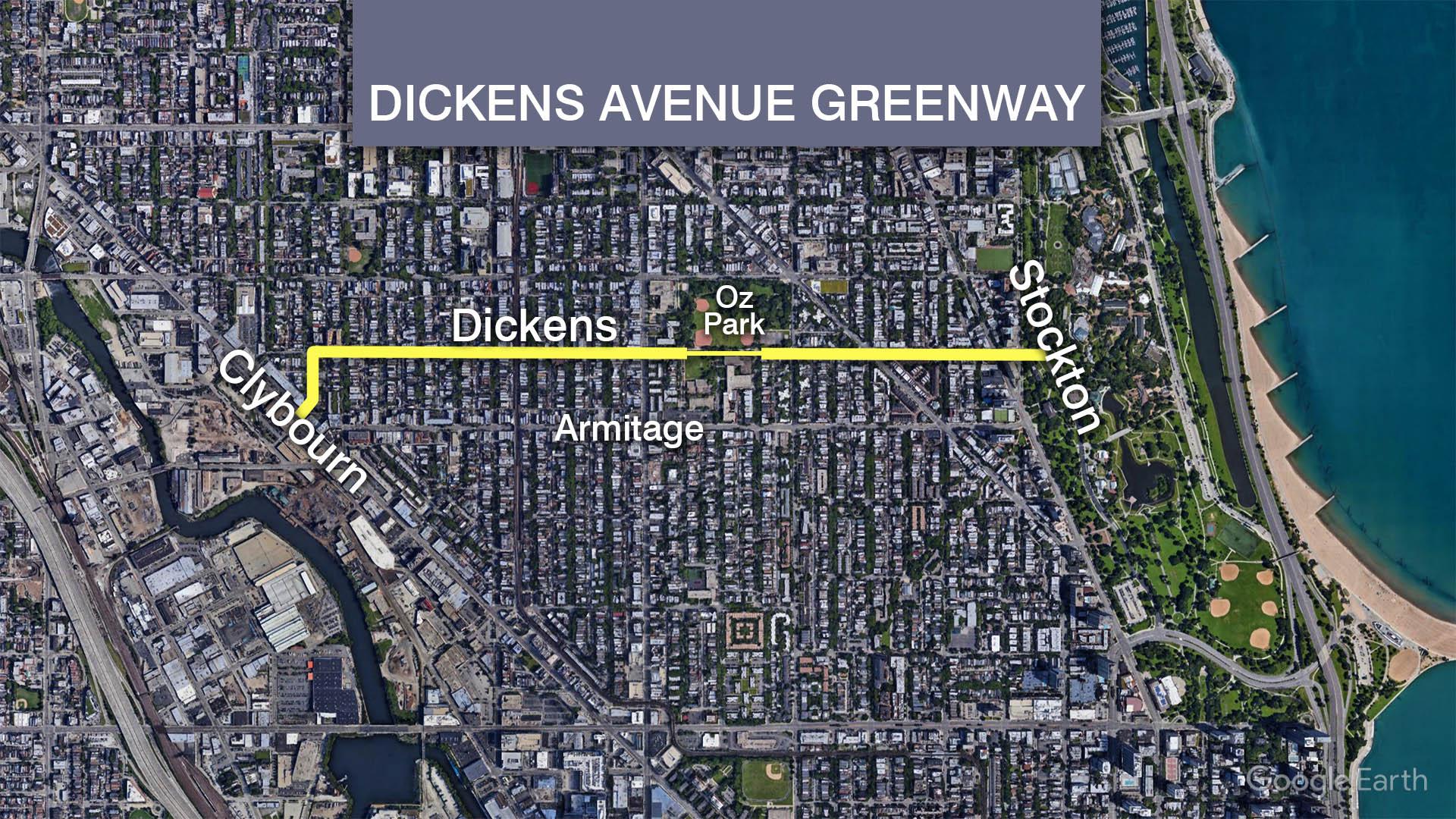 "It's important to build infrastructure that supports all of us, including creating bikeways for safer riding for cyclists … so that everyone who uses the roads knows exactly what to do, what's expected of them, and who's on the roads," said Lincoln Park resident Stephanie Sims, who circulated a petition supporting the proposal.
The proposal also includes pedestrian-focused safety efforts, including raised crosswalks and "bumpouts" that make curbs larger near crosswalks, slowing traffic and reducing the amount of time pedestrians are in the street as they cross.
Longtime resident Gary Sinclair is concerned the greenway will bring additional traffic to a quiet side street, and thinks more bicycle traffic will make the street less safe. "I see cyclists disobeying traffic laws all the time, going through red lights and stop signs, and the enforcement really doesn't happen," Sinclair said. "And of course, there's already bike lanes on Armitage a block away."
But greenway supporter Sims says while that's true, Armitage is a heavily traveled commercial corridor that many cyclists don't feel safe using. "A few weeks ago, I was a witness to a crash on Armitage involving a cyclist that was doored by a delivery truck," Sims said.
Sinclair also opposes the greenway because it would take cyclists through Oz Park, which bisects a portion of Dickens Avenue. But Sims says cyclists are already riding through Oz Park, so creating signage will educate all park users and improve safety.
While there are only a handful of similar greenways around the city, the Chicago Department of Transportation says it's seen increased bicycle use at each of them, and a decrease in crashes at nearly every one.
CDOT and the office of Ald. Michele Smith (43rd Ward) are gathering feedback from residents. If the plan is approved, CDOT says construction wouldn't happen until 2021 at the earliest.
---
Related stories:
Chicago Rolls Out Plan to Curb Deadly Traffic Accidents
Bus Driver Fired, CTA Sued After Cyclist Struck by Bus in River North
Activist Calls for Racial Equity as Transportation Revolution Looms
---