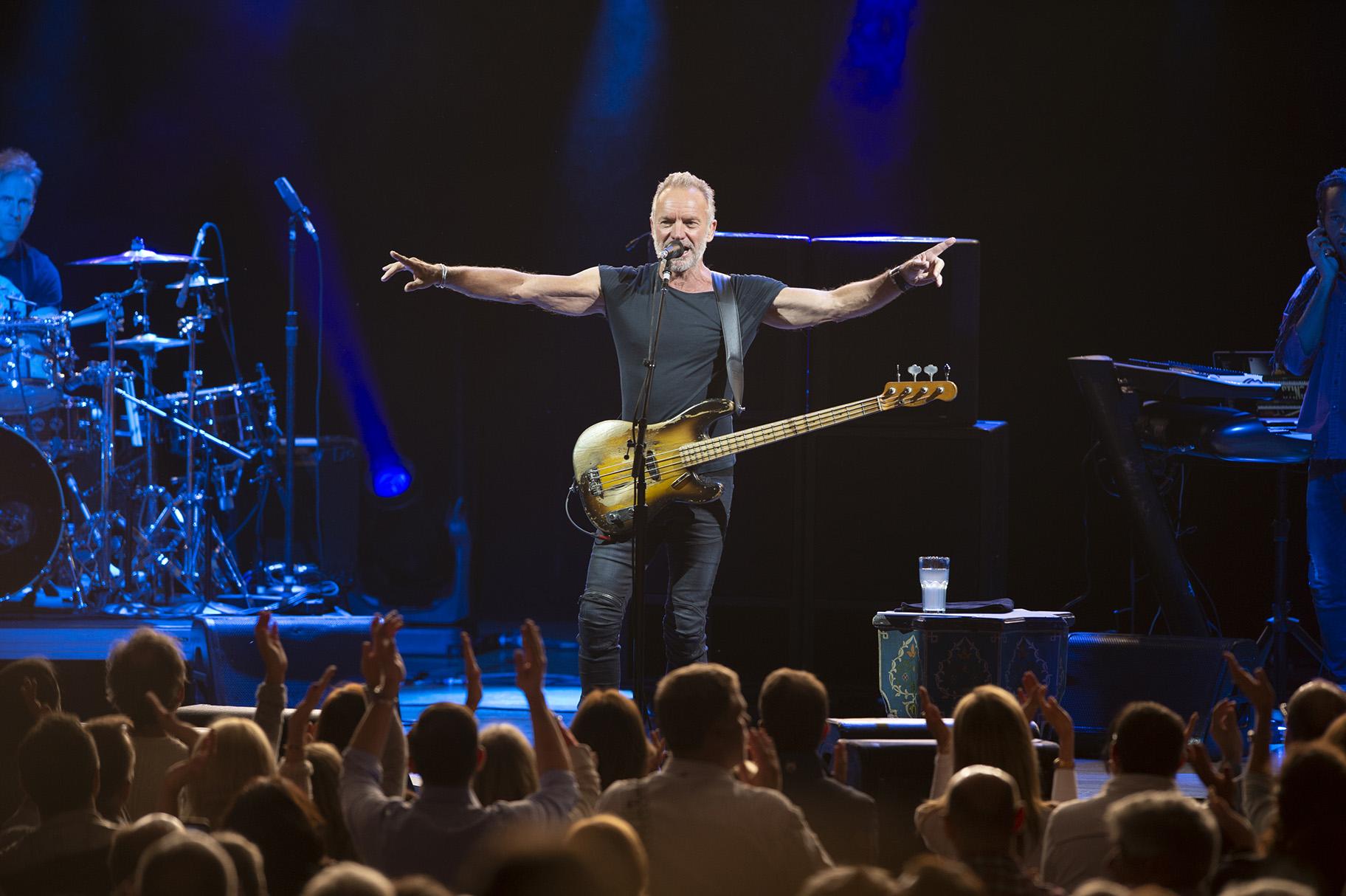 Sting performs at the Ravinia Festival Pavilion as part of his "My Songs Tour." (Ravinia Festival / Patrick Gipson)
It was an ideal summer evening this past Friday when a certain Englishman by the name of Sting drew a capacity crowd of 16,000 people to the Ravinia Festival's Pavilion and lawn for the first of two concerts.
Dressed in a black muscle T-shirt and skinny jeans, and sporting a neatly trimmed salt-and-pepper beard, the English superstar and 17-time Grammy Award winner arrived onstage amid a flash of theatrical lights and mobile phone flashes. And despite badly over-amped sound on the evening's two opening songs ("Message in a Bottle" and "If I Ever Lose My Faith in You") he quickly moved on to perform an impeccable set of 20 of his most iconic songs that suggested why he has remained such an enduring musical artist for more than four decades.
Nearly all of the songs on the program were drawn from "Sting: My Songs," an album released this past May that features remixed, reimagined and "re-contemporized" versions of some of his greatest hits from his years with the Police, plus some solo favorites. The current "My Songs Tour," which follows up on that release, began in Europe, will run in the U.S. through Sept. 2, and will then resume in May 2020.
There is a seductive beauty to both the music and lyrics of Sting's songs, most of which deal with love, whether restorative, unattainable, obsessive, anguish-inducing or, as the final song of the concert explained, painfully "Fragile." And now these songs (which have retained the essence of their original orchestrations), come back to life with a slightly darker and raspier, but still fully pliant voice that is at once fervent and wistful. As always, the musicianship is flawless, with Sting on bass guitar; his veteran guitarist Dominic Miller teaming with his son, Rufus Miller, also on guitar; Josh Freese on drums; Kevon Webster on keyboard; the boyish Shane Sage on harmonica; and the wonderfully golden-voiced Gene Noble, along with Melissa Musique, as ideal backup vocalists.
Happily, the sound balance was finessed by the time Sting got to his third song, the gently aching and self-aware "I'm an Englishman in New York" – a song that winningly suggests the sense of being an outsider, and now, at a moment of immigration chaos, takes on an even deeper resonance.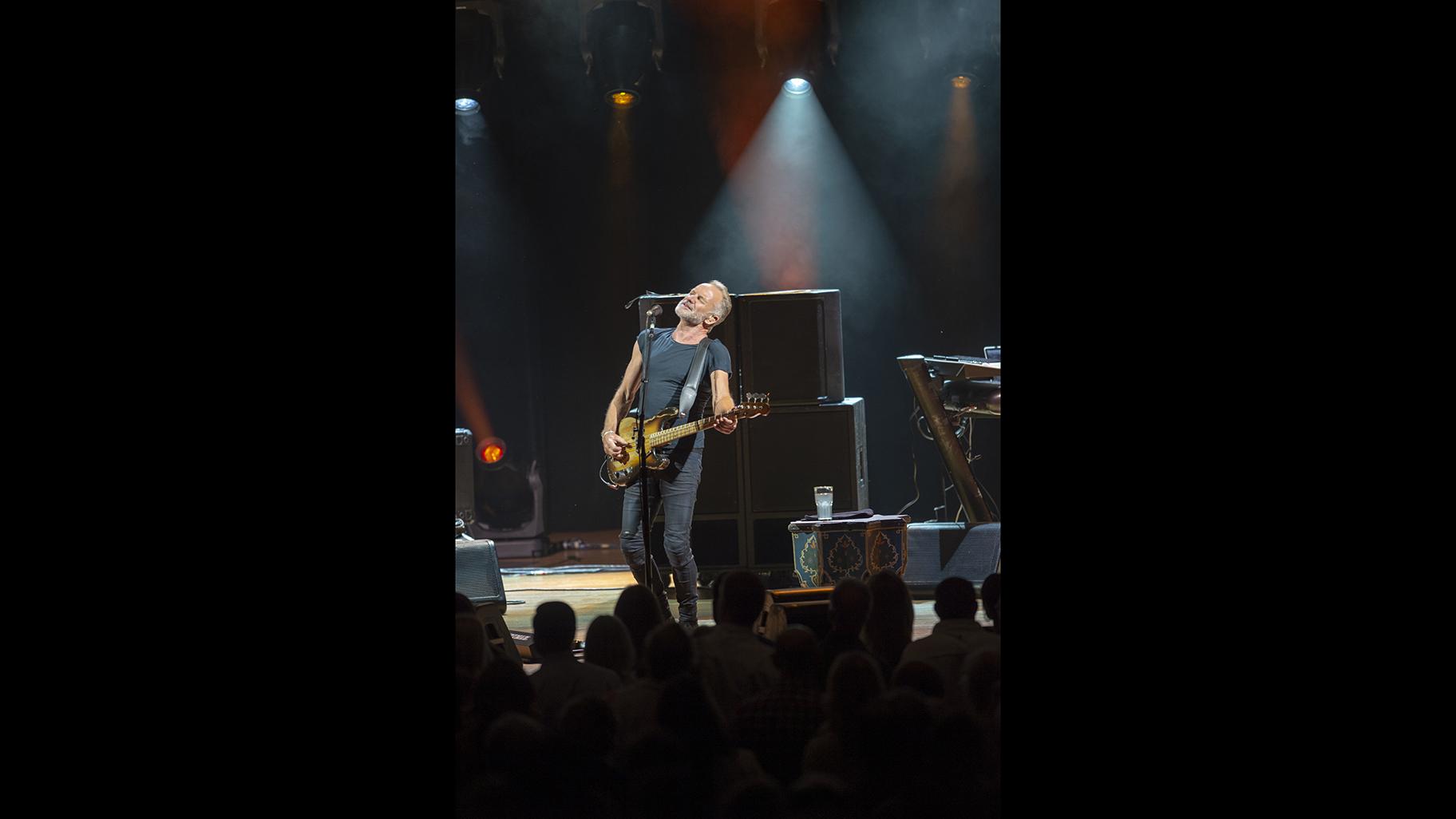 Sting performs at the Ravinia Festival Pavilion. (Ravinia Festival / Patrick Gipson)
Turning to the matter of personal relationships there was the subtly torchy song that offers this advice: "If You Love Someone [set them free]." And then came "Every Little Thing She Does Is Magic," whose propulsive beat and repetitive lyrics captured the feelings of a man so crazily enthralled with a woman that he is almost paralyzed with fear and excitement.
Sage's harmonica (echoing Stevie Wonder's work on the original recording) came into play in the impassioned "Brand New Day," a song about a love affair on the rocks that makes a fervent case for staying together and starting over, and includes the line, "You're the wound, I'm the suture."
A richly funky percussive beat drove "Seven Days," a song full of both the fear of commitment to a woman he loves, as well as the sense that another man is poised to step into the void. And then it was on to the lyrical "Fields of Gold," with a melody and lyrics so poetic it brought to mind the Renaissance poet/musicians Sting has championed.
In quite a different mode there was "If You Can't Find Love (Then how you going to find yourself?)," written with the Jamaican-American singer-songwriter Shaggy, and infused with a laid-back reggae beat.
The irresistible "Shape of My Heart" – the confession of a true romantic who can describe love as having "the sacred geometry of chance" – showcased Noble's fine singing. And the lightheaded feeling of being in love and "walking back from her house" sent "Walking on the Moon" into a rhythmic orbit. But it was not all sweetness and light as Sting conjured the edgier (though not entirely naive) feelings of a young man caught in the web of an older woman in "Wrapped Around Your Finger," and the constant refrain of emptiness in "So Lonely."
In many ways the most alluringly beautiful song of the night was "Desert Rose," with its dreamy, searching, easily seductive Middle Eastern vibe – an example of Sting's intriguing segues into the "world beat" arena. Talk about "sweet intoxication."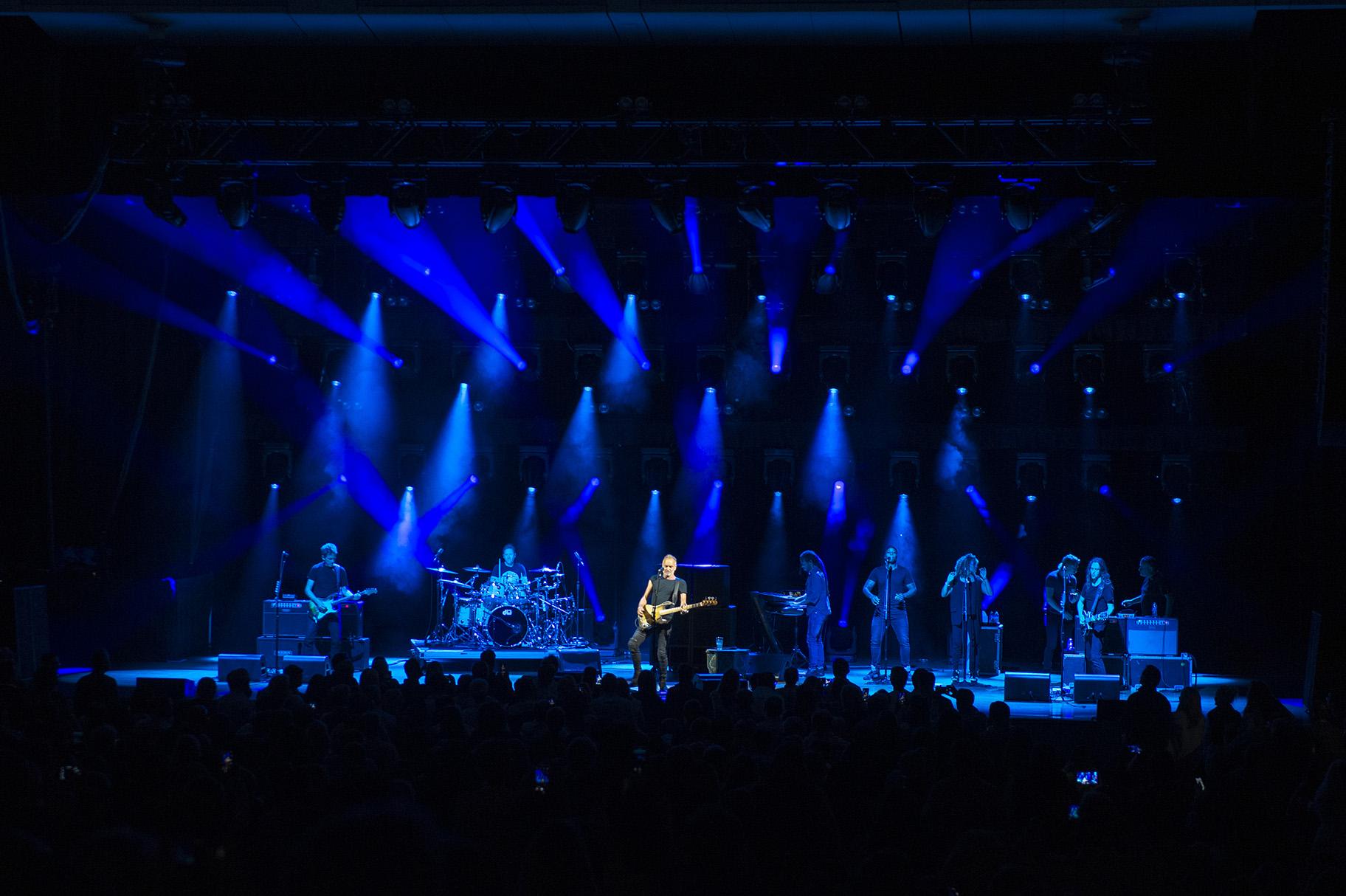 Sting performs at the Ravinia Festival Pavilion. (Ravinia Festival / Patrick Gipson)
And then it was on to "Roxanne" (quite a different story than the one in "Cyrano de Bergerac," and infused with taunting red lights), and "Every Breath You Take," which some have dubbed a "stalker song." Yes, it is a bit creepy, but it also brilliantly catches a certain frame of mind. So does "King of Pain," a sort of male antidote to the songs in the hit British musical "Six."
To wrap up there was the classic hard rock anthem, "Next to You," ("I had a thousand girls or maybe more/But never felt like this before"). And then came the takeaway song, "Fragile," about the end of a tumultuous love affair and it's lasting impact. "For all those born beneath an angry star/Lest we forget how fragile we are."
Words that reach far beyond a single wounded heart, to a wounded world.
My one disappointment with the concert was this: While Sting clearly wanted to maintain the thematic unity of this revised retrospective of his newly released album, he missed a golden opportunity to remind (or introduce) his mainstream audience to his other musical adventures – his championing of John Dowland, the Elizabethan-era composer, and, more recently, his superb musical, "The Last Ship," which set sail in Chicago in 2014, but unaccountably never caught wind when it moved to Broadway. The good news is this: That show, which has a gorgeous score (and now comes with a revised book and new director) is scheduled to be remounted in Los Angeles this winter (running Jan. 14-Feb. 16, 2020 at the Ahmanson Theatre), with subsequent touring stops in San Francisco, Washington, D.C.; St. Paul, Minnesota; and Detroit. And Sting will play the role of shipyard foreman Jackie White at all performances.
Follow Hedy Weiss on Twitter: @HedyWeissCritic
---
'Into the Woods' a Musical Reminder to Be Careful What You Wish For
At Ravinia, Russian Piano Master Pays Spellbinding Homage to Another
At Teatro Zinzanni, Life is an Old-World Cabaret, Circus, Comedy and Restaurant
---