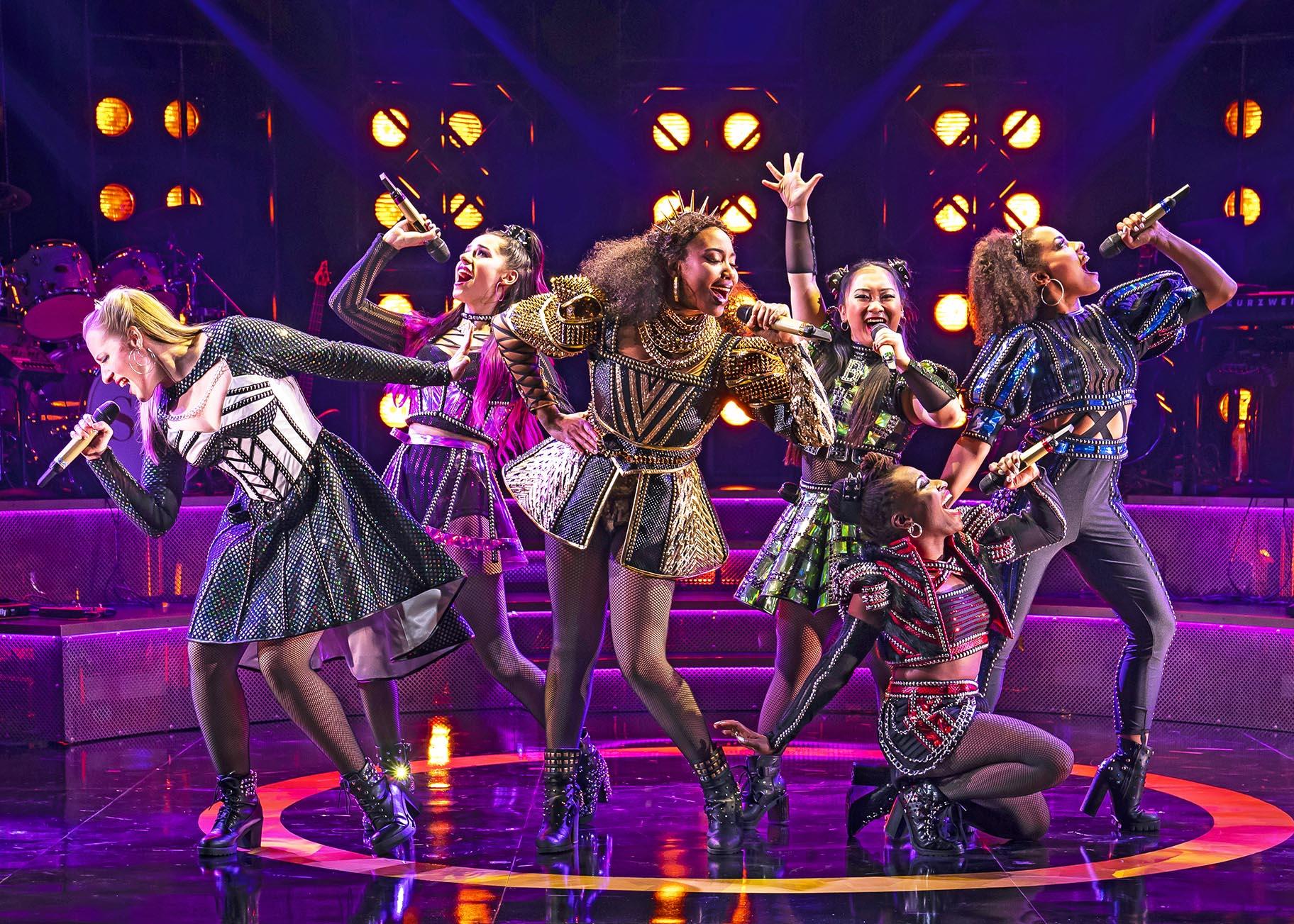 From left: Abby Mueller, Samantha Pauly, Adrianna Hicks, Andrea Macasaet, Brittney Mack and Anna Uzele in "Six" at Chicago Shakespeare Theatre. (Photo by Liz Lauren)
Forget about spending your last dime for tickets to The Rolling Stones' concerts at Soldier Field next month. Instead, check out the fire-breathing female royalty of "Six," the sensational musical now receiving its North American premiere on the stage of Chicago Shakespeare Theater's The Yard. And watch as the sextet of King Henry VIII's wives – variously divorced, beheaded, dead of natural causes or widowed – tear it up to the roar of an all-female band as they finally get their #MeToo moment.
Already a sensation in Brexit-land, "Six" – with a knockout score by Toby Marlow and Lucy Moss, dynamite direction by Moss and Jamie Armitage, and powerhouse music direction by Roberta Duchak – now features a cast of five Americans (and one Canadian) who could easily compete with the biggest pop stars of the moment, from Beyoncé and Adele, to Rihanna and Ariana Grande. And before going any further there is this note to the men in the audience: The fabulous voices and flashy eye candy of these exorcised "Tudor queens" will easily distract you from any sense of discomfort or guilt.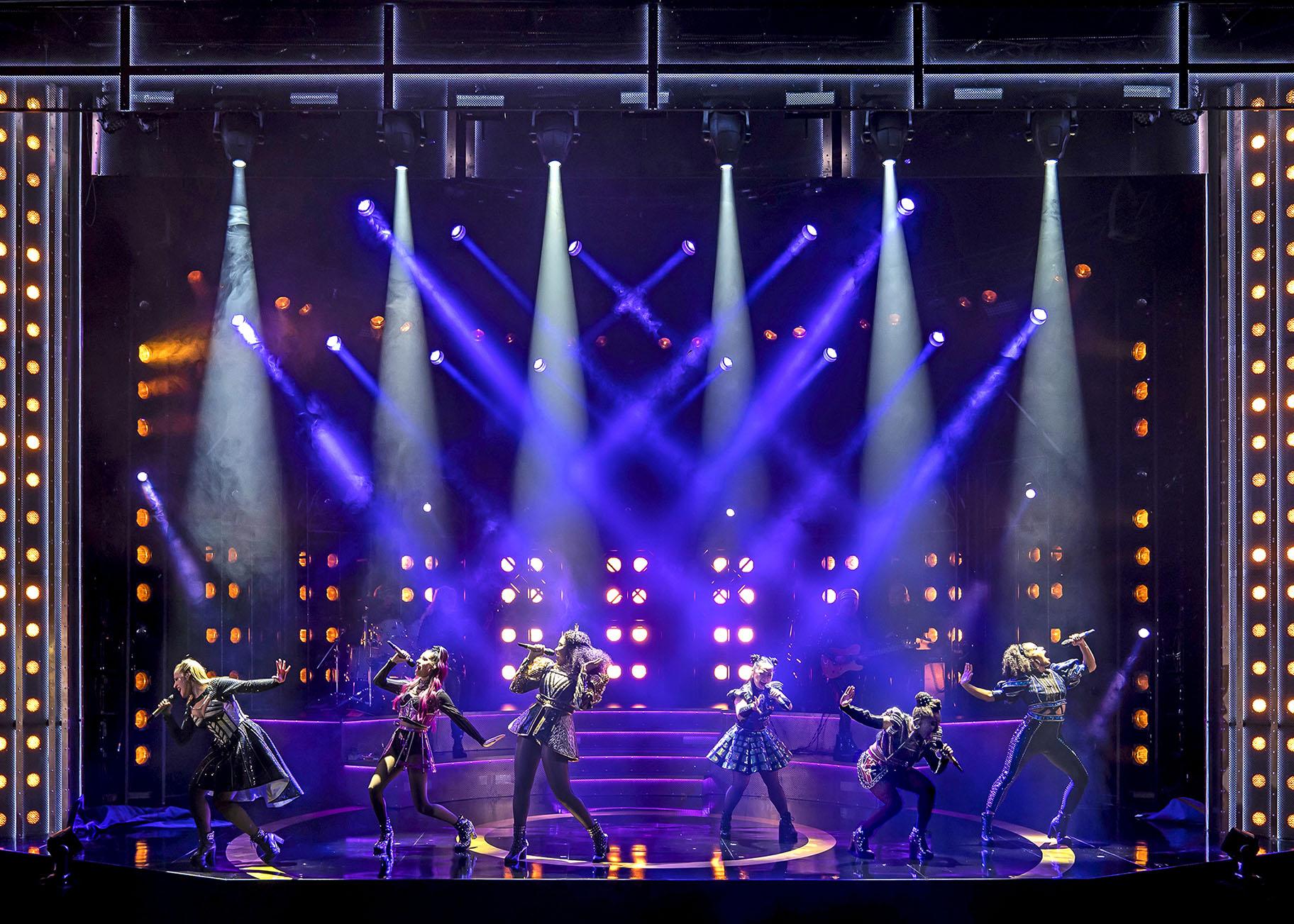 From left: Abby Mueller, Samantha Pauly, Adrianna Hicks, Andrea Macasaet, Brittney Mack and Anna Uzele in "Six." (Photo by Liz Lauren)
The premise at work in this volcanic 85-minute, high-drama rock concert is this: More than five centuries after they've met their various fates, Henry's ex-wives have come together to reckon with history, compete for attention and set the record straight.
As it turns out, they are very much forces to reckon with, with each performing a soliloquy-in-song (with exceptionally clever lyrics) that ideally fits their nature and their history with Henry. True, they tend to portray themselves as angry victims of the king's whims, but in their latter-day incarnation they can unquestionably hold their own. And not only do they discover that in unity there is power, but they come to realize that in many ways time has rendered them more famous and powerful than their husband.
Starting things off is Catherine of Aragon (the volcanic Adrianna Hicks), who was imported from Spain, spent seven years in prison before becoming Henry's first wife, was married to him for the longest time (24 years), refused to be "replaced," and finally saw the marriage annulled.
Andrea Macasaet, center, performs "Don't Lose Ur Head" in "Six." (Photo by Liz Lauren)
Next comes Anne Boleyn (petite, sharp-edged Andrea Macasaet), the temptress who could play the same game as Henry, and some say became the most famous of the wives. As it happened, she lost the game, but gained considerable attention because she was beheaded.
Suffering mightily (and silently) for what she says was her true love for the king, is Jane Seymour (Abby Mueller, who sings the show's beautiful, torchy ballad, "Heart of Stone," with a passion that also makes ideal use of her distinctive voice). Seymour died in childbirth, and left an all-important male heir.
Anna of Cleaves (hot and spicy Brittney Mack), is the German girl whose portrait, painted by the masterful artist Hans Holbein, left the king thinking she was not pretty enough to marry. But he did, and she was "lucky" enough to get an annulment and survive.
Katherine Howard (leggy Samantha Pauly, who movingly chronicles her youthful use and abuse by the many men whose lust she mistook for love), is another queen who was executed.
And last but not least, there is Catherine Parr (the stunning, charismatic Anna Uzele), who had no choice but to end things with the man she adored, and was forced to marry Henry. She sings the defiant "I Don't Need Your Love," and then becomes Henry's widow – a survivor who understands the joint power of "the six."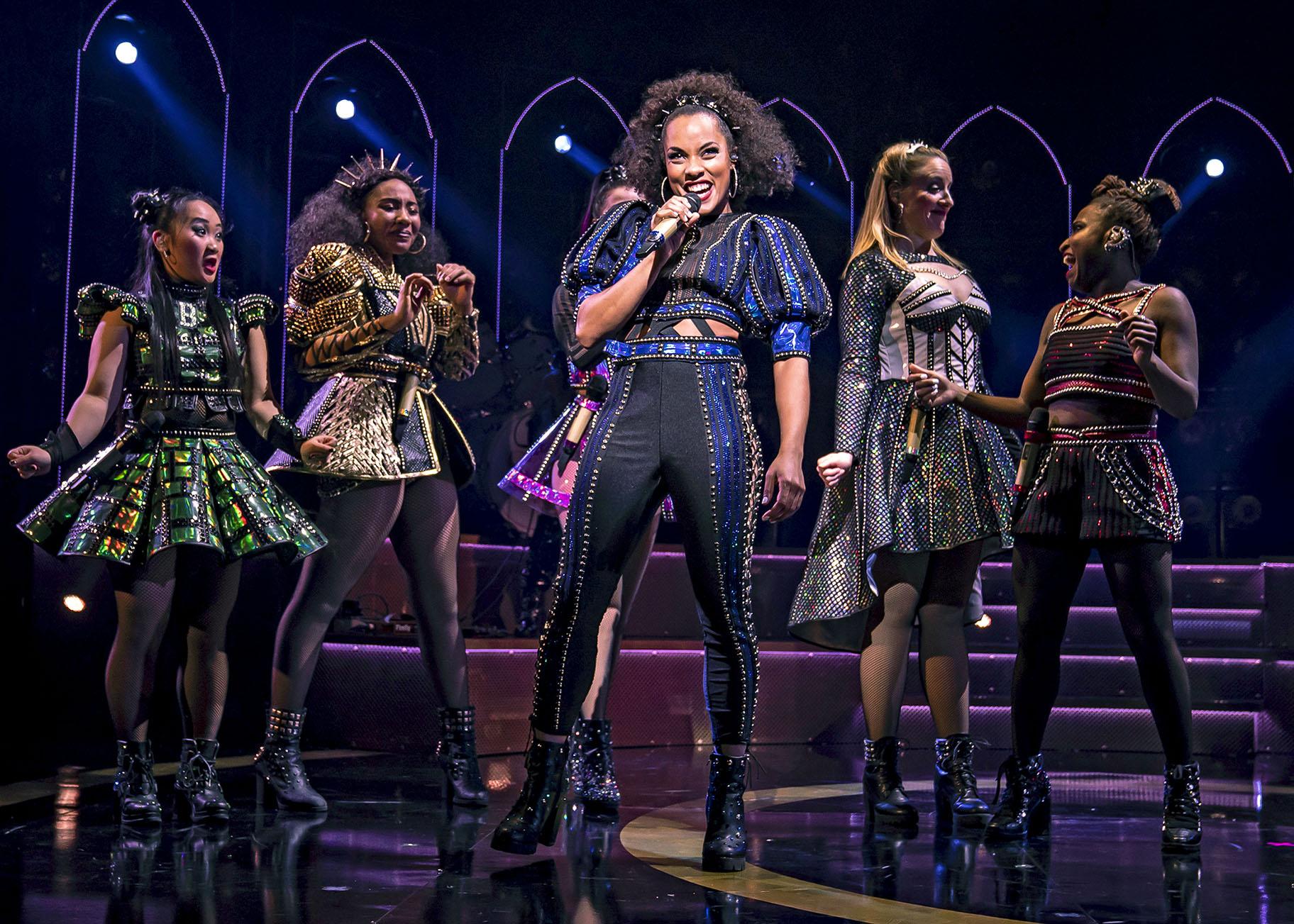 Anna Uzele, center, performs "I Don't Need Your Love" in "Six." (Photo by Liz Lauren)
Gabriella Slade's glittering costumes are an inspired mix of 15th century shapes and grandeur and 21st century sexiness, with Tim Deiling's arena-style lighting adding to the rock and roll buzz of it all.
And then there's the terrific back-up band, dubbed "The Ladies in Waiting," whose musicians wait for nothing as they beat out their own powerhouse feminist message with Julia Schade (as conductor/keyboardist), Kimi Hayes (on guitars); Stacy McMichael (on electric bass); and Sarah Allen (on drums).
Aside from his many wives, Henry VIII is known as the king who promulgated the doctrine of "the divine right of kings" whose absolute authority comes from God rather than his subjects. Little could he have imagined that one day his wives would join forces to set him straight, or at least star in a show ready to head out on tour, or travel by gilded carriage straight to New York.
"Six" runs through Aug. 4 at Chicago Shakespeare Theater's The Yard, 300 E. Grand Ave. on Navy Pier. For Tickets ($32-$62) call (312) 595-5600 or visit chicagoshakes.com. Running time is 85 minutes with no intermission.
Follow Hedy Weiss on Twitter: @HedyWeissCritic
---
'Bloomsday' a Breathtaking Play About Time, Love, Regret and Fateful Decisions
Saul Bellow's 'Augie March' Inspires a Theatrical Masterpiece at Court Theatre
In 'Next to Normal,' Mother's Mental Illness Wreaks Havoc with Family's Health
---