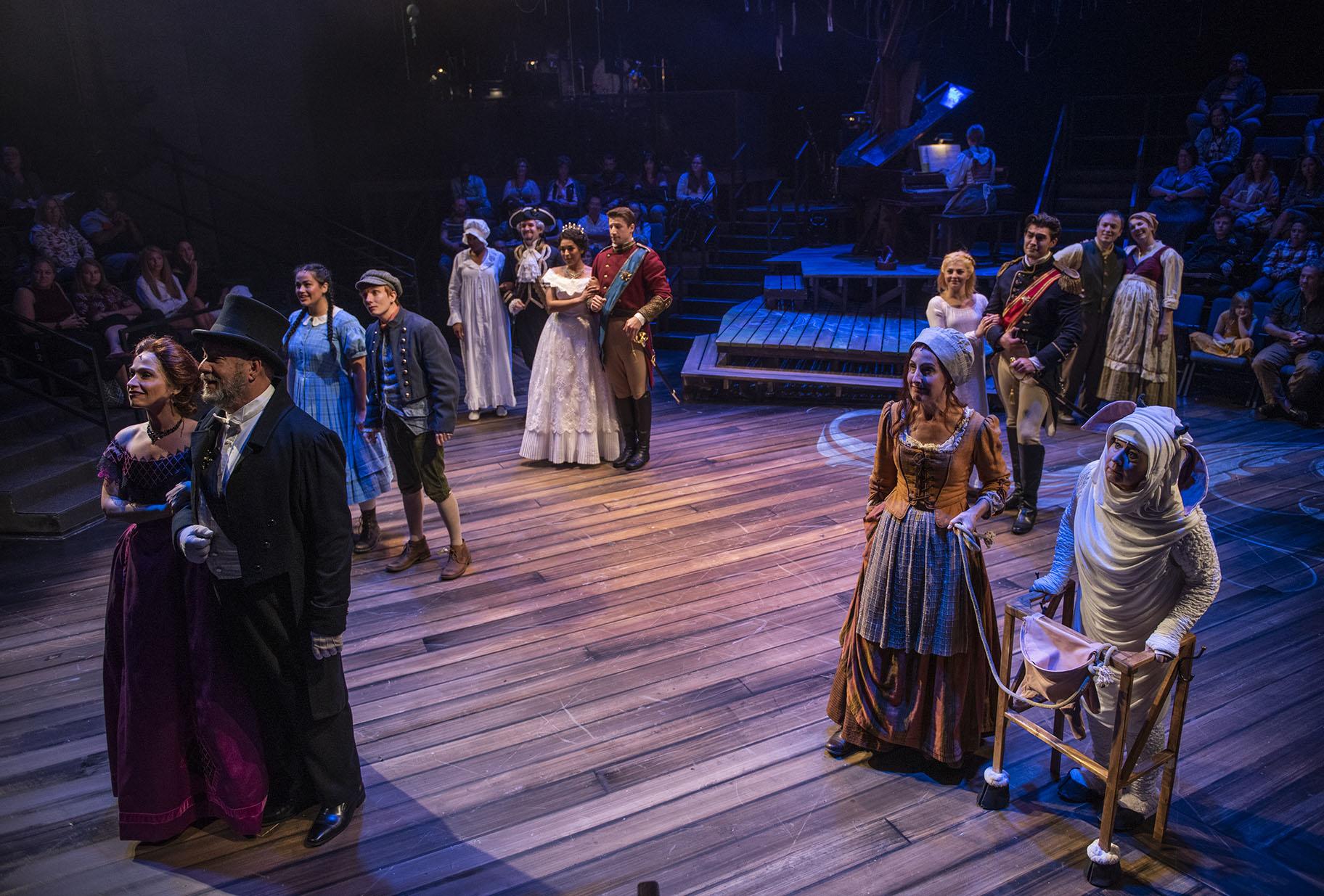 The cast of "Into the Woods." (Photo: Michael Brosilow)
Stephen Sondheim will turn 90 in March, and to make a list of the musicals he has created as both lyricist and composer is to chart the history of the Broadway musical from the mid-20th century on. It is a stunning achievement, and even the quickest scan of the list is to be reminded of the extraordinary virtuosity and variety of his work – from the 1950s streetwise lyrics of "West Side Story," and on to the sophisticated verbal and musical classicism of "A Little Night Music," the edgy urbanity of "Company," the haiku-like musical poetry of "Pacific Overtures," the very different operatic fires lit by both "Sweeney Todd" and "Passion," the pointillist magic of "Sunday in the Park with George," and the aptly twisted rants of "Assassins."
"Into the Woods," with a book by James Lapine that interweaves (in a decidedly adult way) the quests of characters drawn from a slew of familiar fairy tales by the Brothers Grimm and Charles Perrault, has become one of Sondheim's most popular works. Yet it is nothing at all like the often simplistic, wide-eyed Disney versions of those tales.
The musical, which debuted on Broadway in 1987, opened Wednesday night at Writers Theatre in a sophisticated, powerfully sung, highly individualistic, environmentally enveloping production directed by longtime Sondheim aficionado Gary Griffin. And it skillfully taps into both the blackly comic and tragic elements of the desires that drive the show's many characters – some of whom are trapped in complex marriages, others who are caught up in troubled parent-child relationships, many who find themselves in moral quandaries, and all who move through different stages of innocence and experience that are at once painful and liberating.
Along the way comes this revelation: That more often than not what we think we want most in life doesn't always turn out to be the source of "ever after" happiness. And adding to all the personal cataclysms that can upend a life there are the more "giant" quakes that cannot be controlled.
And so it is for the Baker (Michael Mahler) and his wife (Brianna Borger), who yearn to have a child, but are plagued by the curse of a Witch (Bethany Thomas) that has rendered the Baker impotent. If she is to lift the curse the couple will have to venture "into the woods" in pursuit of the four items she commands them to collect in just three days. And while their quest for these things brings them closer together, it also causes great pain to others, and at times challenges the Baker's essential impulse to do no harm.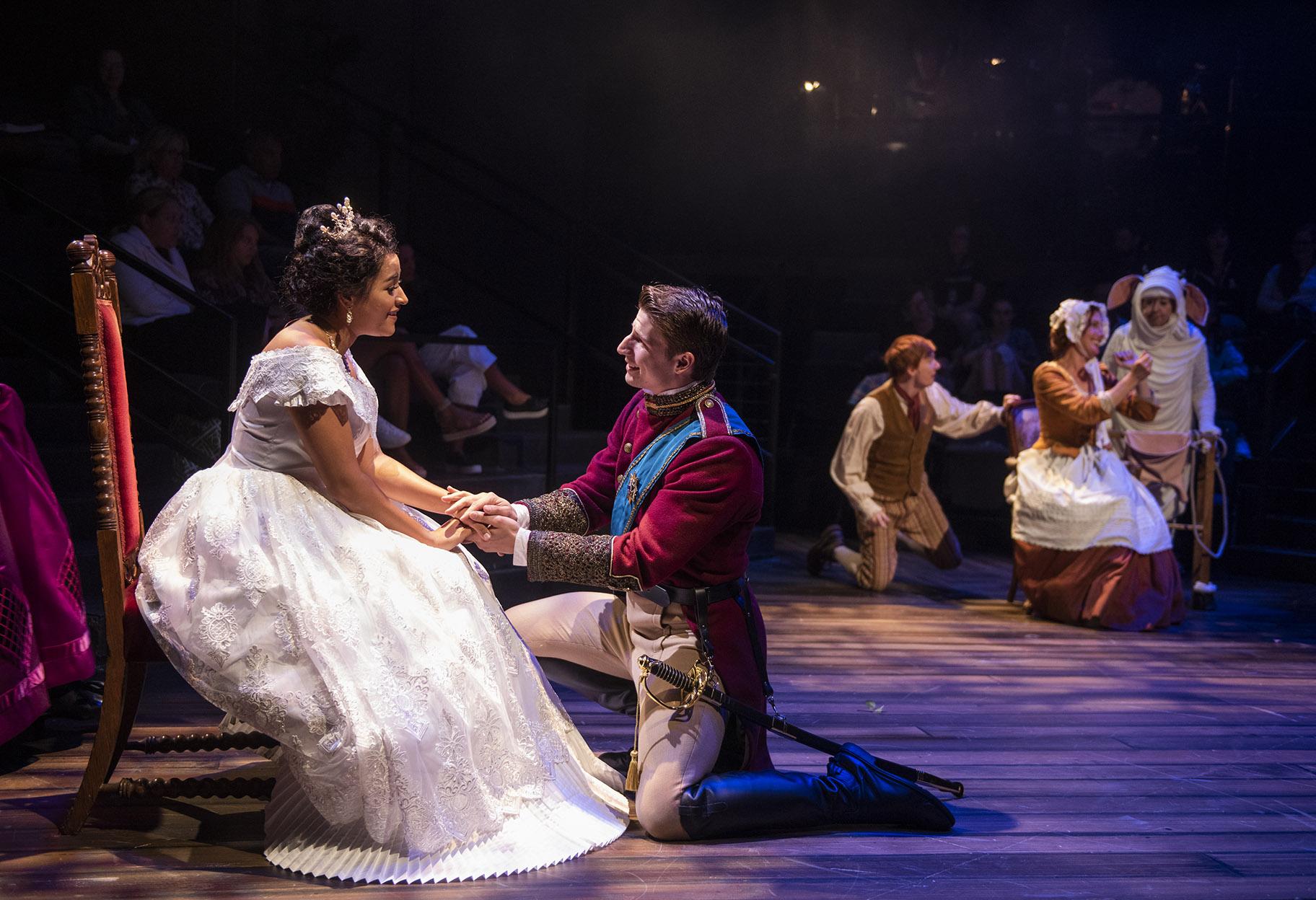 Ximone Rose and Ryan McBride in "Into the Woods." (Photo: Michael Brosilow)
Also on a journey is the much-abused Cinderella (Ximone Rose), who wants very much to go to the royal festival despite being disparaged by her nasty stepmother (Kelli Harrington), and stepsisters (Nicole Armold and Molly Hernandez). She manages to attend the festival and is relentlessly pursued there by a Prince (Ryan McBride) who she initially eludes, and then commits to, only to discover that he is less faithful than she expected. Meanwhile, the Witch keeps the kidnapped child, Rapunzel (Cecilia Iole), locked away in a tower, where she suffers from terrible isolation. And when another Prince (Alex Benoit) attempts to rescue this girl with the long yellow hair, her mother sends her into exile, condemning her to yet worse loneliness. (The sibling princes do a first-rate job with "Agony," the hilarious song about thwarted romance.)
And then there is the matter of Jack of beanstalk fame (Ben Barker), the simple, warm-hearted son of an impoverished mother (McKinley Carter) who forces the boy to sell his beloved cow, Milky White (Mary Poole), so they can both survive. Heartbroken, he exchanges the cow for nothing more than a handful of so-called "magic beans," and the promise that some day he might be able to buy back his four-legged friend. Later he gets into big trouble with "a terrible Giant in the sky."
And finally there is Little Red Riding Hood (Lucy Godinez), who just wants to devour sweets on her way to visit her grandmother, but ends up being "eaten" by a Wolf (Matt Edmonds) with a twisted appetite for underaged girls. Little Red survives, confessing that she was both excited and scared by what she experienced.
With a Narrator (a professorial Michael Halberstam) to periodically help trace the various ins and outs of the plot, and a Mysterious Man (the always deft William Brown) arriving to add a bit of droll commentary at moments, the musical's first act ends on a mostly upbeat note. But "later," as the second act begins, things are already starting to fall apart, and a Giantess, angry at Jack's murder of her destructive husband, is wreaking vengeful havoc in the kingdom.
The show's second act is a bit of an overly plotted muddle. But Sondheim's largely sung-through score is at once so brilliant – both verbally (with the actors' impressive diction doing full justice to the lyrics), and musically (with bear operatic demands at times), that it hardly matters. And in a show where every character has a significant part to play, Griffin's casting interestingly keeps stereotypes at bay.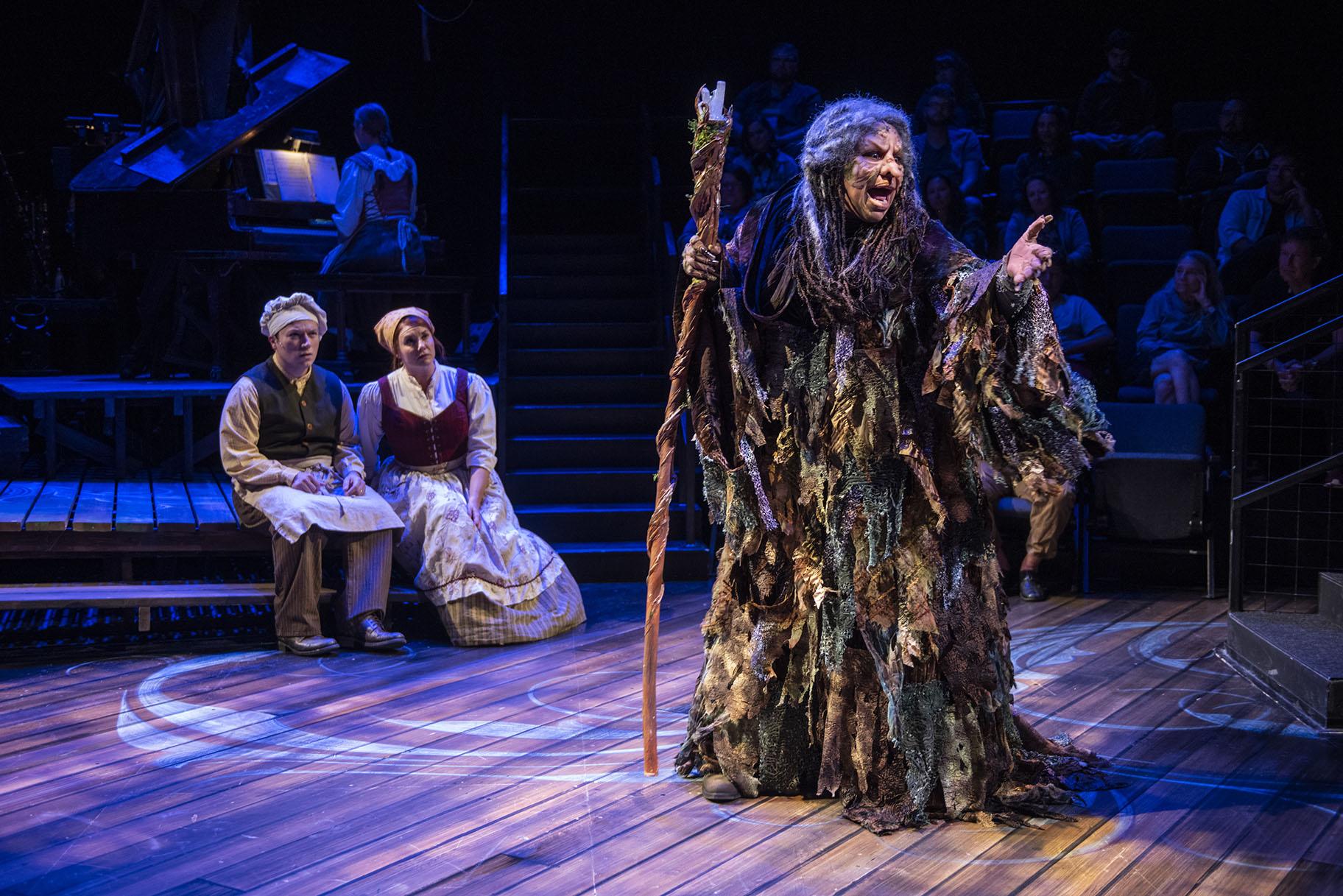 Michael Mahler, left, Brianna Borger, center and Bethany Thomas in "Into the Woods." (Photo: Michael Brosilow)
First and foremost there is the Witch, with Thomas no withered crone but a true force of nature with a volcanic voice to match. In addition, master costume designer Mara Blumenfeld has created a great cape-like dress for her – an extraordinary textile collage of a garment that almost suggests she might be one of the great old oak trees in the woods. Thomas commands the stage, and brings full fire to the show's cautioning anthem, "Children Will Listen."
Rose also puts an interesting twist on the Cinderella character, effortlessly turning her into someone far deeper and more modern than the usual klutzy girl on the palace staircase – a woman who knows who she is and what is of real importance in her life.
The ever-authentic Mahler (whose own musical, "Miracle," is currently in its world premiere production at the Royal George Theatre), and the subtly spicy, golden-voiced Borger, forge an ideal chemistry as the temperamentally opposite Baker and his wife. Godinez brings a bold fighting spirit and power voice to her Little Red Riding Hood. And Iole's soaring soprano is tinged with just enough pain in her portrayal of Rapunzel.
Ben Barker and Mary Poole in "Into the Woods." (Photo: Michael Brosilow)
Carter and Barker are an ideal mother and son, with Barker a standout in his rendering of "A Giant in the Sky," and his clear declaration of adulthood. And easily stealing the show at every turn (and with barely a "moo"), is Poole as the elderly cow, Milky White. Poole's facial expressions are absolutely priceless, and her "costume" (a walker that serves as her front legs and comes with a pink felt udder attached) is another of Blumenfeld's ingenious inventions.
The mainstage theater itself has been reconfigured by set designer Scott Davis to be almost in the round, with great dripping greenery (lit by Lee Fiskness) suspended from the rafters, and a tree trunk lodged in the piano where conductor/keyboardist Charlotte Rivard-Hoster plays so superbly throughout, with backing from percussionist Jeff Handley and Mike Matlock (on six different reed instruments). Matt Deitchman's music direction and "re-orchestrations" are, as always, outstanding.
The show ends with a touching sense of acceptance, if not complete forgiveness, and a determination to move on in the face of all setbacks and upheaval. After all, there are children waiting in the wings.
"Into the Woods" runs through Sept. 22 at Writers Theatre, 325 Tudor Court, Glencoe. For tickets ($35-$80) call (847) 242-6000 or visit www.writerstheatre.org. Running time is 2 hours and 40 minutes with one intermission.
Note: Writers Theatre's season will continue with "A Doll's House" (Sept. 25-Dec. 15), in a new, one-act adaptation of the Ibsen classic by Sandra Delgado and Michael Halberstam; "The Niceties" (Nov. 6-Dec. 25), Eleanor Burgess' new play set in an elite East Coast university; "Stick Fly" (Feb. 5-March 15, 2020), Lydia R. Diamond's play about sibling rivalries and parental expectations; "The Last Match"(March 18-June 7, 2020), Anna Ziegler's play about the passion and tension of a U.S. Open tennis final; and "Mementos Mori" (May 6-June 14, 2020), a creation of Chicago's Manual Cinema company, masters of the use of shadow puppetry, innovative projections and live music.
Follow Hedy Weiss on Twitter: @HedyWeissCritic
---
Mark Larson's 'Ensemble' Captures Chicago Theater History in Creators' Own Words
At Teatro Zinzanni, Life is an Old-World Cabaret, Circus, Comedy and Restaurant
In 'Come From Away,' Discovering the Kindness of Strangers at a Traumatic Moment
---