Call it botany, Chicago style.
Joey Santore isn't your typical plant expert. The amateur botanist travels across North America identifying and discussing the wildlife he encounters on his YouTube channel Crime Pays But Botany Doesn't.
Originally from the Chicago suburb of La Grange, Santore films his nature excursions with his smartphone, rattling off scientific names with a thick Chicago accent and making comical, sometimes profanity-laden societal observations.
His colorful style and depth of knowledge have proved popular – one video of Santore moving a rattlesnake out of harm's way on a California road has garnered more than 180,000 views.
"A lot of science communication is really dry," Santore said. "I just added my misanthropic, sarcastic sense of humor on it. It kind of just took off."
Santore promised to keep the curse words to a minimum while we walked through Wolf Road Prairie, an 80-acre nature preserve with native prairie, savanna and wetland habitats in Chicago's western suburbs.
"This is eryngium yuccifolium, rattle snake master, this is that one that's in the carrot family," Santore said while showing the plant's whitish, spiny flowers. "What you've got here is not just one flower, it's a cluster of flowers. That's why the bees love this because there's tons of nectar in these little knobs."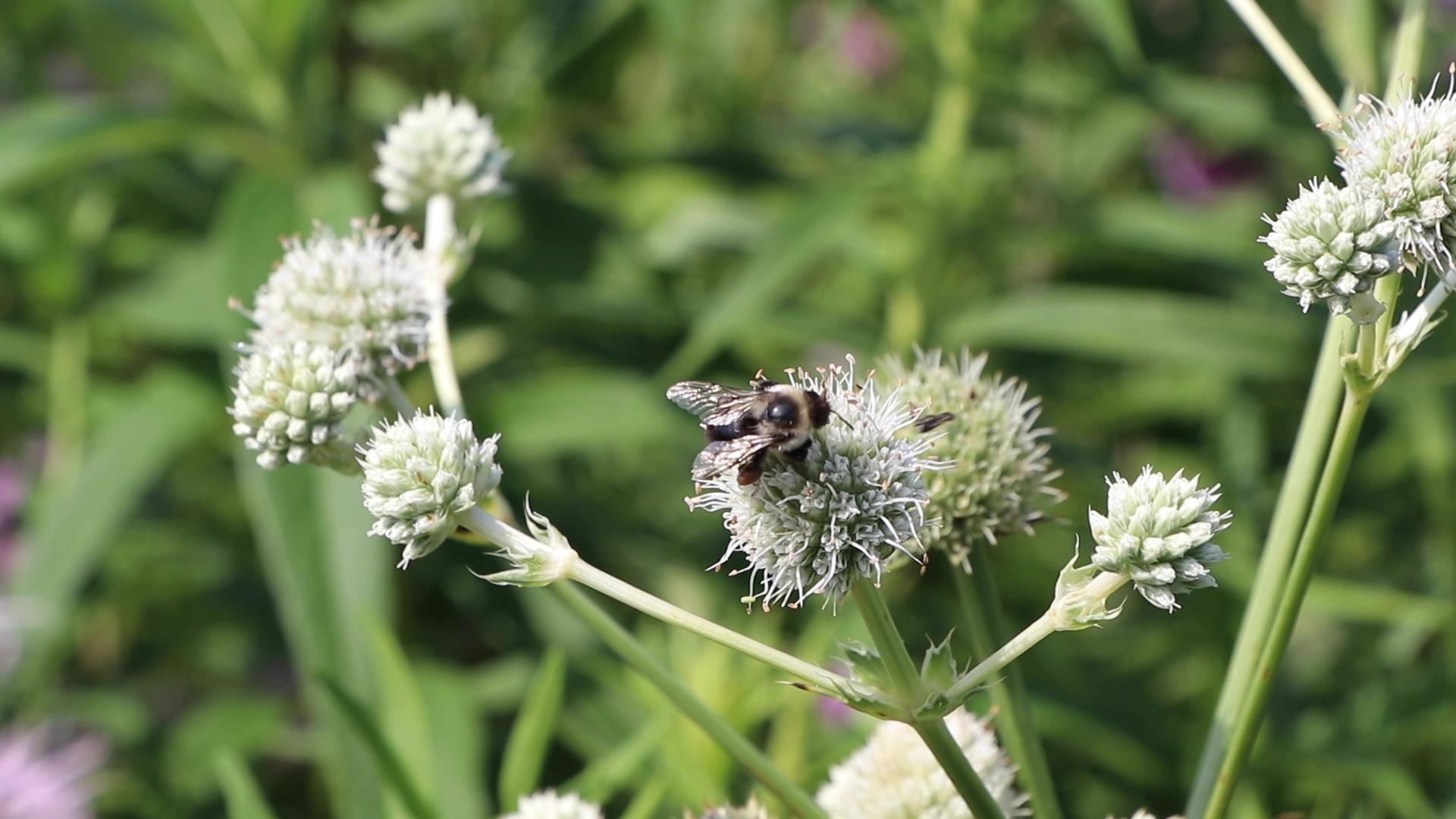 A bee lands on an eryngium yuccifolium, a prairie plant also known as rattlesnake master. (Evan Garcia / WTTW News)
After graduating high school, Santore left Chicago to attend college in California, but he dropped out after two years to explore the U.S.
"Travel around the country, which I did mostly by illegally riding freight trains," Santore said with a chuckle. "Which some people might have a problem with, but eh, whatever, it worked out great for me!"
Santore saw diverse ecosystems on his travels and spent hours reading science books in libraries across the country.
"By hanging out there, I just got this addiction to information," Santore said.
Ironically – considering his former unlawful hobby – Santore now drives freight trains for a living in California, although he visits the Chicago area often. Through his explorations and teachings, he hopes to inspire others to get outside and learn.
"There's this whole other world out there waiting to be discovered and you could spend your whole life learning about it and reading about it and not know everything," Santore said. "So I want to show people that, I want to show them what else is out there. That's my whole M.O., that's all I care about."
Note: This story was first published Aug. 7, 2019. It has been updated.
Follow Evan Garcia on Twitter: @EvanRGarcia
---
Related stories:
Chicago's 'Queen of Tape' Makes Art with Duct Tape
Like 'Biting into a Band-Aid': Malort Returns to Chicago
Yo-Yo Ma Visits West Side Park to Play Bach, Plant Trees
Beekeeping Behind Bars: Inmates Raise Bees at Cook County Jail
Grazing Herd Returns to O'Hare to 'Do What They Do Best: Eat Weeds'
---