When most people see a roll of duct tape, they probably see a drab, everyday object that's occasionally useful for fixing stuff. Anna Dominguez is different: She sees a medium of art.
About nine years ago, Dominguez began making works of art using tape. She has since dubbed herself the "Queen of Tape."
"I did my research," Dominguez said. "When I discovered what I was doing and the possibilities of how it could grow, I was like, 'Is somebody else doing this?' and nobody was doing it.
"So I can say, confidently, I'm probably one of the first people, at least in Chicago, who's been doing this."
Along with the mainstay – duct tape – Dominguez uses tapes of varying color, texture and transparency to craft realistic shading and detail.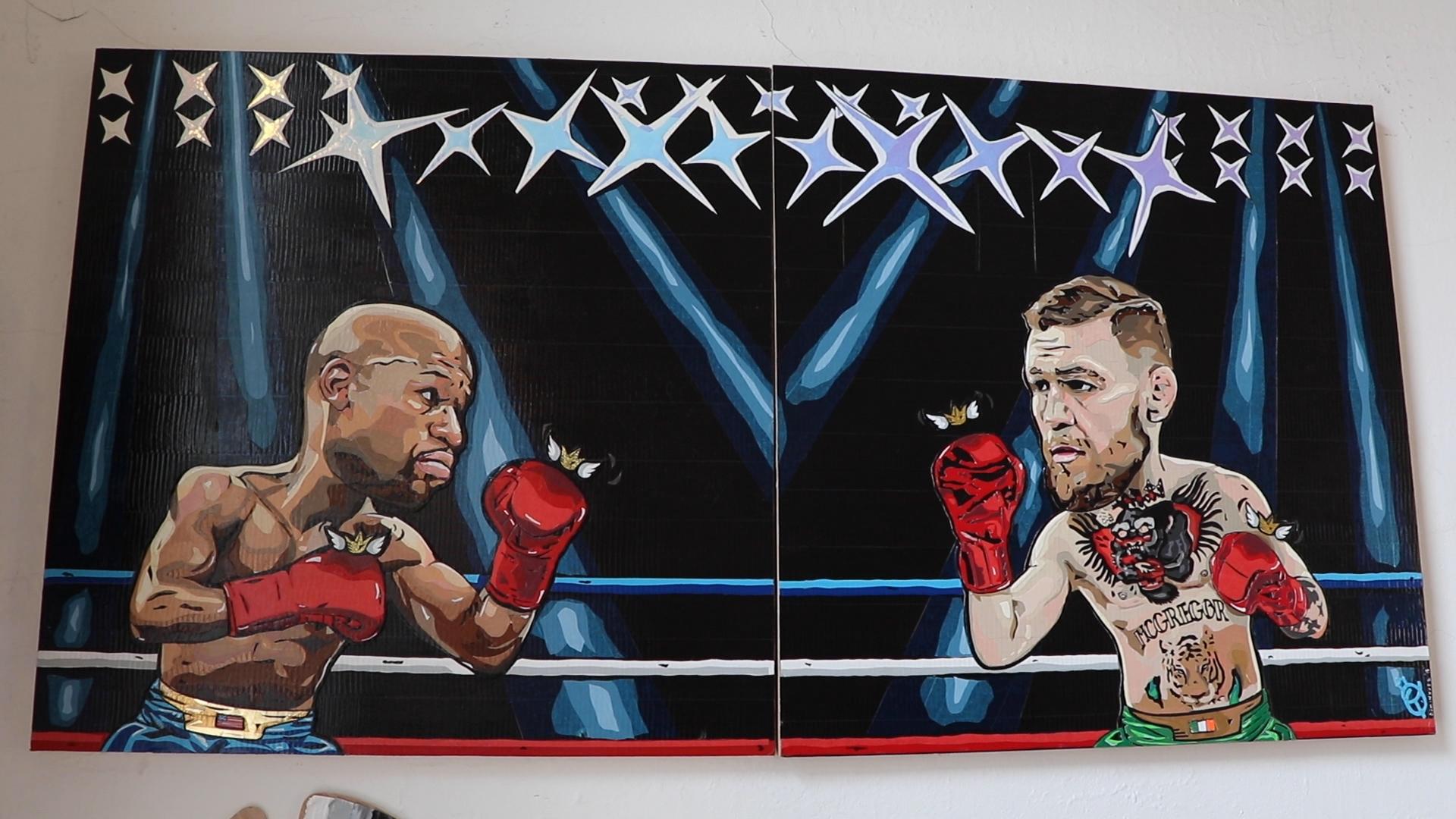 Artist and sports fan Anna Dominguez taped together this depiction of the August 2017 boxing match between Floyd Mayweather Jr. and Conor McGregor. (Evan Garcia / WTTW News)
She started with skyscrapers and moved onto imaginative portraits of famous athletes. Dominguez has created works depicting tennis player Serena Williams, former Chicago Bears linebacker Brian Urlacher and soccer player Carli Lloyd.
Dominguez's vivid tape-based portrayal of Williams highlights inspiring words in nine different languages within the tennis star's hair, shimmering gold and clad in an American flag bandana.
"We're trying to empower women not just here, we're trying to empower women all around the world," Dominguez said.
The first permanent piece of art by the Queen of Tape is on public display inside St. Jane Hotel, a downtown boutique hotel named after celebrated social justice activist Jane Addams.
Follow Evan Garcia on Twitter: @EvanRGarcia
---
Related stories:
Bright Idea from Longtime Professor Brings Neon Art to Rogers Park
Bleacher Bum Turns Passion for Baseball into Art
Chicago Music Fan Turns Weekend Hobby Into Second Career
---