Behind barbed wire fences, Cook County Jail inmates grow vegetables, flowers and herbs – some of which find their way into Chicago restaurants and farmers markets – and as of May, they're harvesting honey from two beehives provided by a former inmate.
Started in 1993, the Cook County Sheriff's Urban Farming Initiative provides nonviolent inmates with on-site agricultural experience through the use of a greenhouse and 2-acre farm.
"The hope is that when they get out, we are able to place them in employment," said Cook County Jail program manager Kerry Wright. "A couple of our vendors who purchase our produce actually want to hire our guys once they get out, so it's a great program."
On a brisk early May morning, beekeeper Thad Smith arrived at the jail with two nucs – miniature beehives containing about 10,000 bees and a queen in each box.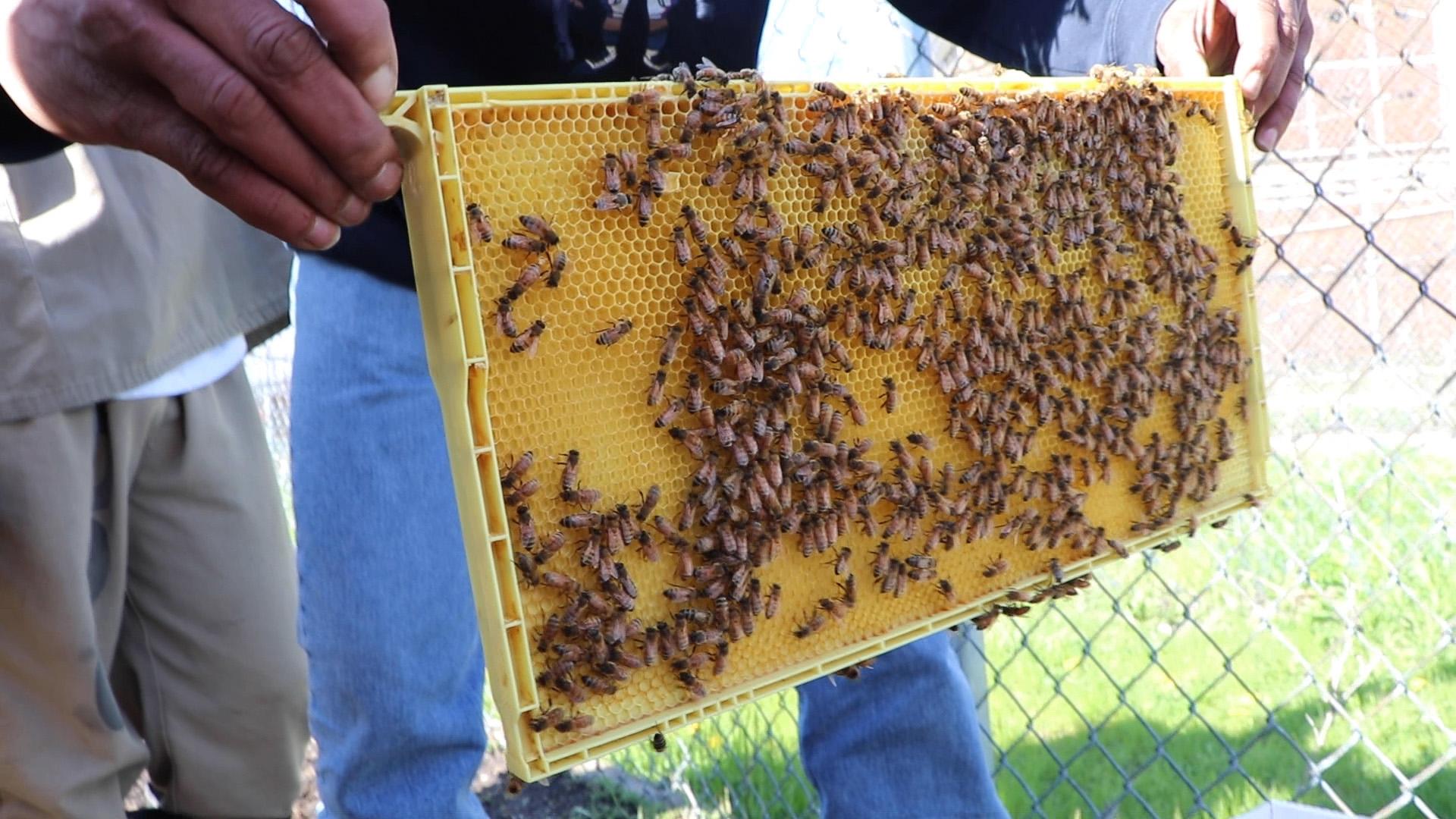 A frame of Italian honeybees, a docile, productive type of bee suitable for novices to beekeeping, according to beekeeper Thad Smith. (Evan Garcia / WTTW)
As founder of the local company West Side Bee Boyz, which manages beehives and sells beekeeping products, Smith can show inmates how to look after a colony of bees.
And as a former Cook County Jail inmate himself, Smith can empathize with the group's current mental state.
"I was a guest here on several occasions," Smith said. "So for me, this is full circle – this is where I started. Before I went into bees, I was sitting in Cook County."
After serving four months for check fraud, Smith was released from prison in February 2013.
He soon enrolled in a job-training program at the West Side nonprofit North Lawndale Employment Network, which sparked Smith's passion for beekeeping and his eventual founding of West Side Bee Boyz in 2014. 
Cook County Jail inmate Don McCullough, one of about a dozen men in this season's urban farm program, told Smith gardening helps him find serenity in a stressful environment. 
"Being here, I've had a bad temper my whole life, but since doing this gardening, I've been more laid back, more relaxed," McCullough said.  "And I'm real itchy to learn more about this 'cause it's showing me things about myself that I never even knew."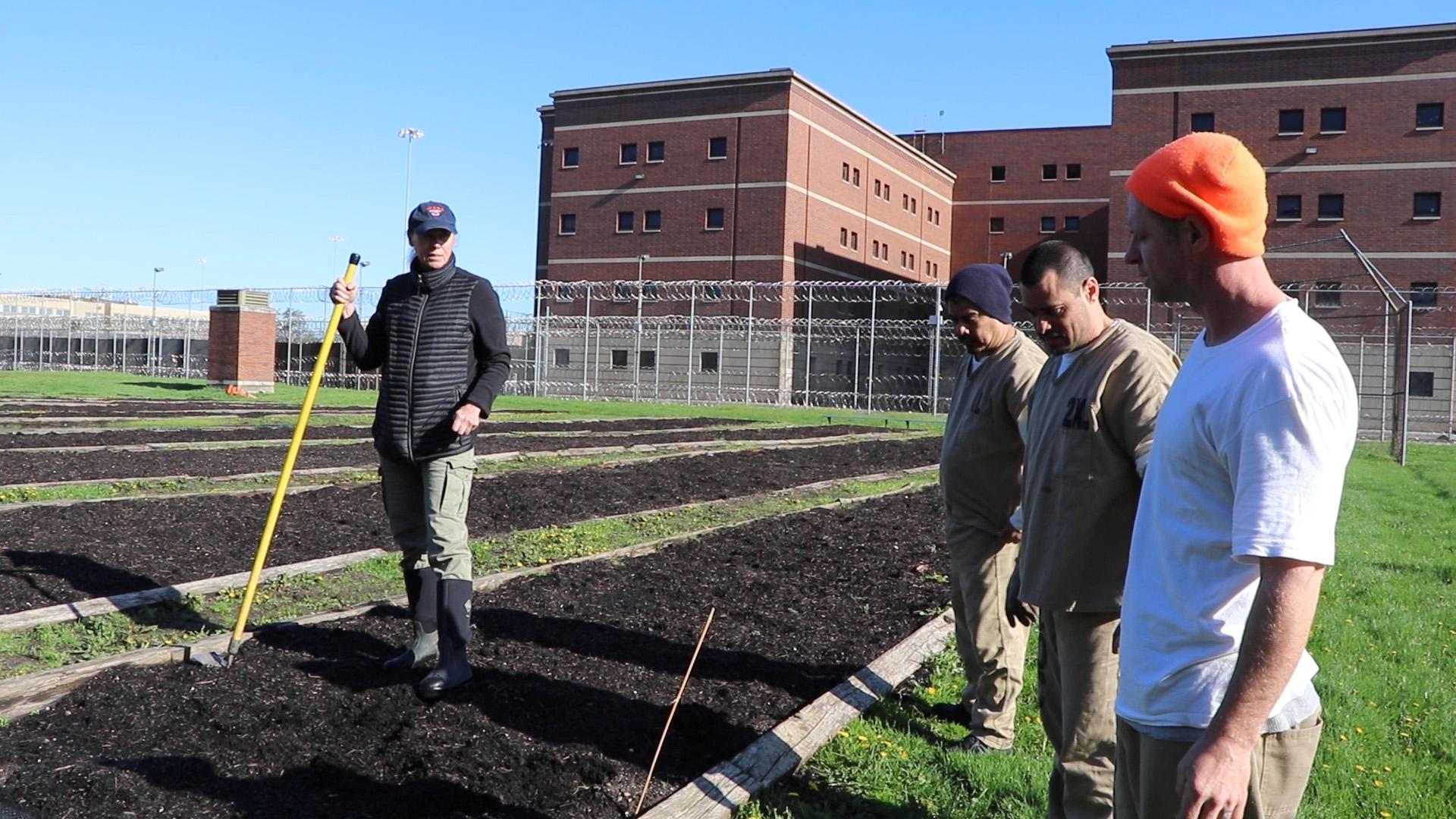 Cook County Jail employee Tina Bentley shows detainees techniques for tilling soil on the jail's 2-acre farm. (Evan Garcia / WTTW)
Smith identified with McCullough's fresh outlook – as a formerly incarcerated person, beekeeping helped him turn his life around and pursue entrepreneurship.
"I know what that is – I know how that feels, I know that shift," Smith said. "And when you have that shift, it's an incredibly powerful thing and it puts you on a different path that you didn't know you could go before."
Smith said the Italian honeybees in the jail's two beehives are perfect for beginners because the bees tend to be docile and productive. He said he plans to return to Cook County Jail this summer to transfer the bees to two larger hives. 
Follow Evan Garcia on Twitter: @EvanRGarcia
Note: This story was originally published on June 14, 2019.
---
Related stories:
Grazing Herd Returns to O'Hare to 'Do What They Do Best: Eat Weeds'
Eating the Parks: Foraging in Chicago's Urban Landscape
The 'Buzz' Behind Beekeeping: Colonizing a New Hive
---