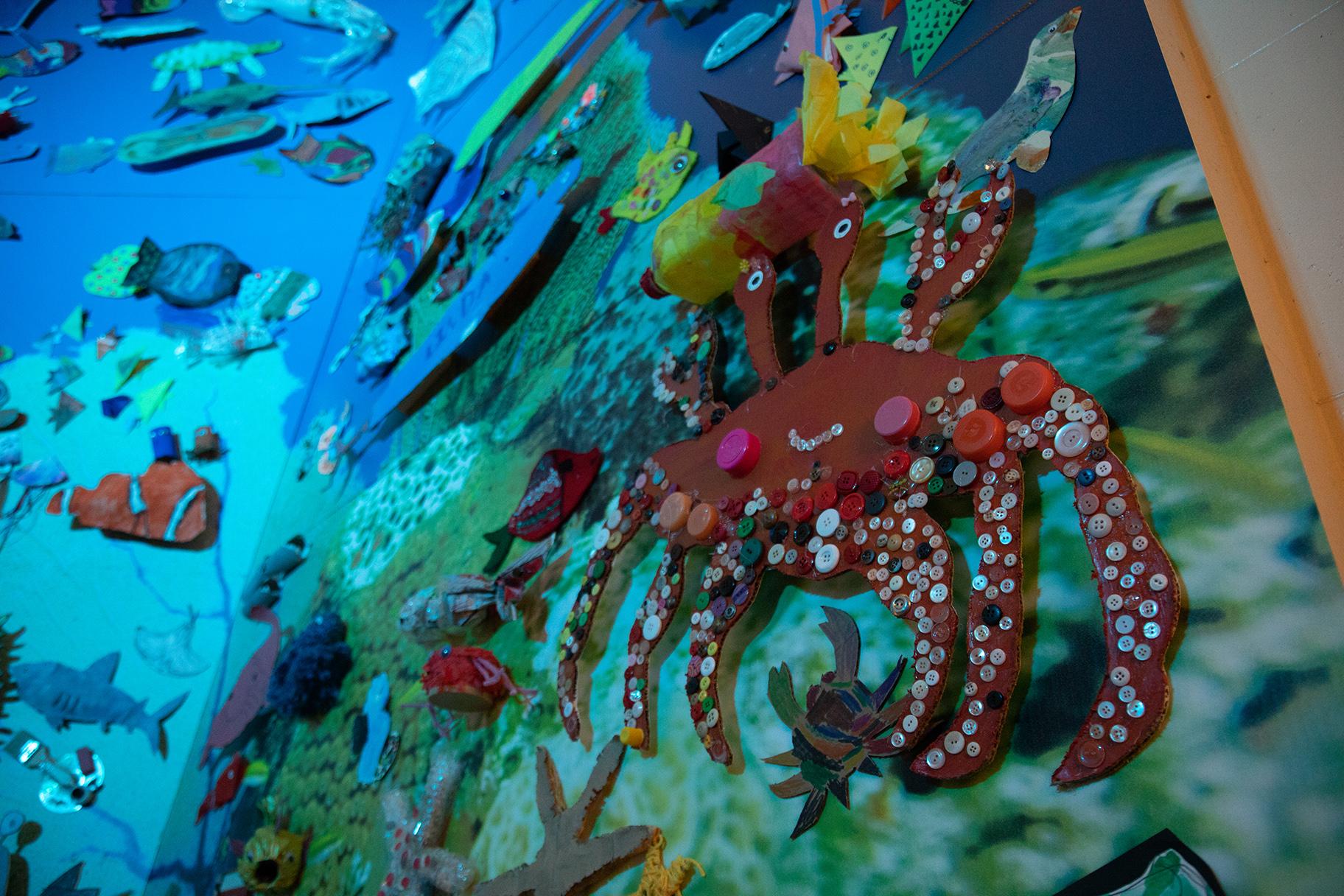 Art pieces made by students from across the world are on display at Shedd Aquarium. (Joshua Ford / Bezos Family Foundation)
Some 1,000 pieces of aquatic-themed art created by students across the globe are on display at Shedd Aquarium as part of an educational initiative aimed at preserving oceans and the people who live closest to them.
After the artwork arrived at the aquarium last week, exhibit directors arranged the pieces on a series of floor-to-ceiling panels with a background that resembles the ocean floor. The art creates a backdrop for one of Shedd's most prominent spaces: the popular Caribbean Reef exhibit, which features sharks and other sea creatures in a 360-degree underwater reef display.
"It almost gives you this immersive feeling," said Nicole Minadeo, Shedd's senior director of communications and public relations, while standing next to the new art display, "because you have the Caribbean Reef [exhibit] right there."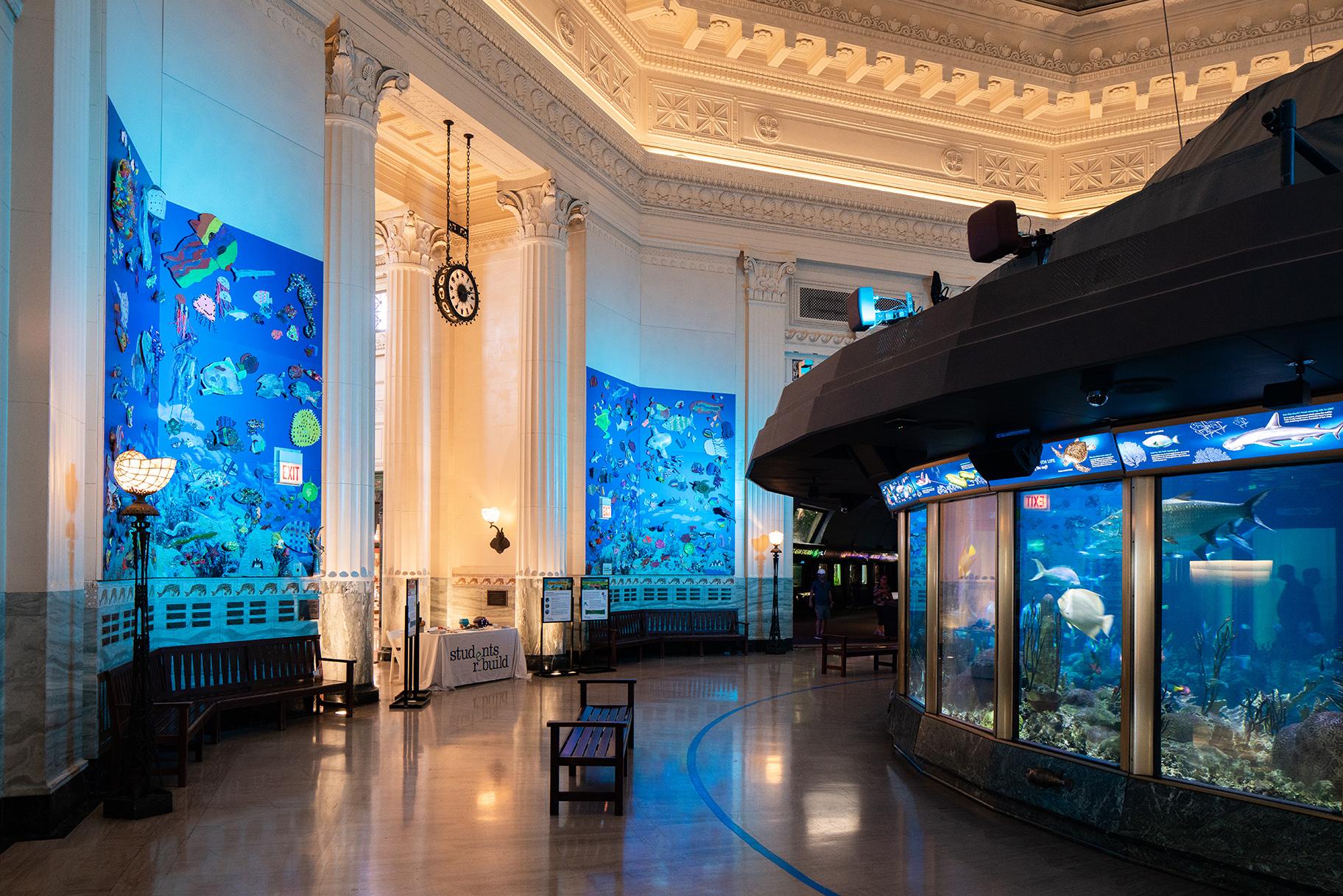 The student-made art is on display next to Shedd Aquarium's Caribbean Reef exhibit. (Joshua Ford / Bezos Family Foundation)
The art exhibit is part of a yearlong Ocean Challenge sponsored by Students Rebuild, a program of the nonprofit Bezos Family Foundation, the philanthropic group run by Jackie and Mike Bezos, the parents of Amazon founder Jeff Bezos.
Starting in September of last year, the foundation encouraged students from around the world to create sea creatures – using recycled materials, if possible – and either mail them in or send digital photos of the art. Students from pre-kindergarten through high school were eligible to participate.
By this summer, more than 100,000 students from 45 countries had created more than 270,000 unique pieces as part of the initiative, said Valerie Sloane, creative director of the art exhibit. Most of the art is being stored in a collection at the foundation's Seattle headquarters.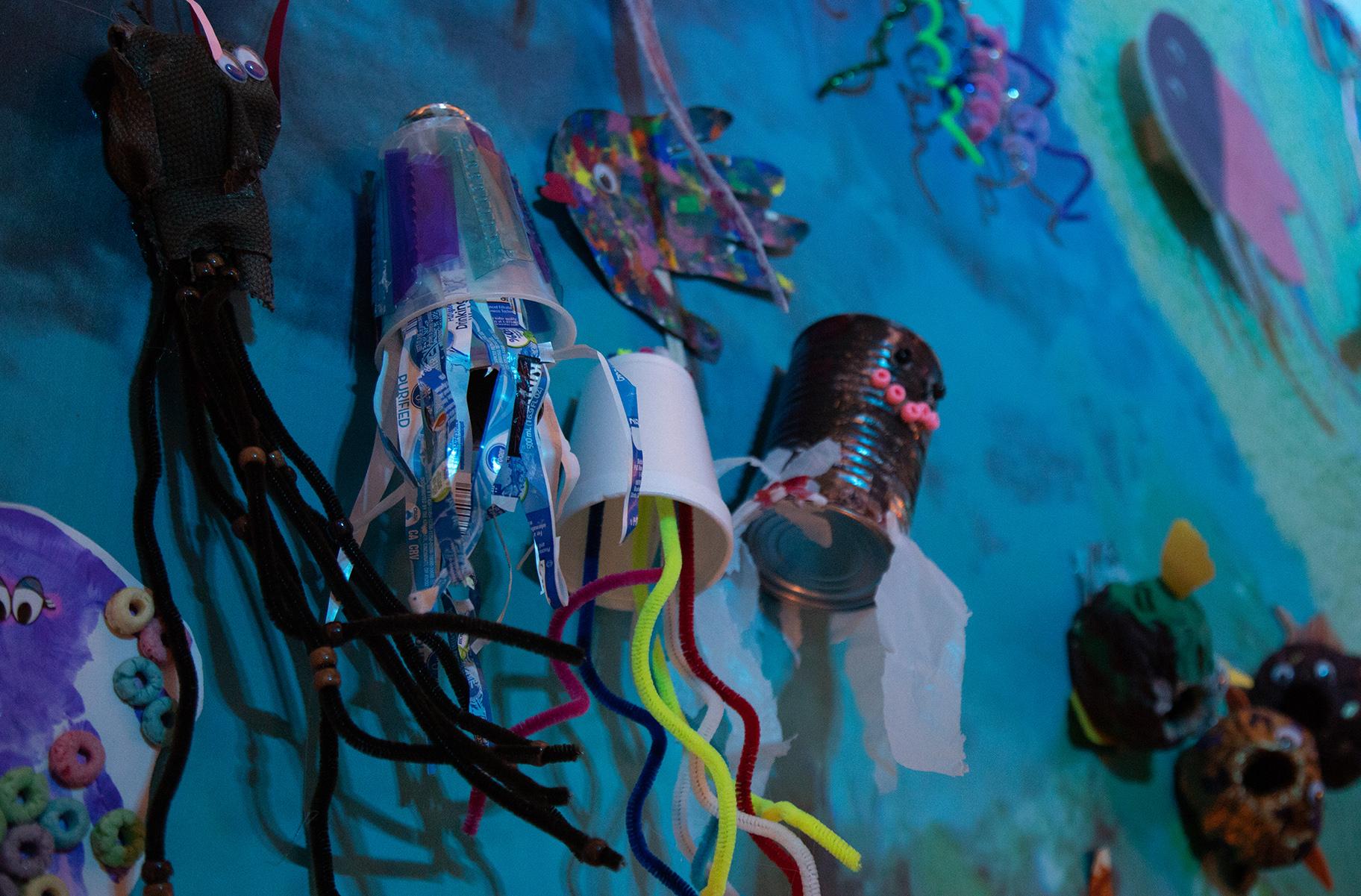 A jellyfish made out of plastic cups and colored pipe cleaners is featured in the art exhibit. (Joshua Ford / Bezos Family Foundation)
Shedd, which is the only location where the artwork is being displayed publicly, features art inspired by the movie "Finding Nemo" and a cast of other imaginative sea characters. Visitors can see a red lobster whose claws are covered with buttons, jellyfish made from plastic cups and colorful pipe cleaners and sharks built out of bubble wrap.
The exhibit features collage, three-dimensional figures, origami, paintings and more.
"We've had a great response so far," Minadeo said. "A lot of kids are really excited seeing it."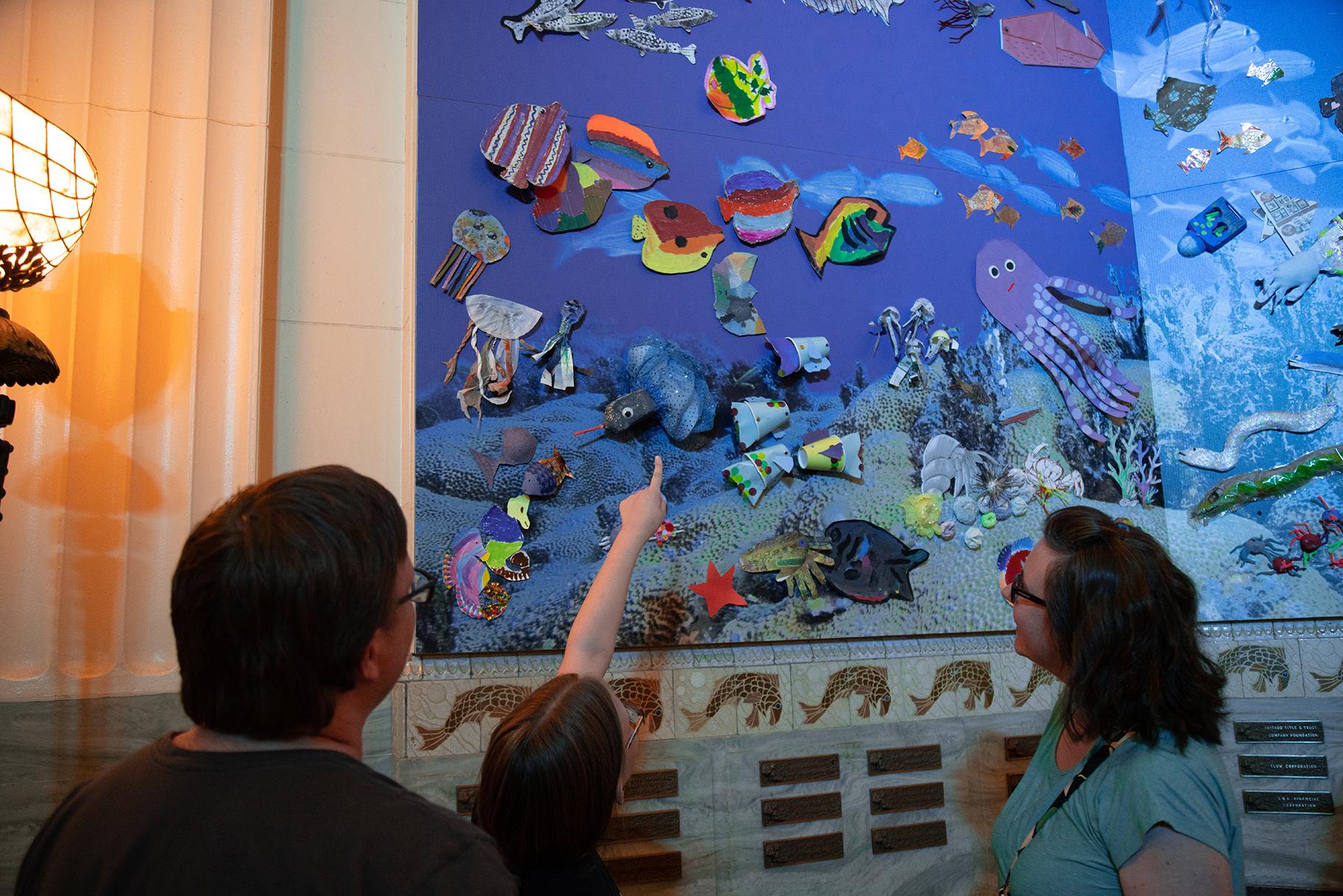 The art exhibit will be on display for the next month. (Joshua Ford / Bezos Family Foundation)
Students from a handful of Chicago schools and 35 other schools in Illinois submitted art pieces as part of the initiative. The participating Chicago schools were Acero Garcia High School, Alexander Graham Bell Elementary, Catalyst Maria Middle School, St. Mary of the Lake Catholic School and Waters Elementary.
For each of the art pieces submitted, the Bezos Family Foundation donated $2 to support conservation-related efforts, such as planting 5,000 coral onto reefs in the Bahamas and constructing a floating classroom in Bangladesh to enable children to go to school during monsoon season.
The art exhibit will be on display at Shedd for at least the next month, Minadeo said.
Contact Alex Ruppenthal: @arupp | [email protected] | (773) 509-5623
---
Related stories:
Climate Scientist Swaps NASA for School of the Art Institute
'Warning High CO2': Navy Pier Art Installation Heeds 'Climate Crisis'
Why a Chicago Building Appears to be Cracked Like a Melting Iceberg
---