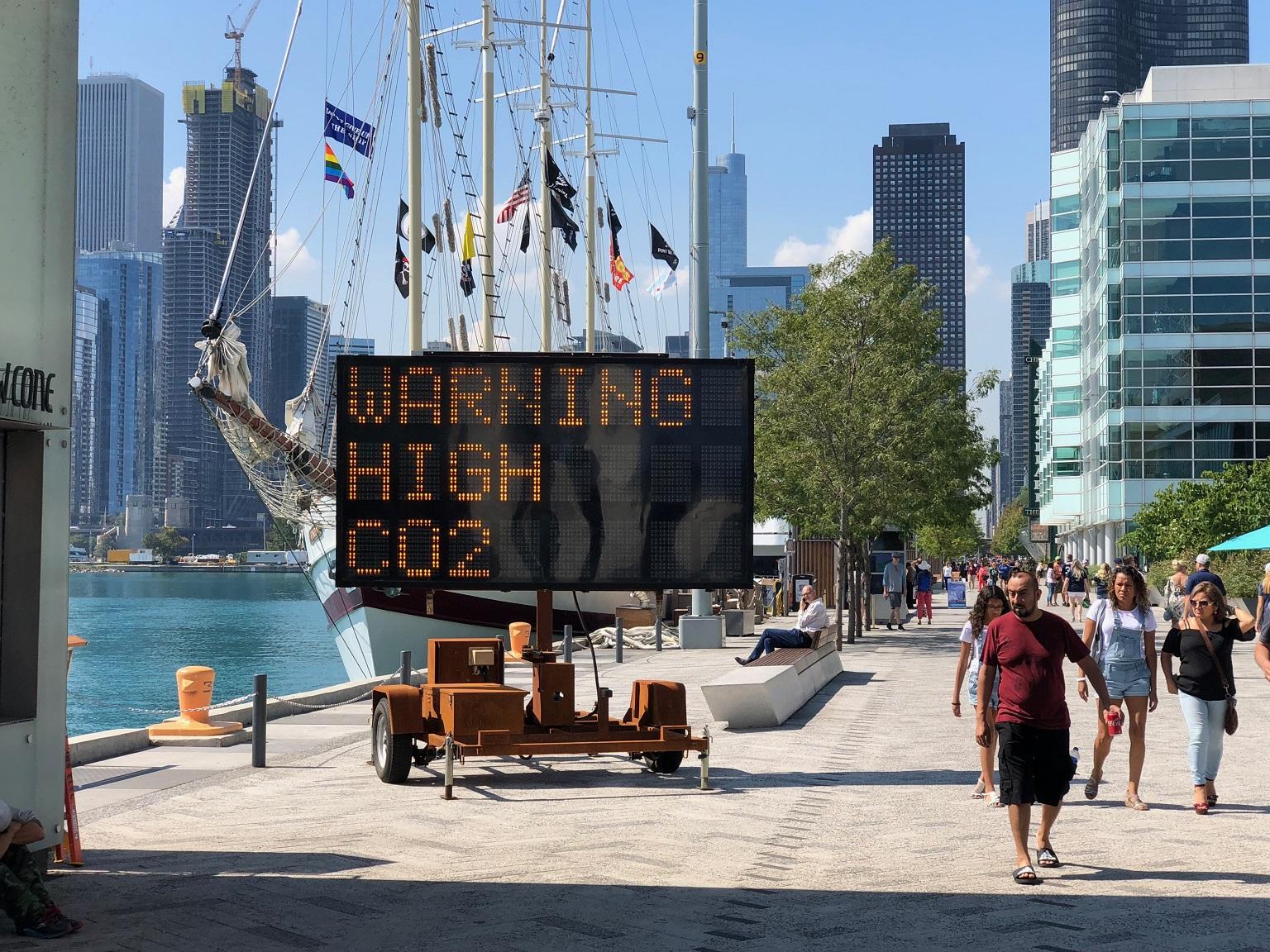 A new art installation at Navy Pier uses a solar-powered highway message board to warn of the dangers of climate change. (Alex Ruppenthal / Chicago Tonight)
Pull over to the side of the road and consider the world-ending event taking place before your eyes.
That's essentially the message conveyed by the newest piece of public art on display at Navy Pier, an ordinary-looking highway message board that flashes a series of grave aphorisms meant to communicate the urgency of what the artist refers to as Earth's "climate crisis."
The installation is the work of acclaimed artist and environmentalist Justin Brice Guariglia, who in 2016 became the first artist to go airborne on an Earth science mission with NASA when he flew over Greenland to photograph melting polar ice caps.
Guariglia set up the message board Monday along the pier's main walkway, where tourists stopped or slowed to read the rotating messages, including "Warning High CO2," "Goodbye Arctic Ice" and Guariglia's favorite, "Triassic Weather Ahead." The latter refers to the geologic period marked by mass extinction that wiped out half of all marine life on Earth.
Guariglia's installation, called "We Are the Asteroid II," is one of three pieces of public art that will be on display during Expo Chicago, the international contemporary art exposition that kicks off Sept. 27 at Navy Pier.
The idea for the piece came to Guariglia when he saw a highway message board flashing an alert for motorists. 
"When you're going down the highway, you'll see these big signs flashing on the side of the road, and they warn you," Guariglia said. "They're supposed to get you thinking about what's ahead.
"And so, from an ecological standpoint, this stuff is not really ahead; it's now," he continued. "We're in it. We are in the middle of this mass extinction event, this sixth extinction, which is tied intricately to global warming and climate change, which is all happening right now. But we're still very much in denial of it. As a society, we haven't really accepted the fact that this is actually happening."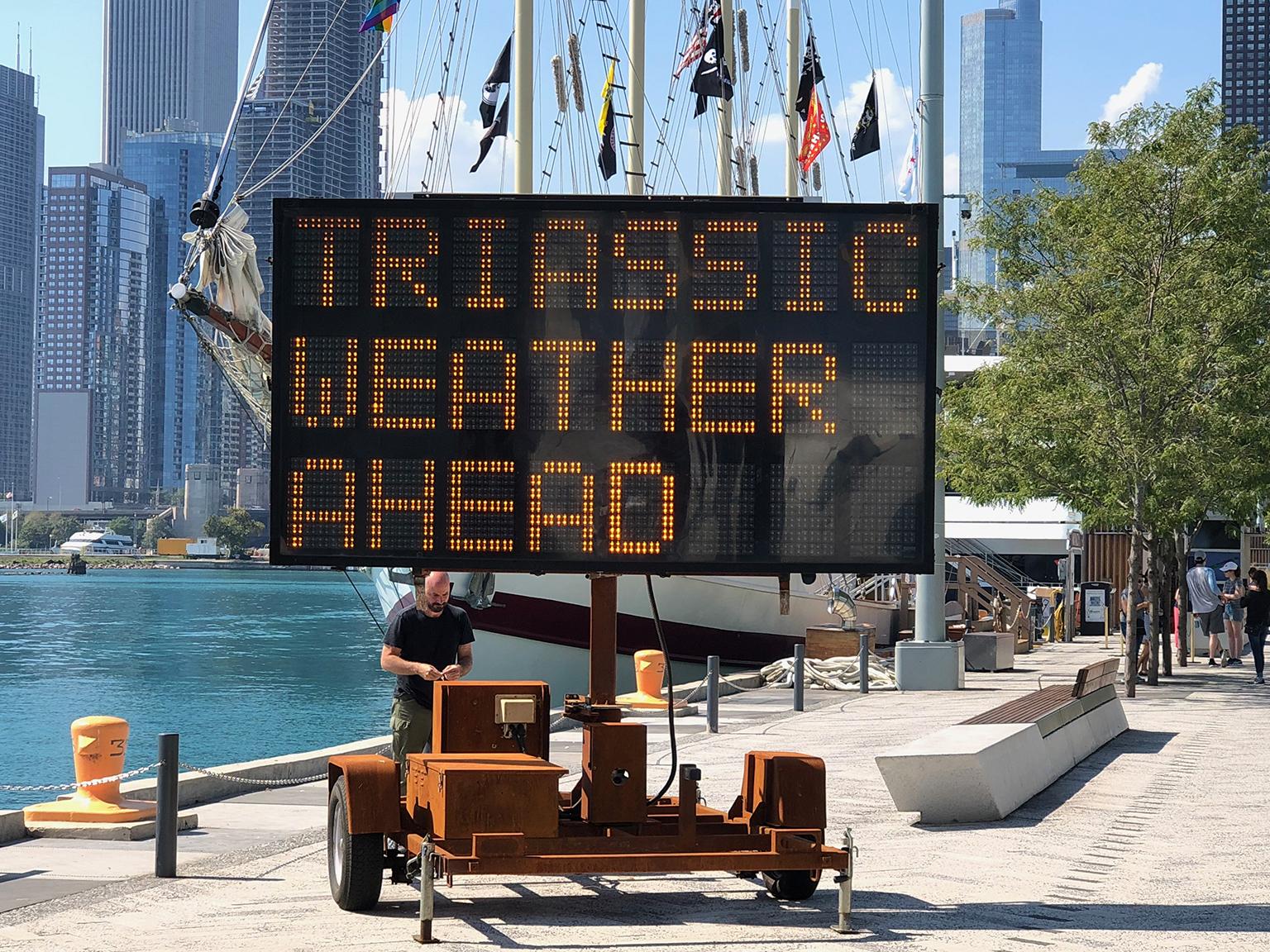 Artist Justin Brice Guariglia stands behind his new art installation "We Are the Asteroid II" on Sept. 17, 2018, at Navy Pier. (Alex Ruppenthal / Chicago Tonight)
For his piece, Guariglia obtained a used LED highway message board and sandblasted it to remove all paint and debris. He then oxidized the screen's surface to give it the sheen of a rusted asteroid, he said. 
The board, which measures 5 feet by 10 feet, is entirely solar-powered and can be rotated to face in a direction where most visitors will see it.
The texts for the piece were commissioned by Guariglia from Rice University professor Timothy Morton, whose work combines metaphysics with ecology and who is considered one of the world's leading philosophers.
With the piece, Guariglia said he hopes to get people to think about the impact of climate change on a larger scale.
"Instead, we're all going home and we're recycling and we're buying organic food and doing all this nonsense – and I say nonsense because it's just like going and watching a basketball game and sitting there jumping up and down at the TV, shouting at your team to shoot the basket or whatever," he said. "It's just not effective. This is not a war that can be fought on an individual level. This is a global problem ... This is the greatest challenge that humanity has ever faced. It's up there with nuclear war."
Guariglia was one of six artists to receive a $10,000 grant from the advocacy group The Union of Concerned Scientists as part of its "Art for Science Rising" initiative, which funds public art projects that highlight the importance of science in protecting public health and safety. The program is part a larger movement known as "Science Rising," which aims to push elected officials to use science in their decision-making and to address issues such as climate change.
Last week, Guariglia debuted 10 similar highway message board signs throughout New York City.
"The reaction's been really good so far," he said. "People come by and they're curious. They stop and they look at it and it gets them thinking, which is really, in this day and age – we need more thinking and less action. Acting is what got us into this mess in the first place. Right now we're really in a place I believe strongly where we need to think, we need to think more about what to do before we take action."
"We Are the Asteroid II" is on display through Nov. 30.
Contact Alex Ruppenthal: @arupp | [email protected] | (773) 509-5623
---
Related stories: