Brian Mengler, Josh Hills, Jonathan Zeng, Nick Cuellar, Athena Kopulos, Emma Sorenson and Alfredo Jimenez in "The Csardas Princess."
To American audiences, grand opera can sometimes seem a bit ludicrous, yet it remains widely accepted – appreciated for the splendor of the music and the extraordinary vocal prowess involved. At the other end of the spectrum are Broadway musicals, which are far more accessible, and have become deeply ingrained in our DNA over the course of nearly a century.
Operettas, which flourished largely during the Austro-Hungarian Empire of the late 19th and early 20th centuries (with Gilbert and Sullivan the principal British practitioners of the form, and Offenbach the French master), are often seen as the stylistic link between opera and the Broadway musical. Yet in many ways, they are the most difficult form to bring to life in a fully convincing and contemporary way – rooted, as they are, in social and theatrical conventions that can seem beyond quaint.
That makes the mission of the Chicago-based Folks Operetta company – which has produced 17 of such largely forgotten works during its 13-year history – all the more valuable, as well as challenging to artists and audiences alike. And not surprisingly, it is one of the few companies in this country that regularly mounts such work.
During the course of his career translating and staging operettas, Gerald Frantzen, the company's artistic director, realized that many of these works were created by Jewish composers and/or lyricists who in one way or another had been silenced or exiled as a result of Hitler's Third Reich. And in response he has initiated the "Reclaimed Voices" series which is designed to bring such work back to life.
The first operetta to be produced in the series is "The Csardas Princess," penned in 1915 by the Hungarian-Jewish composer Emmerich Kalman, with a German libretto by Leo Stein and Bela Jenbach that has been translated into English by Hersh Glagov and Frantzen. Presented at Stage 773 (where, in an adjacent theater, the radically different hit musical "Buddy – The Buddy Holly Story" is enjoying a return engagement), what is most impressive about the production is the exceptional beauty of the voices in the show's large cast, and the performers' comic swagger in a style that could easily be alien to them.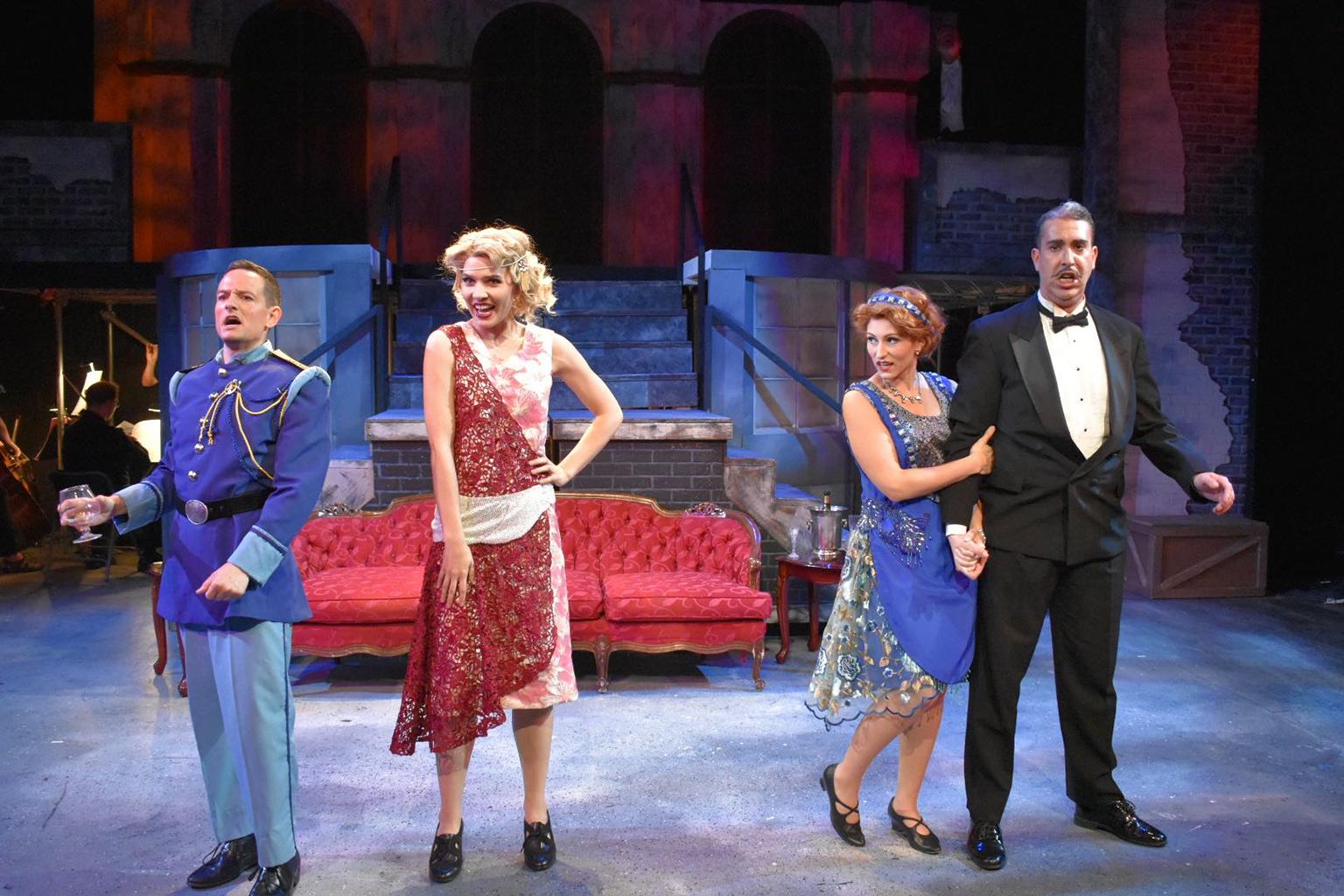 Jonathan Zeng, Emma Sorenson, Katherine Petersen and William Roberts in "The Csardas Princess."
A romantic comedy laced with all the prejudices of class consciousness and snobbery of the pre-World War I era, "The Csardas Princess" (the most successful of Kalman's many works, which takes its name from the traditional Hungarian folk dance) is about Sylva Varescu (Katherine Petersen, a sparking dark-eyed soprano with a face as expressive as her lush soprano), a small town factory worker with a captivating voice who is determined to become a cabaret star in Berlin.
Sylva has captured the heart of Edwin Weylerheim (Jonathan Zeng, a rich-voiced tenor), son of the wealthy factory owner. But not only is she determined to go off and forge her career, but Edwin's snobby father, Leo (a stylish turn by Robert Morrissey), is hell-bent on bringing his son home to Vienna so that he can marry his childhood sweetheart and fiancé, Stasi (Emma Sorenson, a tall, lithesome beauty with a vivid mezzo-soprano voice) who is of a more suitable social class.
In the meantime, an older ladies' man, Boni (bass-baritone William Roberts, who lights up the stage with his uncanny grasp of the operetta's comic style), is more than willing to accompany Sylva to Berlin and help make her into the star who will become known as The Csardas Princess. Before this happens, however, Edwin impulsively vows to marry Sylva in a shotgun wedding ceremony.
And that is just the beginning of this heavily plotted piece that spins on and on and incorporates countless reflections on the nature of love, marriage, flirtation, female autonomy, social status and celebrity.
Frantzen has not yet fully figured out how to make these operettas flow in a more modern, organic way while at the same time suggesting their period-defining qualities. Choreographer Emily Kleeman's dance sequences are awash in the csardas and the waltz. And Patti Roeder's vast array of colorful costumes are perfection, from turban-style headscarves to period-perfect shoes.
The formidable 19-piece orchestra led by Mark A. Taylor is superb, and if a size that is a major rarity for even Broadway productions these days. This company's grand ambitions cannot be denied.
Future plans for Folks Operetta include a multimedia concert dubbed "Forbidden Opera," that will tell the stories of such prominent Jewish composers as Erich Korngold, Kurt Weill and Franz Schreker. It also has launched the Korngold Initiative, a fundraising project designed to underwrite a production of the American premiere of "Die Kathrin," the last opera by the exile who became one of Hollywood's greatest film composers. 
The Folks Operetta production of "The Csardas Princess" runs through July 22 at Stage 773, 1225 W. Belmont Ave. For tickets ($40) visit www.FolksOperetta.org. Running time is 2 hours and 35 minutes.
---
In 'Waitress,' Master Pie Maker Finally Discovers Recipe for Love, Liberation
High-Wired 'Peter Pan' Flies on Well-Defined Gender Battle
At Goodman and Steppenwolf, 2 Plays That Mirror Each Other While Stretching Believability
Mercury Theater's 'Avenue Q' Revival Taps Into Irresistibly Funny Truthiness of Life's Disappointments
Clunky 'Cher Show' Better Suited for Vegas Than Broadway
---