Keith Gallagher in "Frankenstein." (Photo by Liz Lauren)
The 200th anniversary of the publication of "Frankenstein" – Mary Shelley's eerily prescient novel written before she even turned 20 – was celebrated by a slew of Chicago theaters throughout 2018, with a notably fascinating take on the classic devised by Court Theatre and Manual Cinema.
Lookingglass Theatre's new production, written and directed by veteran ensemble member David Catlin, has arrived a bit late in the game. But with its raw beauty, feverish emotion and a use of the intense physicality that has long been the company's trademark, it turns out to be well worth the wait.
Catlin has framed the story with the real-life circumstances that inspired the novel. It is 1816, and Mary Shelley (Cordelia Dewdney), along with her husband, the poet Percy Bysshe Shelley (Walter Briggs), are vacationing on a lake near Geneva, Switzerland, with poet Lord Byron (Keith Gallagher), Byron's pregnant lover, Claire Clairmont (Cruz Gonzalez-Cadel), and their physician friend, Dr. John Polidori (Debo Balogun).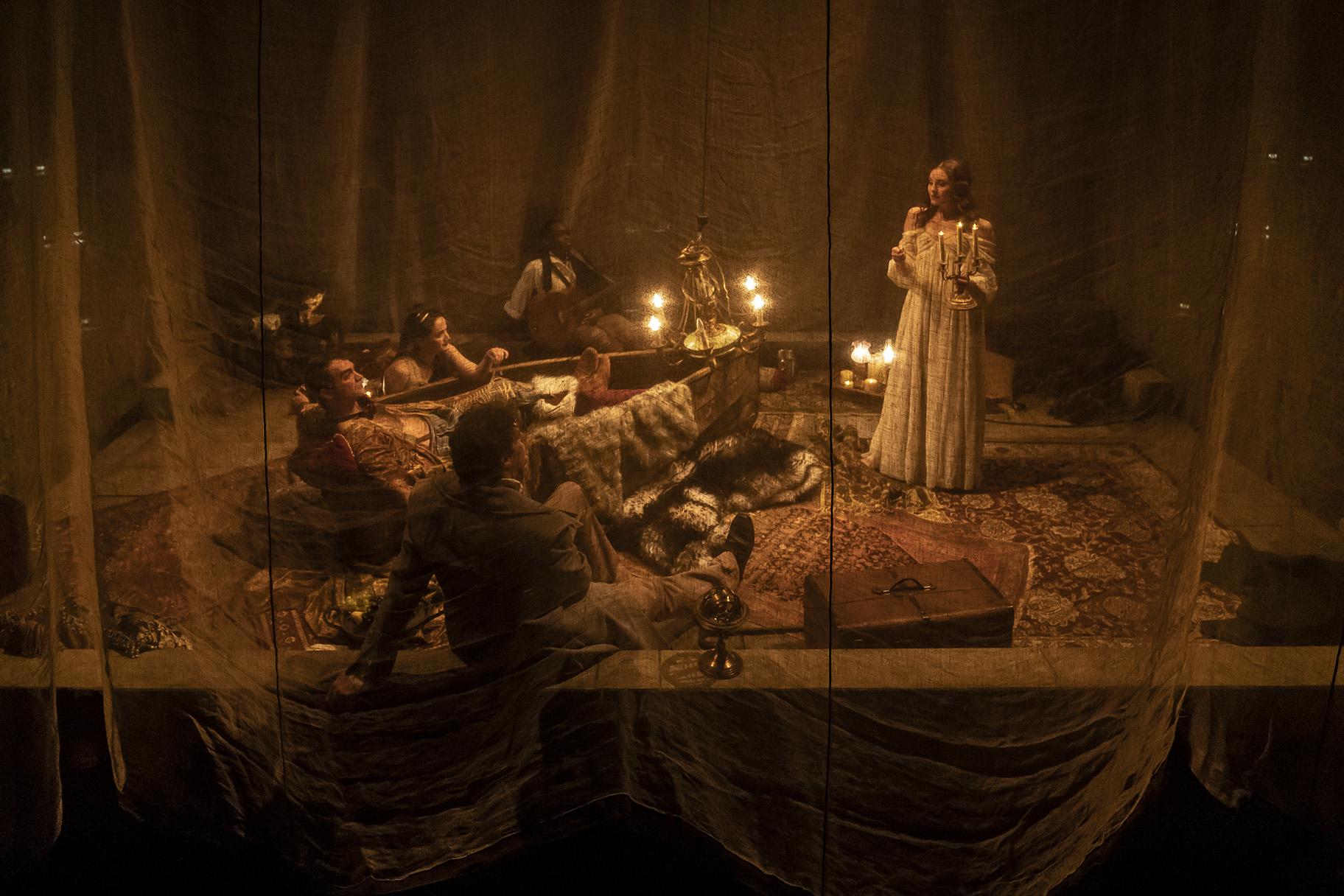 The cast of "Frankenstein." (Photo by Liz Lauren)
On a stormy night, the two poets challenge each other to write horror stories, but it is Mary (about whose abilities they are openly condescending), who pens the genius work. Inspired by a dream, it tells the chilling, tragic tale of Victor Frankenstein (played by Briggs), a brilliant young man devastated by the death of his mother, who embarks on an obsessive effort to find the mysterious spark that results in life. In effect, Frankenstein attempts to play God, devising scientific procedures that will enable him to create life in his attic lab. And as the story begins to unfold, the five real-life friends seamlessly morph into the characters Mary has created, with the writer herself playing Elizabeth, Victor's adopted sister, with whom he shares a powerful attraction, but to whom he cannot quite commit.
When Victor finally does manage to bring a being to life he is repelled and terrified by the "creature" (played by Gallagher), who he finds to be utterly grotesque and repulsive rather than beautiful, as he believed it would be. And the sensitive creature, who he never names, flees, only to find himself brutally treated by the outside world, profoundly lonely, and driven to revenge.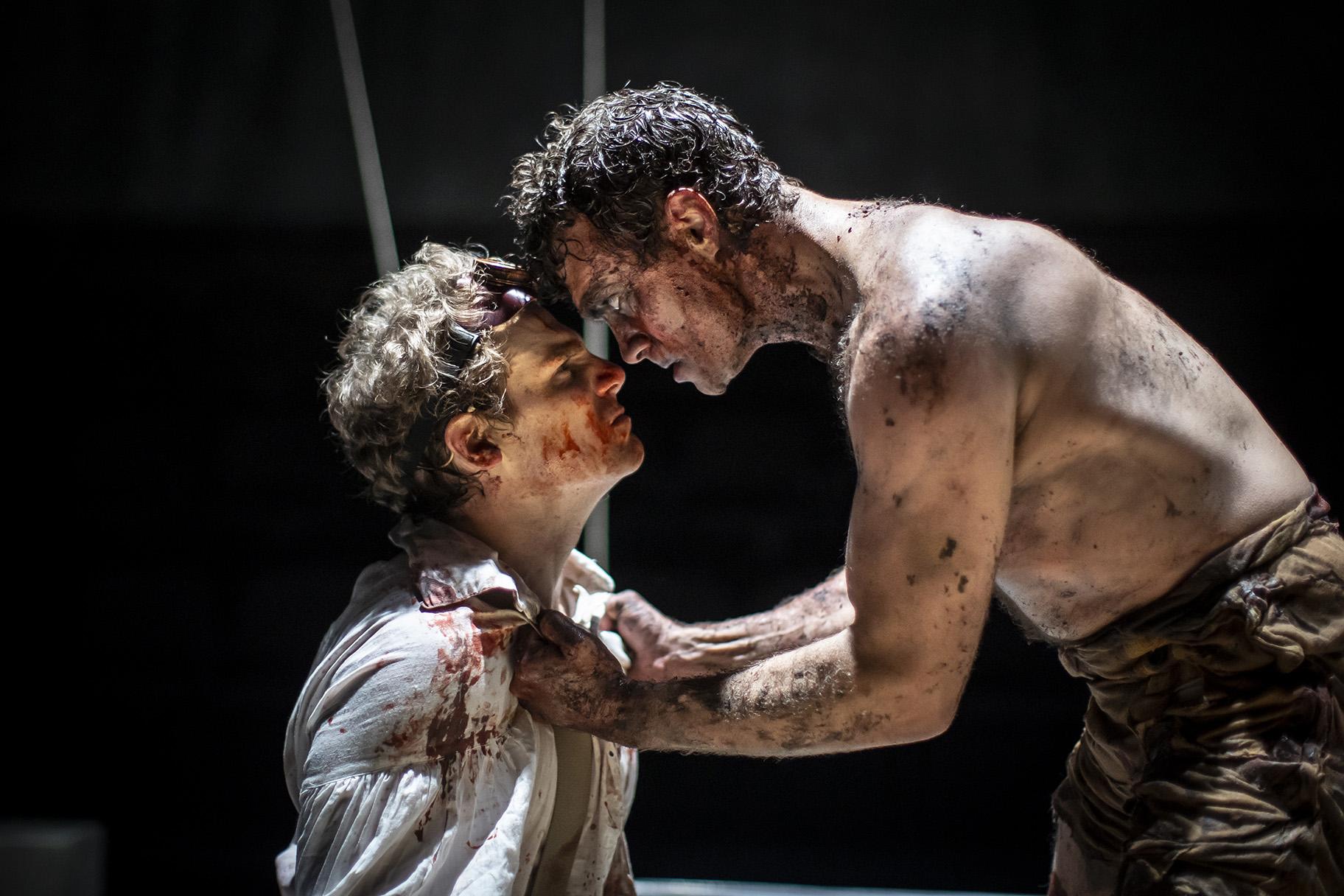 Lookingglass Theatre Company Artistic Associate Walter Briggs, left, and Keith Gallagher in "Frankenstein." (Photo by Liz Lauren)
Victor eventually promises to create a mate for him if he will go far away, but he then fears she will be as monstrous as the creature. A dreamy, sensual aerial pas de deux between Briggs and Dewdney (choreographed by circus designer Sylvia Hernandez-DiStasi) is one of the production's most exquisite moments.
There is much more to this love-death-creation story, with the tumultuous, death-haunted life of Mary Shelley clearly feeding its subtext. But what is key to this in-the-round production's magic is the way it moves so seamlessly and fearlessly into various worlds (including a crucial chase to the North Pole), and how it evokes death with the use of trap doors, masks, gauze and plastic curtains, a pair of giant black wings, glass display cases filled with skeletal remains, and more. Daniel Ostling's set (thrillingly lit by William C. Kirkham, and injected with electrifying sound and music by Rick Sims) often feels like a giant graveyard, with Sully Ratke's costumes a fine blend of elegant bohemian and bloodied rags. (Watch the set change at intermission to see how it all works, including the rigging by Rigability.)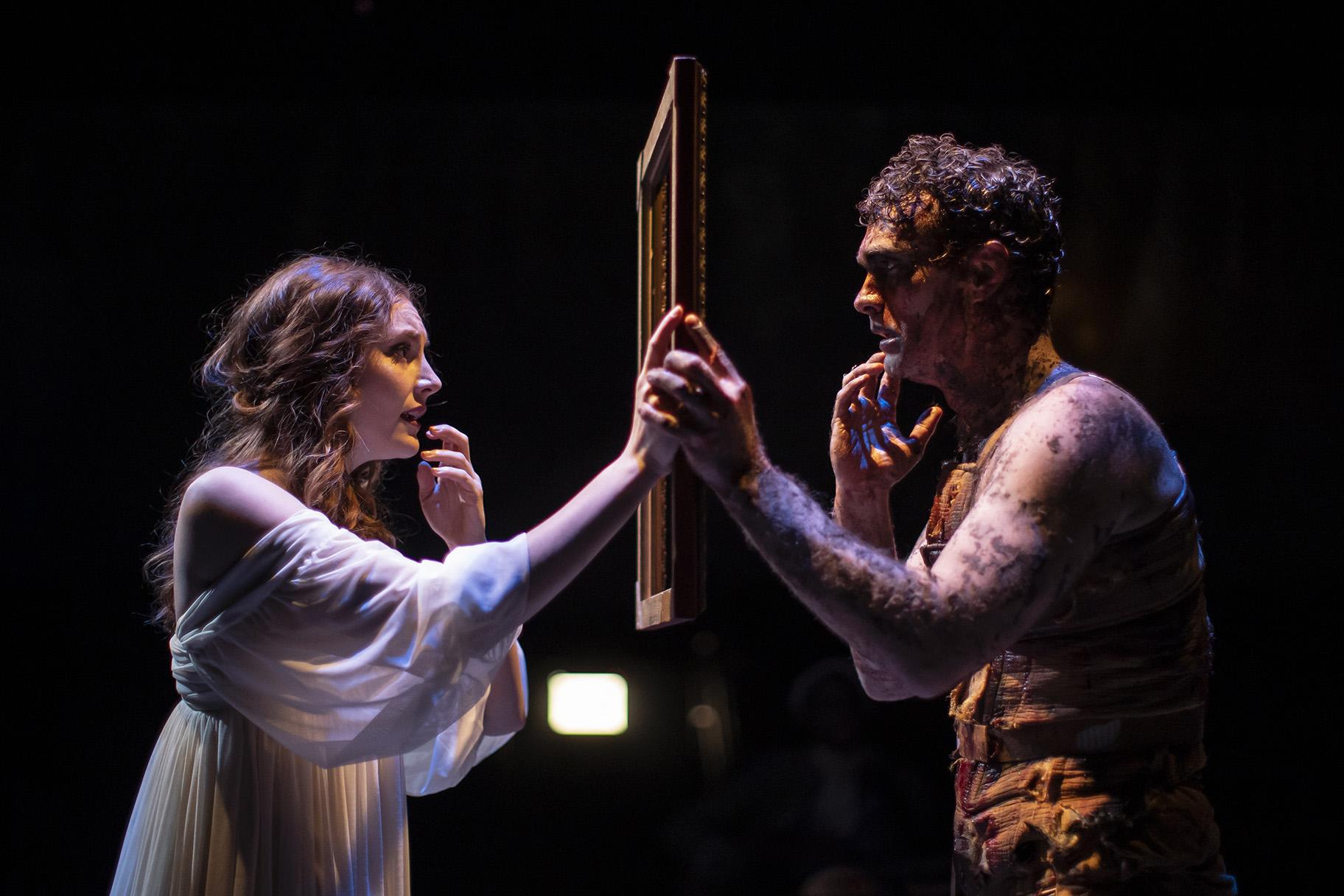 Cordelia Dewdney and Keith Gallagher in "Frankenstein." (Photo by Liz Lauren)
The performers are excellent, with Dewdney an actress of delicate beauty, immense grace and sensitivity, outstanding in her suggestion of the pain in the lives of both the writer and Elizabeth.
Briggs and Gallagher play off each other with true life-and-death ferocity, with Victor's compulsive drive wholly believable, and Gallagher's despair and rage as the creature enough to break your heart.
Gonzalez-Cruz leaves vivid impressions in multiple roles as Byron's lover, and both Victor's young brother and warm-hearted mother. And Balogun brings an easy charisma, decency and idealism to Dr. Polidori, a man who takes to heart the virtues of chivalry.
Watching "Frankenstein" at this particular moment – when CRISPR babies are being born, and various other forms of genetic engineering are being used to "perfect" the human organism – gives the story a whole new layer of meaning, and serves as quite the cautionary tale for those who would try to play God (or Mother Nature).
"Frankenstein" runs through Aug. 4 at the Lookingglass Theatre Water Tower Water Works, 821 N. Michigan Ave. For tickets ($45-$86), call (312) 337-0664 or visit lookingglasstheatre.org. Running time is 2 hours and 20 minutes with one intermission.
Note: This production is slated to travel to Princeton's McCarter Theater for a three-week run this fall.
Follow Hedy Weiss on Twitter: @HedyWeissCritic
---
In Knockout Musical 'Six,' King Henry VIII's Wives Have Their #MeToo Moment
'Bloomsday' a Breathtaking Play About Time, Love, Regret and Fateful Decisions
Saul Bellow's 'Augie March' Inspires a Theatrical Masterpiece at Court Theatre
---