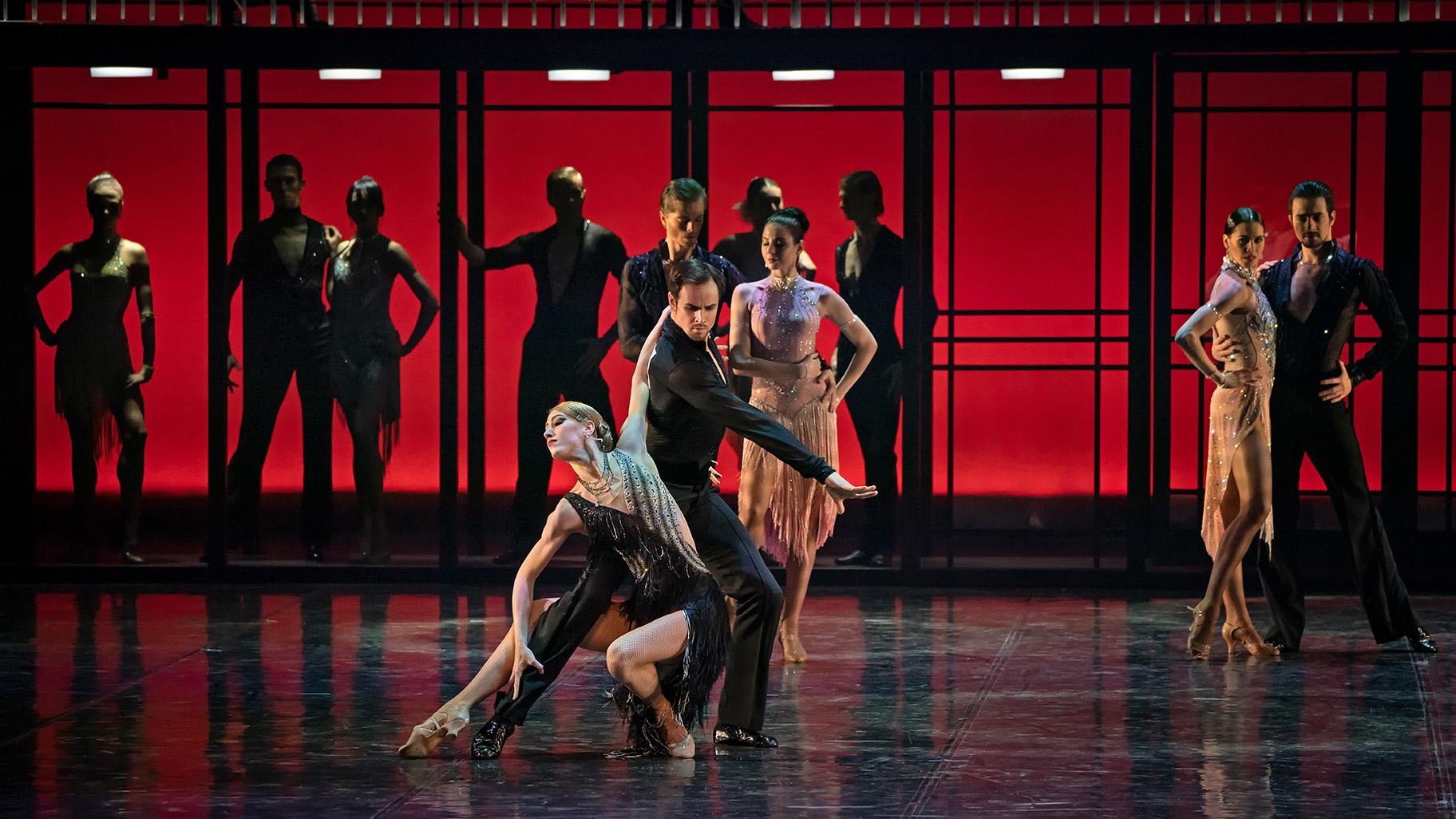 Eifman Ballet of St. Petersburg in "The Pygmalion Effect." (Photo by Michael Khoury)
The uniformly slender, long-legged, impossibly flexible, and technically fine-tuned dancers of the Eifman Ballet of St. Petersburg, Russia (which has been visiting Chicago since 2000, and attracts a large Russian-speaking audience) are a unique breed. And they give themselves over completely to the extreme plasticity and exaggerated acrobatic demands of Boris Eifman's choreography.
But this weekend, watching the company on the stage of the Auditorium Theatre as it performed his latest work, "The Pygmalion Effect," the feeling that his dancers are not well served by his relentlessly madhouse style of movement – manic, extreme, repetitive – could not be denied. And the use of a patchwork of music drawn almost entirely from the work of Johann Strauss (the son) quickly grew tedious.
The ballet's title is rooted in the myth about a sculptor, Pygmalion, who falls in love with his sculpture of a woman, Galatea. But more to the point here, it refers to the phenomenon by which others' expectations of a person affect that person's performance.
Eifman, tapping into the Art Deco era, spins an often wildly confusing story about a feisty but gawky and wholly unpolished girl, Gala (the absolutely sensational Lyubov Andreyeva, in a marathon role) who works as a bellhop at a fancy hotel, the Galatea, where a ballroom dancing competition is about to get underway.
Eifman Ballet of St. Petersburg (Photo by Michael Khoury)
Gala is dazzled by Leon (Oleg Gabyshev), a ballroom star whose routine with his glamorous partner, Tea (Alina Petrovskaya), is ruined by a mistake, and she catches his attention when she rescues him from an attack by street thugs. She also decides to show up in his class.
Intrigued, he makes a bet with the ballroom Coach (Igor Subbotin), that he will be able to transform her into a winning dancer, and then proceeds to put her through a grueling training regime. She triumphs, but is ultimately abandoned by Leon, and finds herself broken-hearted and alone on a park bench. (The program's page-long synopsis is far clearer than the ballet itself.)
As always with the Eifman company, the design elements were fabulously luxurious, with sets by Zinovy Margolin, lighting by Alexander Sivaev and Eifman, and costumes by Olga Shaishmelashvili. But despite the visual beauty of both the dancers and the design, the ballet never fully coalesced.
Follow Hedy Weiss on Twitter: @HedyWeissCritic
---
Trio of Superb Chicago Productions Highlight Language of Dance
ABT's 'Whipped Cream' Designed to Feed Ballet Audience's Sweet Tooth
Gauthier's 'Mega Israel' a Thrilling Dance Trifecta of Originality, Technique and Endurance
---