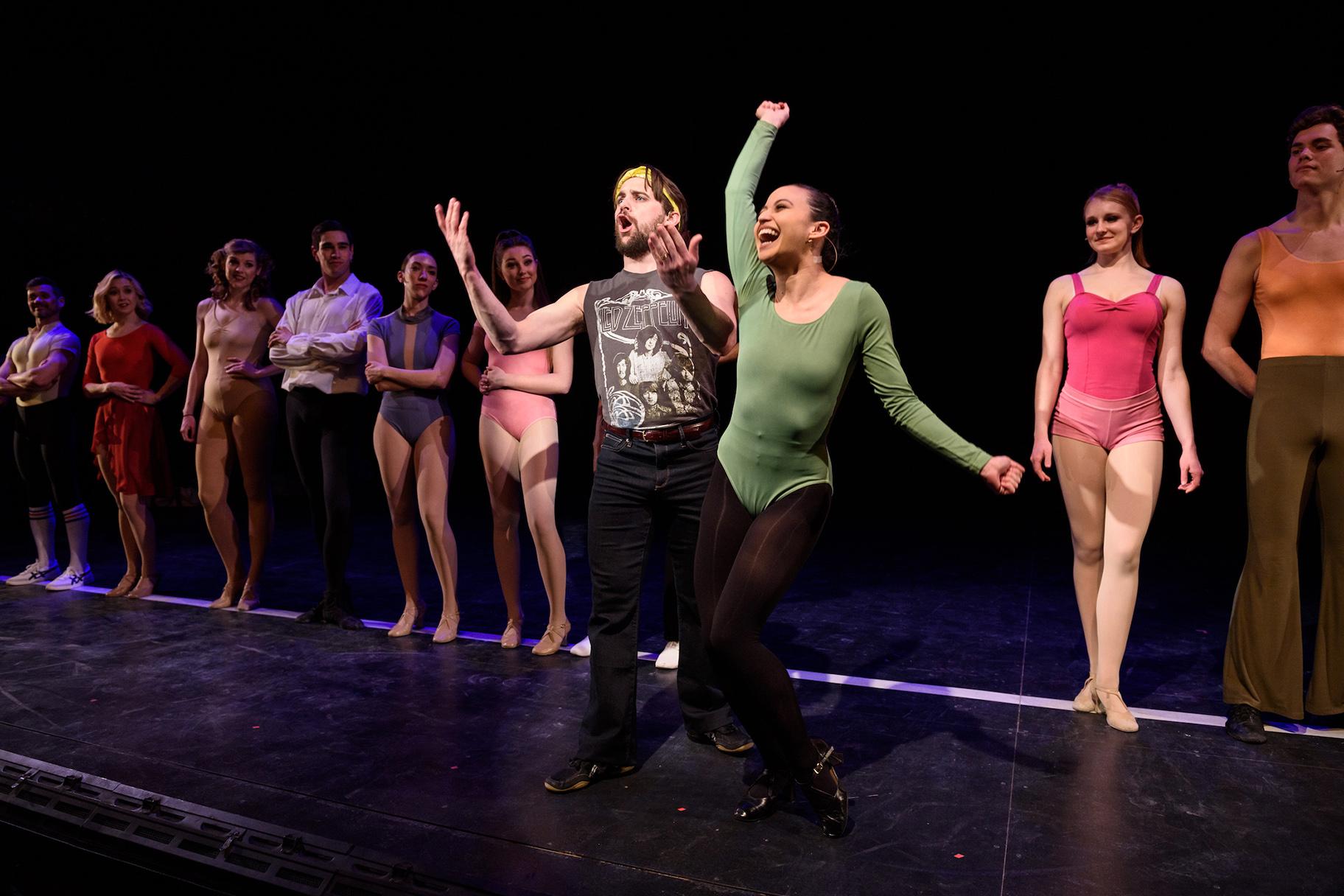 In front of the line, from left, Grant Carriker and Chloe Nadon-Enriquez in "A Chorus Line" from Porchlight Music Theatre. (Credit: Michael Courier)
Dance is a language all its own, and three very different productions that opened on Chicago stages during the past week serve as a powerful reminder of the dramatically varied ways in which that language can be spoken. Here's a closer look:
Dance as a Calling and a Form of Heartbreak
It begins with what was once referred to as "a cattle call" – an open audition for dancers hoping against all hope for the chance to be cast in the chorus of a new Broadway show. And in a sense, the audition is a Darwinian competition in which only the emotionally bravest and most skilled have a chance of survival.
"A Chorus Line," the instantly iconic 1975 musical with a score by Marvin Hamlisch and Edward Kleban, a book by James Kirkwood Jr. that was based on interviews with dancers, and most crucially of all, a concept realized by director Michael Bennett and his co-choreographer, Bob Avian, has often felt a little too much like psychodrama to me. I often winced at the dancers who were forced to bare their souls and whose stories suggested that dance was a sort of therapy for broken families, closeted sexuality, less-than-ideal looks and outsider status.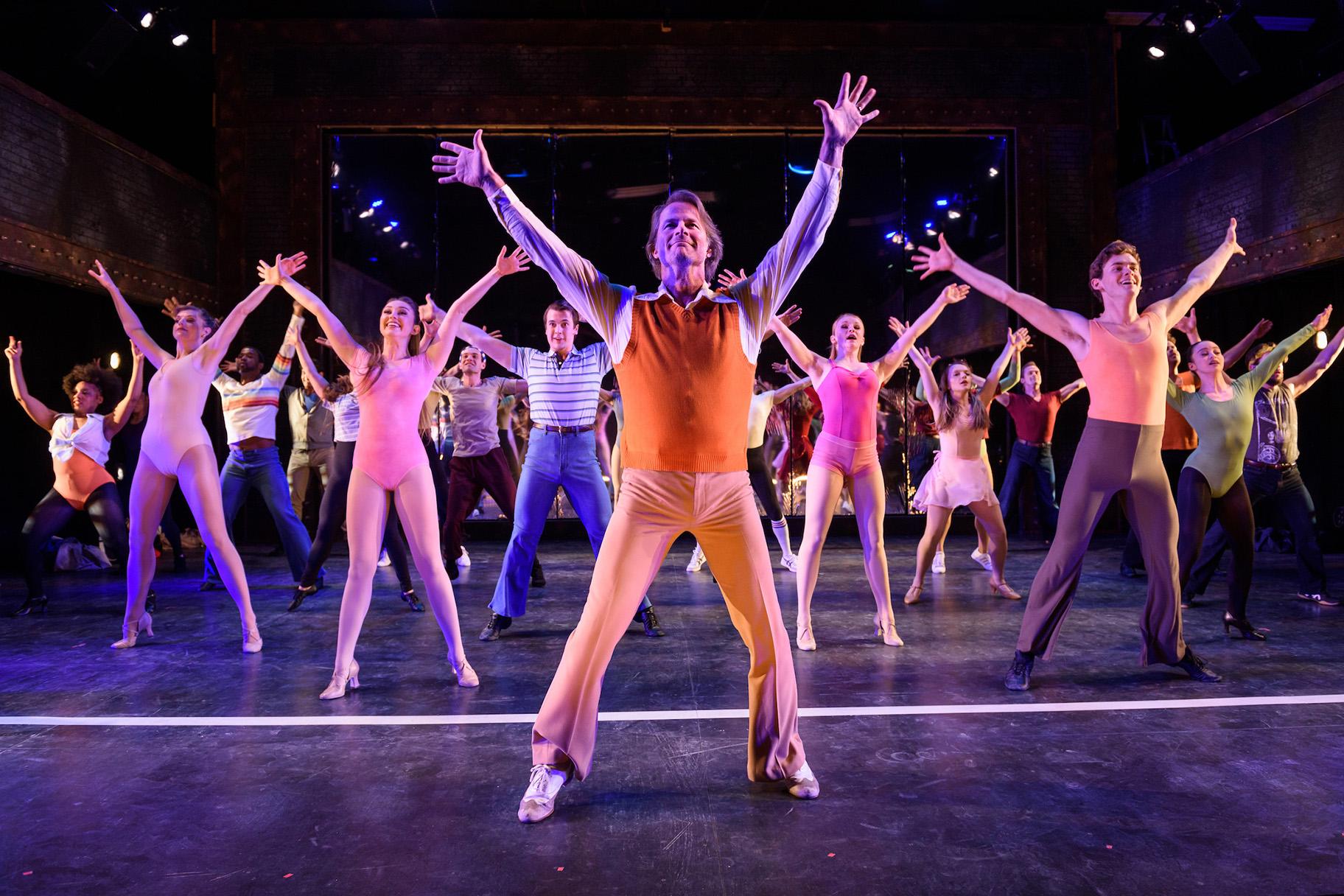 The cast of "A Chorus Line." (Credit: Michael Courier)
Porchlight Music Theatre's singularly sensational production remains true to the script. But along with the notion (apologies to philosopher Thomas Hobbes) that life in the dance world can be "solitary, poor, nasty, brutish and short," director Brenda Didier and choreographer Chris Carter have also managed to suggest the sheer passion for dancing that drives the 17 contenders for spots in a chorus line. Yes, of course, they need a job. But something more is at work, too: They simply need to dance.
To be sure, that is the case for Cassie (the lovely Laura Savage), the director's ex-girlfriend, who is desperate for a comeback, and whose marathon solo turn in "The Music and the Mirror" is fueled by both needs. But, at the clearly invasive prompting of Zach, the hard-driving director (an aptly relentless Richard Strimer), that desire comes through in the personal confessions of all those auditioning. So does the fabulous ensemble spirit that suggests that beyond the brutal competition in the art there is a camaraderie that makes the synchrony of a classic chorus line exhilarating to behold.
The Porchlight production is full of radiant personalities (and tireless dancer-singer-actors) including: Chloe Nadon-Enriquez as the spirited dancer who can't sing; Adrienne Storrs as the woman who rejected the Method techniques of her high school drama teacher; Natalie Welch as the dancer who realized the benefits of cosmetic surgery in all the right places; and Alejandro Fonseca, the homosexual who finally realizes just how much his father loves him. There also are the wonderful acrobatic moves of Terrell Armstrong; the hard-edged sarcasm of leggy Erica Evans; the upbeat attitude of the too short but eternally girlish Chinese-American dancer played by Ayana Strutz, and a slew of others, all distinctive and talented.
Didier sees to it that none of the characters are caricatures, while Carter's volcanic choreography lights up the stage at every moment. Linda Madonia's musical direction and six-piece orchestra are perfection. And seeing this musical in a more intimate venue than a Broadway house makes all the difference. Another triumph for Porchlight.
Porchlight Music Theatre's production of "A Chorus Line" runs through May 31 at the Ruth Page Center for the Arts, 1016 N. Dearborn St. For tickets ($39-$66) call (773) 777-9884 or visit porchlightmusictheatre.org. Running time is two hours with no intermission.
Dance as a Metaphor for Rebirth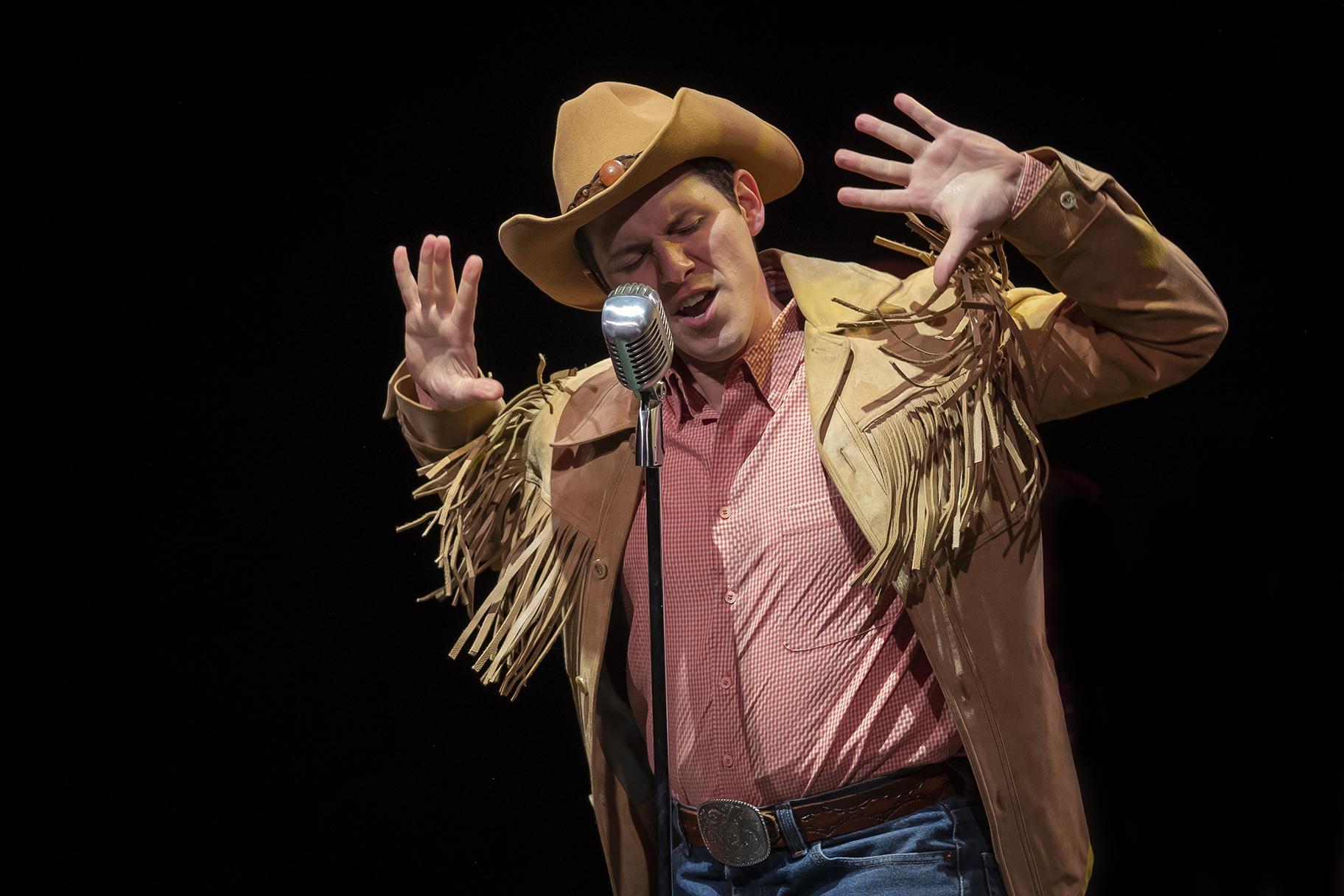 Nick Cosgrove in "Footloose." (Credit: Liz Lauren)
In "Footloose," Ren (Aidan Wharton, a recent Penn State graduate who moves like a dream, and is a terrific actor-singer to boot), is a teenage boy from Chicago who happily admits he can't stand still, and who spends his non-working hours in the city's dance clubs of the 1980s. Then, quite suddenly, he finds himself in the small, archly conservative Midwestern town of Bomont.
Ren's dad has abandoned him and his mother, and financial pressures have forced them to leave Chicago and take up residence in the home of an aunt and uncle. Worst of all, Bomont has been living for years under the dictates of its minister, the Reverend Shaw Moore (an aptly unbending Jim Stanek) who was instrumental in seeing that a law forbidding dancing was put into place after four teens were tragically killed in an auto accident.
The ban on dancing is immensely oppressive to Ren, but also to the minister's brainy, freedom-starved and rebellious daughter, Ariel (the radiant, golden-voiced Lucy Godinez (and a recent Northwestern University grad). Of course, it is not long before the two find the kindred spirit in each other, and against all the odds, things in Bomont begin to change.
This 1998 Broadway musical, adapted from the 1984 movie by its original screenplay writer Dean Pitchford and Walter Bobbie, features a richly varied score by Tom Snow and lyrics by Pitchford. And it is now receiving an emotionally rich, powerfully sung and superbly danced revival at the Marriott Theatre where it has been directed by Gary Griffin and choreographed by William Carlos Angulo, with expert musical direction by Ryan T. Nelson.
The great beauty of the show, which in many ways is about how dance serves as a medium of freedom, joy, love and sensuality, is the way it continually moves. Not only is there the use of a slowly revolving stage, but more crucially, Angulo's choreography (and the actors' overall body language) turns the wonderfully real and individualistic ensemble into something of a Greek chorus suggesting both the pent-up repression in the town, and adolescent hunger for action and sex. Unresolved relationships between a father and son, a father and daughter, and a husband and wife also are of the essence.
There is beautifully heartfelt work by Johanna McKenzie Miller as Vi, the minister's wife, who has learned to be silent. There is rich comedy in the antics of Ben Barker as Willard, the nerdy guy who becomes Ren's friend, and in the clarion-voiced Monica Ramirez as Rusty, his vivacious wannabe girlfriend.
The ensemble is full of virtuoso performers (including Heidi Kettenring, Meghan Murphy and Nancy Voigts, Lucy Godinez's real-life mom). And be sure to keep your eye on UJ Mangune, the show's dance captain – a self-trained hip-hop dancer whose moves are beyond brilliant.
"Footloose" runs through June 2 at the Marriott Theatre, 10 Marriott Drive, Lincolnshire. For tickets ($50-$60) call (847) 634-0200 or visit marriotttheatre.com.
Running time is two hours and 15 minutes with one intermission.
Dance as a Percussive Competition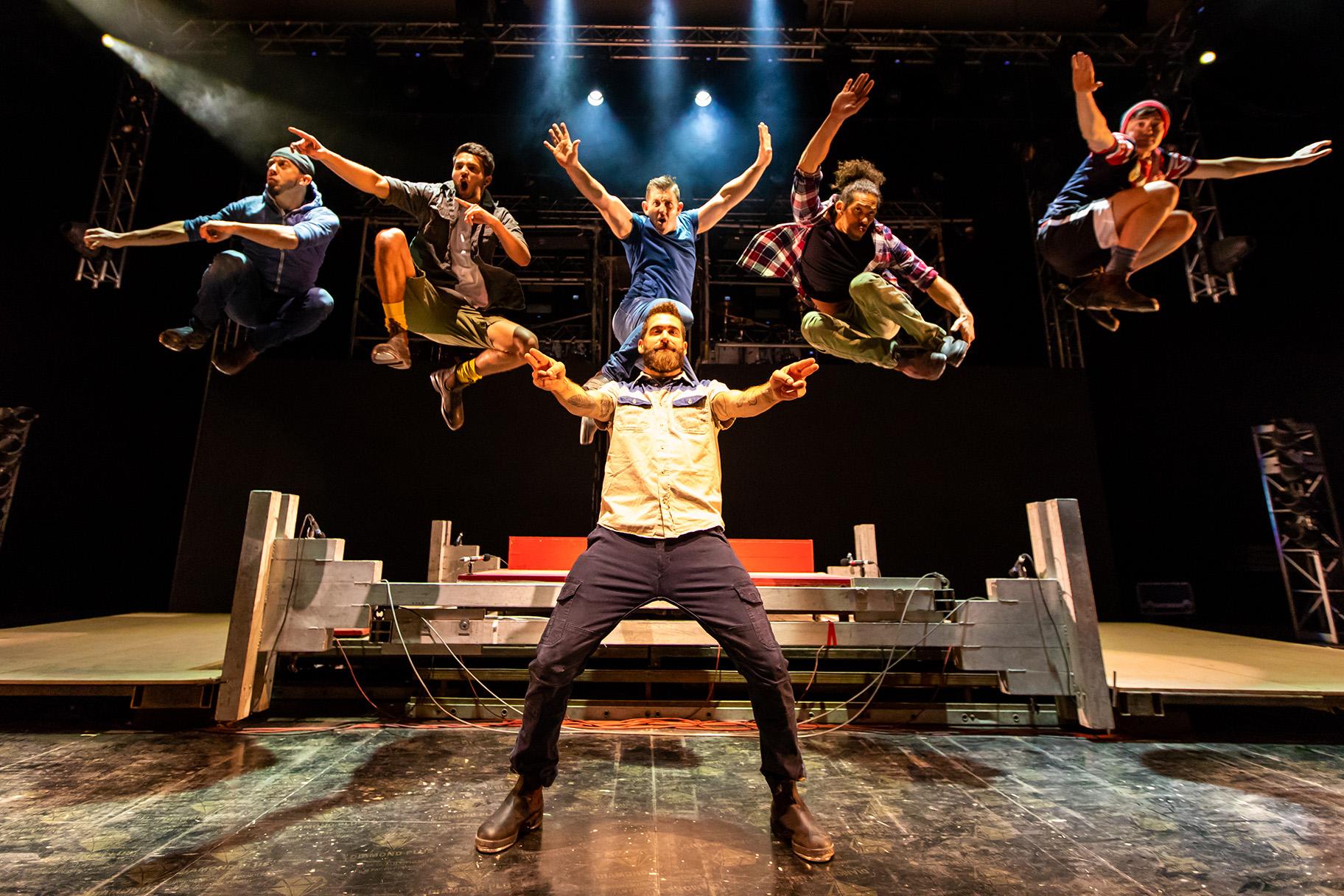 The 2018-19 international tour cast of "Tap Dogs." (Credit: Chris Richardson)
Percussive dance and music is all the rage these days, from the enduring "Stomp!" to the drum-driven "Djembe!" (now at the Apollo Theater), to "Mayumana" (the Israeli import seen recently at the Harris Theater for Music and Dance), to such Chicago troupes as Ensemble Espanol, Trinity Irish Dance and the Chicago Human Rhythm Project.
And then there is the Australian-bred spectacle, "Tap Dogs," which was created, directed and choreographed in industrial-strength style by Dein Perry, and has toured the world for more than two decades and been seen by audiences in 330 cities on six continents.
The latest ensemble of eight blokes in work boots – who are both daredevil dancers and droll comedians – has arrived on the stage of the Nederlander Theatre for a brief run through Sunday. And their antic spirit, big personalities and rhythmic roustabouting is pure, irresistible fun.
Add the presence of two volcanic female percussionists – Noriko Terada and Caitlin Kalafus – and the wildly pounding music of Andrew Wilkie (with help from engineer Laurence Maddy and sound designer Andy Jackson), along with dramatically shifting steel beams, ladders, platforms and troughs – all set ablaze by Gavin Norris's lighting and other visual tricks – and you have big sound and a whole lot of high impact spectacle as well as immensely engaging macho interplay.
The savvy, understated Anthony Russo is "The Foreman" of the ensemble, with Chaise Rossiello as the beefy, self-mockingly sexy Funky, Reid Perry as the lanky, boyish Kid, and Nathaniel Hancock, Richie Miller, Justin Myles, Nathan Beech and Sam Marks completing the lineup.
The pacing of the show is impeccable, with dangerous stunt dancing on a raked platform that suggests the splitting of the tectonic plates, a storm of electrical sparks that suggests a steel plant scene, and a sweetly winning teacher-student exchange between Russo and Perry.
The 85-minute show is an Olympian workout for its cast (and technicians), but they all seem to be having the time of their life. So will you.
"Tap Dogs" runs through April 21 at the Nederlander Theatre, 24 W. Randolph St. For tickets ($15-$65) call (800) 775-2000 or visit broadwayinchicago.com. Running time is 85 minutes with no intermission.
Follow Hedy Weiss on Twitter: @HedyWeissCritic
---
Instantly Joyful 'Djembe!' Encourages Everyone to Bang on a Drum
Softhearted Detective Delves into Life of Boy Who Was 'Too Much'
In Search of Shelter and Security in 'Landladies'
---