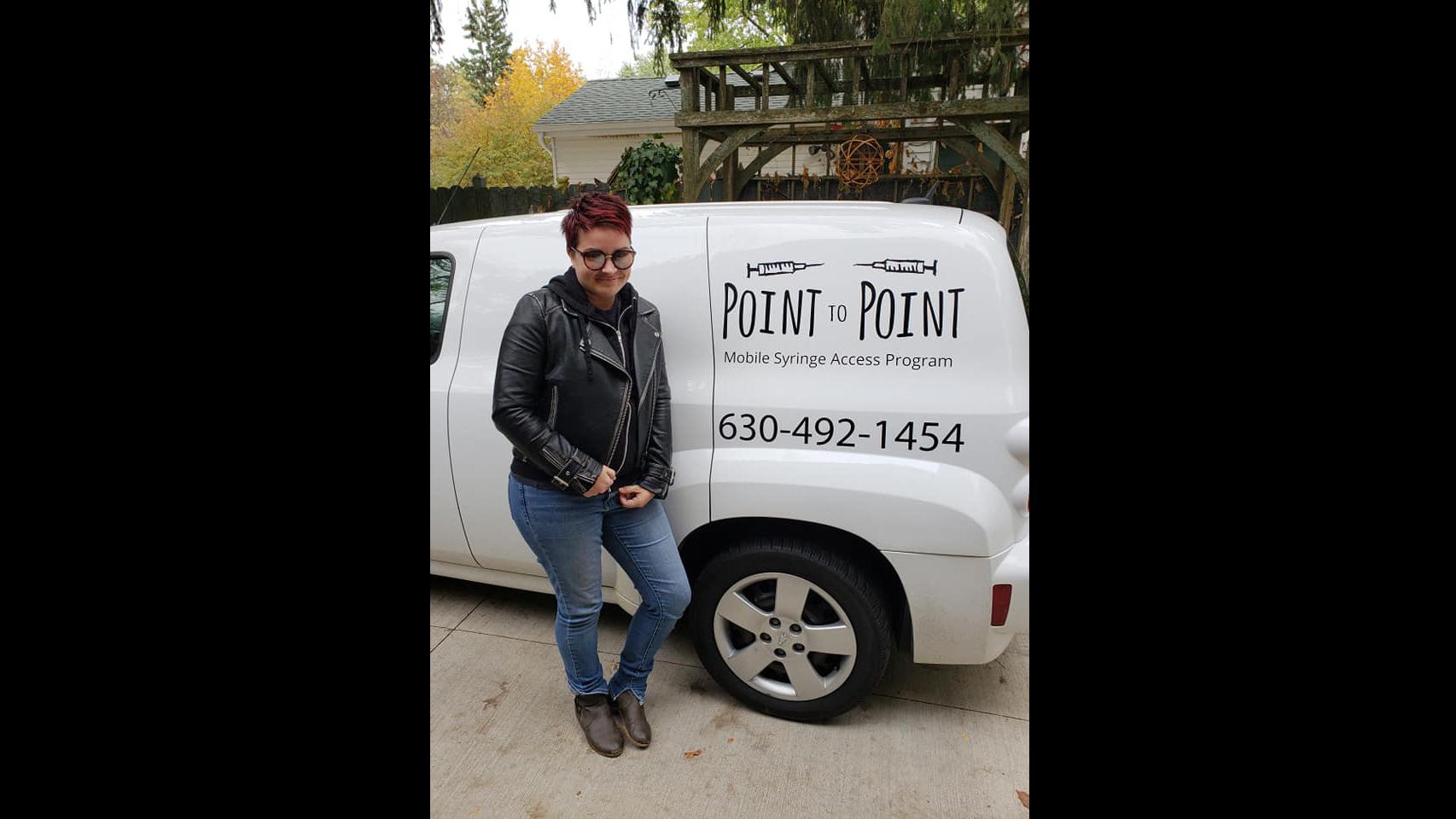 Batavia resident Lyndsay Hartman has been running Point to Point, a mobile syringe exchange program, in Kane county for about a year. (Point to Point / Facebook)
Batavia resident Lyndsay Hartman spends most Saturday afternoons and Sunday mornings running a mobile syringe exchange in Kane County. Among its services: free syringes, safe injection supplies, fentanyl testing strips, syringe disposal services and naloxone kits and training.
Hartman, 30, who works as a case manager for a Kane County recovery center, said she started the exchange, called Point to Point, after watching her former boyfriend struggle with heroin addiction.
"I realized how difficult life is for someone (who uses drugs) and how difficult it is for their family, and the lack of resources and support," she said. "It broke my heart my partner couldn't tell me the truth about his (drug) use."
Hartman has been offering supplies through Point to Point for about a year, and she's noticed that some people are reluctant to accept services, especially when they ask her about the legality of the program.
While there is no statewide law authorizing syringe exchanges, Hartman has an agreement with Kane County authorities to run her program, as current law allows. Syringe exchange programs that include a research component are also allowed. (Hartman's program, in fact, is involved in a research program associated with the Chicago Recovery Alliance.)
Dan Rabbitt, health policy leader at Heartland Alliance, says the current law is "a little ambiguous."
"You can possess up to 100 needles without a prescription under current state law, but having used needles is a different situation, and distributing actively to other people is unclear. We're trying to clear that up," Rabbitt said.
A new bill making its way through the Illinois General Assembly could do just that.
Sponsored by Sen. Melinda Bush, SB1828 would legalize syringe exchange programs statewide and would be run by the Illinois Department of Public Health. The bill details requirements for establishing and running syringe exchanges and provides criminal immunity to individuals, which Rabbitt said is crucial. "That's the crux of what's missing or not currently allowed (under state law)," he said.
While Hartman is allowed to offer services in Kane County, she could face charges for running a syringe exchange in other counties. "I feel protected in Kane County," she said. 
There are six syringe exchange programs in Illinois, with half located in Chicago, according to the North American Syringe Exchange Network. Most syringe exchanges have limited hours, said Evan Lyon, chief integrated health officer at Heartland Alliance. "It's a huge impediment to engaging people at the margins where the disease is affecting the most people," he said. "The big potential for this legislation is to drop yet another barrier to connecting people with the kinds of services they need."
---
Rabbitt also says low-barrier access is critical. "Syringe exchange programs are often the first connection for people who are using drugs with the health care system and treatment system," he said. "You're reducing harms associated with (drug use), educating how to prevent overdose and how to prevent other public health problems … while building a relationship that can help these folks make a change when they're ready."
Research has shown syringe exchange programs are effective at preventing the spread of infectious diseases and overdoses, as well as encouraging participants to enter treatment, according to Rabbitt. "Needle exchanges don't have any effect on public safety," he said.
Yet public support for such programs remains low – only 39% of Americans supported legalizing syringe exchange programs in their communities, according to a 2018 Johns Hopkins Bloomberg School of Public Health study that sampled 1,000 adults.
Kane County Coroner Rob Russell said he understands the public's hesitancy to embrace such programs. "The surface, knee-jerk reaction to something like this is, 'This is scary, it's yucky.' People don't want to deal with needles," Russell said. "Why create a program that gives needles to people? … I understand that. I was a former cop, and cops and needles don't mix." 
Russell, who worked for 20 years in the DuPage County Sheriff's Office before he was elected Kane County coroner in 2012, said his opinion on the topic shifted as the number of overdose deaths in the county increased. Last year, 67 people died of heroin or opioid overdoses in Kane County, according to the Chicago Tribune.
"I want less people coming through my morgue," said Russell, who allows Hartman to run her mobile syringe exchange in the parking lot of his office on Saturdays.
Russell has even spoken in Springfield in favor of the proposed bill. "This is the right thing to do. I understand that people would not be in favor of something like this but there's a lot of benefit to this," he said.
"I'd rather (people) not do drugs and inject drugs, but if they're going to do it at least they can have access to clean, safe needles and can dispose of them properly. I'm hoping that by us projecting that we care about them that they feel value in themselves and step up and try to get treatment," he said.
In addition to the syringe exchange, the bill would provide additional support to overdose prevention programs by directing the state to promote best practices and provide training programs. The bill passed the Senate by a 46-3 vote on April 11 and remains in the House of Representatives.
Contact Kristen Thometz: @kristenthometz | [email protected] | (773) 509-5452
---
Related stories:
Chicagoans Armed with Knowledge, Naloxone to Fight Opioid Crisis
Cook County Jail to Expand Medication-Assisted Treatment for Opioid Addiction
Illinois Receives $15 Million to Fight Opioid Crisis
---