Community health educators Karen Daniels and Joel Williams pack naloxone kits on Friday, Dec. 7, 2018. (Kristen Thometz / Chicago Tonight)
Garfield Park resident Larry Hills initially panicked when his wife overdosed from heroin. But then he remember his training.
"I was prepared to respond to that moment," he said. "God trained me for that moment."
This past March, Hills was trained to recognize and respond to opioid overdoses as part of an initiative to combat opioid addiction in some of Chicago's hardest hit areas. He credits that training with saving his wife's life that day in May.
"I don't know what my reaction would've been if I hadn't had this training," Hills said. (His wife, Kathy Hicks, is alive and well, by the way, and recently started a treatment program.)
Hills was one of 45 people trained this spring to become a community health educator through a collaboration between the Chicago Recovery Alliance (CRA), Heartland Human Care Services (HHCS) and Men and Women in Prison Ministries (MWIPM). Many of the trainees already had relationships with a partnering organization, or were referred to the organizations through word of mouth.
The collaboration was funded by a $225,000 Chicago Department of Public Health grant, with the goal of equipping individuals at risk of overdose with naloxone and training them how to use it. 
"The whole purpose was to reach people not already being reached by existing naloxone services, and we wanted to do that thoughtfully," said Iliana Espinosa-Ravi, outreach specialist and community overdose prevention program manager at CRA.
While CRA had connections to drug users, the partnership with HHCS and MWIPM allowed it to tap into other communities affected by the opioid epidemic, such as individuals experiencing homelessness and people who have been incarcerated. "We felt (the collaboration) was a good way to reach other groups of people that are particularly vulnerable to overdose," she said.
All three organizations felt the best way to reach those most at risk of an overdose was to train community members who had connections to the opioid epidemic, like Hills, to educate and distribute naloxone to city residents. "We gave preference to people who had lived experiences, people who were residents of the South and West Sides, (and) people who had experience with overdose themselves or in their families," said Espinosa-Ravi.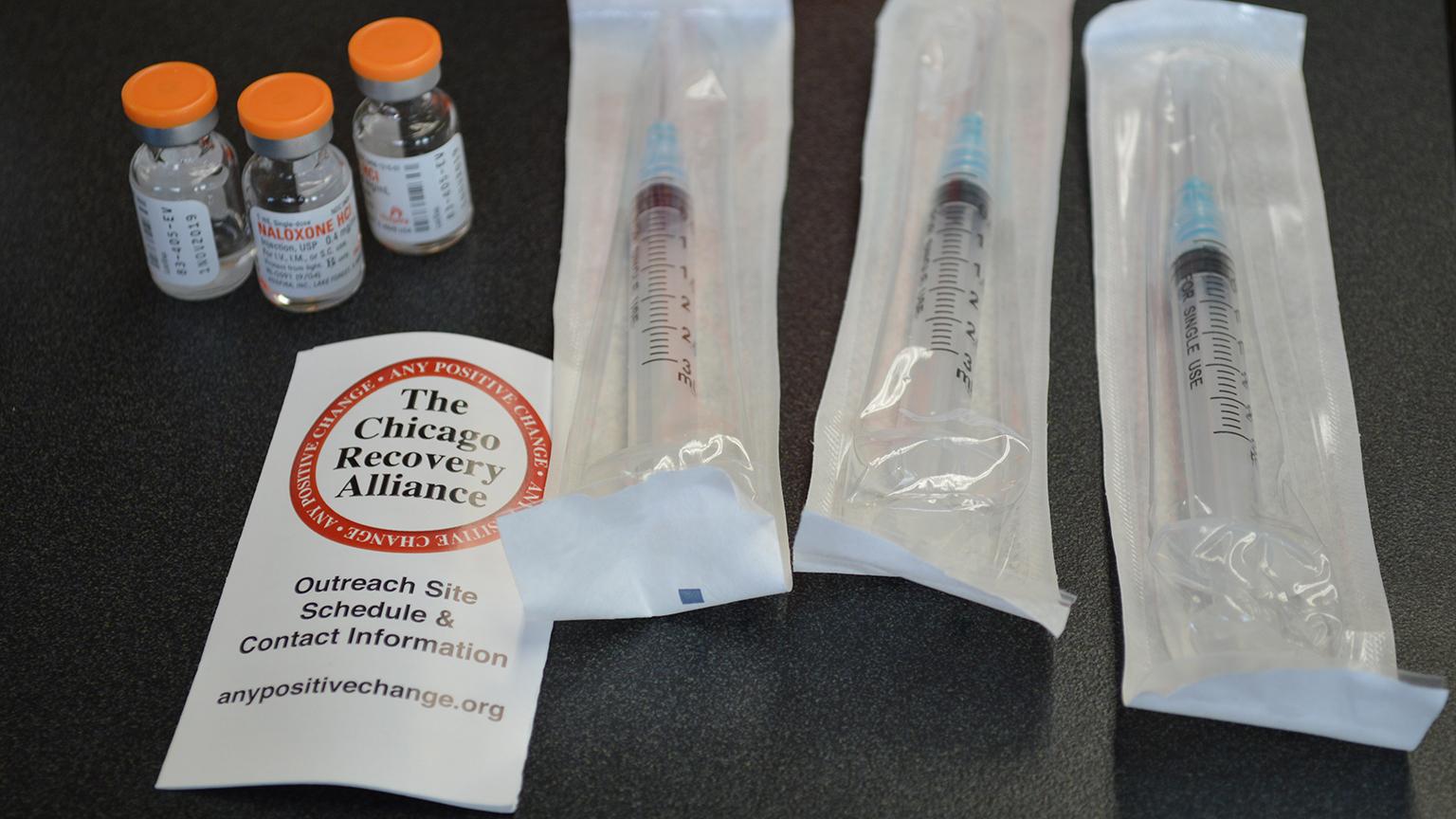 Each naloxone kit contains three vials of naloxone, three syringes and a CRA card to inform people about their services, including its silver van that carries naloxone and other supplies for safer drug use. (Kristen Thometz / Chicago Tonight)
Daniel Pohl, associate director of housing at HHCS, says training community members establishes trust and acknowledges cultural and language issues. "If you talk with someone you don't have much in common with about something stigmatizing, (they're) probably not going to be as candid and the conversations aren't going to be as productive," he said.
South Shore resident Gary Lee, who was trained under the program, said his past drug use not only helps him connect with people, it's good for offering teachable moments. "When I first got introduced to heroin, I was never told what would come with it – that I would end up homeless, in jail and a crook and a liar," said Lee. "I had to experience that on my own." But he hopes his story can serve as a warning to others "so they don't have to go through what I went through," he said.
Before hitting the streets, community health educators undergo five hours of hands-on training to learn how to identify and respond to an opioid overdose, from recognizing signs and symptoms of an overdose to administering naloxone, according to Larry Kirkpatrick, a substance abuse counselor at HHCS.
North Lawndale resident Davita Young said the training not only taught them the necessary skills, but also to be compassionate and empathetic when engaging with community members.  
At the end of the training, participants are given a certificate that reflects their training is in line with the Illinois Department of Public Health's Division of Alcoholism and Substance Abuse standards. (There is no legal state certification for naloxone training, like there is for CPR, and one is not needed to administer naloxone.)
But the training doesn't end there. Community health educators are quizzed routinely during meetings in which they pack naloxone kits to distribute in their communities. "We want to confirm they still know what they were taught (at the outset of the program), so they're still able to answer community members' questions," said Kirkpatrick.
Each kit contains three vials of naloxone, three syringes and a CRA card to inform people about the group's services, including its silver van that carries naloxone and other supplies for safer drug use. "Sometimes multiple overdoses happen in one place if there's more than one person using the same drugs," Pohl said of why multiple doses are included in each kit.
Sometimes multiple doses are needed for just one person. Hills said he had to administer two doses of naloxone to his wife when she overdosed in May.
Garfield Park resident Larry Hills administered naloxone to his wife when she overdosed from heroin in May. Hills credits the training he received as a community health educator with saving his wife's life. (Kristen Thometz / Chicago Tonight)
Since receiving their training in March, community health educators, like Hills and Young, have been walking the streets of Chicago, with many focusing their efforts on the South and West Sides and distributing naloxone to anyone who may need it.
"Everybody should have a kit because you never know when you're going to need it," said Austin resident and community health educator Joel Williams.
West Rogers Park resident Maritxa Vidal, who also works as a community health educator, carries naloxone with her and said she has stopped opioid overdoses in nine people over the course of a decade. "I was at the right place at the right time," said Vidal. "I feel like this is what I was meant to do: to save a human being."
Vidal's calling stems from her own experience. "I used drugs 25 years ago, and by the grace of God I've been clean for nearly 26 years because someone was able to bring me out of an overdose," she said. "If somebody had not been there for me, I wouldn't have had a chance."
Of course, not everyone they meet is open to learning how to reverse an overdose or take a kit, says Young. In those situations, she tries to persuade an individual to take a kit not for themselves but rather to have on hand just in case someone else needs to stop an overdose. But if they refuse, she respects their decision. "Sometimes you have to walk away," she said.
Since the program launched in March, community health educators have trained more than 5,000 people and distributed more than 7,000 kits through November, according to provisional counts. Community health educators are paid a "decent rate" per person they train and naloxone kit they distribute, according to Espinosa-Ravi. "We wanted to compensate people so they can continue the work without it being a huge financial burden," she said.
The funding for the grant ends Dec. 31, but the three organizations hope educational efforts continue. "There needs to be more education about this miracle drug (naloxone)," said Russell Jackson, manager of Men and Women in Prison Ministries. "We might not be able to continue with the community health educators, but we can be a naloxone distribution site."
Contact Kristen Thometz: @kristenthometz | [email protected] | (773) 509-5452
---
Related stories:
Chicago Officers to be Equipped with Narcan Through New Pilot Program
Illinois to Receive $43.5 Million to Fight Opioid Crisis
Pot as a Painkiller: New Law Aims to Curb Opioid-Related Deaths
---