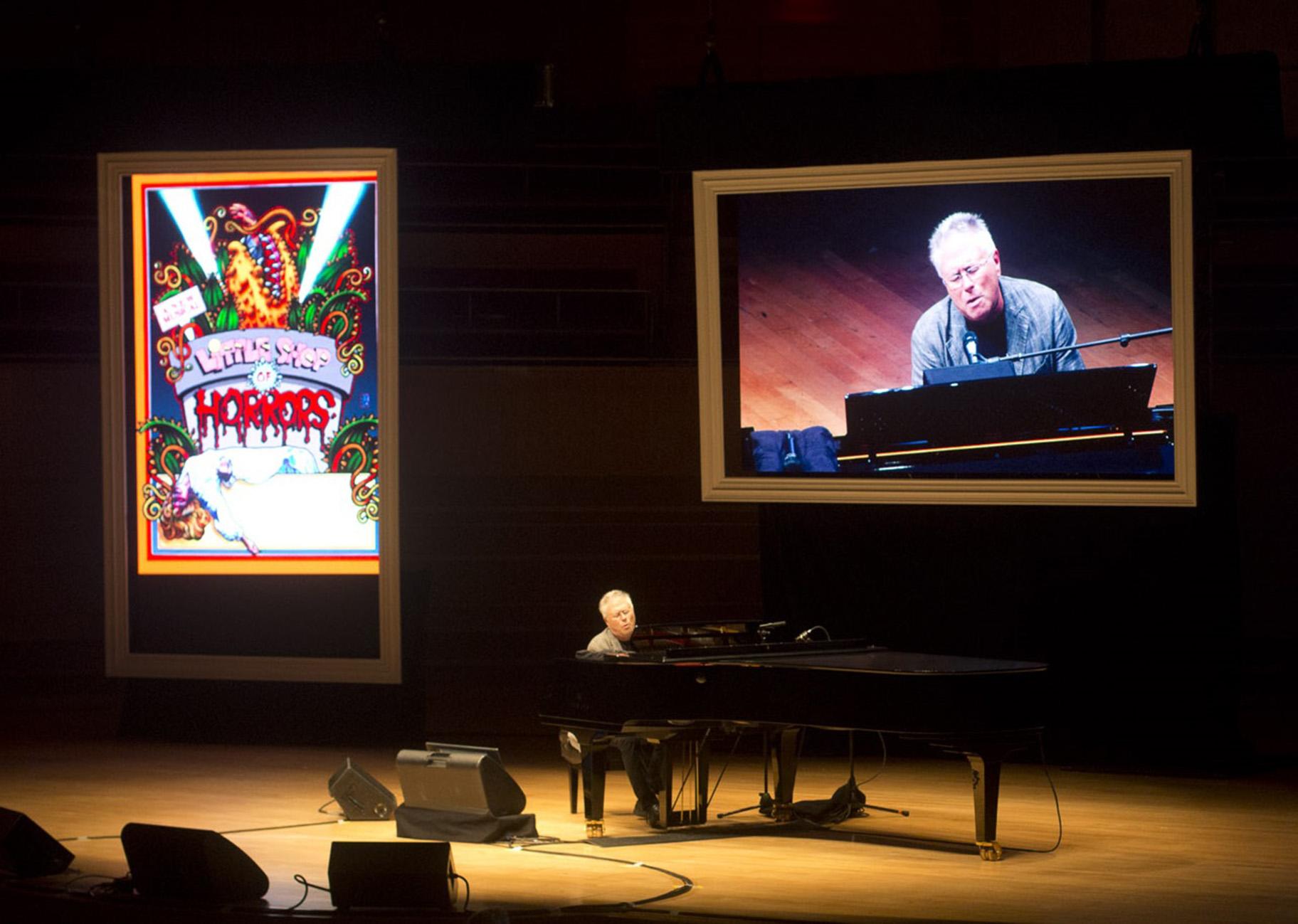 Alan Menken (Courtesy of CAMI)
Broadway composers and lyricists can be divided into two groups – those who are perfectly happy doing all the creative work but have no desire to be on stage, and those who will happily grab hold of the opportunity to perform.
Alan Menken, who easily can be dubbed "Disney's Music Man," is clearly in the latter category as he demonstrated in "A Whole New World of Alan Menken," the delightful one-man show (enhanced by some priceless archival photos and video clips) he performed before a packed house at the Auditorium Theatre last weekend. Had he wanted a full-voiced choir to back him up he could easily have signaled his audience to join in, for they could be seen bathing in nostalgia throughout the evening while mouthing the words to nearly every song in the immense canon of stage and film hits the composer has penned with several different lyricists over the decades, including "The Little Mermaid," "Beauty and the Beast," "The Hunchback of Notre Dame," "Pocahontas," "Aladdin" and "Newsies." (Along the way, Menken also drolly noted some of his box office flops.)
More: Celebrated Songwriter Alan Menken on Disney Movies, Musicals
There is much more to say about Menken's show, but first, a look at "Little Shop of Horrors," his first hit musical (created in collaboration with his favorite lyricist, the late Howard Ashman), which is now receiving a terrific production at Mercury Theater Chicago. Based on Roger Corman's 1960 cult film, the musical version of "Little Shop" opened off-Broadway in 1986, and has delighted audiences ever since with its black humor, horticultural horror and doo-wop-infused score.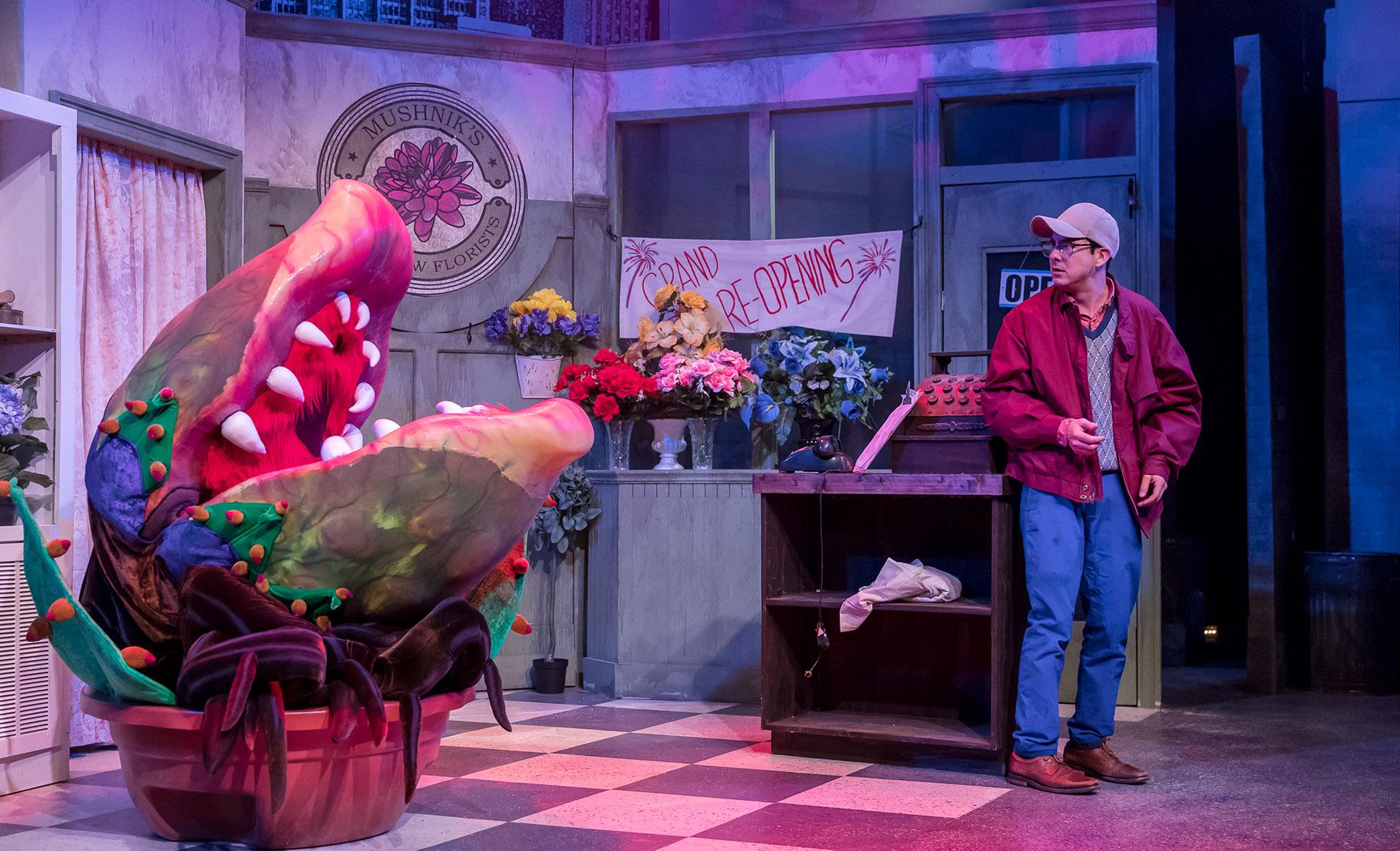 Sam Woods (puppet) and Christopher Kale Jones in "Little Shop of Horrors." (Photo credit: Brett Beiner)
The Mercury production of "Little Shop" (which opened in March and has now extended its run by two months, through June 30), tells you pretty much all you need to know about the infectious zaniness and genuine heart that has made it such a favorite. (Menken's own story, about how he grew up among an extended family of dentists, and made a sharp turn away from the drill to pursue a music career, injects the "Little Shop" depiction of a sadistic dentist with added humor, while his talk about his long and happy marriage to the dancer he met while still very young suggests why his many love songs are so enchanting.)
Staged with great zest by director L. Walter Stearns and choreographer Christopher Chase Carter, with music direction to match by Eugene Dizon (and his band that includes Celia Villacres, Scott Sedlacek, Dan Kristan and Lindsay Williams), this "Little Shop" also has been impeccably cast.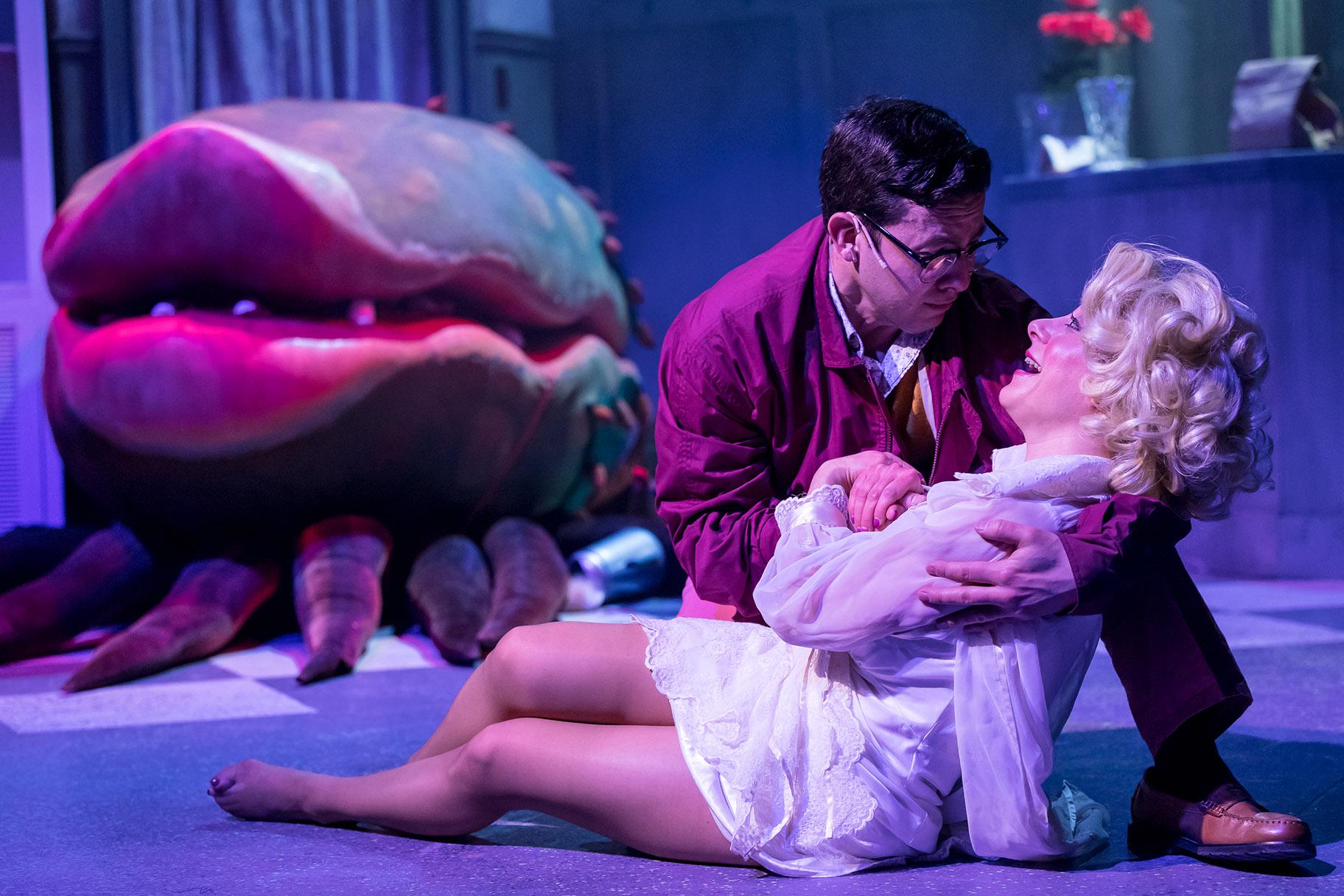 Sam Woods (puppet), Christopher Kale Jones and Dana Tretta (Photo credit: Brett Beiner)
Set in a shabby, nearly bankrupt florist shop on New York's Skid Row in the late 1950s, the musical tells the story of Seymour (Christopher Kale Jones), a nerdy orphan who years earlier was taken in by the shop's owner, Mr. Mushnik (Tommy Novak), who has used him as essentially free labor. Also working in the shop is sexy little Audrey (Dana Tretta), whose self-image is no better than Seymour's, and who allows herself to be physically and emotionally abused by her boyfriend, Dr. Orin (the easily morphing David Sajewich), a rich but twisted macho dentist. Of course Seymour is secretly in love with Audrey. And serving as the streetwise chorus that urges her to turn her back on the creepy dentist is a trio of high school dropouts with fabulous pop voices and moves, and plenty of attitude: Crystal (Nicole Lambert), Ronnette (Adhana Reid) and Chiffon (Shantel Cribbs). And this trio easily lights up the stage.
From left: Nicole Lambert, Shantel Cribbs and Adhana Reid (Photo credit: Brett Beiner)
Things take a decidedly wild turn when an exotic plant Seymour has been cultivating suddenly transforms the shop's fortunes, assumes a blood-sucking life of its own, and makes increasingly impossible feeding demands. But for the first time, Seymour becomes the center of attention, with offers of fame and fortune at every turn, a less-than-altruistic offer of adoption by Muchnik, and above all, the possibility of love with Audrey. The moral of the story? Be careful what you wish for.
Jones' Seymour is spot-on as the hapless fellow whose dreams come true, but also (quite literally) devour him. And Tretta (that immense talent in a tiny frame who Mercury audiences will remember for her portrayal of Gilda Radner in "Bunny, Bunny" a few seasons back), is vocal and dramatic perfection as Audrey, bringing sweetness and light to her suburban dreams in the always winning song, " Somewhere That's Green."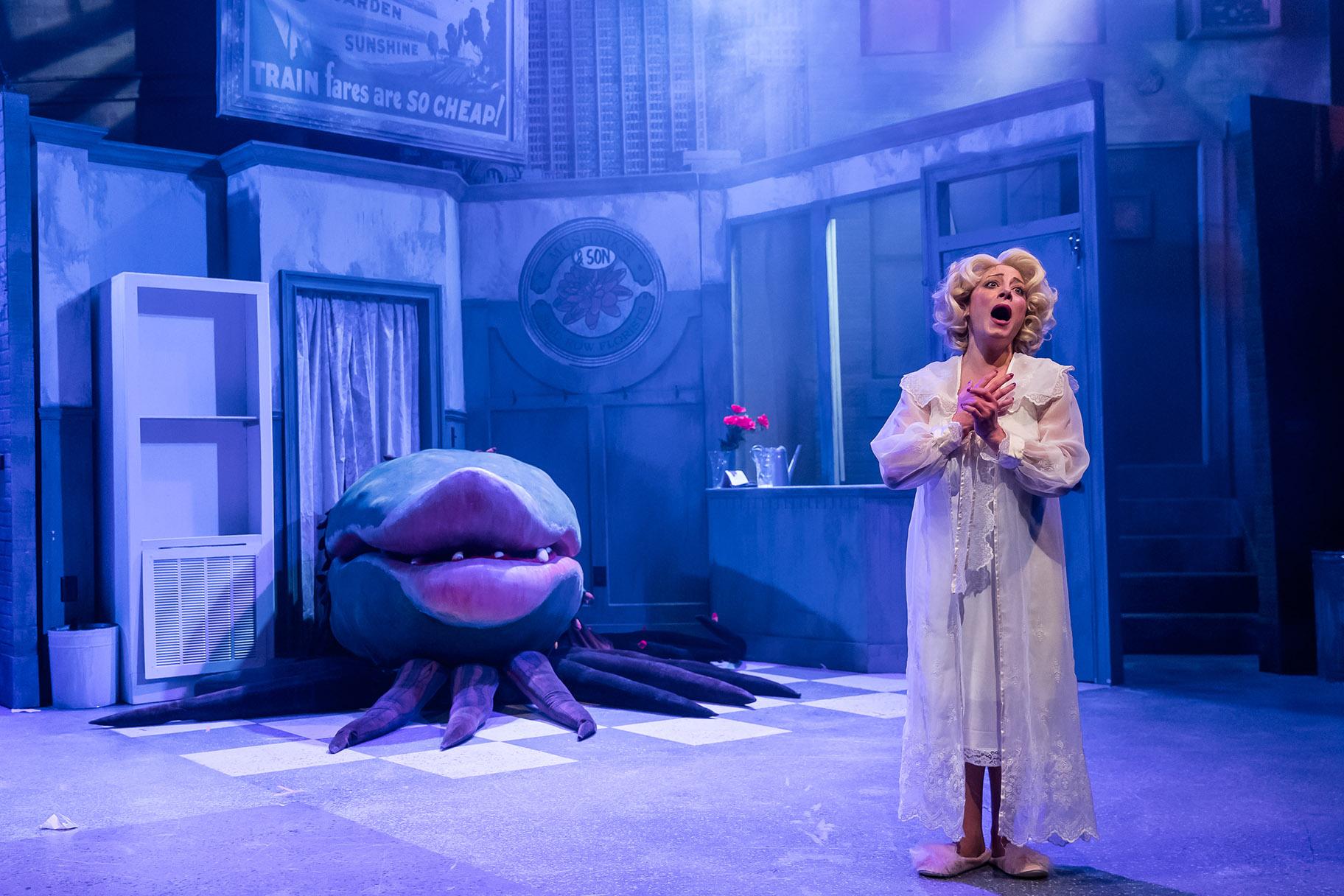 Sam Woods (puppet) and Dana Tretta (Photo credit: Brett Beiner)
For the pair behind Audrey II, the gargantuan plant Seymour must tend to, Jonah Winston provides the deeply resonant voice, while Sam Woods animates the satanic puppet. Alan Donahue's set, Kristof Janezic's lighting and Serena Sandoval's costumes are all ideal. And special applause goes to sound designer and engineer Carl Wahlstrom who sees to it that every one of Ashman's inspired lyrics is crystal clear. (I only wish he had also worked on Menken's show at the Auditorium, where the miking, as well as the composer's diction, could have used some help.)
Audiences at the Auditorium left the theater with a few words of wisdom gleaned from Menken's own life: "Do what you love. And don't get in your own way." Words (along with Ashman's lyrics) to live by.
"Little Shop of Horrors" runs through June 30 at Mercury Theater Chicago, 3745 N. Southport Ave. For tickets ($35-$65) call (773) 325-1700 or visit mercurytheaterchicago.com. Running time is two hours and 15 minutes with one intermission.
Note: Among Menken's upcoming projects are a new stage musical of "Hercules" (at the Public Theatre's summer home, the Delacorte Theatre in New York's Central Park), and a collaboration with Lin-Manuel Miranda on a new animated film of "The Little Mermaid."
Follow Hedy Weiss on Twitter: @HedyWeissCritic
---
'Anastasia' a Big Budget Mess of a Musical That Makes History
Court's Soul-Baring Revival of 'For Colored Girls' Finds New Power in Classic Work
Black Ensemble Shines Light on Gospel Great Mahalia Jackson
---