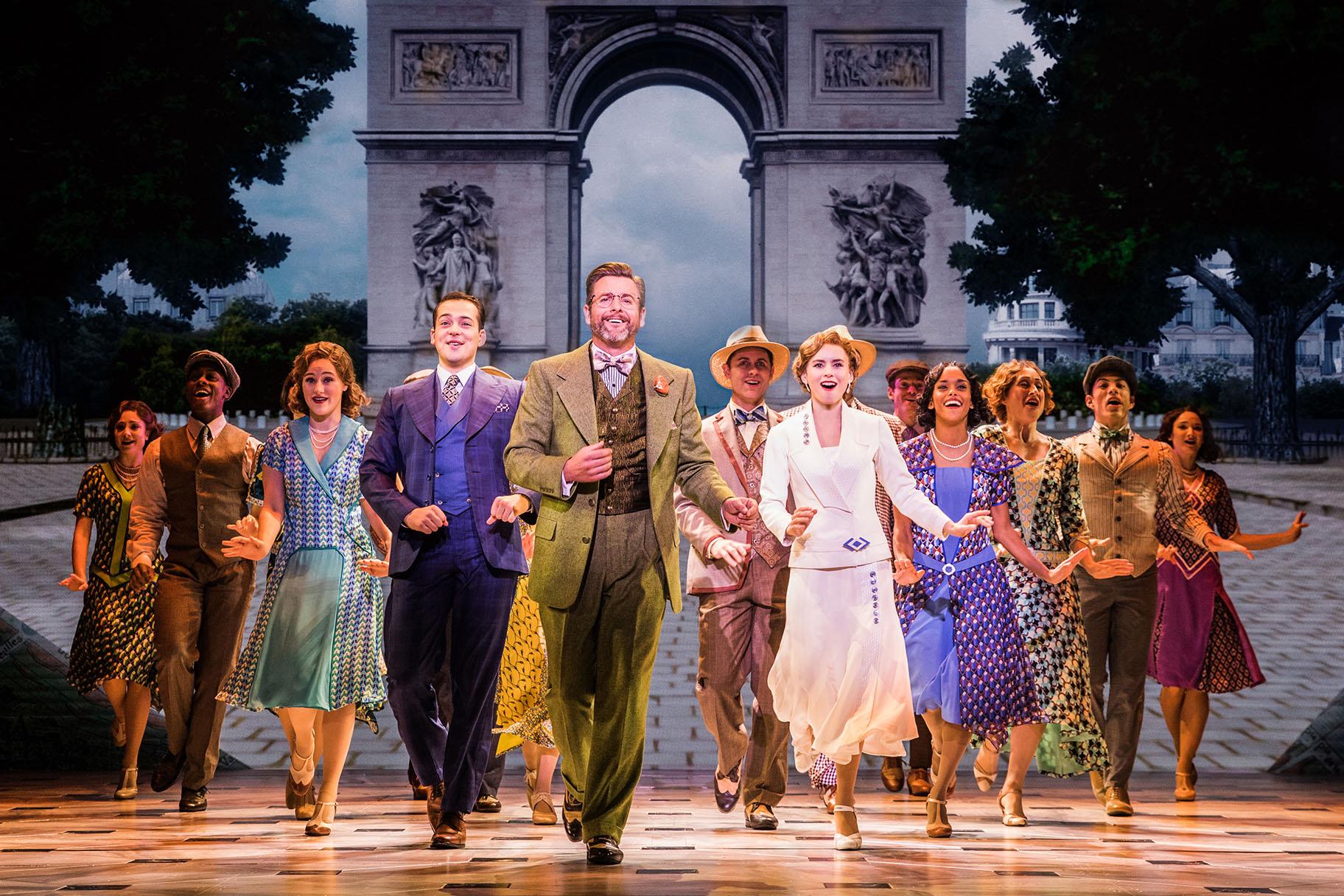 Edward Staudenmayer, Lila Coogan, Stephen Brower and the company of "Anastasia." (Photo by Evan Zimmerman, MurphyMade)
Stephen Flaherty and Lynn Ahrens are the composer-lyricists behind such glorious musicals as "Ragtime" (one of the most important, yet too often unheralded shows of recent decades), and "Once on This Island." And Terrence McNally, a fine playwright, adapted both E. L. Doctorow's book for "Ragtime" and Manuel Puig's novel for the musical "Kiss of the Spider Woman."
So here is the looming question: How could these three great talents go so completely wrong with "Anastasia," the Broadway musical "inspired by" the 1997 animated musical film that is now making a brief national touring stop at the Nederlander Theatre?
How could this team of brainy musical theater veterans have turned a story rooted in one of the most momentous geopolitical transformations in 20th century history – the Russian Revolution that led to the fall of the Romanov Empire and the establishment of the Soviet Union – into a glitzy, lowbrow entertainment that falls somewhere between a campy parody and an upended, Disneyesque Cinderella story? They didn't have to deliver a work in the mode of Chekhov or Stoppard, but given the subject and the historical backdrop a certain level of sophistication might be expected.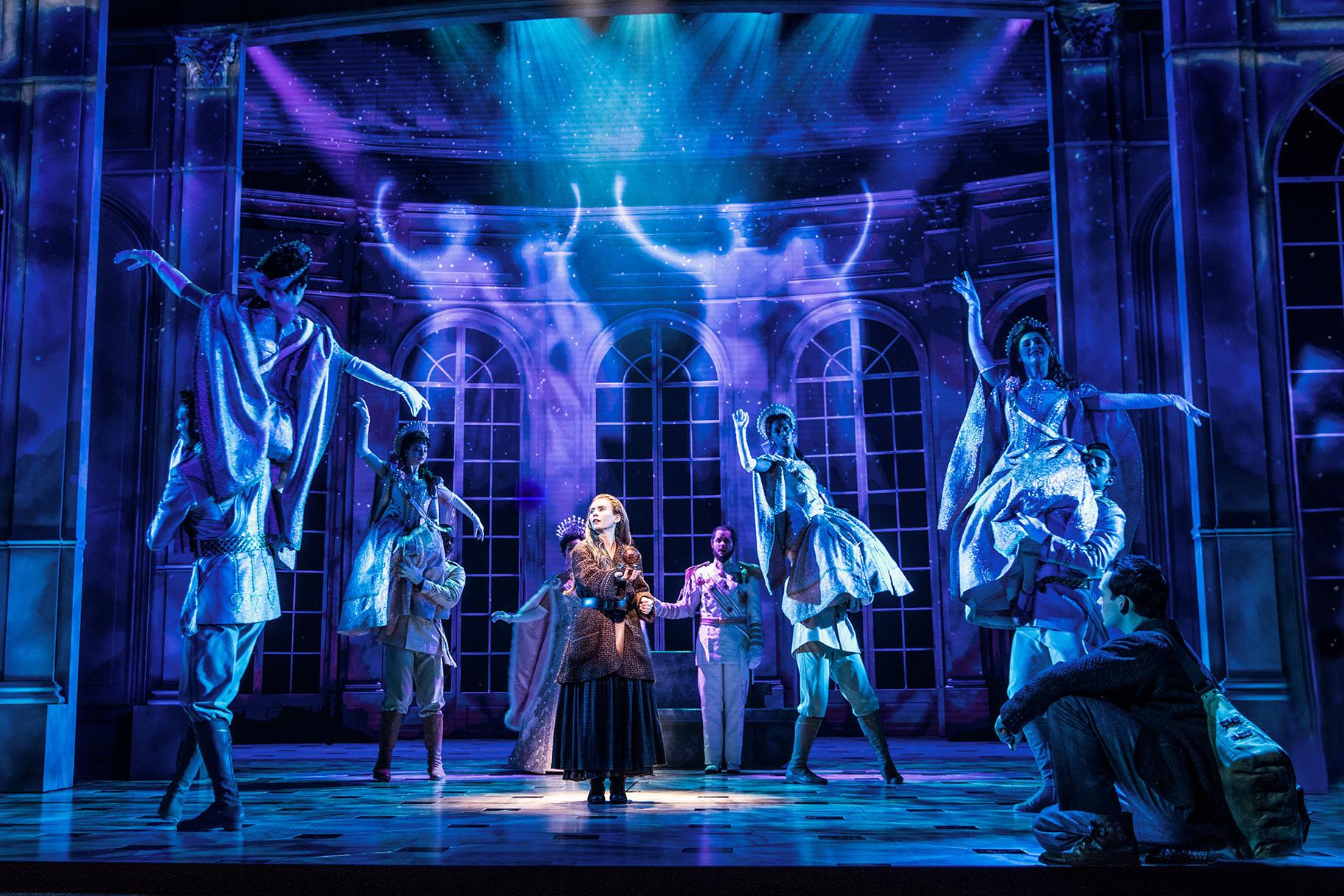 Lila Coogan and the company of "Anastasia." (Photo by Evan Zimmerman, MurphyMade)
To be sure, this is a big budget show embellished with enough lavish stagecraft to make you wonder if the producers had borrowed the Kremlin's crown jewels. Alexander Dodge's magnificent sets (which shift from St. Petersburg, Russia, and the renamed Leningrad of the show's first act, to a second act in Paris, complete with a luxe villa, nightclub, the Eiffel Tower and the Alexander Bridge over the Seine), are brilliantly enhanced by Aaron Rhyne's projections (including a fabulously vivid and dizzying train ride out of Russia), with lighting by Donald Holder. And Linda Cho's splendiferous costumes and jewelry might well have been lifted from a vault at the Hermitage.
But gorgeous eye candy is not nearly enough to compensate for a largely forgettable score, and for a slew of cartoonish characters whose personalities are only magnified by Darko Tresnjak's misguided directorial choices and Peggy Hickey's pedestrian choreography.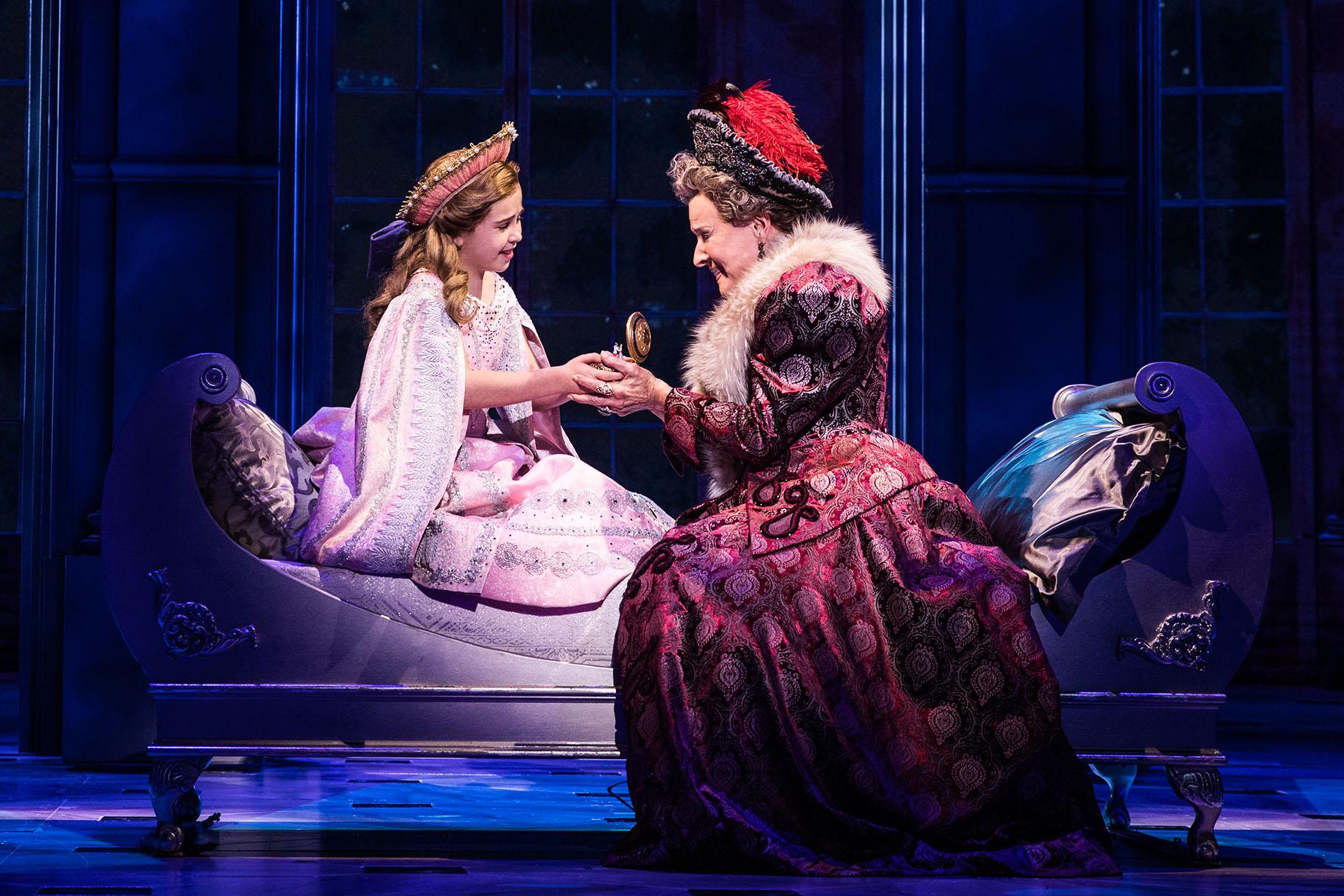 Victoria Bingham and Joy Franz (Photo by Evan Zimmerman, MurphyMade)
The heavily plotted story begins in St. Petersburg in 1906, as the Dowager Empress (Joy Franz), bids goodbye to her beloved 7-year-old granddaughter, Anastasia (Victoria Bingham), before heading off to Paris. Flash-forward to 1916 when the teenage Anastasia (Taylor Quick) is flirting as she waltzes at a palace ball. In a flash, a massive explosion and fireball shatters the windows as the Bolsheviks attack the palace. And as the family flees, Anastasia runs to retrieve a prized music box. Though shot (and presumed dead), as it turns out she may very well have been the only Romanov to have survived.
Fast-forward yet again, to 1927, when a rumor that Anastasia might have survived has created an opportunity for scam artists, including Vlad (Edward Staudenmayer), a former member of the court, and his homeless young sidekick, Dmitry (Stephen Brower), to find a believable imposter and win a possible financial reward from the elderly Dowager Empress who is ensconced in luxury in Paris.
When the two men come upon a young street sweeper named Anya (Lila Coogan), a smart, strong-willed orphan who suffered amnesia in an accident years earlier, they begin to think they have found the ideal candidate, and they dream of emigrating to Paris. Meanwhile, Anya is confronted by Gleb (Jason Michael Evans), a Bolshevik official who warns her about the fate of imposters who would destabilize the Soviet regime. At the same time, he is haunted by her resemblance to the Romanov line.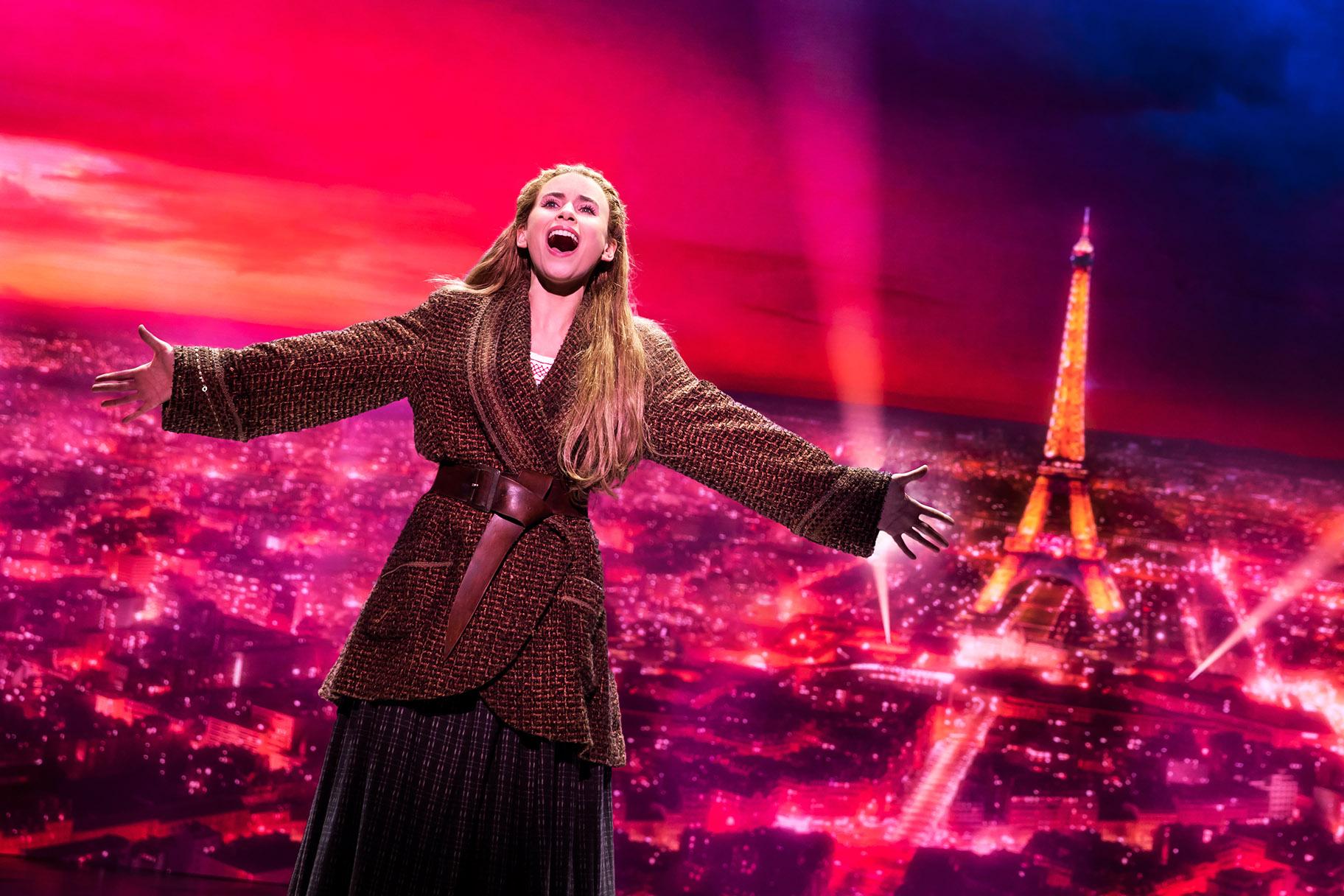 Lila Coogan (Photo by Matthew Murphy, MurphyMade)
Once in Paris, amid the fashionable society of Russian emigres comprised of homesick aristocrats, artists and intellectuals, Vlad makes contact with a former flame, Countess Lily (Tari Kelly) the Dowager's lady-in-waiting, and Dmitry pines for Anya, as preparations are made to introduce her to the Dowager during a visit to the ballet (a dreadful bit from "Swan Lake"). The Dowager is tired of meeting fortune-seeking imposters, but Anya's bearing, among other things that need not be disclosed here, suggest she is the real thing, as does her eventual choice about her future.
Coogan brings a winningly unaffected quality to Anya, and uses her strong if something less than beautiful voice to fine effect. And as Dmitry, Brower does a solid job of growing from streetwise kid to honorable young man. And as Gleb, Evans does a credible job as a man of divided loyalties. Many of the others in the cast are caricatures rather than characters, calling to mind how Carol Burnett might have devised a comic sketch about the era.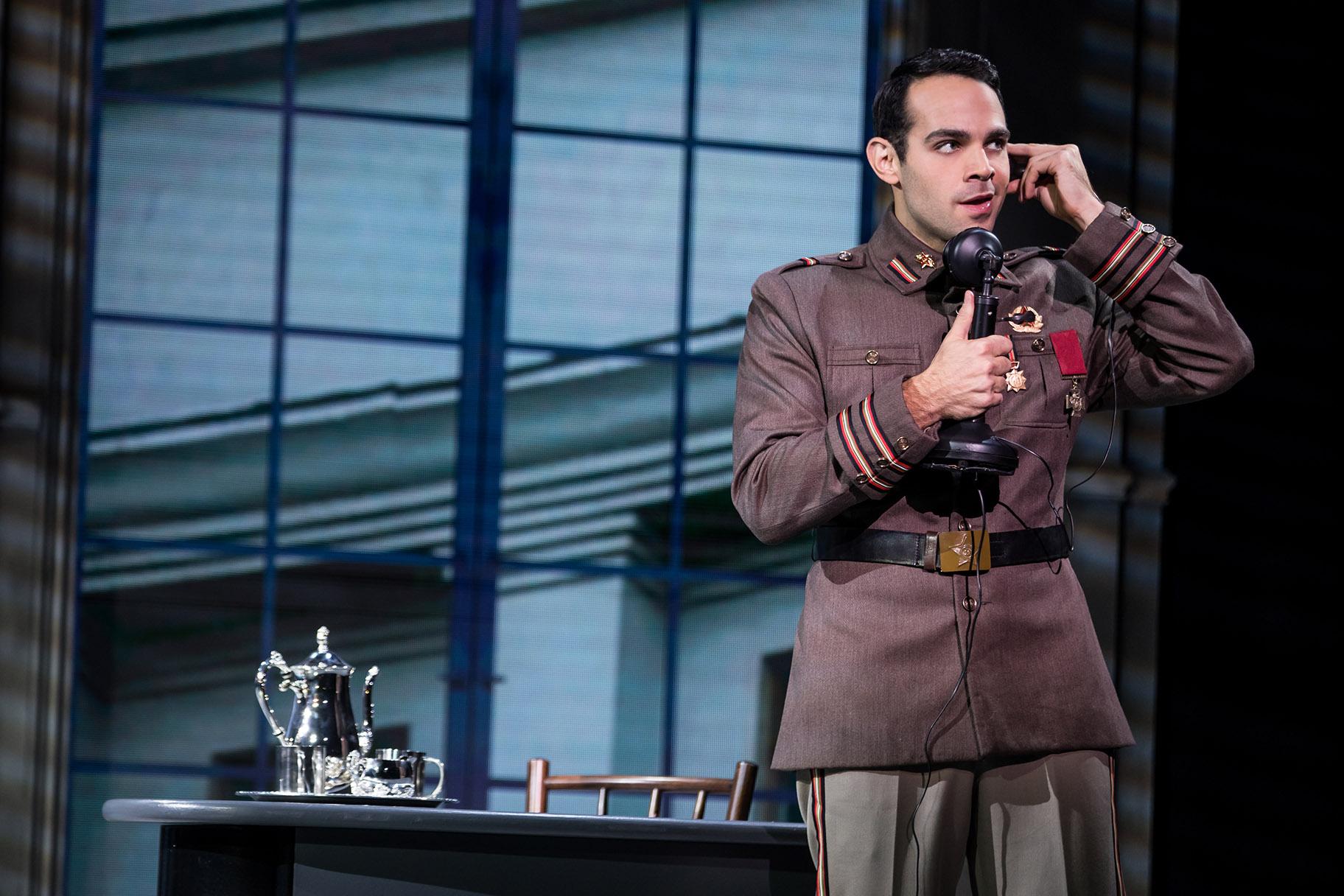 Jason Michael Evans (Photo by Matthew Murphy, MurphyMade)
As for the score, there are a few lovely songs among more than two dozen ("The Neva Flows," "Journey to the Past," "Once Upon a December"), but overall they have a surprisingly generic quality, which is most unusual for Flaherty and Ahrens.
All in all, "Anastasia" itself feels like the biggest imposter here, with history the sad victim of trivialization, and a potentially meaningful love story lost amid all the chaos.
"Anastasia" runs through April 7 at the Nederlander Theatre, 24 W. Randolph. For tickets ($27-$123) call (800) 775-2000 or visit broadwayinchicago.com. Running time is 2 hours and 35 minutes with one intermission.
Follow Hedy Weiss on Twitter: @HedyWeissCritic
---
Court's Soul-Baring Revival of 'For Colored Girls' Finds New Power in Classic Work
Black Ensemble Shines Light on Gospel Great Mahalia Jackson
Fathers and Sons at the Heart of New Musical Take on 'A Bronx Tale'
---