Robin DaSilva as Mahalia Jackson (Credit: Michael Courier)
For years now, Jackie Taylor, the founder, producer and all-around "Jackie of all theatrical trades" has playfully rallied the audiences at her Black Ensemble Theater shows by reminding them that "going to the theater is like going to church." In her latest production, "Mahalia Jackson: Moving Thru the Light," this sentiment takes on a decidedly literal meaning.
When we first encounter Jackson, who's often referred to as the "Queen of Gospel," it is 1972 after her death at the age of 60 in a Chicago hospital from heart disease and diabetes. But now, looking fully glamorous in a resplendent beige gown, she is in what she describes as "a peaceful place," because she believes she is finally on her way to meet the Lord – the inspiration for all her singing. As it turns out, like almost everything else in her life, Jackson's passage to heaven will not be easy.
Arriving in the anteroom to that "better place," Jackson (portrayed by the altogether remarkable Robin DaSilva, whose luminous bearing is paired with an equally lustrous contralto), is met by a trio of Masters (a rousing, clarion-voiced "backup" group that includes the sensational Cynthia Carter, Dwight Neal and Stewart Romeo). The trio proceeds to guide her through the afterlife, prodding her to recall her earthly existence, and making sure she deals with a slew of memories both painful and triumphant.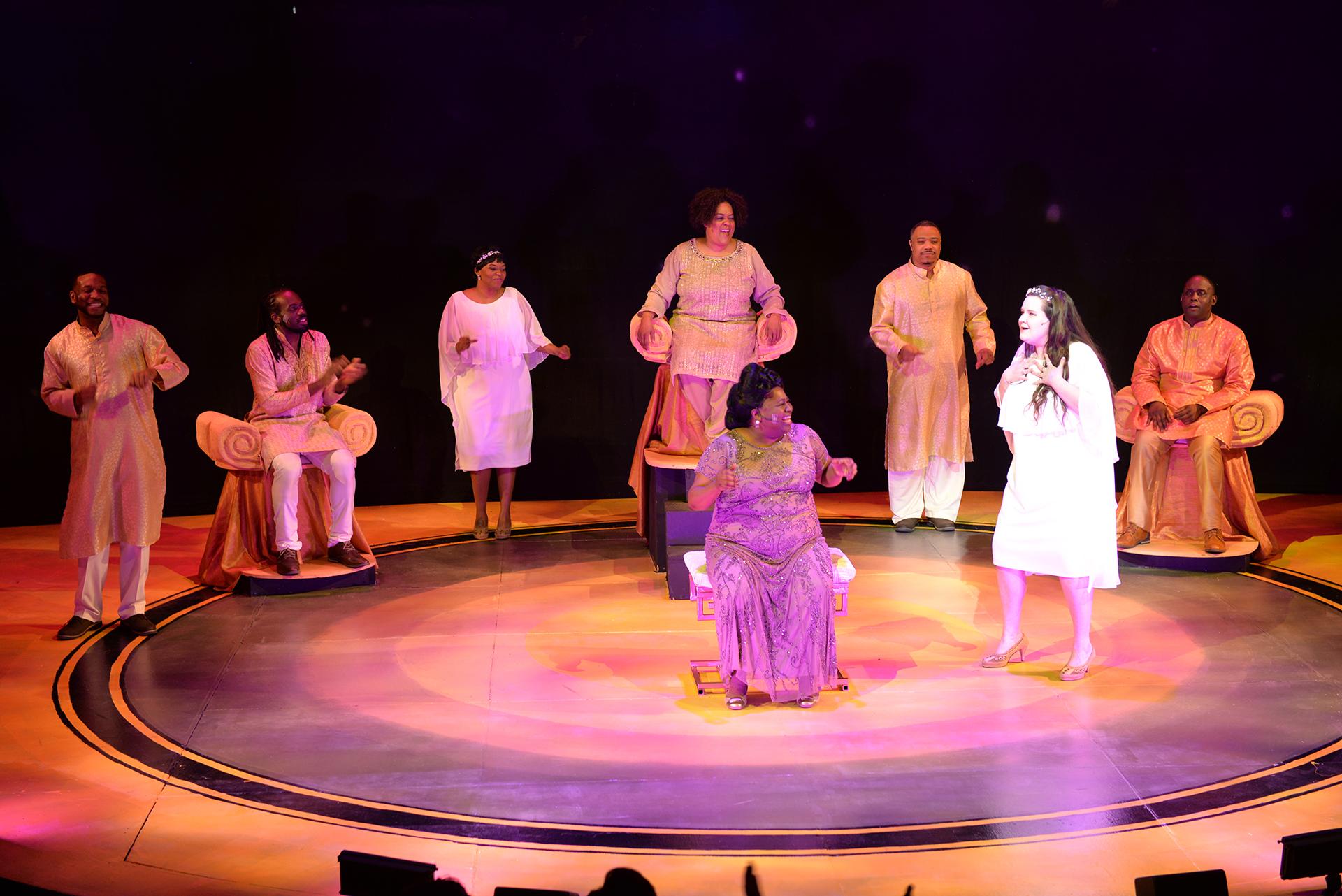 Front: Brandon Lavell, Stewart Romeo, Rose Marie Simmons, Cynthia Carter, Levi Stewart, Dwight Neal. Back: Robin DaSilva, Colleen Perry (Credit: Michael Courier)
Along the way, of course, there are spirit-raising performances of well over a dozen gospel classics, including those by Chicago composer Thomas A. Dorsey, known as the "father of black gospel music," with whom Jackson had a close professional relationship for many years. (His "Take My Hand, Precious Lord," became her signature song.) Songs also include works by Clara Ward, original pieces by Taylor that help connect the storyline, a superb rendering of Rodgers and Hammerstein's anthem, "You'll Never Walk Alone," a vibrant medley, and a celebratory finale of "When the Saints Go Marching In."
The essential aspects of Jackson's biography emerge quite seamlessly in this show that is written and directed by Taylor, with the usual super music direction of Robert Reddrick and his formidable band, and cameos by a strong ensemble of six.
As we are reminded by Mahalia, her family was just "two generations away from slavery" when she was born in New Orleans, where she grew up in a crowded home that included her six siblings, various relatives and a mostly absent father. Her mother died when Mahalia was just 5, and she had a rough time of it when taken into the home of her abusive Aunt Duke. Though deprived of an education past the fourth grade, she bonded with a cousin, Edward (the son of a different aunt), who introduced her to the music of Ma Rainey and Bessie Smith. And in 1927, at the tender age of 16, she headed off to Chicago and found her future life almost immediately as part of a church choir, and in her meeting with Dorsey.
We learn about her first marriage to a college educated man whose gambling habit and insistence that she sing secular music, drove her to divorce. We also learn about her great love for a man who saved her from marrying him when he learned he was dying of cancer.
If her private life was full of sadness, her musical life soared, with recordings and tours throughout the U.S. and Europe, and a concert at Carnegie Hall that marked the first performance there by a gospel singer.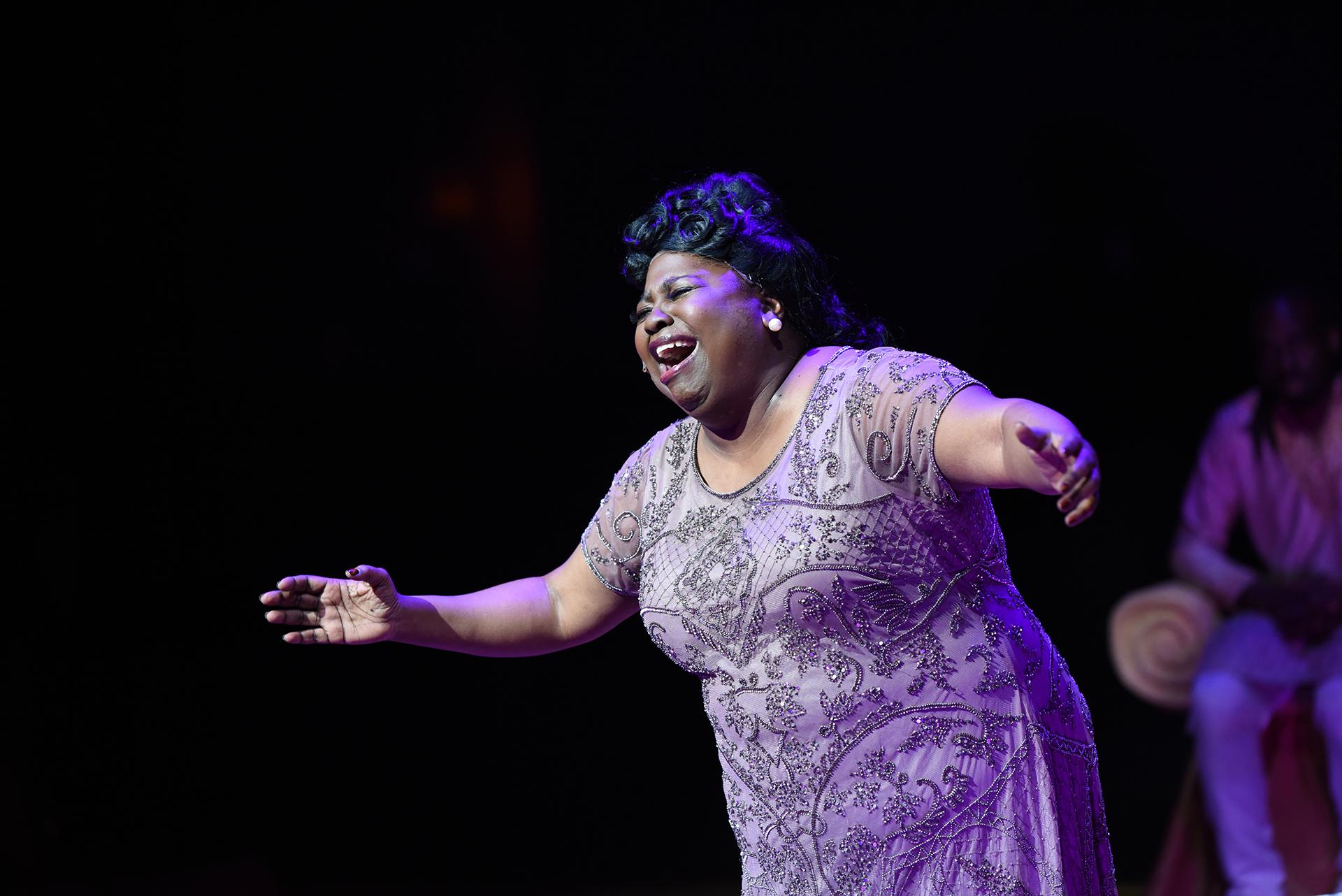 Robin DaSilva as Mahalia Jackson (Credit: Michael Courier)
Of course, at the same time there was Jackson's constant exposure to Jim Crow racism despite all the accolades she received as an artist – something she could not abide. And the show's second act homes in on her political activism during the civil rights movement, her friendship with Dr. Martin Luther King Jr., her performances at the inauguration of President John F. Kennedy and the March on Washington (where she sang "How I Got Over," which is featured in this show), and her devastation at the assassinations of King and the Kennedy brothers.
But as Jackson herself put it, she tried to serve God all her life through her singing, replacing bitterness with joy. And true to the show's title, she spent her life moving through the light.
"Mahalia Jackson: Moving Thru The Light" runs through April 14 at the Black Ensemble Theater, 4450 N. Clark St. For tickets ($55-$65) call (773) 769-4451 or visit www.blackensemble.org. Running time is 2 hours and 15 minutes with one intermission.
Follow Hedy Weiss on Twitter: @HedyWeissCritic
---
Fathers and Sons at the Heart of New Musical Take on 'A Bronx Tale'
Irishmen Bring Music, Meditation to Chicago Stages in 'Choir of Man,' 'Two Pints'
Theo Ubique Unleashes the Italian Opera Soul in 'Bridges of Madison County'
A Contentious Family Dinner Morphs Into an Absurdist Black Comedy in 'Act(s) of God'
---