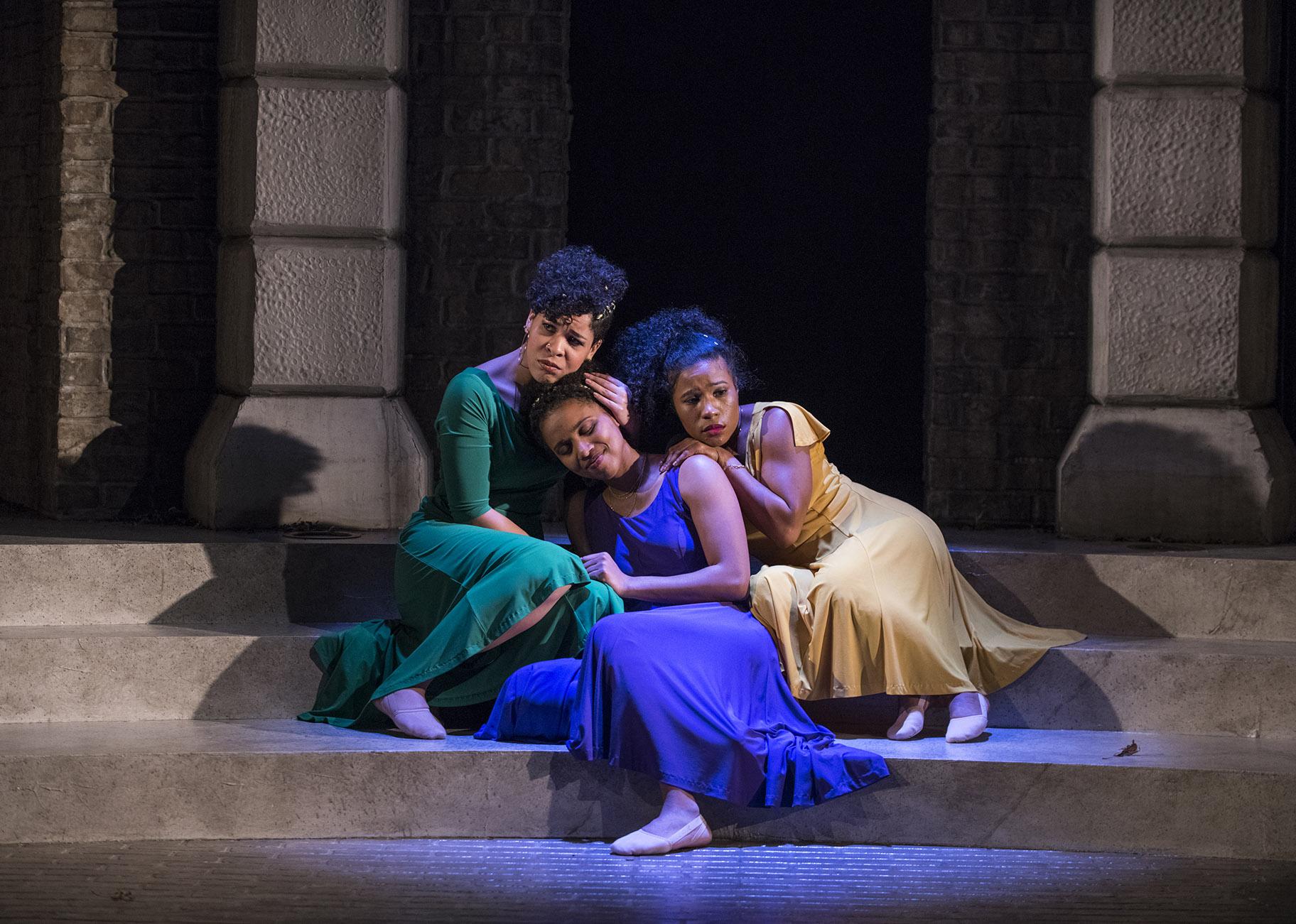 Angelica Katie, Leah Casey and Melanie Brezill in Court Theatre's production of "For Colored Girls Who Have Considered Suicide/When the Rainbow Was Enuf." (Photo by Michael Brosilow)
If you happened to be living in New York in the mid 1970s, and spent time riding the subways and buses there, you undoubtedly will remember the most ubiquitous theater poster of the period – the one created by Paul Davis for Ntozake Shange's groundbreaking work, "For Colored Girls Who Have Considered Suicide/When the Rainbow Was Enuf."
The iconic image on that poster – of a young African-American woman in a yellow dress and matching head scarf, standing against the white tile wall of a subway station on which the unusually long and provocative title of the play was emblazoned in colorful script – captured a moment in time when matters of both race and feminism were of the essence.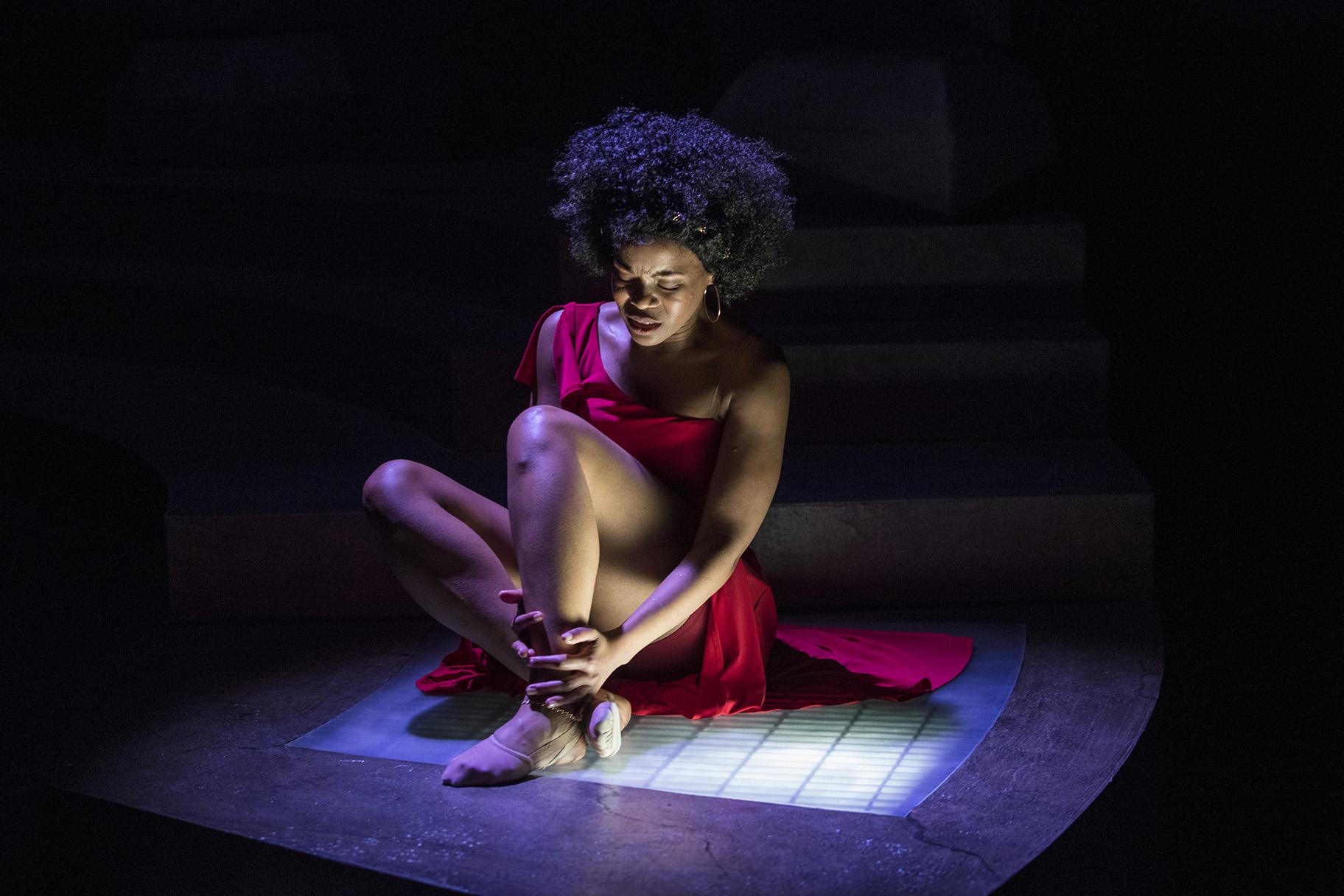 AnJi White (Photo by Michael Brosilow)
Watching the electrifying revival of the work now on stage at Court Theatre serves as a vivid reminder of that moment in time. It also suggests that despite all that has changed in the more than four decades since "For Colored Girls" was published in 1974, and became a hit at New York's Public Theatre and then on Broadway a couple of years later, those themes remain as potent as ever.
In fact, the work, which Shange dubbed a "choreopoem" (and which has been superbly directed here by Seret Scott, who replaced Shange early on in the Broadway production) has never been so sharply defined in terms of character, language and overall narrative drive. Scott and her highly individualistic cast of eight (including the balladeer who has been added to the usual cast of seven), has tapped into the verbal music of the play in a wholly fresh way. What was once a more singsong-like, spoken word-style of delivery has now been given a distinctive dramatic interpretation that amplifies and clarifies each character's personality, roots and mode of expression. The result is exceptionally powerful.
The women, in their color-coded dresses, arrive through the brick archways of designer Courtney O'Neill's set which subtly suggests an old Harlem train station. And as they reveal in the 20 raw, poetic riffs that follow, they hail from many cities (Houston, Baltimore, Detroit and San Francisco, as well as Chicago and New York), and are all, in their many and varied ways and stages of life, in search of love and self-worth. In addition, as attracted as they may be to men (who often are referred to with the N-word) they are invariable badly used, abused and betrayed by them. It is not a stretch to think of "For Colored Girls" as a prototype for the #MeToo movement, though it is quite different in tone.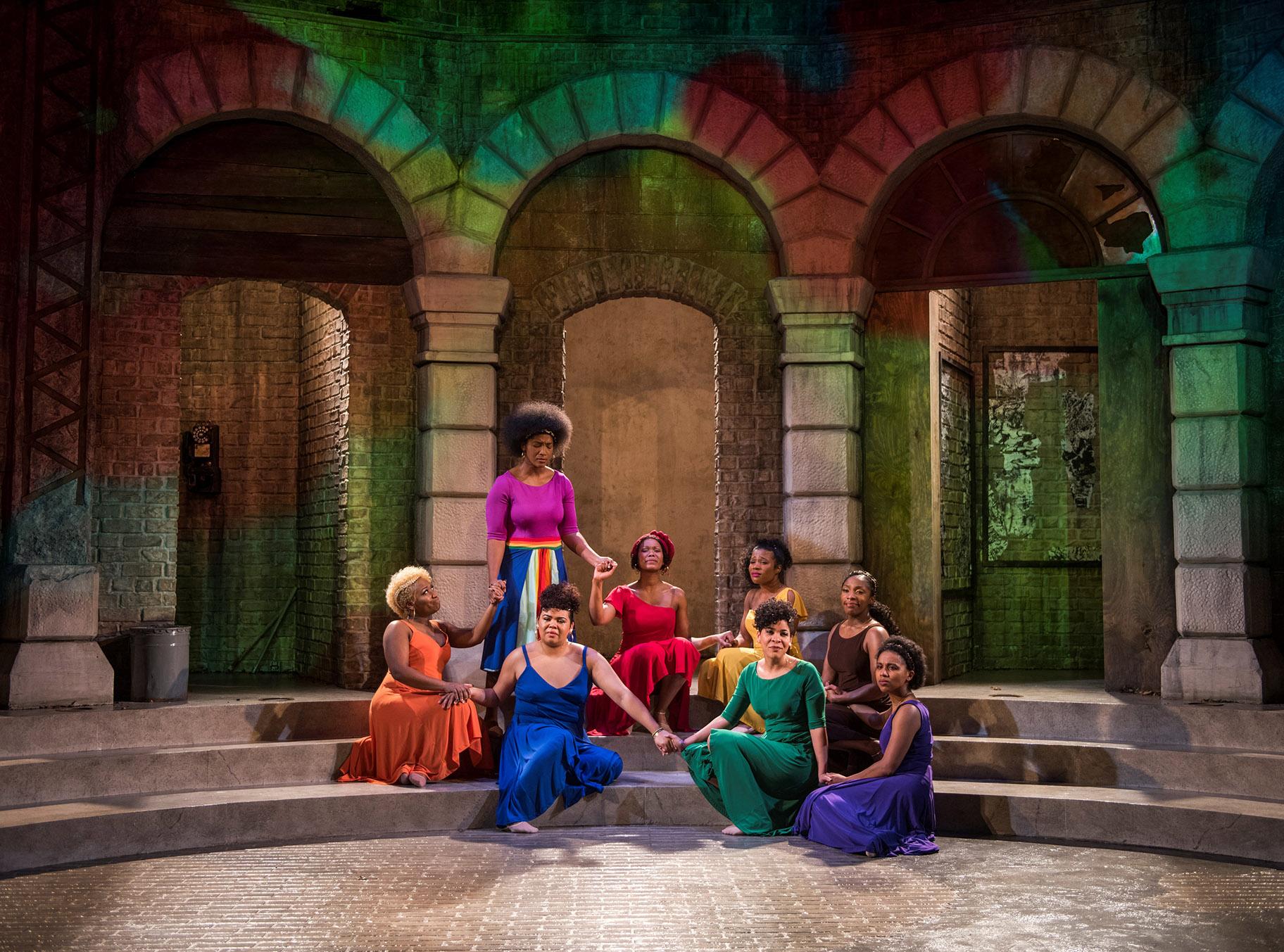 Clockwise from left: Alexis J. Roston, Melody Angel, AnJi White, Melanie Brezill, Patrese D. McClain, Leah Casey, Angelica Katie and Melissa DuPrey. (Photo by Michael Brosilow)
There is the Lady in Yellow (feisty Melanie Brezill), a girl from the projects who playfully recounts her deflowering after high school graduation. There is the Lady in Blue (an infectiously high-spirited Melissa DuPrey), who champions her Puerto Rican roots and passion for Latin music and dance. And there is the Lady in Orange (Alexis J. Roston), who gives her heart but only gets stood up in return.
There is the Lady in Purple (Leah Casey, a beautiful dancer who also has choreographed the show with great skill), who embraces her Creole roots and talks about embodying the spirit of her namesake, Sechita, the Egyptian goddess. And there is the Lady in Brown (the elegant Patrese D. McClain), who weaves the beguiling story of her enduring childhood crush on Toussaint L'Ouverture, the Haitian revolutionary and freedom fighter who she first learned about in a library book.
The Lady in Green (powerfully portrayed by Angelica Katie) spins the story of how a man stole all her "stuff" – not material possessions but the invaluable heart and soul she brought to their relationship. And she wants that "stuff" back. And then there is the Lady in Red (the invariably powerhouse actress AnJi White), who brilliantly recounts the harrowing story of how her murderous husband abused her and used their two innocent young children as hostages.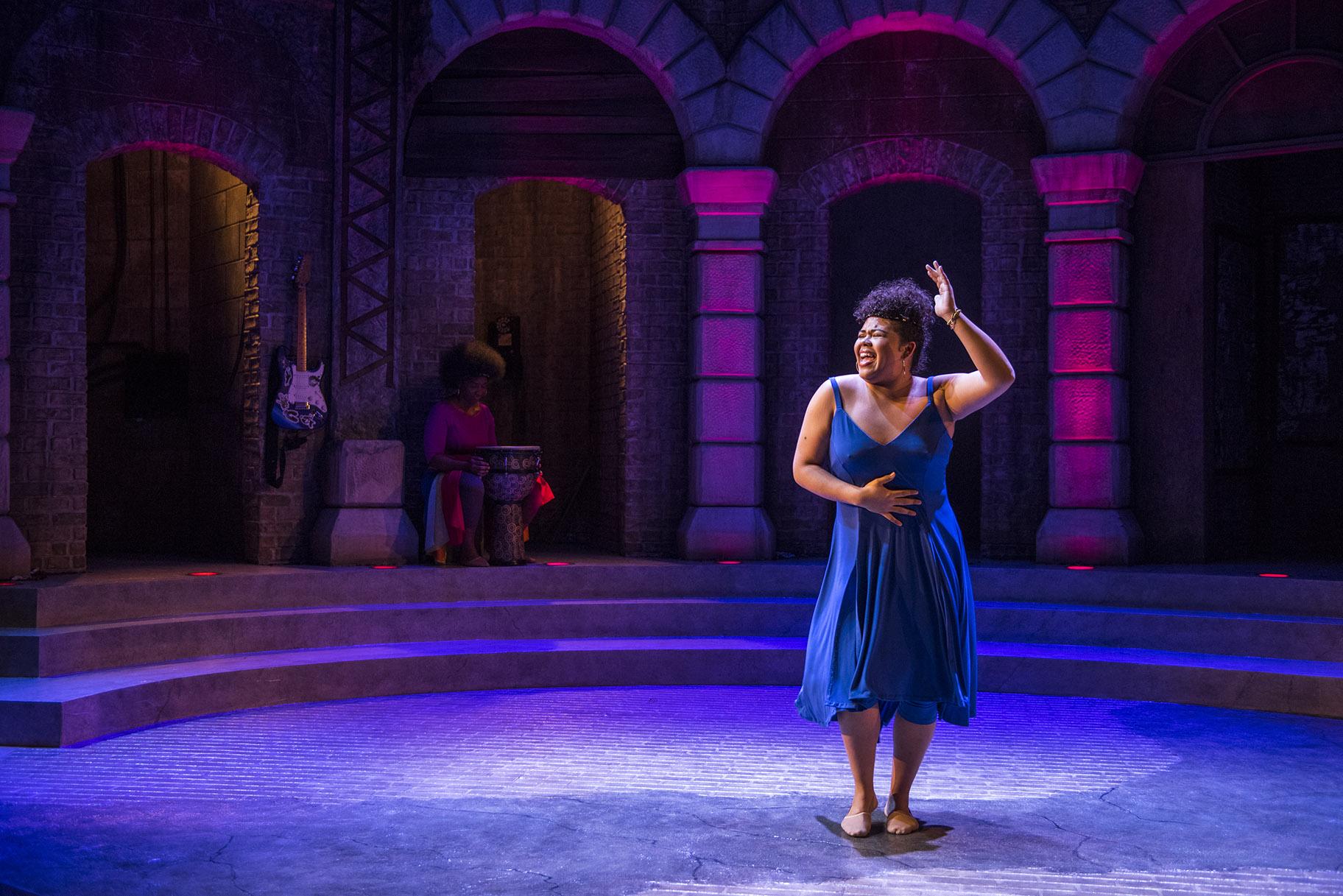 Melody Angel, Melissa DuPrey (Photo by Michael Brosilow)
Serving as the balladeer, Lyric, is the aptly named Melody Angel (the singer/songwriter/guitarist so memorable in last season's Goodman Theatre production of "Father Comes Home from the Wars"). And together with the other women in the cast she drives this angry, yearning, relentlessly soul-baring work to life.
Shange, who was just 27 when she shot to fame with "For Colored Girls," and who led a quite troubled life, died this past October at the age of 70. It would be difficult to imagine a finer tribute to her work than this Court Theatre production.
One final note: A variety of community events held in conjunction with this production are scheduled during April. Visit Court's website for details.
"For Colored Girls Who Have Considered Suicide/When the Rainbow is Enuf" runs through April 14 at Court Theatre, 5535 S. Ellis Ave. For tickets ($50-$74) call (773) 753-4472 or visit courttheatre.org. Running time is 90 minutes with no intermission.
Follow Hedy Weiss on Twitter: @HedyWeissCritic
---
Black Ensemble Shines Light on Gospel Great Mahalia Jackson
Fathers and Sons at the Heart of New Musical Take on 'A Bronx Tale'
Theo Ubique Unleashes the Italian Opera Soul in 'Bridges of Madison County'
---