Front, from left: Haley Hannah, Joseph Sammour, Joshua Michael Burrage, Giovanni DiGabriele, Sean Bell and Kyli Rae. Background, from left: Robert Pieranunzi, Michael Barra, Paul Salvatoriello and Mike Backes. (Photo: Joan Marcus)
On Wednesday night, just moments after seeing "A Bronx Tale" – the musical version of Chazz Palminteri's autobiographical work that has already been a one-man show, a movie and a Broadway play – a news flash popped up on my phone reporting that the reputed boss of a notorious New York crime family had been shot and killed outside his home.
Was it a case of life imitating art, or art imitating life? A bit of both as it happens, though more than a run-of-the-mill mob story. Rather, this unapologetically old-fashioned coming-of-age story – with a book by Palminteri, doo-wop-meets-rock music by Alan Menken (the composer responsible for "Little Shop of Horrors" and such Disney hits as "The Little Mermaid," "Beauty and the Beast" and "Aladdin"), lyrics by Glenn Slater, and direction by Robert De Niro and Jerry Zaks – is above all a poignant and insightful look at the complex relationship between fathers (whether real or "surrogate") and sons.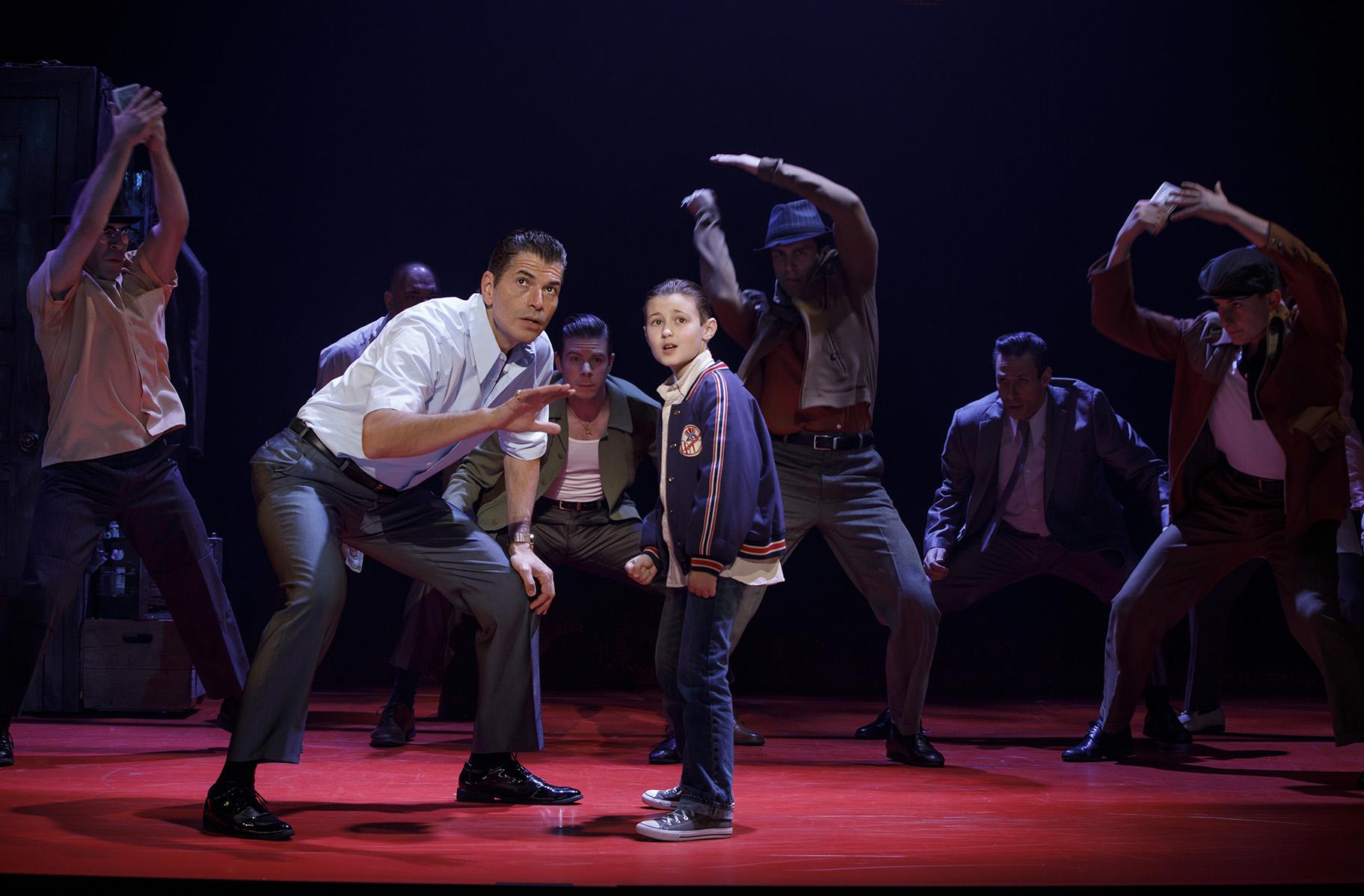 Joe Barbara, left, Frankie Leoni and company of "A Bronx Tale." (Photo: Joan Marcus)
To be sure, when it comes to urban racial issues it is no "West Side Story" (though it includes a mini rumble), or "Hairspray" (with its playful teenage awakening scenario). But as a case study in how moral values root themselves in an impressionable boy – in this case, Calogero or "C," the child of a working class Italian family in the Bronx (portrayed by the wonderfully sharp and confident Frankie Leoni as a 9-year-old in 1960, and by the sweet, believably impressionable Joey Barreiro, as he moves into manhood in 1968) – it has its charms as it explores the tension between a life governed by love or by fear.
Framed as a memoir, it begins with a doo-wop quartet singing beneath a lamppost in Calogero's Bronx neighborhood. It's a place with welcoming stone stoops outside apartments, and the aroma of grandmothers' pasta sauce, but it also can be interrupted by a spray of bullets from members of the local criminal syndicate, in this case overseen by Sonny (Joe Barbara), an always impeccably dressed mobster, who surrounds himself with a bunch of fiercely loyal losers over whom he has total control. These guys bear the colorful, cartoonish nicknames of Rudy the Voice (John Gardiner), Eddie Mush (Mike Backes), JoJo the Whale (Michael Barra), Frankie Coffeecake (Robert Pieranunzi) and Tony 10 to 2 (Paul Salvatoriello). And they both fear and respect Sonny.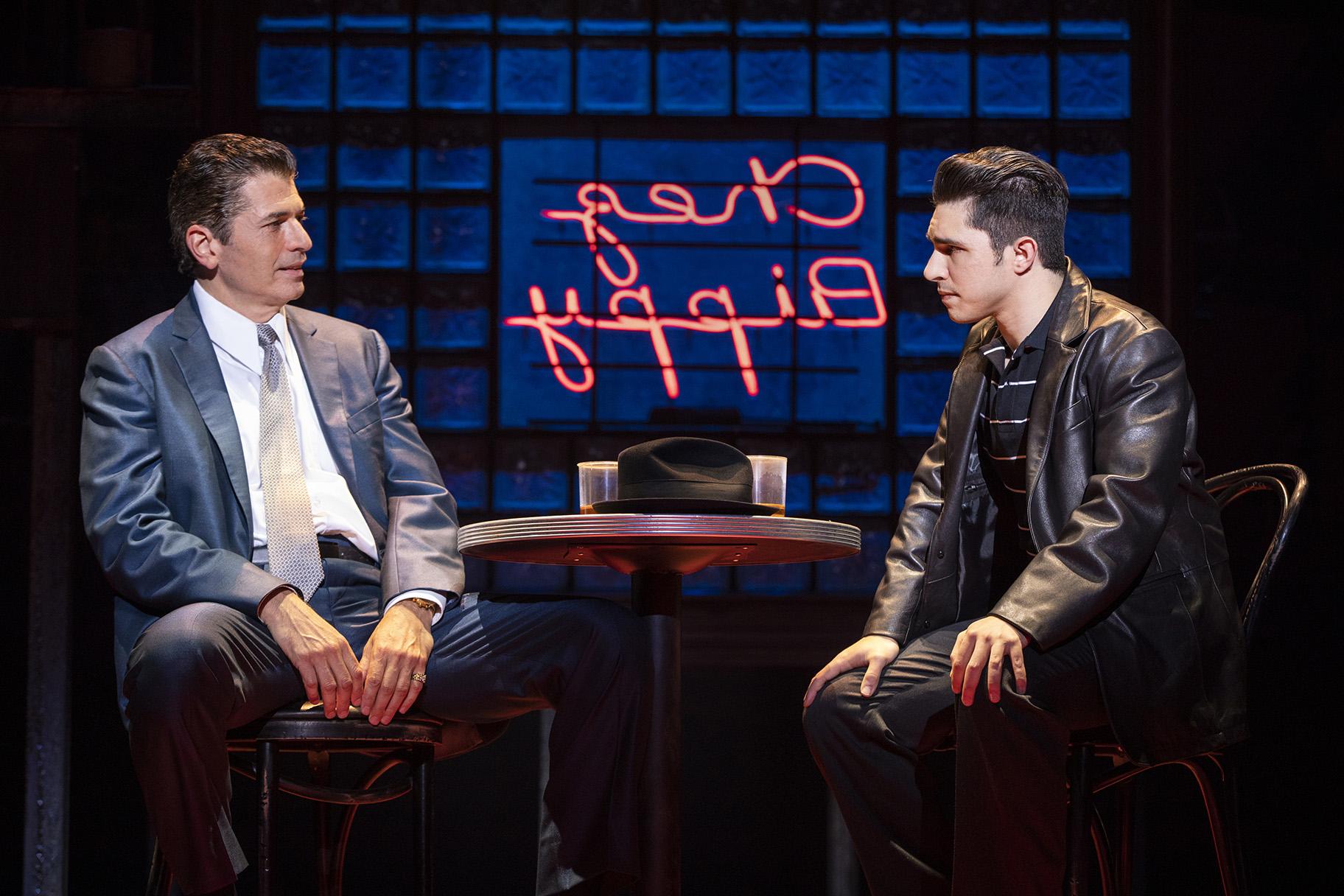 Joe Barbara, left, and Joey Barreiro (Photo: Joan Marcus)
Calogero is a smart, curious kid – the beloved child of Lorenzo (a warm and believable Richard H. Blake), a decent, hard-working bus driver who abandoned his dream of being a jazz musician to support his wife, Rosina (a lovely turn by Michelle Aravena) and son. But things take a life-altering turn after he witnesses a murder committed on the street in front of his house.
When he is called to identify the perpetrator in a police lineup, Calogero obeys his dad and lies, saving Sonny from prison, or worse. In doing so he gains the eternal (if not entirely altruistic) gratitude of Sonny, who turns him into something of a personal mascot, and mentors him in all the dark but seemingly glamorous ways of his criminal life. He also makes Calogero begin to think of his money-strapped dad as something of a sucker. (Sonny gets to sing the show's smartest song, "Nicky Machiavelli," which plays on that Renaissance Italian politician's philosophy of using and maintaining power.)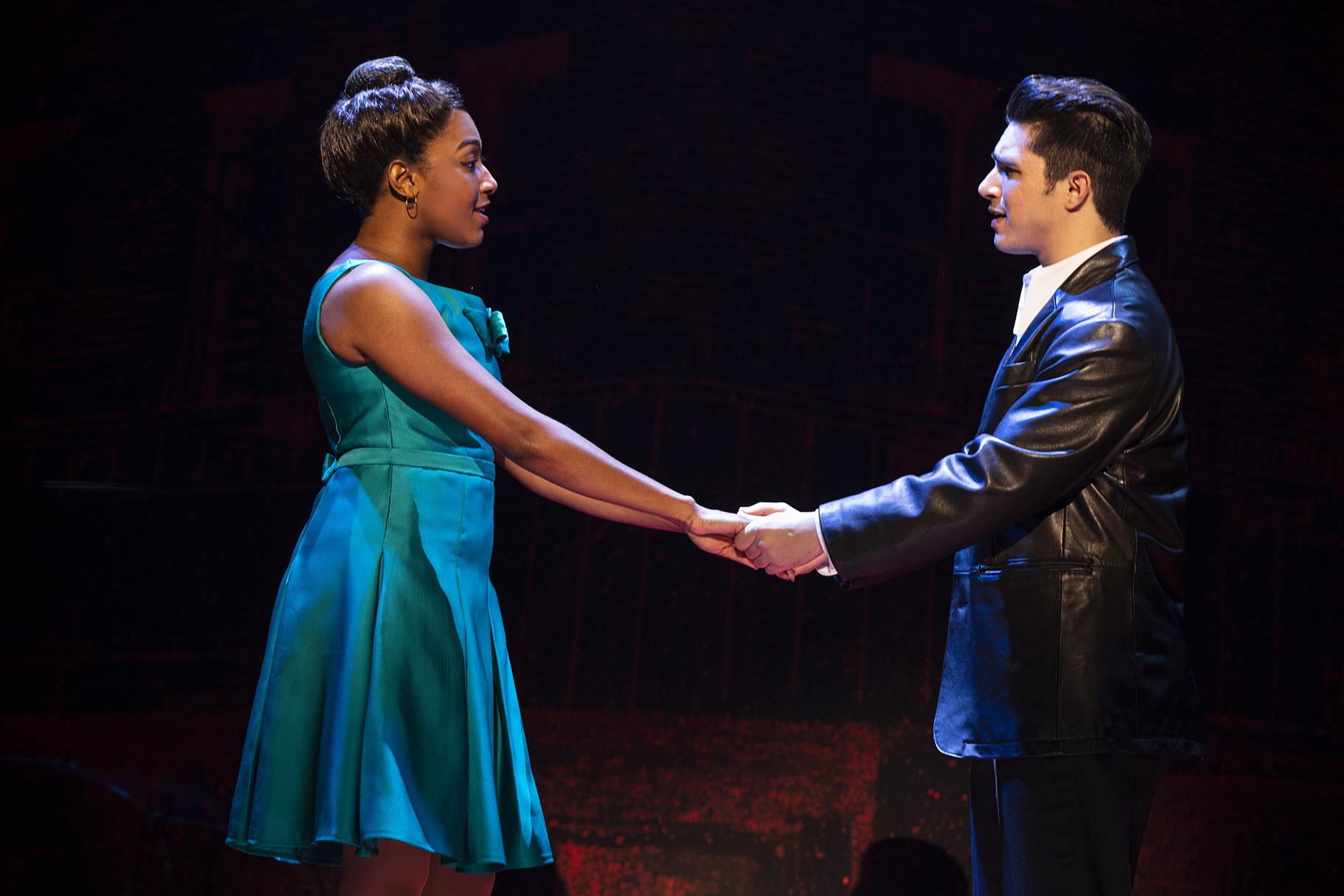 Brianna-Marie Bell and Joey Barreiro (Photo: Joan Marcus)
Calogero's is seduced by Sonny yet never entirely loses sight of his father's goodness. Along the way, he also falls for pretty, self-possessed Jane (the easily beguiling Brianna-Marie Bell). The problem is that she is black, and neither Calogero's Italian neighbors, nor Jane's brother and girlfriends, want any crossing of the color line. Too dangerous. Yet the pair defy warnings, and trouble ensues, with unexpected consequences that also reveal the surprising potential for good and evil in every person.
In many ways this musical feels more like a show ideally tuned to a young adult audience with a story that can inspire some basic discussion about parents and children, the lure of "gangs" as surrogate families, and the barriers facing those in cross-racial relationships. And while it's a bit simplistic, it's full of heart.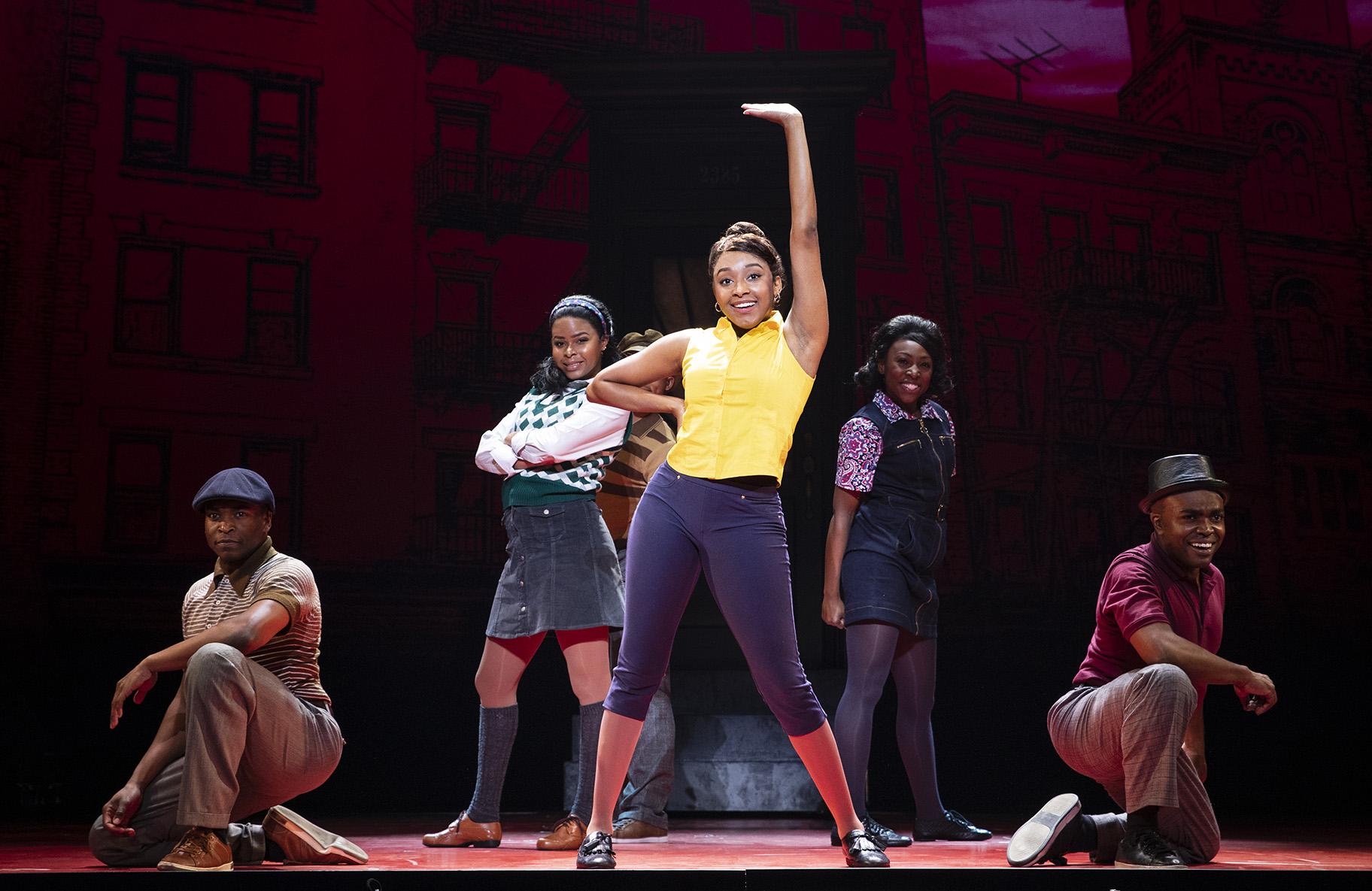 Brianna-Marie Bell, center, in "A Bronx Tale." Also pictured, from left: Antonio Beverly, Ashley McManus, Brandi Porter and Jason Williams. (Photo: Joan Marcus)
"A Bronx Tale" runs through March 24 at the James M. Nederlander Theatre, 24 W. Randolph St. For tickets ($27-$98) call (800) 775-2000 or visit BroadwayinChicago.com. Running time is two hours and 5 minutes with one intermission.
Note: This is something of an unofficial Alan Menken month in Chicago. Along with "A Bronx Tale," there is a rip-roaring production of his first big hit, "Little Shop of Horrors, which will run through April 28 at Mercury Theatre Chicago. And the composer-pianist himself will perform his one- man show, "A Whole New World of Alan Menken" for one night only (March 30 at 7:30 p.m.) at the Auditorium Theatre.
Follow Hedy Weiss on Twitter: @HedyWeissCritic
---
Irishmen Bring Music, Meditation to Chicago Stages in 'Choir of Man,' 'Two Pints'
Theo Ubique Unleashes the Italian Opera Soul in 'Bridges of Madison County'
A Contentious Family Dinner Morphs Into an Absurdist Black Comedy in 'Act(s) of God'
---