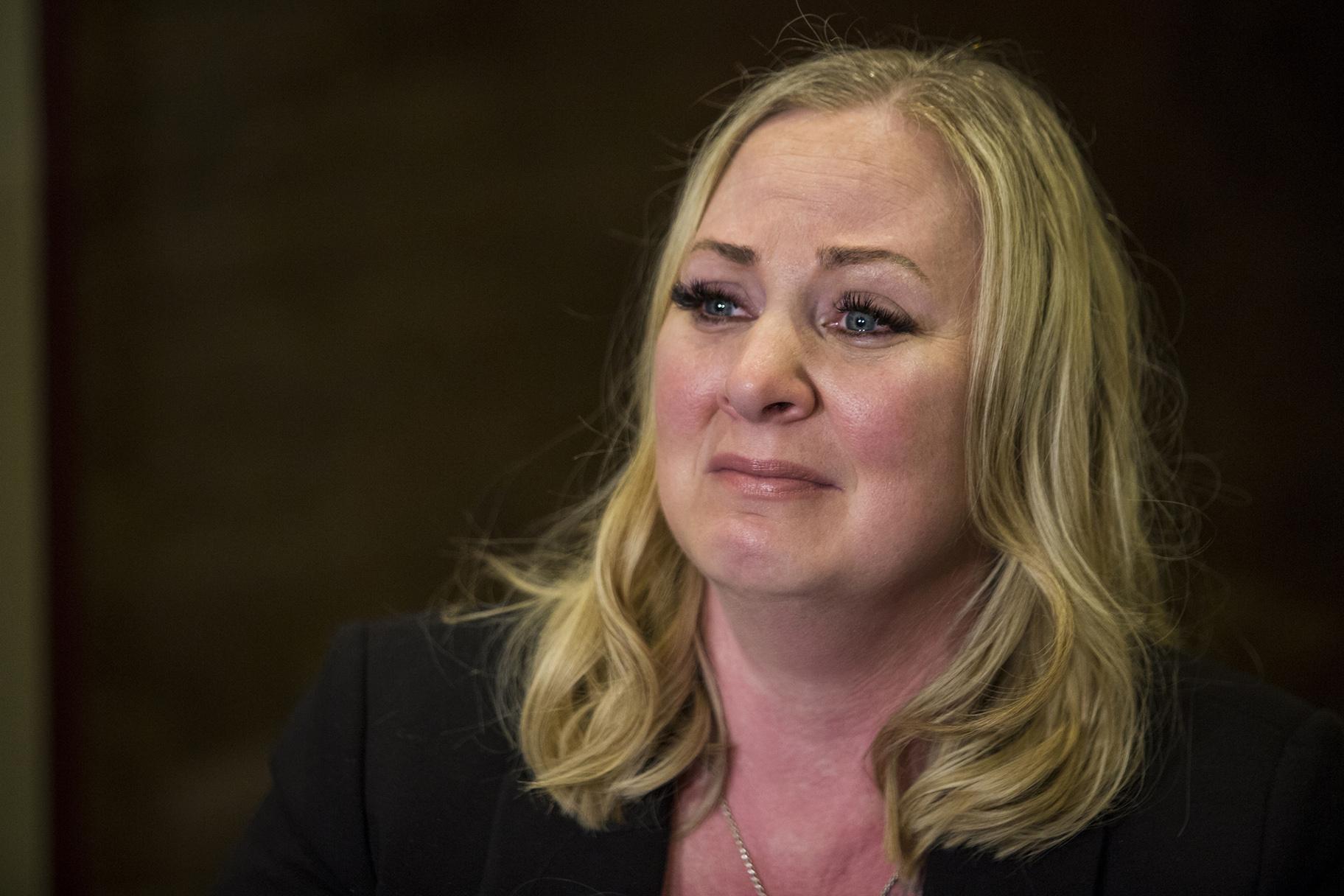 Tiffany Van Dyke, wife of former Chicago police Officer Jason Van Dyke, speaks during a news conference at attorney Daniel Herbert's office in Chicago on Thursday, Feb. 14, 2019. (Ashlee Rezin / Chicago Sun-Times via AP)
The wife of former Chicago police Officer Jason Van Dyke is demanding answers from local and state officials a day after she learned her husband had been attacked and beaten inside his cell at a federal prison in Connecticut.
Tiffany Van Dyke called on Illinois Gov. J.B. Pritzker, Attorney General Kwame Raoul and state and federal prison officials to explain how her husband was moved out of state and allowed to be placed into the general population inside the Federal Correctional Institution in Danbury, Connecticut.
Within two days of his transfer, Jason Van Dyke was beaten by his fellow inmates in an attack his attorneys say was provoked by his role as a police officer and his high-profile trial in the 2014 shooting death of black teen Laquan McDonald.
"I want my husband home," Tiffany Van Dyke told the media through tears at a press conference Thursday. "I want him to be safe. I don't need people to go into his cell and attack him. The next time this could happen they could kill him. I cannot bury my husband."
Van Dyke was sentenced to 81 months in prison last month after being convicted of second-degree murder and 16 counts of aggravated battery with a firearm in McDonald's death. He remained in Illinois for more than two weeks, according to his attorneys, before he was transferred without notice to the Danbury facility on Feb. 5.
Just hours after he was placed inside a new unit in the prison, an unknown number of inmates attacked Van Dyke inside his cell, leaving him with head and facial injuries that required medical treatment, according to his attorneys.
"It's a tremendous feeling of hopelessness," Van Dyke's lead trial attorney Daniel Herbert said Thursday.
Video: Tiffany Van Dyke and Daniel Herbert speak to the media Thursday.
---
"It's just really out of our control and we hope our leaders will come to their senses and recognize that Jason Van Dyke has all the rights of anyone else that's in prison. I don't know when it happened that police officers became second-class citizens, but right now all that we're asking is that people just take a step back and realize this is life, this is human beings and this is real," Herbert said.
A Danbury prison spokesman on Thursday confirmed a Feb. 7 assault that resulted in "minor injuries," but declined to release any additional information.
"The (Bureau Of Prisons) is committed to ensuring the safety and security of all inmates in our population, our staff, and the public," FCI Danbury public information officer Steven Lewis said in an email. "Accordingly, allegations of misconduct are thoroughly investigated and appropriate action is taken if such allegations are proven true, including the possibility of referral for criminal prosecution when appropriate."
Exact details surrounding the attack remain somewhat hazy as Van Dyke's attorneys have had limited contact with him since the transfer.
Two days ago, he told his appellate lawyers about the attack during a conference call. Tammy Wendt, one of Van Dyke's trial attorneys, received a phone call Wednesday from an unnamed source at the Danbury prison, who informed her of the incident and said they were concerned about Van Dyke's safety.
She said Van Dyke was immediately placed in general population upon his arrival at the prison, led "like a lamb to the slaughter."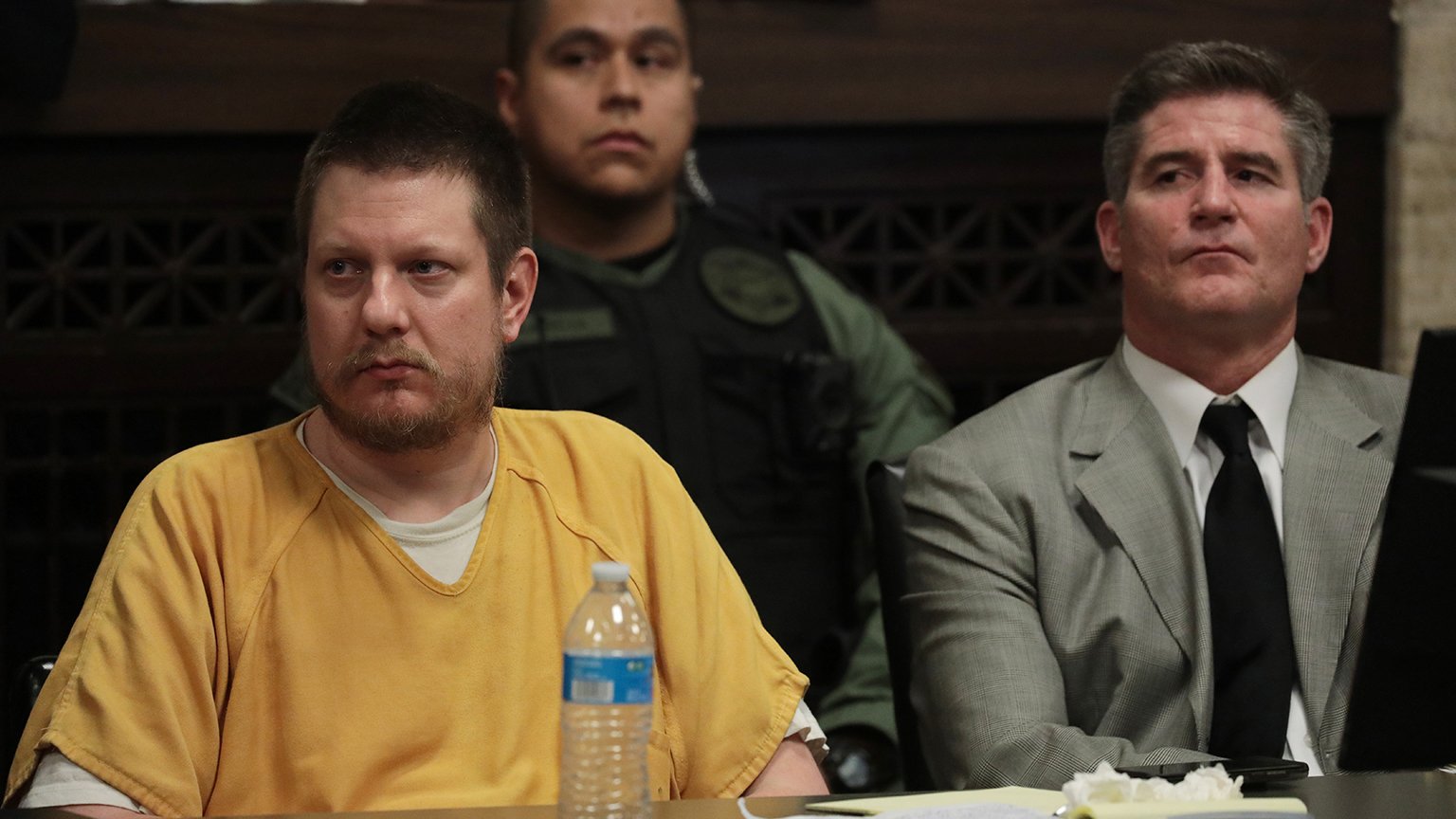 Former Chicago police Officer Jason Van Dyke and his attorney Daniel Herbert, right, listen as the judge describes how he'll be sentenced on Friday, Jan. 18, 2019. (Antonio Perez / Chicago Tribune / Pool)
The Danbury prison is located in southwest Connecticut and houses just over 1,000 total inmates inside what is deemed a "low security" facility. But Wendt said that population also includes "gangbangers (and) violent criminals" serving out the last legs of their sentences.
"To put a police officer who has spent his entire career locking up bad guys in with these bad guys, it doesn't take a genius to know that that's obviously going to get him in trouble," she said. "It's just unconscionable that this happened."
Immediately after his conviction, Van Dyke was moved into the Cook County Jail. He was transferred days later to the Rock Island County Jail, about three hours from Chicago, until his sentencing.
Cook County Jail officials said at the time the move was made in the "best interest of his safety as well as the safety and stability of the jail compound." Van Dyke was isolated from other prisoners while in Rock Island.
Since the attack, Van Dyke has again been segregated from other inmates, though he does have a cellmate, his wife said.
Because he was convicted in a Cook County courtroom, it's unclear why he was transferred to a federal prison, though Herbert said this does sometimes occur with high-profile inmates. Illinois Department of Corrections spokeswoman Lindsey Hess in a statement Thursday said Van Dyke was transferred out of their custody under the terms of a "Federal Intergovernmental Agreement" but declined further comment citing "safety and security purposes."
"I'm demanding reasons" Tiffany Van Dyke said. "I'm demanding answers as to why they took my husband from a state facility and put him in a federal facility ... my husband does not belong in a federal facility. If they assume and they claim that it's for his safety, his safety has not been met. They have endangered him greatly."
Contact Matt Masterson: @ByMattMasterson | [email protected] | (773) 509-5431
---
Related stories:
Source: Jason Van Dyke Beaten by Fellow Inmates in Prison
Attorney General, Special Prosecutors Reviewing Van Dyke Sentence
Jason Van Dyke Sentenced to 7 Years in Prison
Jason Van Dyke Found Guilty of Second-Degree Murder
Van Dyke Defense Opens with Testimony of Laquan McDonald's Past
A Timeline of the Laquan McDonald Shooting
---