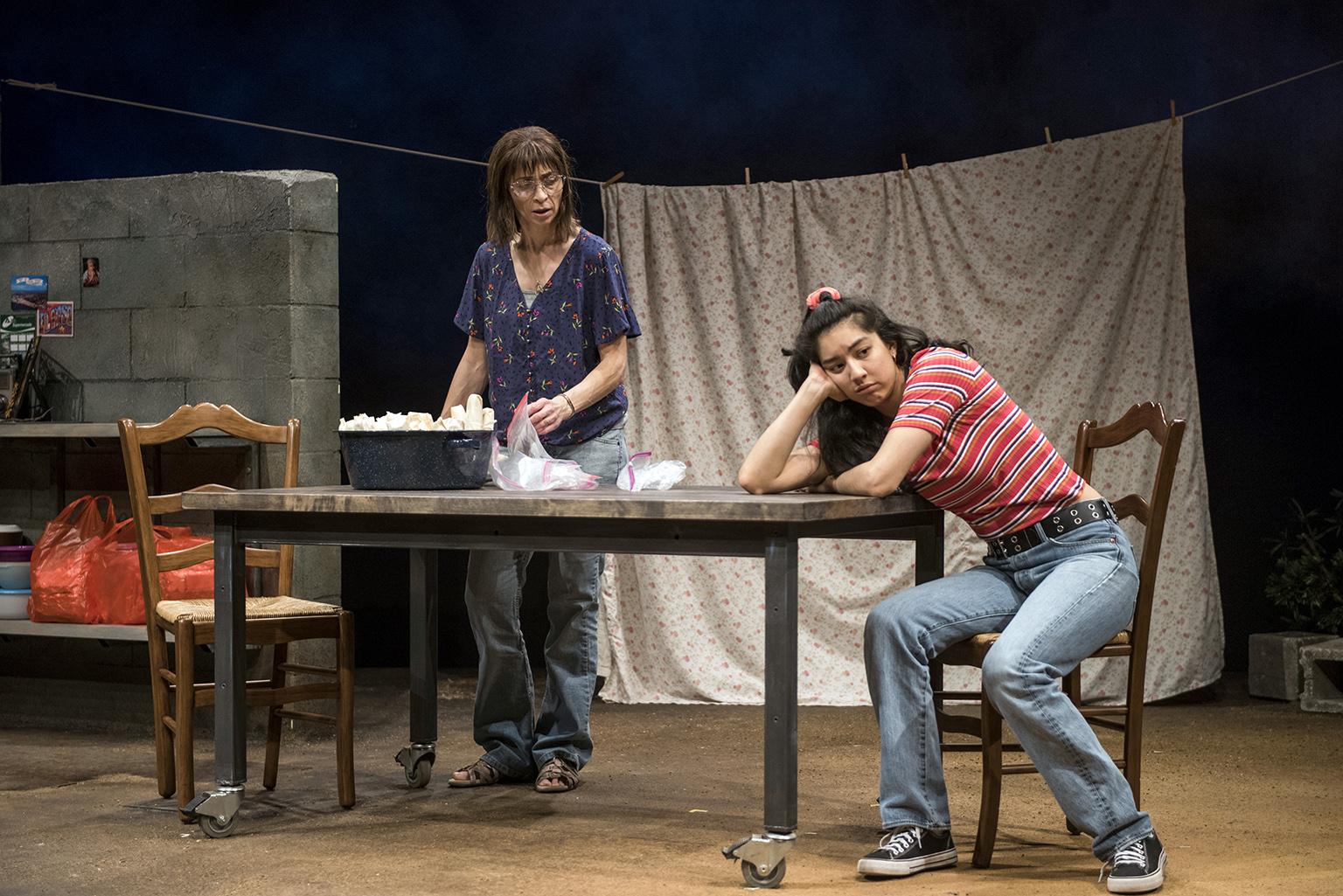 Charín Alvarez, left, and Cher Álvarez in Steppenwolf's world premiere production of "La Ruta" by Isaac Gomez. (Photo by Michael Brosilow)
The grim conclusion you are sure to reach after watching "La Ruta," the harrowing play by Isaac Gomez now receiving its world premiere at Steppenwolf Theatre, is this: That along with the shocking aspect of the actual murder statistics at the core of the story he tells comes the almost total inaction of police and government officials to pursue and punish the perpetrators of those murders.
Gomez's factually based but richly dramatized story draws on the plague of "feminicides" that occurred between 1993 and 2013 when close to 400 women and girls (and this is a decidedly conservative accounting, as some put the number in the thousands) were kidnapped, brutally raped, tortured, murdered and dumped in the desert, or in sewage ditches around Ciudad Juárez, Chihuahua, the Mexican city just across the border from El Paso, Texas.
The majority of those victims – some of whose remains were found, but others who were simply described as "disappeared" – were poor young women who worked for below-par wages and under oppressive conditions at the "maquilas" (factories) generally located in isolated neighborhoods near the border. The women often had to travel home after their night shifts on the infrequently running buses that stopped at dangerous distances from their homes.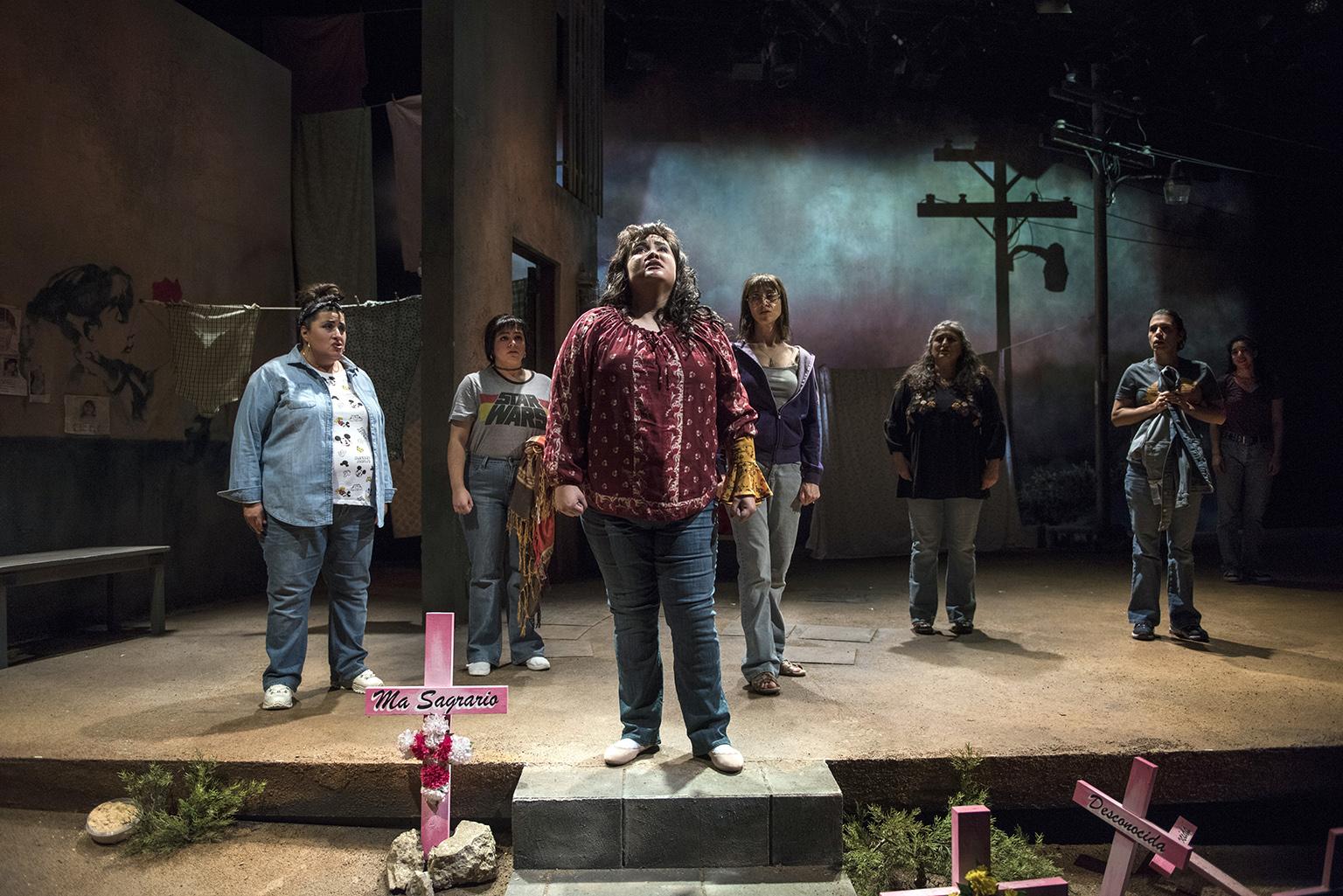 Karen Rodriguez, front, and the cast of "La Ruta." (Photo by Michael Brosilow)
The blatant lack of justice that met these killings suggested that the gangs, organized crime syndicates, drug traffickers and others involved in the crimes understood that they could operate with almost total impunity. The women's employers were hardly much better as they cavalierly ignored the dangers that faced their vulnerable employees and failed to provide protection. The corruption that infiltrated every part of the problem formed a veritable web of evil and complicity.
Aspects of this story have been widely reported over the years, and have been the subject of everything from pop songs to novels (including "2666," the 2004 work by Roberto Bolano that was adapted for the stage and produced by the Goodman Theatre in 2016). But Gomez's play, forcefully directed by actress Sandra Marquez, is driven by a sort of Greek tragedy-like inevitability as it unspools in the form of an intensely emotional ballad. Comprised of a series of brief scenes that shift back and forth between 1998 and 2000, it raises many questions about the events and relationships explored. The story (based entirely on real people, although their names have been changed), also features an evocative score, with songs assembled by music director and Grammy-nominated composer Zacbe Pichardo and performed in Spanish with an earthy beauty by actress Laura Crotte.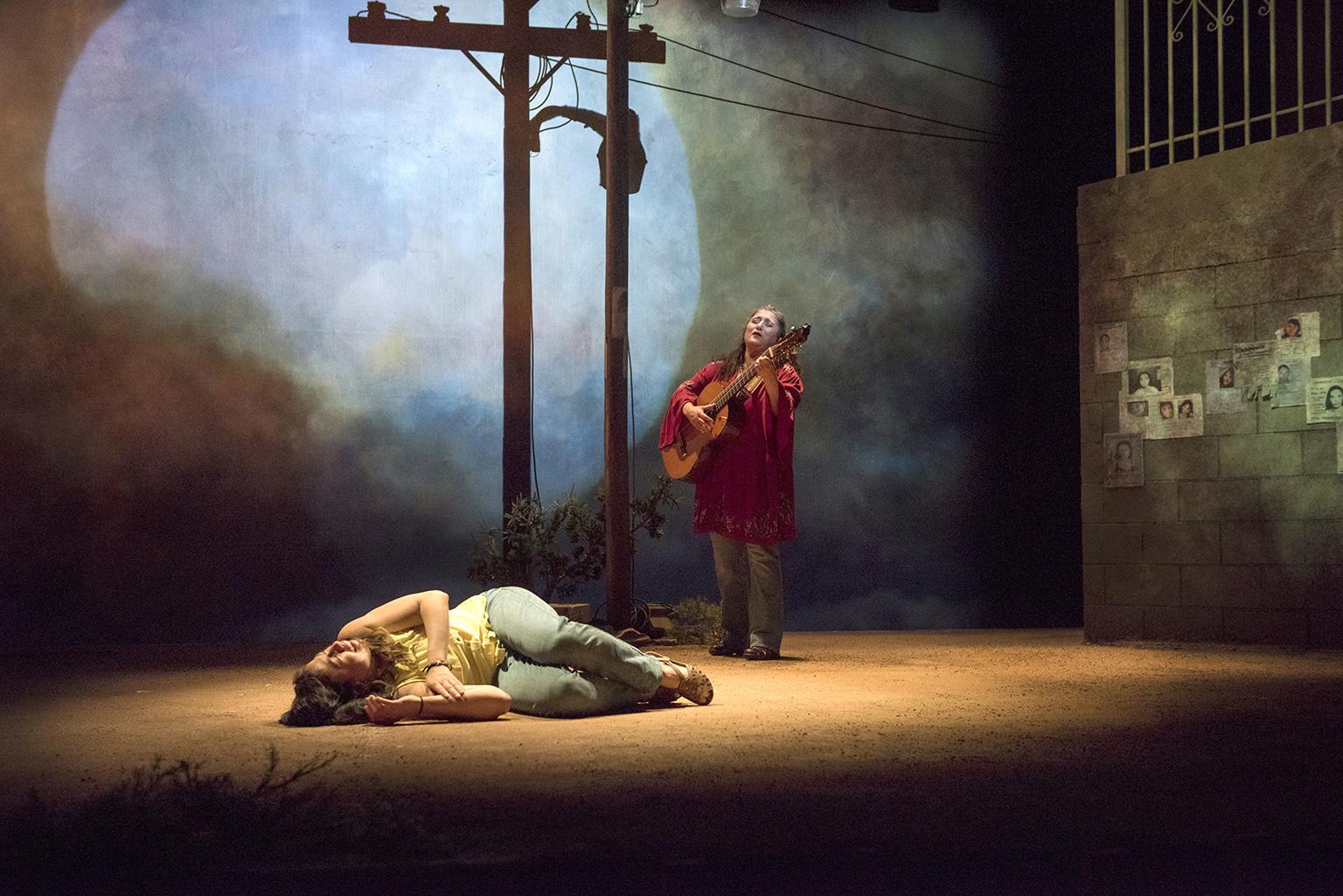 Sandra Delgado, left, and Laura Crotte in "La Ruta." (Photo by Michael Brosilow)
Along the way, Gomez suggests the complex personal relationships among the factory workers, and how the agony of the mothers who are left to mourn the murder or disappearance of their daughters inspired very different responses. He also suggests that some of the blame for the whole phenomenon might belong to the advent of NAFTA, which brought a raw and opportunistic business environment to the region even as it also brought opportunity.
Central to the story are two workers in the factory: Ivonne (Karen Rodriguez), a tough, angry, manipulative girl who has worked at the factory for a while, and Brenda (Cher Alvarez), the smart, pretty, innocent newcomer, just 16 years old, whose mother, Yoli (Sandra Delgado) is clearly very protective. This protectiveness is hardly surprising given Yoli's good friend, Marisela (Charin Alvarez), has been searching for the truth about what happened to her daughter, Rubi, who disappeared a couple of years earlier.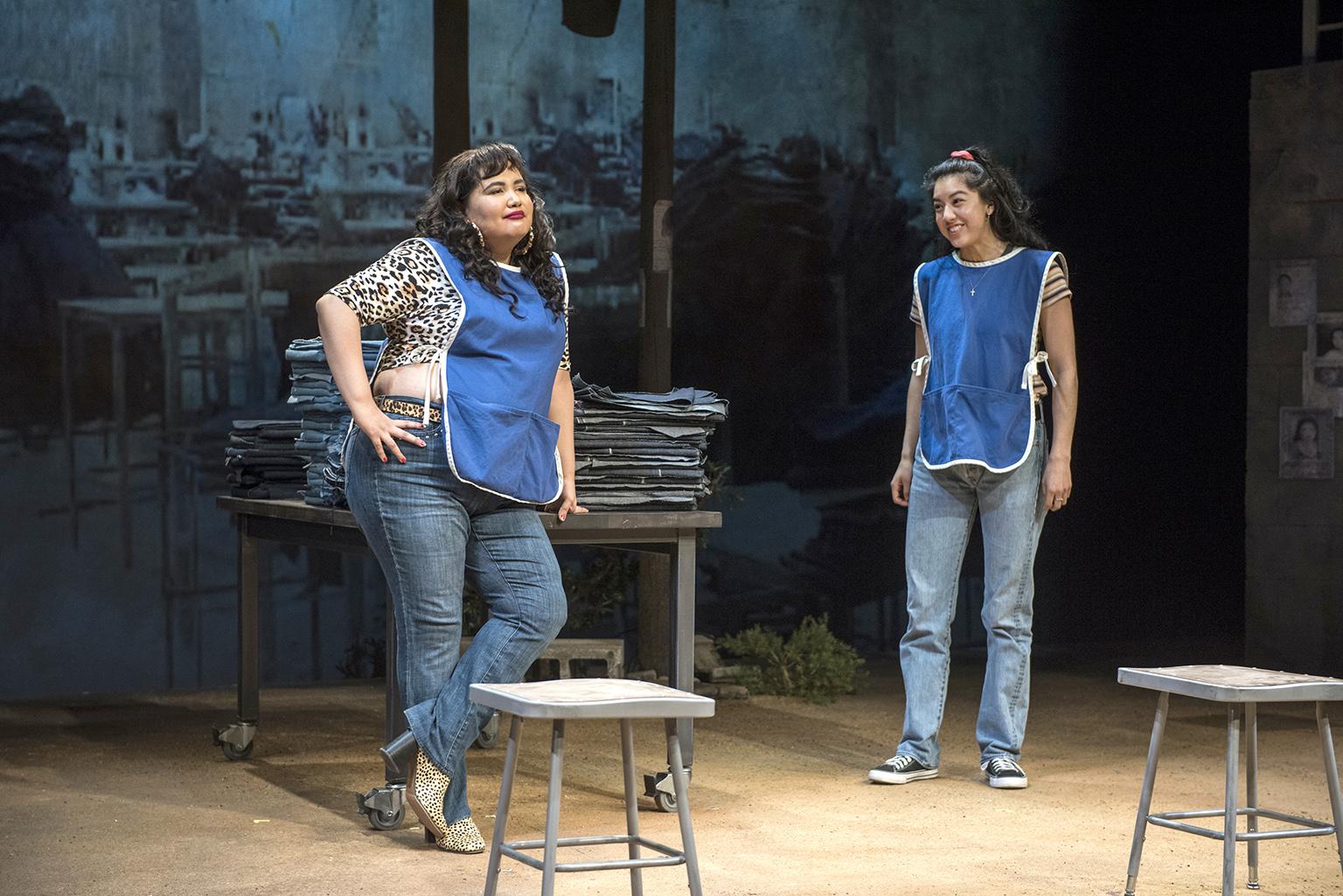 Karen Rodriguez, left, and Cher Álvarez in "La Ruta." (Photo by Michael Brosilow)
Brenda is a good girl, but bursting with adolescent curiosity about the world. And Ivonne, who quickly senses her naïveté, and understands the allure of her guileless beauty, takes her under her wing for purposes that are both far from altruistic and desperate. (The scene in which Ivonne applies mascara to Brenda's lashes for the first time is wonderfully written and played, and also is a crucial moment in the plot. The two also bond over their affection for Selena, the Mexican-American pop singer who was murdered, under different circumstances, in 1995.)
A spoiler alert is in order here: Ivonne, who is persistently harassed by a caller on her mobile phone, invites Brenda to join her for a girl's night out downtown. It will be the undoing of both of them. And it will leave Brenda's mother, Yoli, in a state of grief and denial, compulsively washing and folding her absent daughter's clothes in the belief that eventually she will be returned to her. The truth only fully hits her when she visits the highway graveyard where pink crosses bear the names of the victims, and where she encounters the guilt-ridden Ivonne, who has her own story to tell.
There is plenty of raw emotion at work in these women. And while there are no visible men in the picture, their malevolent power and chilling detachment is ever-present in the air.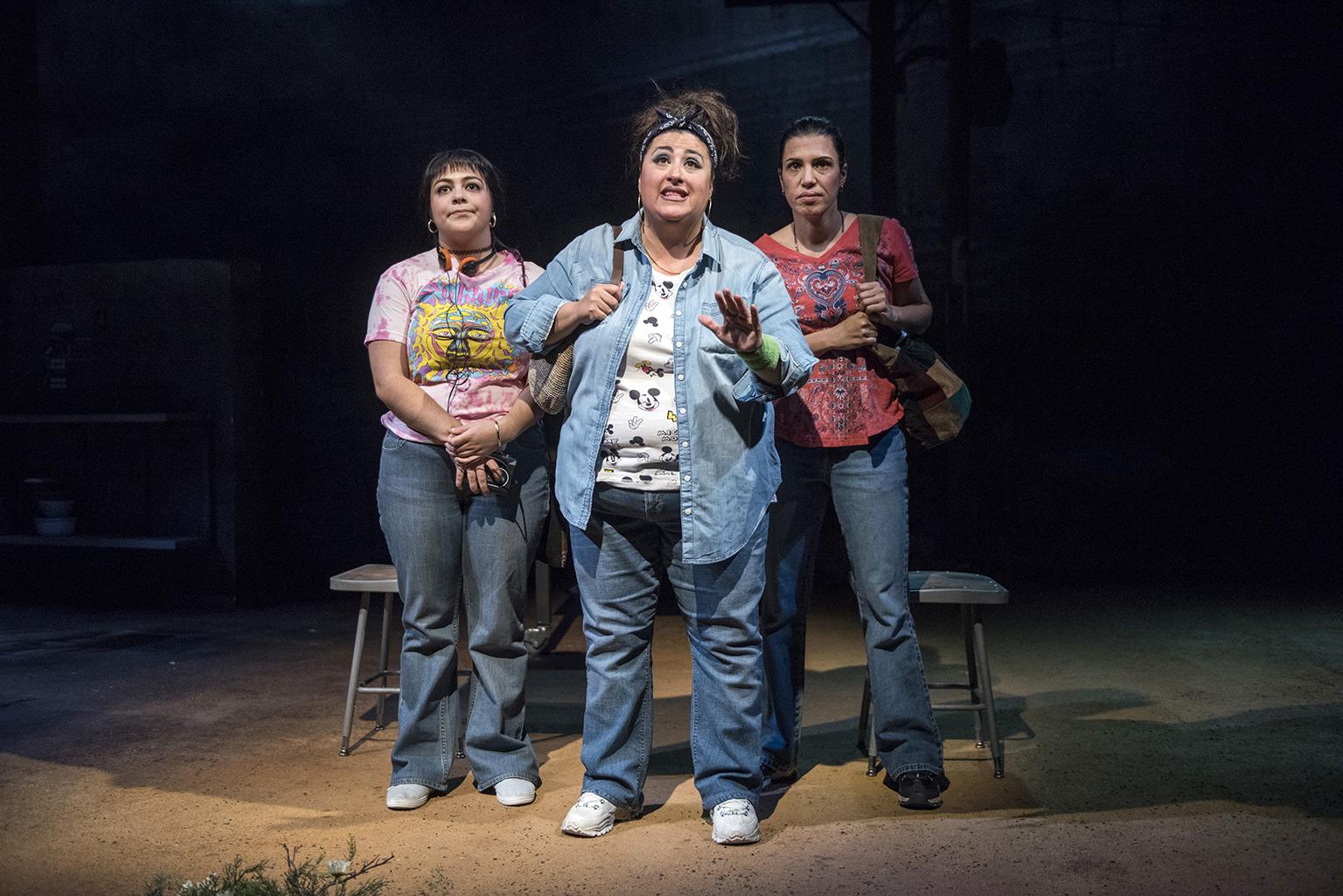 Isabella Gerasole, left, Mari Marroquin, center, and Alice da Cunha in "La Ruta." (Photo by Michael Brosilow)
Mostly there is a sense of fear, dread and powerlessness, with only Zaire (Mari Marroquin), an older woman employed at the factory, risking her job to make one futile attempt to have "la ruta" (the bus route) adjusted so that she can be safely dropped off closer to home.
Only late in the story does a change occur as Marisela turns herself into a fearless activist – a bereaved mother who finally finds her voice and risks her own safety by leading a protest in the regional capital.
"La Ruta" (whose cast also includes Alice da Cunha and Isabella Gerasole), is full of raw emotion. And while many of Gomez's scenes are ideally etched, several feel a bit clunky as they try to move the action forward and backward in time.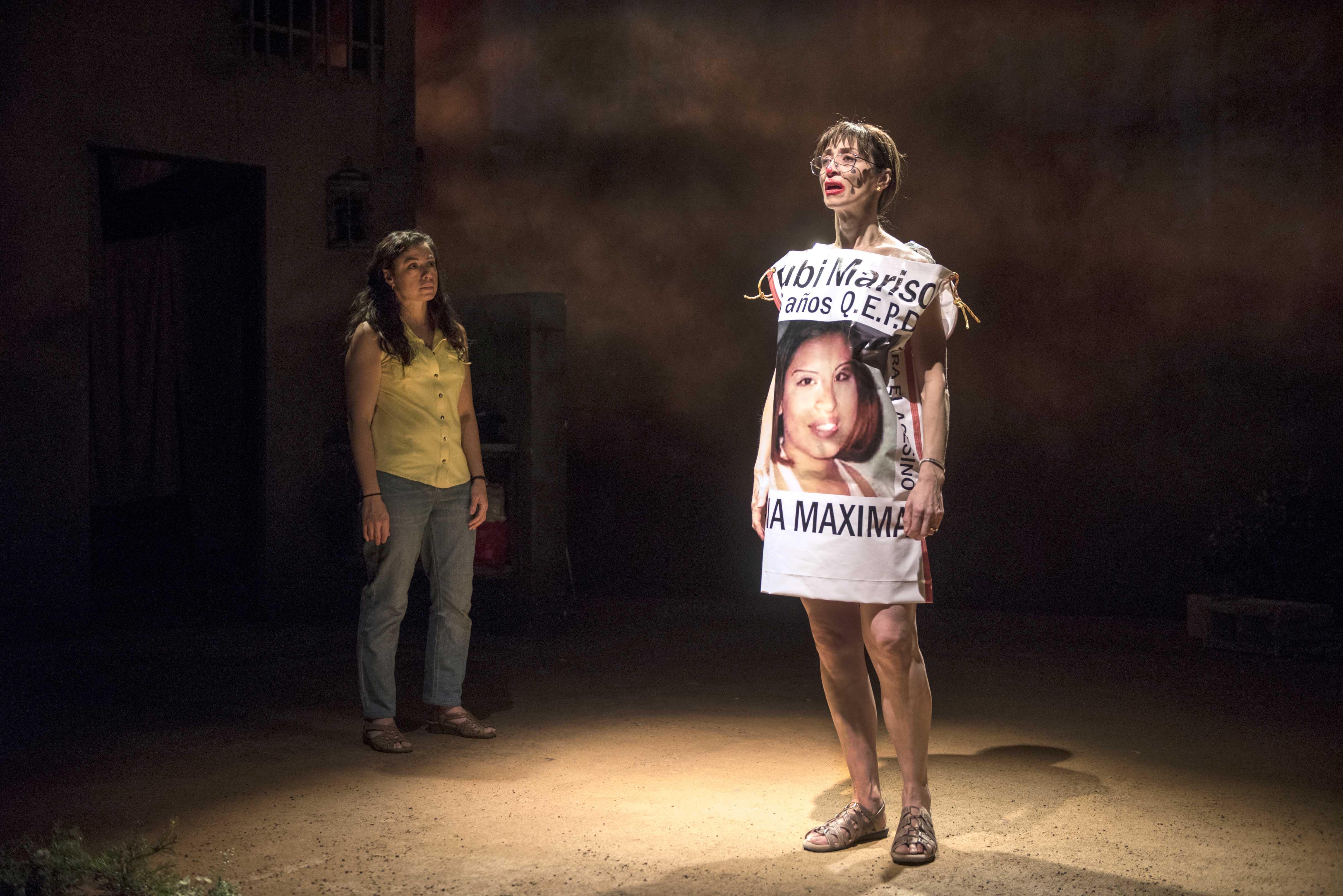 Sandra Delgado, left, and Charín Alvarez in "La Ruta." (Photo by Michael Brosilow)
Regina Garcia's set of dark and ominous concrete walls suggests a dangerous industrial landscape, with light (designed by Jesse Klug) coming from a single utility pole, and projections (by Rasean Davonte Johnson) and sound (by Mikhail Fiksel) adding a ghostly quality. Christine Pascual's costumes are a subtle generational mix, with well-worn jeans the universal currency.
Watching "La Ruta," it is impossible not to think of the many women now risking the perilous journey to the U.S. that they hope will result in asylum and a safer place for their children. Yet as they often discover, there are no safe routes to or from home.
---
"La Ruta" runs through Jan. 27 at Steppenwolf Theatre, 2650 N. Halsted St. For tickets ($20-$89) call (312) 335-1650 or visit steppenwolf.org. Running time: 90 minutes.
Follow Hedy Weiss on Twitter: @HedyWeissCritic
---
An Uneven 'Fiddler' Revival Arrives at an Ideal Moment
Chicago Shakespeare's Flashy 'Midsummer Night's Dream' Tries Too Hard to Be Hip
Theo Ubique Inaugurates New Home With 'The Full Monty'
---