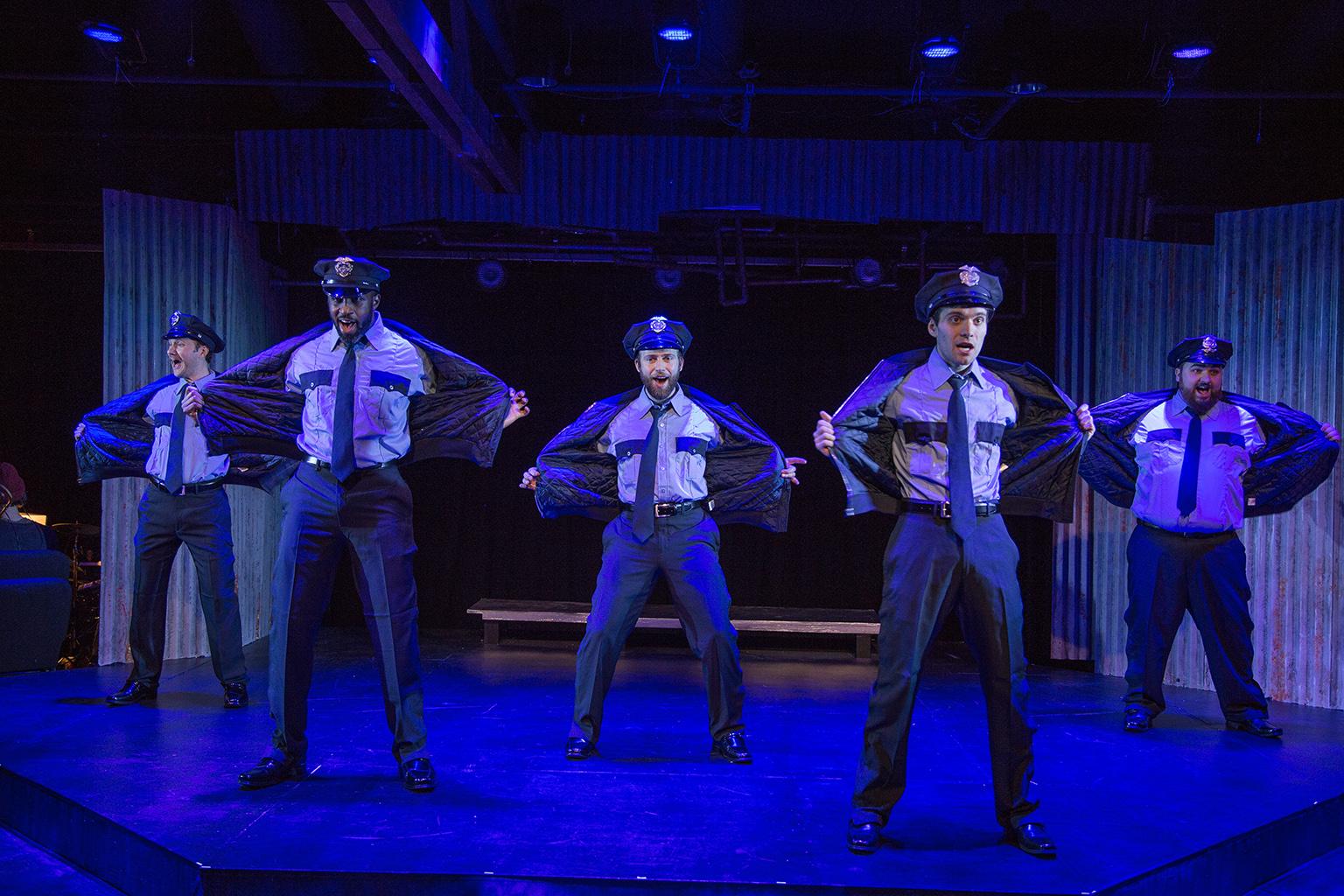 From left: Jonathan Schwart, Marc Prince, Neil Stratman, Joe Giovannetti and Nick Druzbanski in "The Full Monty" at Theo Ubique Cabaret Theatre. (Photo by Austin D. Oie)
I confess I was exceedingly anxious about entering Theo Ubique Cabaret Theatre's new home in Evanston after having spent countless wonderful evenings since 2004 watching musicals in its quirky but magically intimate No Exit storefront space in Rogers Park.
Time and again, co-founder and artistic director Fred Anzevino and his many gifted collaborators demonstrated that dealing with every type of spatial and technical limitation could inspire amazing creativity. It also could forge a unique connection between performers and audience with the distance between them often measurable in centimeters. (The tradition of having the performers serve drinks and food up until a few minutes before the show begins has continued.)
Theo Ubique's new home – which is about 20 percent larger, and can now seat up to 88 people (40 of them at small tables) as opposed to a total of 56 in the old space – marks a grand, and grandly deserved step upward. It now boasts a larger, thrust-style playing space with a high, wide-beamed ceiling, an expanded bar area and modern restrooms. But I can't deny that a bit of my heart remains back on North Glenwood Avenue, and there will definitely be "a period of adjustment" for all involved.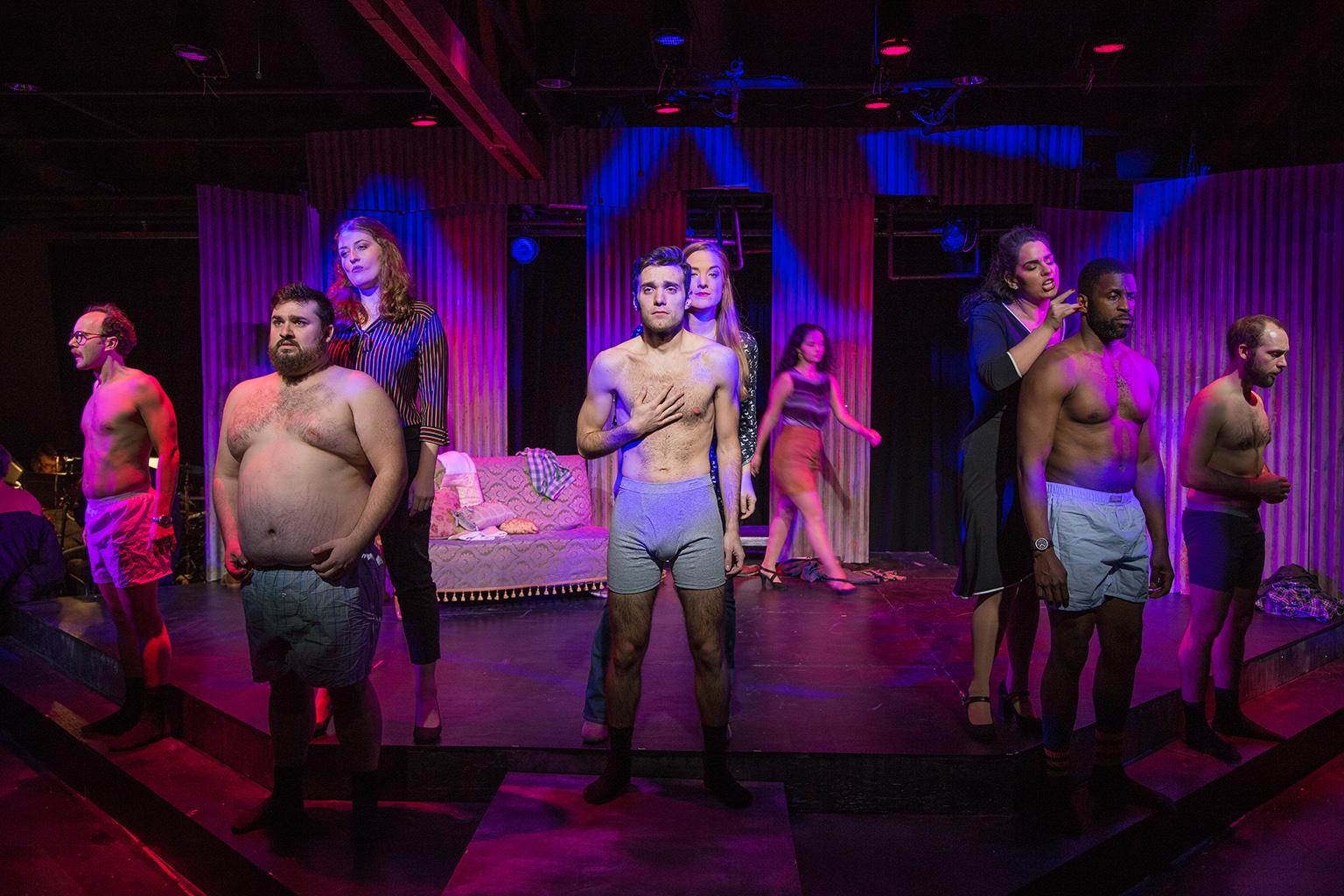 "The Full Monty" at Theo Ubique Cabaret Theatre. (Photo by Austin D. Oie)
For his opening production, Anzevino has chosen "The Full Monty," the raucous (bare it all) 2000 Broadway musical with a big if despairing heart. An Americanized version of the 1997 British film comedy, it is set in Buffalo, New York, and looks at what happens when men lose their well-paying factory jobs and self-respect, when women can more than hold their own, when marriages are at risk, and when desperate measures must be taken.
The story, adapted by Terrence McNally, feels very much as if it were a response to the Rust Belt phenomenon, when this country began to lose its industrial might in the 1980s. And it certainly could connect to the 2008 recession, as well. But a program note says it takes place "today," so while you might sense echoes of the Trump era (though something decidedly different than the #MeToo moment), you might feel things are a bit time-warped. References to such antiquated figures as Arthur Godfrey, Lawrence Welk and Kate Smith fall flat, and even the all-important Chippendales, the notorious company of male striptease artists founded in 1979, seem out of date.
Yet this is very much a personal story rather than a political one. And the show's jazzy music and knife-sharp lyrics by David Yazbek (who won the 2018 Tony Award for best score for his transcendent, and radically different work, "The Band's Visit," and more recently wrote the score for "Tootsie") captures all its characters' anger, embarrassment, humor and love with a timeless, propulsive beat.
At the center of "The Full Monty" are six unemployed steel workers whose jobs were their identity, who feel (as the song title puts it) like "Scrap," and whose pride gets in the way of them accepting low-paying work as waiters or security guards in a local mall. They are lost souls, and their relationships with their wives, ex-wives and, in one case, their son, are a mess.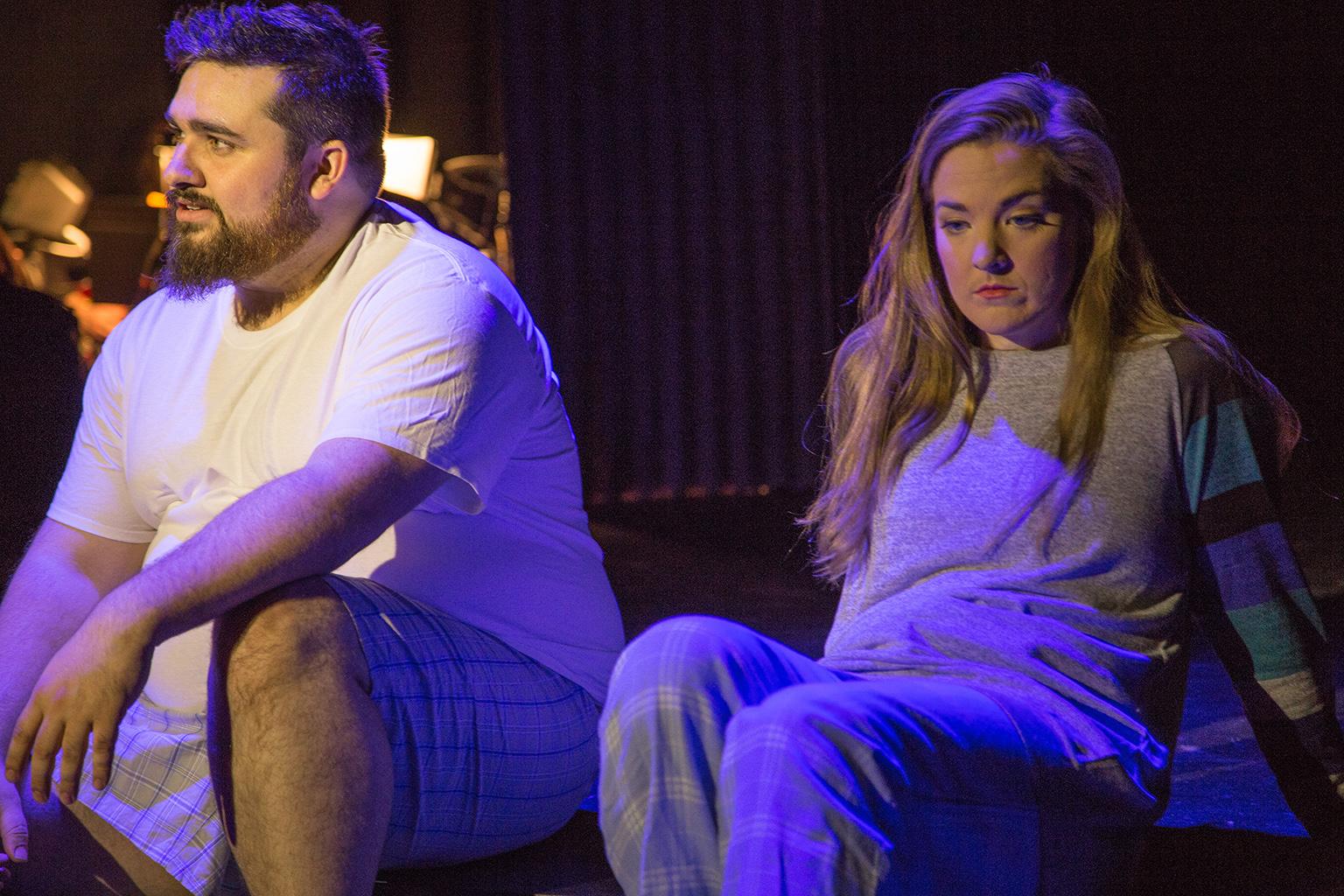 Nick Druzbanski and Molly LeCaptain (Photo by Austin D. Oie)
Dave Bukatinsky (Nick Druzbanski) is a decent guy with a very large belly who can no longer communicate with his wife, Georgie (Molly LeCaptain) – a woman so at loose ends that she has arranged a girls night only visit to a Chippendales show.
Dave's best friend, Jerry Lukowski (Matt Frye), who was laid off from the same factory, is now divorced from Pam (Anna Dvorchak), the woman he still loves, but who is about to marry a more balanced guy with a good job. Jerry also is seriously behind in child care payments for Nathan (Sean Zielinski), the son he adores, and for whom he is at risk of losing joint custody.
Jerry, who has always operated on the wilder side, comes up with an idea for what he believes will lead to a quick $50,000 by putting together his own one-night-only show that will counter the Chippendales with a promise of total nudity. And not only does he recruit Dave, but, with the piano accompaniment of Jeanette Burmeister (Kate Harris), a jaded, sardonic showbiz veteran who appears out of nowhere, he holds auditions for other desperate local guys who are short on talent of any kind, and far from Chippendale-like specimens, but willing to make a leap.
The faux Chippendales eventually include Malcolm MacGregor (Joe Giovannetti), a closeted gay fellow with suicidal thoughts who lives with his aging mother; Harold Nichols (Jonathan Schwart), a management type who was laid off six months earlier but hasn't been able to tell his wife, Vicki (Emily Barnash); Noah "Horse" Simmons (Marc Prince), an older black guy who really knows how to dance but is tired of racial stereotyping; and Ethan Girard (Neil Stratman), a bit of a lunatic hell-bent on walking up walls like movie great Donald O'Conner.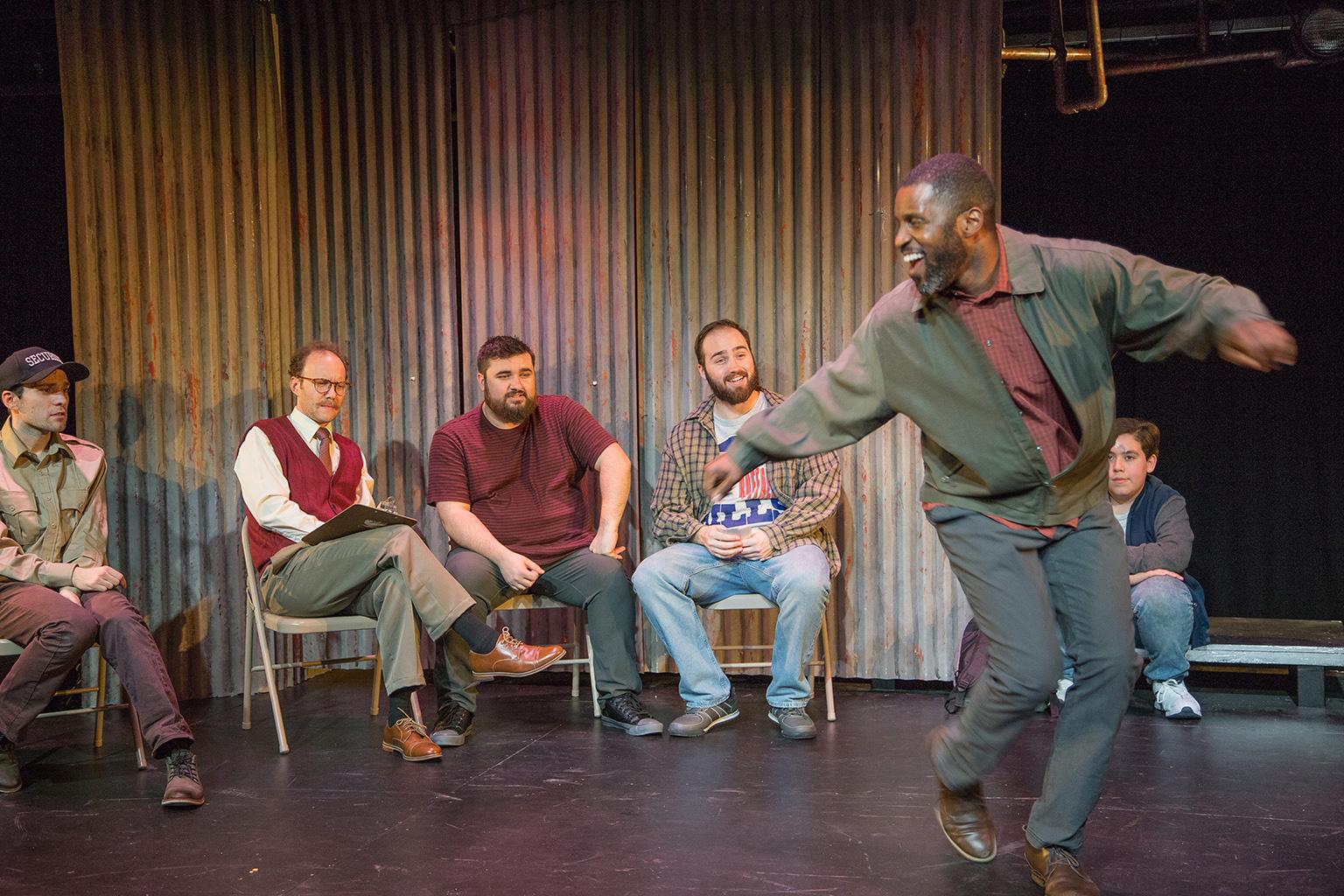 From left: Joe Giovannetti, Jonathan Schwart, Nick Druzbanski, Matt Frye, Marc Prince and Sean Zielinski in "The Full Monty." (Photo by Austin D. Oie)
As for the looming question, it is this: Will the men actually have the courage and craziness to live up to their Hot Metal billing and get past their body image and self-esteem issues?
The large cast, which also features some explicit acrobatic antics by John Cardone as Buddy "Keno" Walsh, an experienced Chippendale, is full of strong voices and equally strong personalities.
While each number is emotionally true, the production's overall pacing could use some tightening and shading, and this will no doubt come as all the excitement and distractions of the new space fade away.
As always, music director and keyboardist Jeremy Ramey is on top of things with a band that includes Perry Cowdery (guitar), Jeff Burden (trumpet), Alex Piazza (trombone) and Carlos Mendoza (drums). And choreographer Sawyer Smith and his actors capture the "can't dance" moves ideally.
It will be interesting to watch how Anzevino and his guest directors experiment with different configurations of the stage and overall space, and how set designers will fill the room in ways they couldn't until now. Change is essential, but holding on to what worked so brilliantly until now will be the key.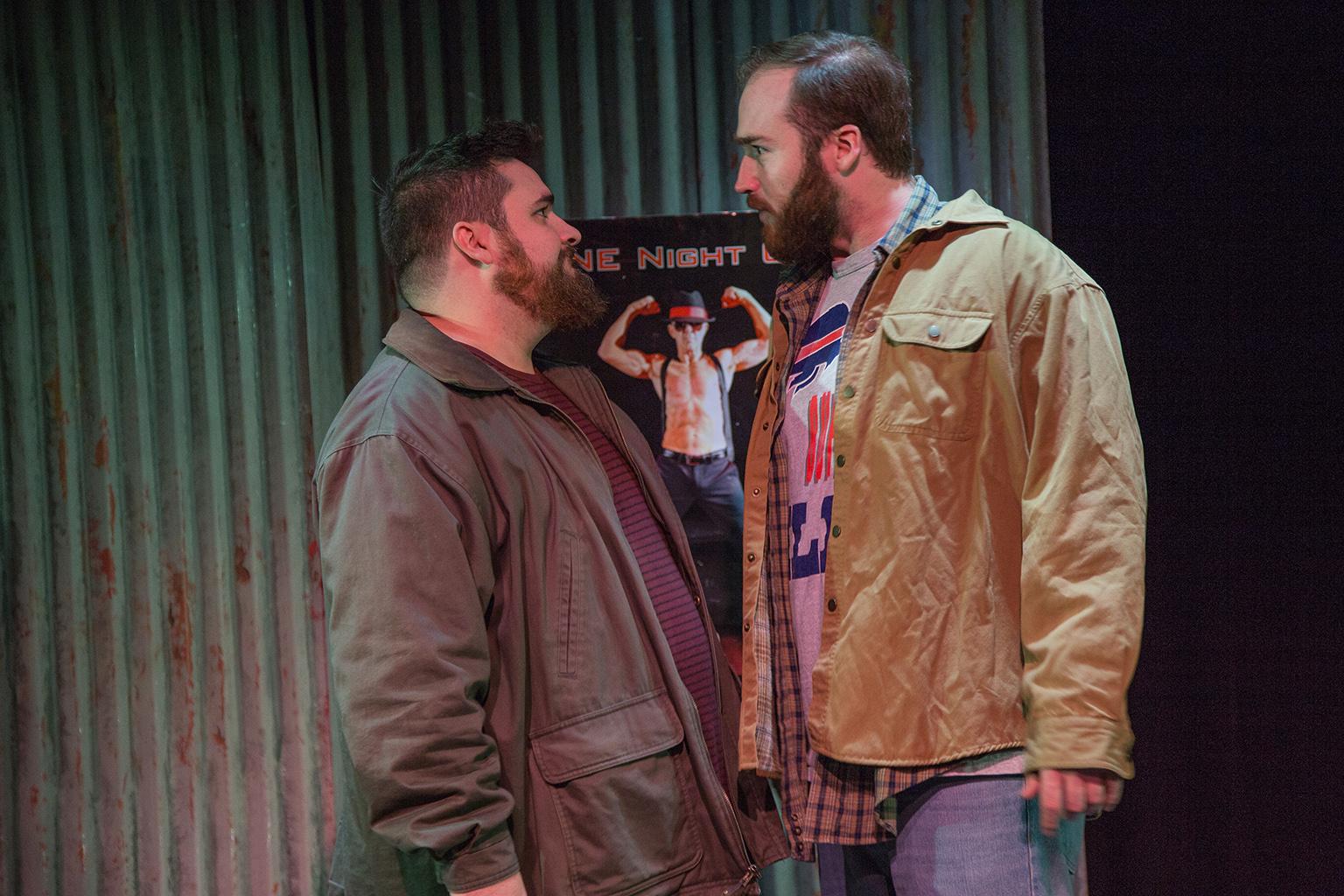 Nick Druzbanski, left, and Matt Frye (Photo by Austin D. Oie)
"The Full Monty" runs through Jan. 27 at Theo Ubique Cabaret Theater, 721 Howard St., Evanston. For tickets ($39-$44) call (800) 595-4849 or visit www.theo-u.com. Running time is 2 hours and 40 minutes with one intermission. (Optional dinners, $25, are available, but must be reserved in advance.)
Note: Coming up at Theo Ubique will be "The Bridges of Madison County" (March 8-April 21, 2019) and "Hedwig and the Angry Inch" (June 14-July 28, 2019).
And by the way, if you were wondering about the theater's name, it is derived from Greek (Theo, for "a universal force") and Latin (Ubique for "everywhere").
Follow Hedy Weiss on Twitter: @HedyWeissCritic
---
Lyric's 'Cendrillon' an Enchanting French Rendering of 'Cinderella'
Wedding Rehearsal Exposes Cross-Cultural Chaos in Danai Gurira's 'Familiar'
Tradition and Hi-Tech Blend Seamlessly in Broadway-Ready 'Wizard of Oz'
---