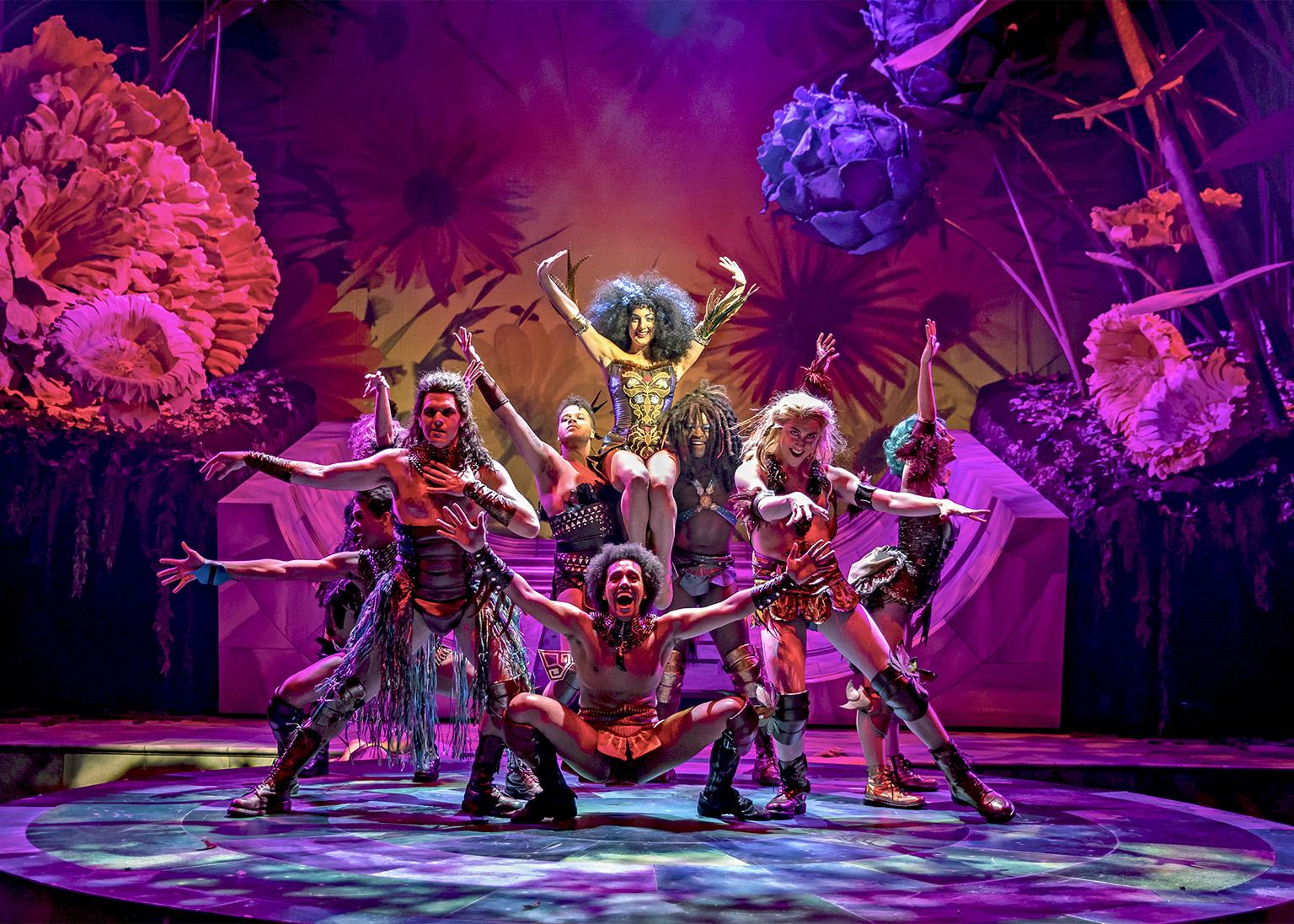 Led in revels by the First Fairy (Adrienne Storrs) and Puck (Sam Kebede), the fairy ensemble gather to "Rock the Ground" in "A Midsummer Night's Dream." (Photo by Liz Lauren)
"A Midsummer Night's Dream," Shakespeare's alternately raucous, fantastical and rage-filled romantic comedy, has long served as the jumping off point for directorial and design experiments.
Peter Brook's 1970 version, with its white-walled minimalism and acrobatics, made theatrical history. Tim Supple's brilliant Anglo-Indian production, performed in seven of the languages spoken on the subcontinent, as well as English (and seen at the Chicago Shakespeare Theater in 2008), had more than a touch of genius about it. Sir Frederick Ashton's ballet captured the play's characters in brilliantly nuanced, often comical movement. And choreographer Alexander Ekman's wildly original, non-Shakespearean edition of a Swedish-style, alcohol-fueled midsummer romp (recently performed by the Joffrey Ballet), dispensed with the original story entirely, yet tapped into the essence of its hallucinatory quality.
The new production of "Midsummer" that has just arrived on the Chicago Shakespeare stage, is the work of veteran director Joe Dowling, who has served as artistic director of both Ireland's Abbey Theatre and Minneapolis' Guthrie Theater. It is an eclectic but uneven, anachronism-filled mashup of time, place and styles that tries (too desperately) to be hip. And despite a number of fine performances, and a gorgeous "flower power" set by Todd Rosenthal, the whole thing ends up feeling more clunky and exhausting than beguiling. Subtle it is not, and often the poetry and emotion get lost. But maybe this is just a "Midsummer" in keeping with the temper and tempo of the moment.
Edward O'Blenis and Alexandra Silber in "A Midsummer Night's Dream." (Photo by Liz Lauren)
As is often the case in Shakespeare's plays, this is a story that unspools in "the real world" (a militaristic royal court), with all its rules and regulations and patriarchal whims, as well as in the forest, where nature exerts its own crazy (sometimes corrective) logic.
It all begins as Theseus, Duke of Athens (Edward O'Blenis), is about to marry the very angry Hippolyta, Queen of the Amazons, who he has just defeated in battle. (She is played by the interesting and changeable Alexandra Silber, who can, quite literally, turn operatic.) But before his own wedding takes place, Theseus must decide the fate of Hermia (Melisa Soledad Pereyra), the young daughter of Egeus (William Dick), a powerful member of his court who has ordered her to marry Demetrius (Eric Schabla), rather than Lysander, the man she truly loves. (Lysander is played by the easily elegant Tyrone Phillips, who does full justice to the play's language.) If Hermia refuses to wed Demetrius she will be punished – forced to choose between a death sentence or life in a convent.
Much to Hippolyta's disgust, Theseus rules in favor of Egeus. But before the decree can be realized, Hermia and Lysander flee into the forest. So does Demetrius, who is followed by Helena (the taut and fiery Cristina Panfilio), who would do anything to marry the man Hermia has rejected. (Though best friends in childhood, the rivalry between Hermia and Helena has assumed a "mean girls" quality.)
The forest, with its explosion of giant psychedelic flowers, becomes the site of great mischief and strange dreams. That is in part because it is ruled over by Oberon (O'Blenis) and Titania (Silber), the king and queen of a fairy kingdom, who just happen to be engaged in a major marital spat of their own.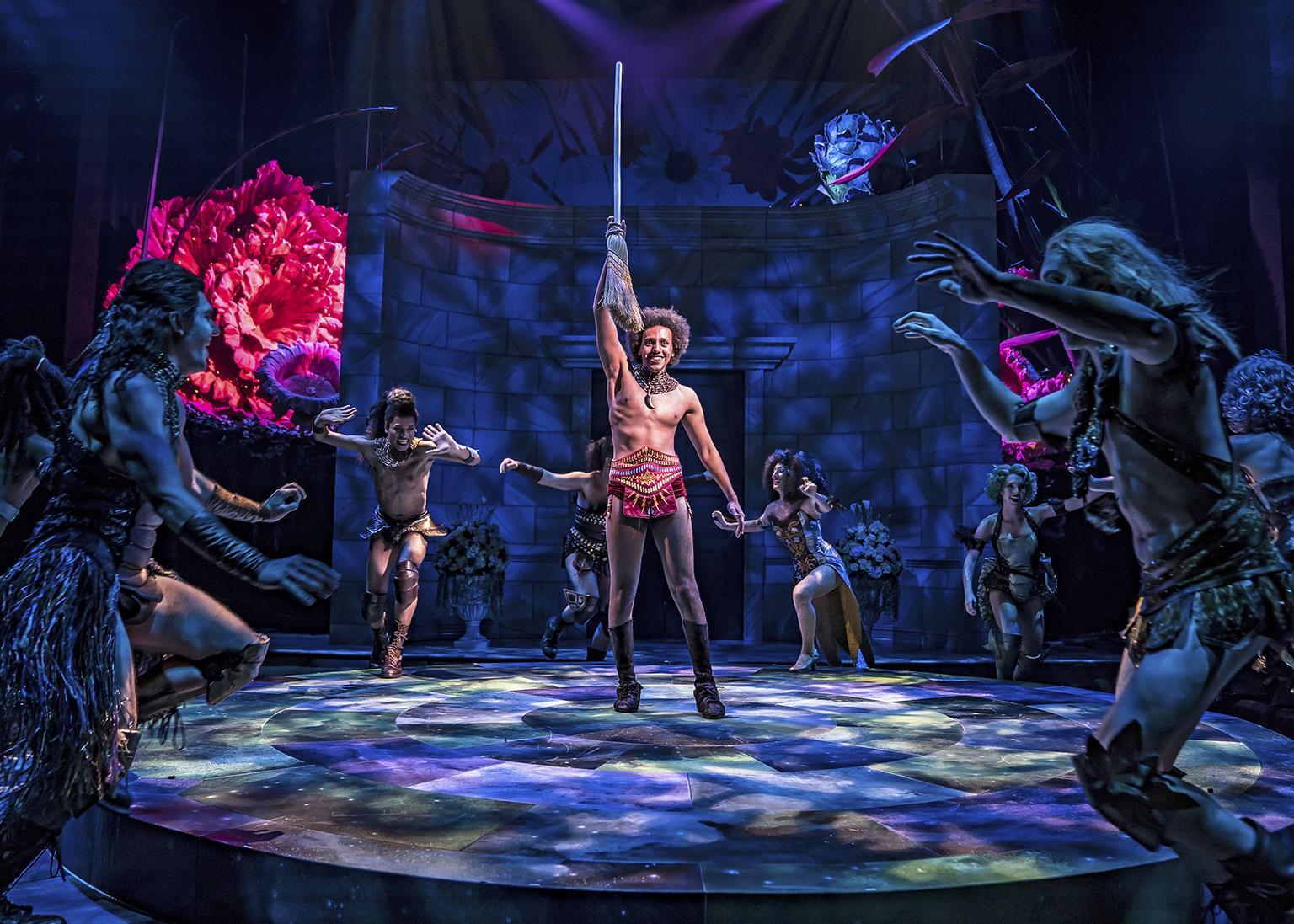 Puck (Sam Kebede) leads the Fairies in mischief in "A Midsummer Night's Dream." (Photo by Liz Lauren)
At the same time, a group of eccentric craftsmen who are at work on a community theater production has arrived in the forest to rehearse a play, with the officious Peter Quince (Joe Dempsey) serving as director, and the effusive Nick Bottom (T.R. Knight, of "Gray's Anatomy" fame) as the overly enthusiastic fellow with endless ideas. (Knight is endearing, and also pulls off some delightful feats of physical comedy all along the way.)
Crucially complicating matters further are Oberon's instructions to his flighty spirit/servant, Puck (the wonderfully fleet Sam Kebede, who sings and moves like a dream, and has just the right knowing sparkle and effortless delivery for his role). Puck is tasked with administering a sleeping potion to Titania that will cause her to fall in love with the first creature she sees upon waking, and that creature turns out to be Bottom, who has morphed into an ass, complete with big furry ears and all. No matter. She is instantly attracted to him and proceeds to make an ass of herself, too.
At the same time, Puck administers his potion to the wrong sets of young lovers, with both Demetrius and Lysander waking up and finding themselves madly attracted to the previously rejected Helena who perceives her sudden popularity as just a nasty form of mockery.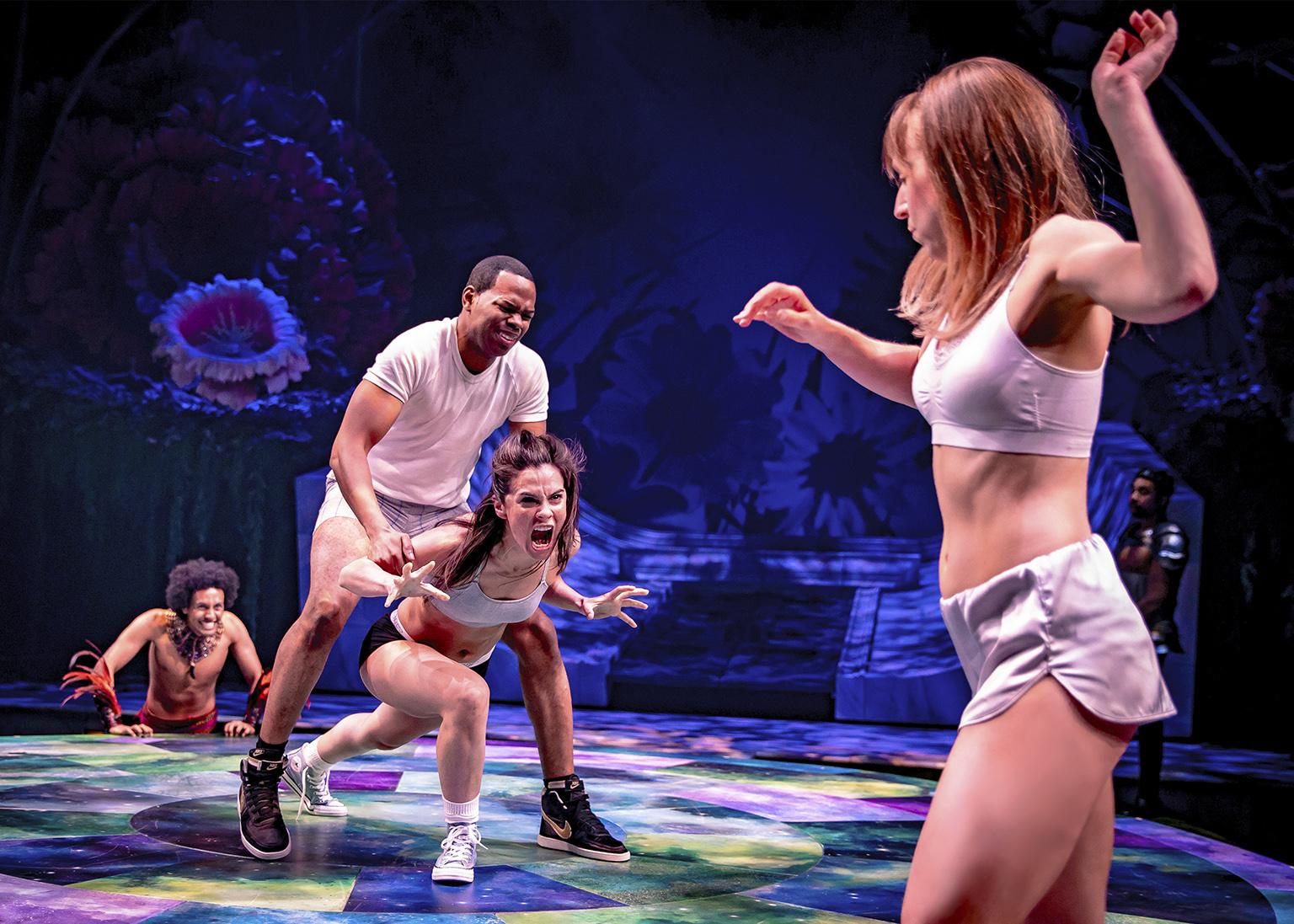 From left: Sam Kebede, Tyrone Phillips, Melisa Soledad Pereyra and Cristina Panfilio in "A Midsummer Night's Dream." (Photo by Liz Lauren)
Yes, this is a story about how love can make fools of everyone, and it is packed with dual personalities, father/daughter and husband/wife tensions, and female/female competition. But this production is plagued by a slew of disconnects, including costumes for the craftsmen that suggest they are rural American yokels. (As for the upper class young lovers, they spend most of their time in Hanes underwear.) The show's sound design has the feel of a music video mashup (with choreography by Joe Chvala) that runs the gamut from rock and opera riffs composed by Keith Thomas, to a sampling of, among other songs, "Let It Go," the hit tune from "Frozen." (Along the way, Adrienne Storrs livens things up with her singing and dancing as the sexy, blue-haired First Fairy.)
The amateur actors' rendering of "Pyramus and Thisbe" – the mock-tragic play-within-a-play that is performed for the royals after everyone has returned to court and three couples are finally set to be married – feels interminable. This is despite the best efforts of Knight as Pyramus, and the droll Jonathan Butler-Duplessis as the wall that separates him from his true love.
Oddly enough, it is Shakespeare's tragedies and histories that seem to fare far better than his comedies these days. (Another example of this could be found in the just-concluded Writers Theatre production of "Twelfth Night.") The challenge is to either play it straight and trust the text, or find a wholly cohesive modernizing conceit, as the hip-hop-driven Q Brothers did. Yet even then, once the novelty wears off, the comedy can fall flat.
"A Midsummer Night's Dream" runs through Jan. 27 at Chicago Shakespeare Theater, 800 E. Grand Ave. on Navy Pier. For tickets ($48-$88) call (312) 595-5600 or visit www.chicagoshakes.com. Running time is 2 hours and 40 minutes. 
Follow Hedy Weiss on Twitter: @HedyWeissCritic
---
Theo Ubique Inaugurates New Home With 'The Full Monty'
Lyric's 'Cendrillon' an Enchanting French Rendering of 'Cinderella'
The Splendor, Invention in Joffrey's 'Nutcracker' Grows Stronger Each Year
---