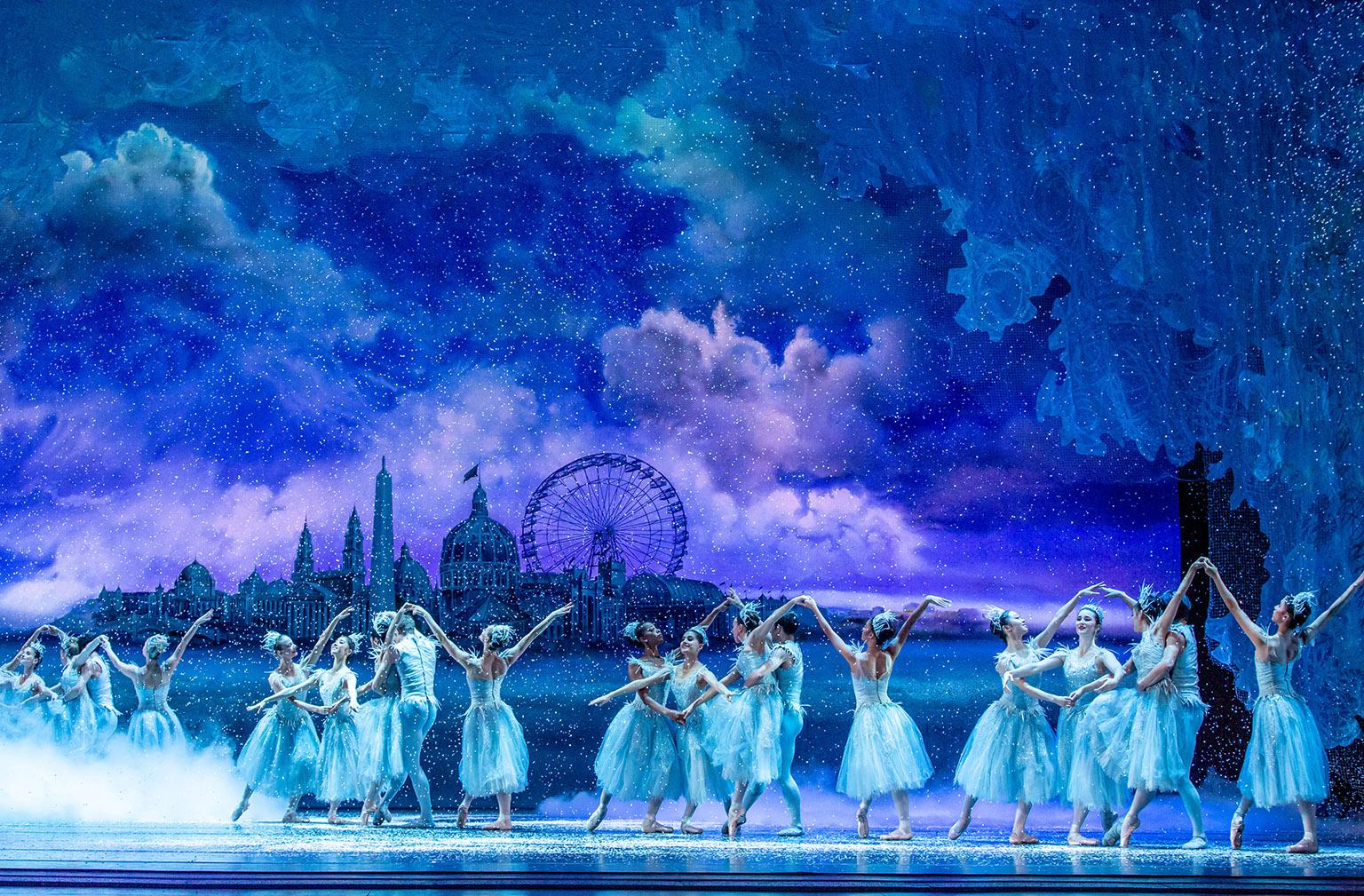 The Joffrey Ballet performs Christopher Wheeldon's Chicago-themed reinvention of "The Nutcracker." (Photo by Cheryl Mann)
Now in its third season, the Joffrey Ballet's radiant and altogether ingenious production of choreographer Christopher Wheeldon's Chicago-themed reinvention of "The Nutcracker" is more luminous than ever. And watching this year's opening performance of the holiday classic it was impossible not to think back to the ballet's world premiere, and to recall what a miracle that opening night in 2016 turned out to be.
To be sure, the heat was on, and the pressure was ratcheted up to high. Not only did this immensely complex, multimillion-dollar production have to prove itself on the spot. But as real snow blanketed the city, and Wheeldon arrived with his leg in a cast (from an accident at an out-of-town tryout), the dancers and technicians knew they had to soar in a challenging production that had precious few technical rehearsals on the Auditorium Theatre stage. The whole event brought to mind Tom Stoppard's observation from "Shakespeare in Love": "The natural condition [of the theater business] is one of insurmountable obstacles on the road to imminent disaster … but strangely enough it all turns out well."
Indeed it did. And the production has only grown better and richer with repetition. By its second season every element of this visually stunning ballet felt more cohesive, as did the rich storytelling of the dancing. And now, with "take three," it is revealing the work's full beauty, with many priceless details becoming crystal clear and generating even greater delight.
April Daly and Miguel Angel Blanco (Photo by Cheryl Mann)
Perhaps everything was there from the start, but because the production is so rich in history, so full of whimsy and fantastical happenings, so multilayered, and so deeply emotional, it has required multiple viewings to absorb it all, and to appreciate its nuances. And while it is a wonder-filled adventure for children (one that had several tots peering into the orchestra pit and snapping selfies as the musicians warmed up), for adults, the ballet serves as a poignant reminder of the fact that what really counts amid the whirl of holiday consumerism is family, friends and the work of artists, craftsmen and builders.
The animating concept of this "Nutcracker" draws on the momentous World's Columbian Exposition of 1893, which, coming slightly more than two decades after the Great Chicago Fire of 1871, marked a remarkable turning point in the city's history and its ability to draw international attention (and 27 million visitors) to a city in which immigration was a major force, technology (from sophisticated electricity to a grand spinning Ferris wheel) was booming, the rights of women were beginning to be championed and tourism was part of the economic game.
Now replacing the nobility or upper class family traditionally at the center of "The Nutcracker" story is an Eastern European immigrant family headed by a single mother – a sculptress who is working on the fair's iconic Statue of the Republic. (She was danced with lovely warmth and impeccable elegance by Jeraldine Mendoza at Saturday afternoon's opening performance.) It is Christmas Eve, about five months before the opening of the fair, and she lives and works in a wooden shack near the construction site that also is home to her teenage daughter, Marie (Anais Bueno, an easeful dancer and charming actress), and her younger brother, Franz (the sassy little Bennett Parker), already quite a mischievous street urchin.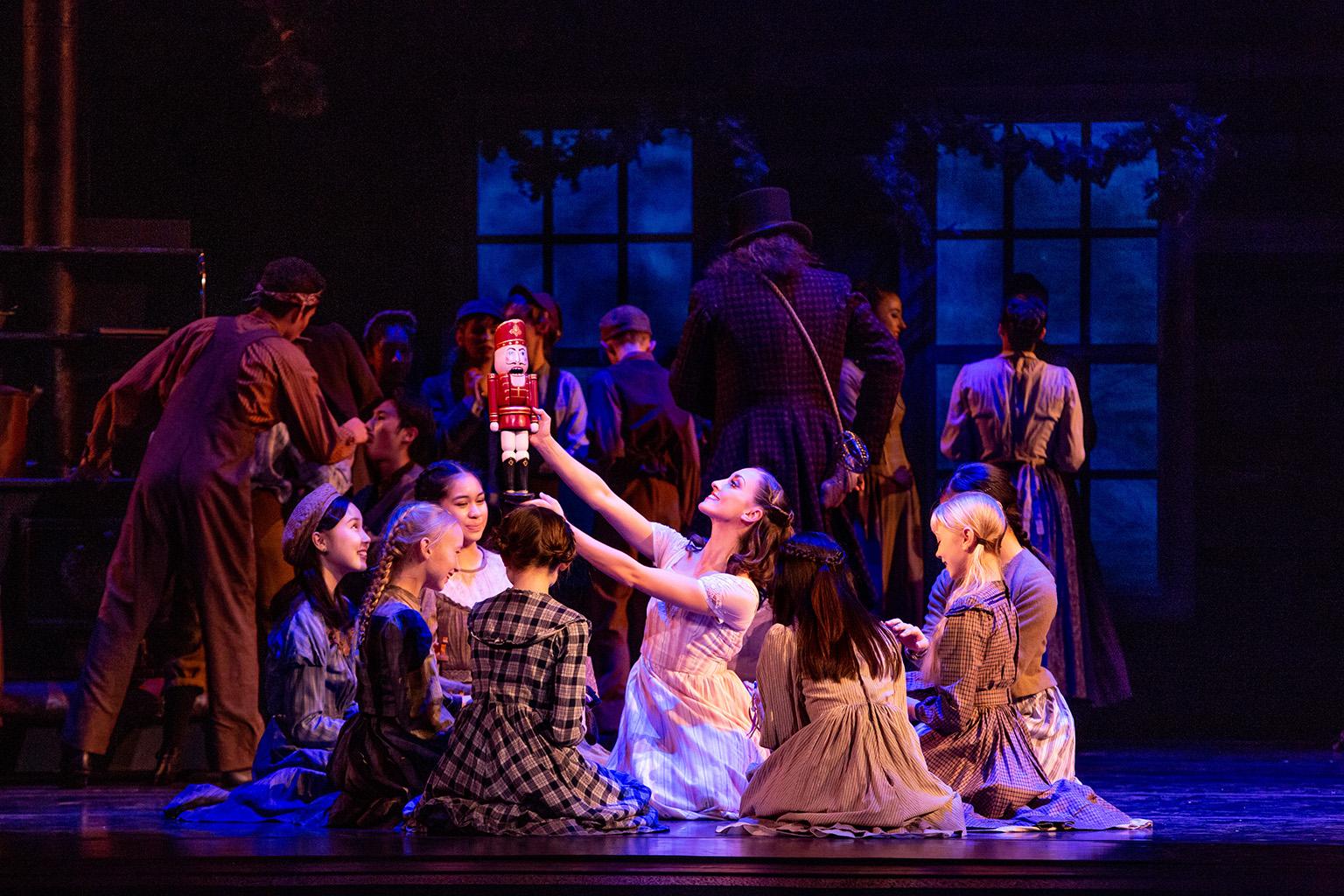 Cara Marie Gary (Photo by Cheryl Mann)
Among the many guests who arrive for a potluck holiday party (where a bedraggled little evergreen Christmas tree generates instant audience laughter), are the other workers at the fair. And they gather naturally in interweaving circular folk dances set to an onstage trio.
Triggering a sense of magic and subtle romantic chemistry with Mother is the Great Impressario (the ideally real but attention-getting Dylan Gutierrez, who is an ideal partner for Mendoza). As he sweeps into the room, draped in a grand purple cape and top hat (inspired by the fair's visionary master planner, Daniel Burnham), he presents Marie with a Nutcracker that is soon broken by her little brother. She is heartbroken, and after everyone leaves the party, and she and her brother go to sleep on the floor, she experiences an initially nightmarish but ultimately enchanting dream that unfolds in the form of a visit to the fair. And before it's all over, her real life dream comes true as the Impresario and her mother become a couple and she realizes she will have a complete family.
This new scenario, so meticulously devised by writer Brian Selznick, is set to Tchaikovsky's ever beguiling score (which, as it happens, debuted in Russia just one year before the fair), and Wheeldon has preserved crucial elements of the classic while seamlessly fitting the music to his new vision. His dazzling design team (Julian Crouch, Natasha Katz, Basil Twist and 59 Productions) brings it all to life by playing with color and scale, showcasing archival treasures from the fair, and combining hi-tech projections with "old-fashioned" puppets, masks and shadow play of the sort you also can find at the moment in Manuel Cinema's "Frankenstein" production at Court Theatre.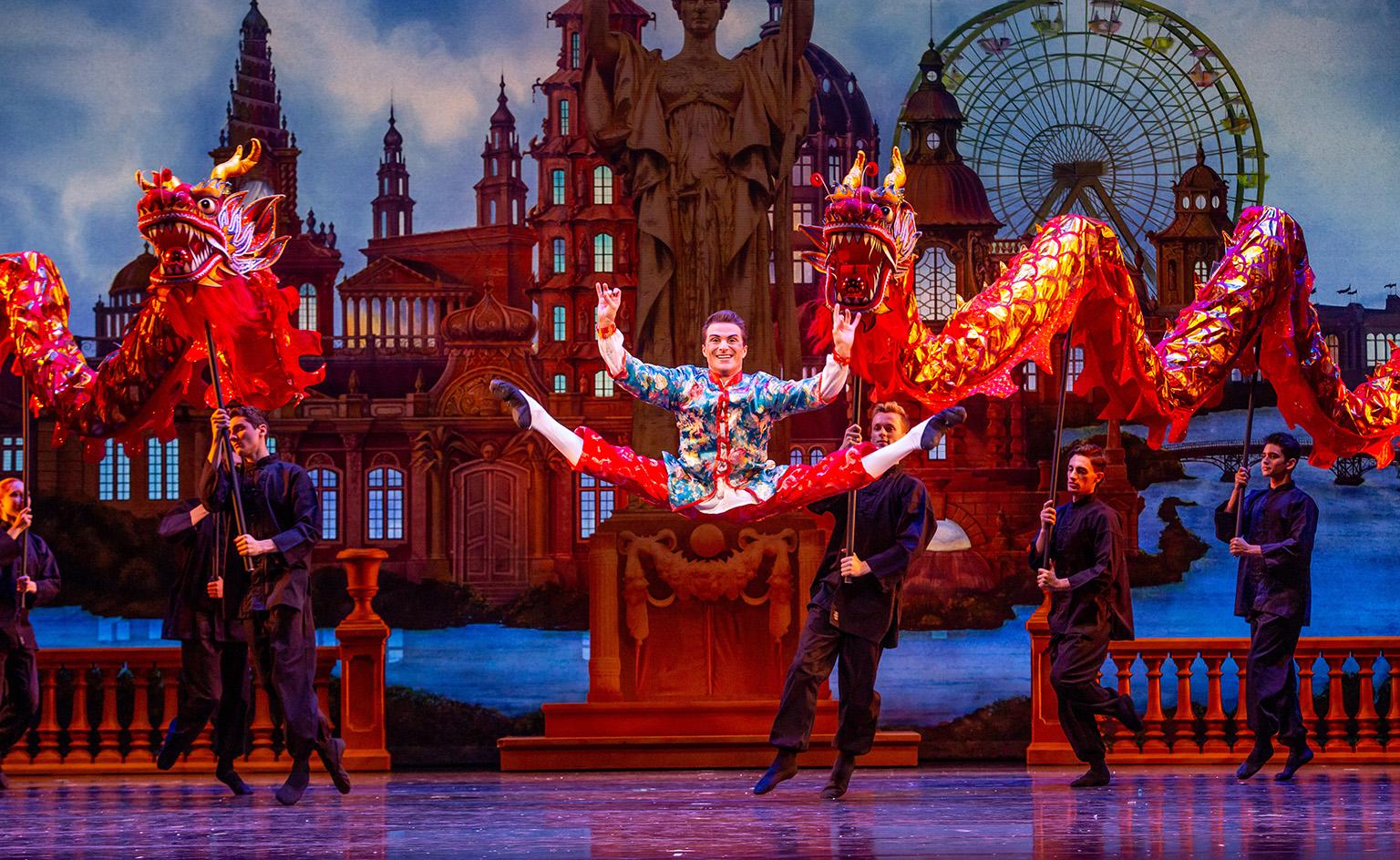 Derrick Agnoletti (Photo by Cheryl Mann)
The golden proscenium of the Auditorium Theatre (the Adler and Sullivan landmark completed four years before the fair) is stunningly echoed. Islamic tile projections fill the stage for the Arabian pas de deux that never fails to bring the house down (and was danced with breathtaking acrobatic control and sensuality by Victoria Jaiani and Temur Suluashvili). And the rats – well, let's just say they turn the construction site into quite a playground. And Rory Hohenstein is an absolute hoot as the fair's rodent-loving Rat Catcher who later also brings great comic gusto to the role of the rope-twirling, pistol-shooting Buffalo Bill (whose rowdy Wild West Show, complete with burlesque dancers, was consigned to an area outside the fair).
That is just a hint of the wonders on hand, and of course the chief wonder among it all is the dancing. Greig Matthews is a fine young suitor for Marie, first as the Impresario's apprentice, Peter, and then as her Nutcracker Prince. Alberto Velazquez makes a mighty Nutcracker. The Snowflakes and their Ice Cavaliers animate a wondrous frozen landscape. Elivelton Tomazi, encircled by two flaming orange dragon puppets, is a high-jumping, gyroscopic Chinese Dancer. Fernando Duarte wields all his comic skills as Mother Nutcracker, who arrives perched atop the roof of a gingerbread house and is equipped with an extra pair of legs. And the Walnuts … well, I will just whet your appetite with a mention of them.
Alonso Tepetzi, Cara Marie Gary and The Joffrey Ballet (Photo by Cheryl Mann)
Five different casts will have a chance to shine in the ballet's principal and featured roles during the intensive monthlong run of this work. And the Joffrey dancers, who are the furthest thing possible from cookie-cutter performers, are sure to bring their distinctive personalities to each performance.
And one last thought: Driving home from "The Nutcracker" I glimpsed the brightly lit Ferris wheel on Navy Pier, and thought about how the Obama Presidential Library might become the next big project to inhabit the fair's Jackson Park site. History has an intriguing way of performing its own theme and variations.
---
The Joffrey Ballet's production of "The Nutcracker" runs through Dec. 30 at the Auditorium Theatre, 50 E. Ida B. Wells Drive (formerly Congress Parkway). For tickets ($35-$199) call (312) 386-8905 or visit www.joffrey.org. Running time is two hours and 10 minutes with one intermission.
Follow Hedy Weiss on Twitter: @HedyWeissCritic
---
Related stories:
WTTW's 'Nutcracker' Documentary Goes Backstage at Joffrey Ballet
Visceral Dance Soars in a Dramatic New Industrial Space
Joffrey Ballet Dancers Demonstrate Their Prowess in 'Swan Lake'
Hubbard Street's Percussion-Driven Experiment Probes Heaven and Hell on Earth
---