Hubbard Street Dance Chicago in "There Was Nothing" by Movement Art Is (Jon Boogz and Lil Buck) accompanied by Third Coast Percussion. (Photo by Todd Rosenberg)
Just hours after a high-stakes drama unfolded Thursday before the Senate Judiciary Committee in Washington, D.C. (and around the world), Hubbard Street Dance Chicago brought up the lights on its interlocking three-part fall season program that harkened back to the creation of the universe and the ascent of man and then proceeded to conjure an apocalyptic vision of where it all went wrong.
The entire undertaking took 80 intermissionless minutes of stage time, but the final section of the work began to feel like an exercise in eternity.
The Hubbard Street dancers are never less than flawless in their execution of whatever they are given by one choreographer or another. And in this case, the opening work by Jon Boogz and Lil Buck (the co-founders of Movement Art Is, or MAI), which included a partly audible text and a scene of placard-carrying protestors whose posters were blank, held a certain fascination. But the third section of the work, choreographed by Emma Portner – and focused largely on ghoulish scenes of torture and violent power plays with an Orwellian quality – quickly grew tedious in its repetitiveness. And its final section, suggesting a return of human connection, meandered endlessly to no effect.
Third Coast Percussion in "Perfectly Voiceless." (Photo by Todd Rosenberg)
Without question, the real reason to catch this concert is to hear Chicago's extraordinary, altogether virtuosic, Grammy Award-winning Third Coast Percussion ensemble playing the hugely complex and evocative original compositions by Devonte Hynes, the British-born composer, songwriter and multi-instrumentalist of African heritage who, not surprisingly (just listen to his repeat-till-it-changes riffs) has performed alongside Philip Glass at the Kennedy Center.
Watching the four musicians of Third Coast (Sean Connors, Robert Dillon, Peter Martin and David Skidmore) as they play vibraphones, drums, woodblocks, bells and more in the most dazzling synchrony and counterpoint, as their mallets catch the light, and as they wheel their instruments into various formations, is a fascinating, precision-tooled ballet all its own. (The quartet previously collaborated with Hubbard Street on Jiri Kylian's thrilling work, "Falling Angels.")
Hubbard Street Dance Chicago in "There Was Nothing" by Movement Art Is (Jon Boogz and Lil Buck). (Photo by Todd Rosenberg)
"There Was Nothing," the opening work by Boogz and Buck, begins around a little triangle of fire as we hear a narrative about the explosion of forces that gradually led to the universe as we know it, with the arrival of Adam and Eve roughly reiterated in the style of the Genesis telling. Of course it isn't long before all that is Eden-like erupts into destruction. (The overall program is said to have been inspired by Paul Stamets' book, "Mycelium Running: How Mushrooms Can Help Save the World," about how fungi can save the environment.)
The fluid, organic movement of the dancers (Craig D. Black Jr., Jacqueline Burnett, Gaby Diaz, Michael Gross, Adrienne Lipson, David Schultz, Kevin J. Shannon and the always animated Alicia Delgadillo) possessed the usual Hubbard Street magic.
Third Coast had the stage to itself for the evening's second section, "Perfectly Voiceless," during which it conjured a heavenly constellation of sound.
Drumming, strobe lights and the descent of three black and white panels (by David Kim) depicting sculptural forms suggestive of worn canes or other weapons, announced the arrival of Portner's "For All Its Fury."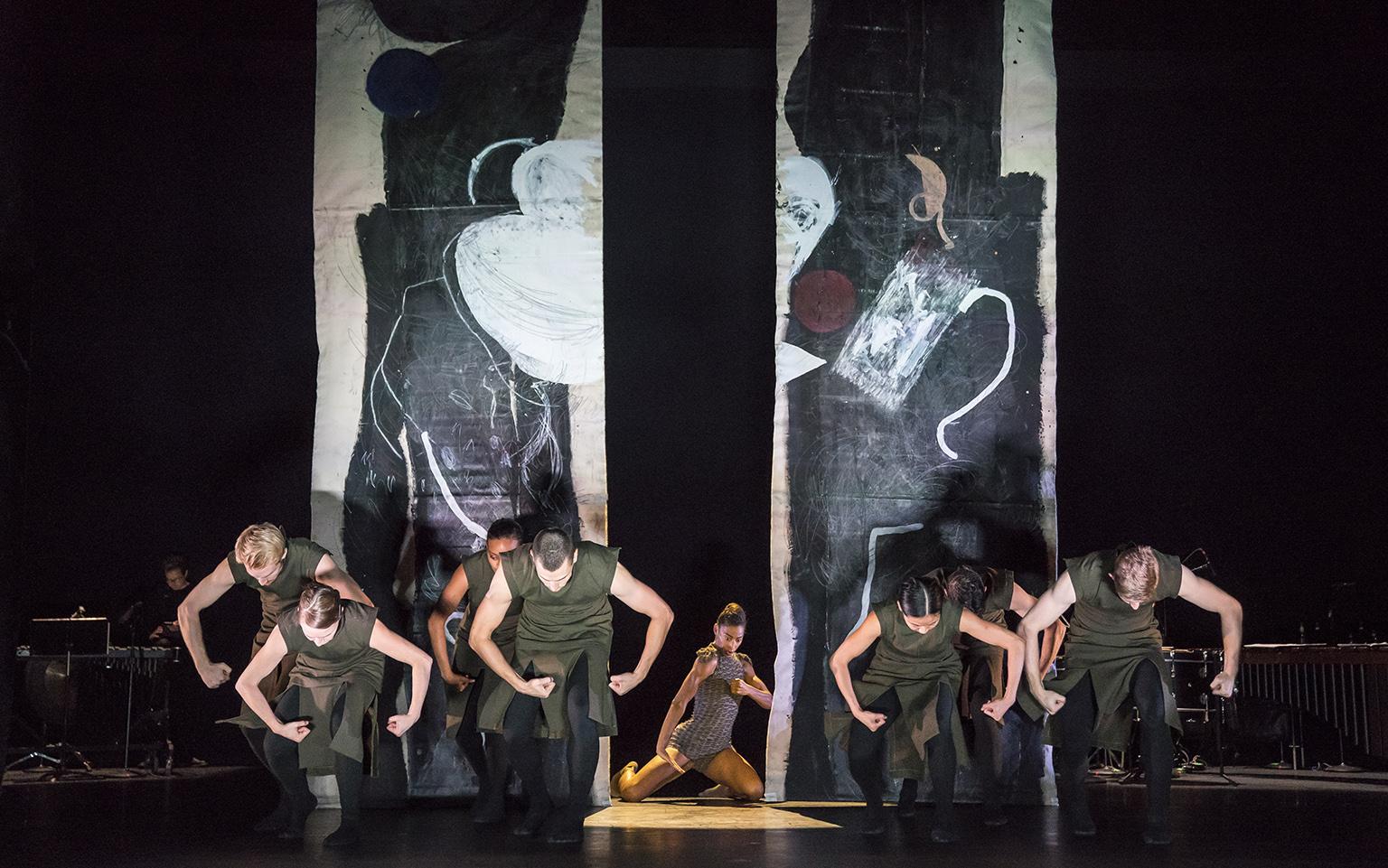 Hubbard Street Dance Chicago in "For All Its Fury" by Emma Portner. (Photo by Todd Rosenberg)
At the center of the work is the technically powerful and superbly expressive dancer, Rena Butler, who becomes witness to a most grotesque escalation of violence, bondage and torture, involving canes, and plastic bags used like hoods, and an endless sequence in which the dancers are entangled in a sort of cat's cradle of stretchy bands. Man's inhumanity to man? OK, got it. But it goes on far beyond the point of choreographic interest or emotional caring. And then, in a final section, which feels tacked on and shapeless, there is a kind of return to human connection. (Most of the spoken words in the piece were essentially inaudible.)
In addition to the riveting Butler, the dancers (costumed in mushroom brown tunics) included the petite, intense Kellie Epperheimer, Andrew Murdock, Connie Shiau, Elliot Hammans, Florian Lochner, Alysia Johnson and Black. And Jim French's dramatic lighting is effective throughout the evening.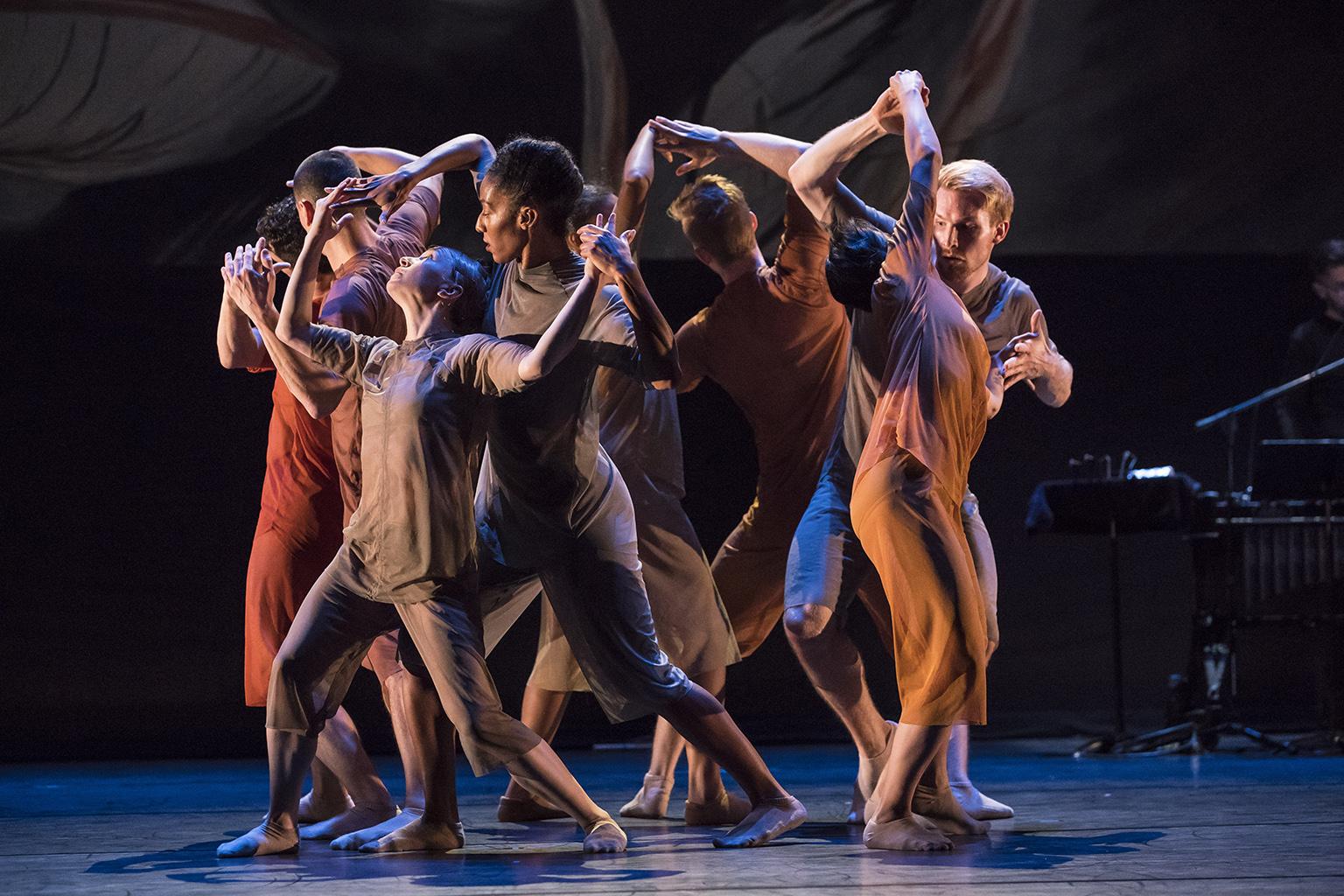 Hubbard Street Dance Chicago in "For All Its Fury." (Photo by Todd Rosenberg)
Again, the primary reason to catch this program is to watch and listen to Third Coast Percussion in action. Both they and the Hubbard Street dancers deserve far more interesting choreography.
Hubbard Street Dance Chicago's Fall concert will be repeated Saturday at 8 p.m. and Sunday at 3 p.m. at the Harris Theater for Music and Dance, 205 E. Randolph St. For tickets ($25-$110), call (312) 635-3799 or visit www.hubbardstreetdance.com. Running time is 80 minutes with no intermission.
Follow Hedy Weiss on Twitter: @HedyWeissCritic
---
David Cale Turns a Family Nightmare into a Dreamy Tour de Force of Survival
CSO Opens Season with Music of Liberty and Memories of Repression
In 'BigMouth,' a Torrent of Oratory at Once Brilliant, Provocative and Dangerous
---