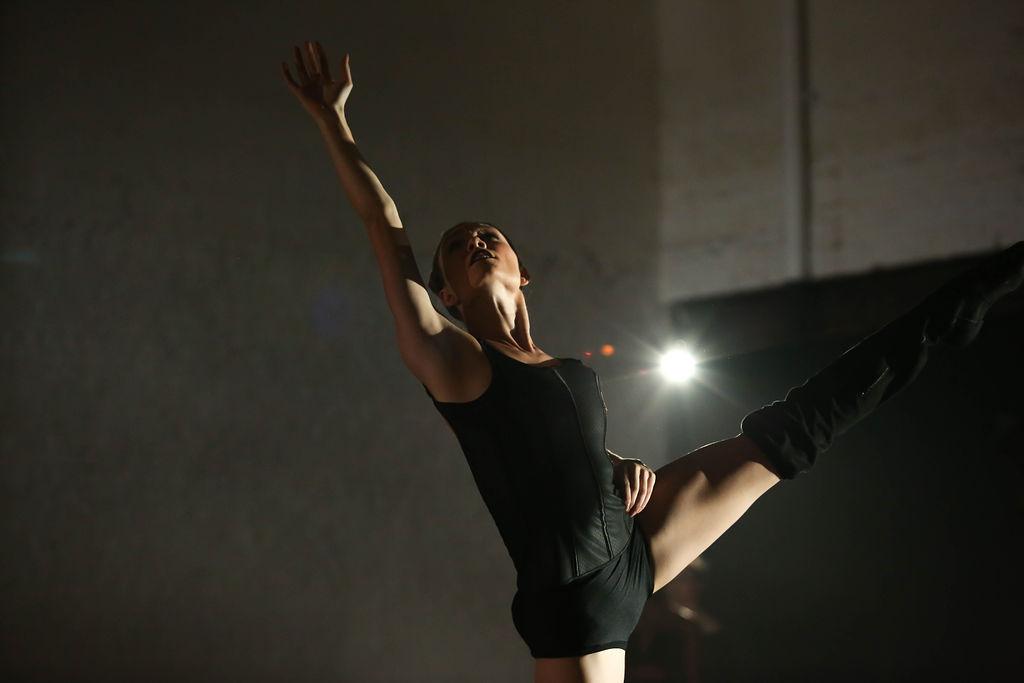 (Credit: KT MILLER Photography)
Visceral Dance Chicago has been a force to reckon with from the very moment it debuted on the stage of the Harris Theater for Music and Dance five years ago. But with the world premiere of "Take," artistic director Nick Pupillo's knockout of an immersive, evening-length work, it has outdone itself.
A study in the darkness and luminosity inherent in human interaction, and a glorious showcase of the sheer physical beauty and sublime technique of this company of 13 extraordinarily magnetic contemporary dancers, "Take" is nothing short of spellbinding. And it marks a new high point in Pupillo's always original, sensual, highly charged choreography.
The concert also marks an inspired shift in the company's performance strategy – a change that frees Visceral from the expense of performing at the Harris (which limited it to a frustrating single concert each fall and spring), and enables it to expand its runs (in this case a total of seven performances over two weekends) and, by extension, its potential audience.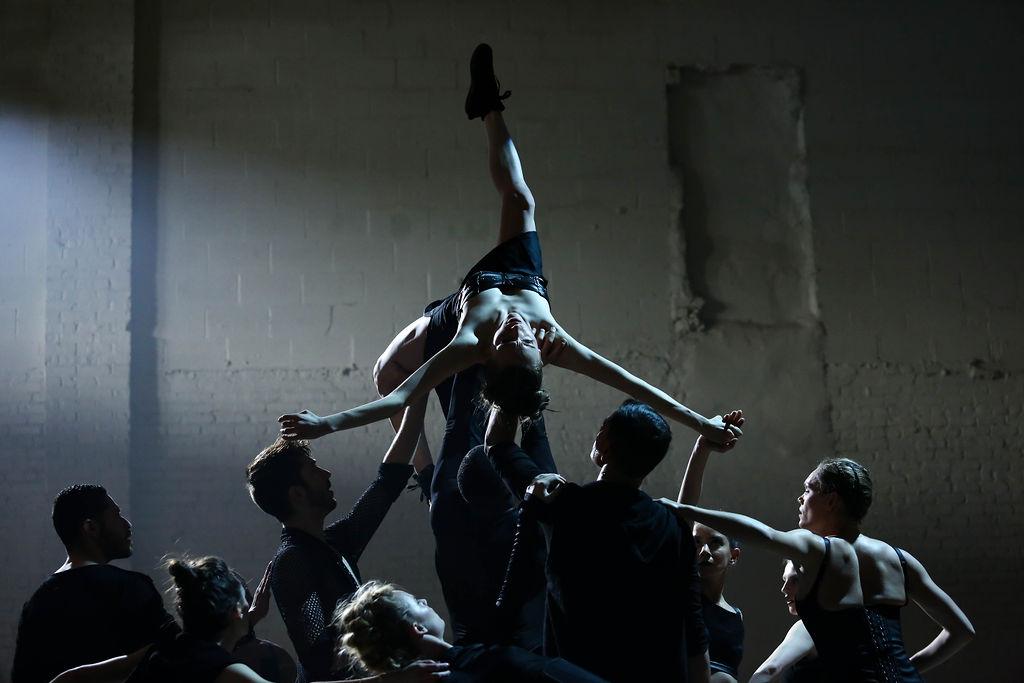 (Credit: KT MILLER Photography)
For "Take," the company has abandoned the Harris' proscenium and taken up residence in The Space at Rockwell, a vast, street-level, garage-like structure of soaring height located in the Avondale neighborhood, with spotless white brick walls and a 4,000-square-foot, concrete-floored performance area that has been framed on all sides by about 90 folding chairs.
The dancers command the space, moving in and out of the shadows and the light (inspired work by lighting designer David Goodman-Edberg), and, in the poetic words penned by Visceral dancer Braedon Barnes, they are "abstracted but in arm's length."
Indeed, the dancers are often so close you can touch them. Yet at the same time you can see their strong, expressive faces, and the notably direct eye contact they make with the audience, they also magically maintain the necessary distance and detachment so essential to a highly theatrical performance.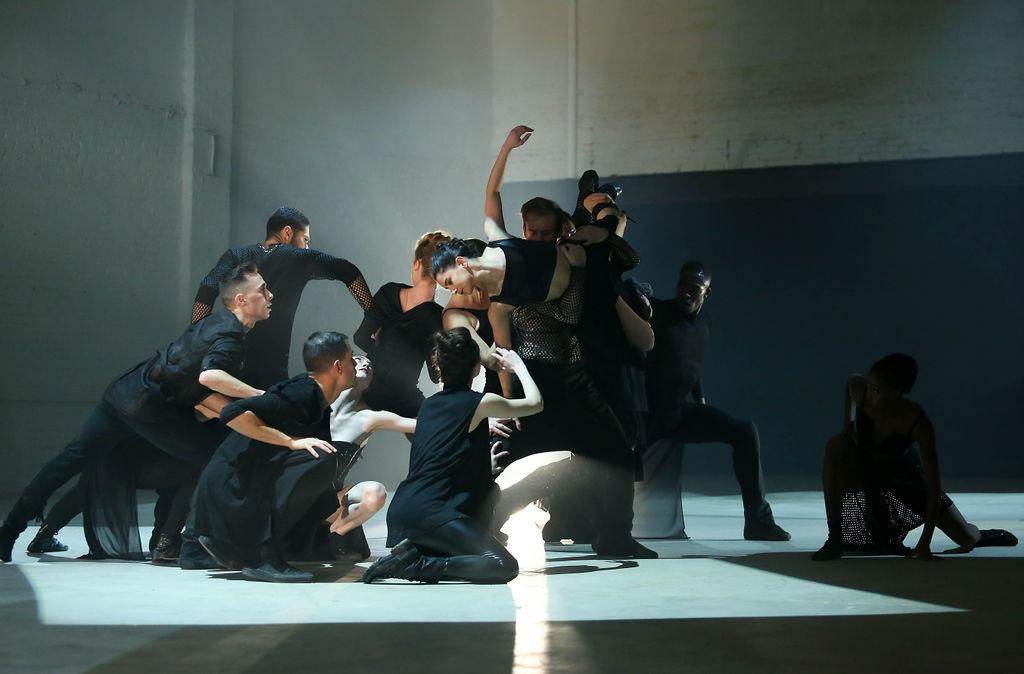 (Credit: KT MILLER Photography)
It all begins in the dark, as a lone woman, dressed in a black corset-like top (the simple but evocative costumes in black, and later in flesh tones and white, are by Moriah Turner), performs a sexy, almost balletic solo. She is soon joined by the rest of the dancers who move in complex patterns, often forming a group of couples or a trio who engage in precision-controlled acrobatic moves, or collapsing on the floor in spasmodic motion, or forming a stairway of bodies over which a woman is lifted and rolled by the group. There is a palpable tension in the air early on in the piece, and a sense of emotional risk and daring. Yet then in another sequence, couples movingly put their hands to each other's heads in a gesture of great intimacy, before huddling together.
Sometimes the dancers are encased in squares of white light, their bare skin glowing. Sometimes, to the sound of pounding drums, they are wrapped in Inquisition-like hooded black capes, and there is a mysterious, threatening quality to the movement. At one point the two cloudlike white panels that have been suspended from the rafters begin to move, creating a wavelike, heavenly aura of wonderment.
After the dancers disappear from the "stage," the elegantly dressed musician Desiree Miller (playing on a small electric cello slung around her neck) serenades the audience with exotic riffs that are alluring for a while, but grow a bit repetitive. When she leaves, the dancers reappear in diaphanous white blouses and bare feet. A couple of erotically charged duets are performed. And then, the women of the company literally crawl high up along the walls – perched upside down and supported by male partners as they move like spiders. To see all this, members of the audience are gently encouraged to stand and watch the movement and unfolding along the walls behind them. (I also watched the sheer wonderment on the faces of three tiny girls who were in the audience and clearly captivated by it all.)
The bravura dancers of the company, all with distinctive personalities, are: Braeden Barnes, Riccardo Battaglia, Gracie Black, Caitlin Cucchiara, Michael Erickson, Paige Fraser, Meredith Harrill, Noelle Kayser, Natalie Kirk, Prince Lyons, Ricky Ruiz, Cole Vernon and Eliza Woitinnek. Their sense of trust and connection with each other is visible in everything they do.
And throughout, sound designer Johnny Martin has expertly linked the various pieces used to create the driving, percussive electronic score for "Take," including work by Forest Swords, Christina Loffler, John Hopkins, Moderat, Trent Reznor and Atticus Ross and Sigur Ros.
The four remaining performances of Visceral's entrancing "Take" are Nov. 8 and 9 at 8 p.m. and Nov. 10 at 8 and 10 p.m. at The Space at Rockwell, 3031 N. Rockwell St. (just a few blocks south of Belmont). For tickets ($25-$55) visit brownpapertickets.com. Running time is 75 minutes with no intermission. (Street parking is available.)
You also can catch Visceral (performing Nick Pupillo's "Soft Spoken") on Nov. 16 at 7:30 p.m. when it shares a program with Chicago's Deeply Rooted Dance Theater and Los Angeles-based Ate9 (with guest artist Glenn Kotch of Wilco fame) at the Auditorium Theatre, 50 E. Ida B. Wells Drive (formerly Congress). For tickets ($29-$68) call (312) 341-2300 or visit www.AuditoriumTheatre.org. 
Follow Hedy Weiss on Twitter: @HedyWeissCritic
---
Joffrey Ballet Dancers Demonstrate Their Prowess in 'Swan Lake'
Hubbard Street's Percussion-Driven Experiment Probes Heaven and Hell on Earth
Dancing the Night Away at Dance for Life
---