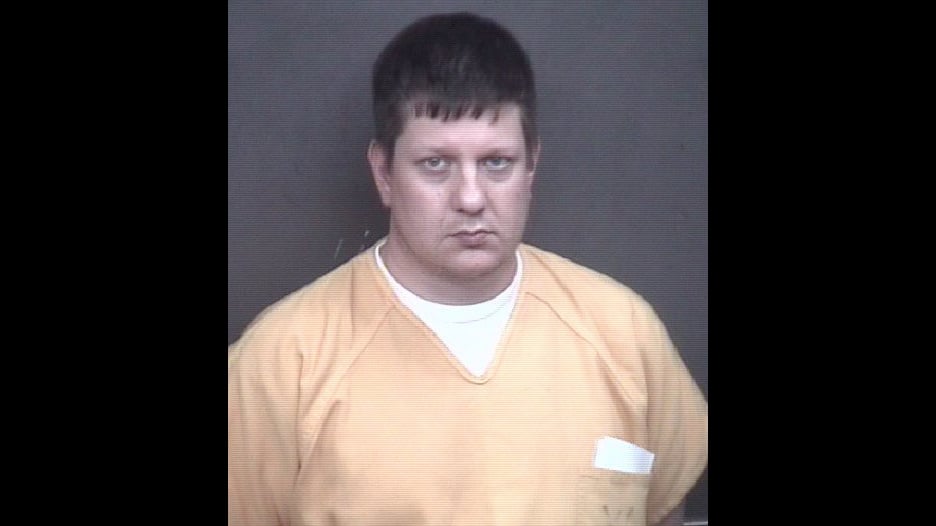 Jason Van Dyke (Courtesy Rock Island County Jail)
Instead of heading up the front steps, entering through the main doors and taking an elevator to the fifth floor of the Leighton Criminal Court Building, Jason Van Dyke on Wednesday entered court through a back entrance reserved for detainees, escorted by two Cook County Sheriff's officers as he donned a mustard-yellow prison jumpsuit.
A brief hearing Wednesday marked the suspended Chicago police officer's first court appearance since he was convicted earlier this month of second-degree murder and 16 counts of aggravated battery with a firearm in the 2014 shooting death of black teen Laquan McDonald. Van Dyke only appeared in court for a few minutes, during which time cameras were not allowed to record.
No sentencing date was set during the hearing, but Van Dyke's attorneys did file two motions asking Cook County Judge Vincent Gaughan to set aside the guilty verdicts, arguing that their client was justified in shooting McDonald, or grant a new trial.
"The evidence presented at trial was not sufficient to convict Defendant, Jason Van Dyke, of murder nor aggravated battery," lead defense attorney Daniel Herbert wrote in the motion. "Notwithstanding the jury verdict, the evidence proved the Defendant was authorized to use deadly force against Laquan McDonald to protect life and/or to prevent escape."
Both requests are standard post-conviction motions, but they're rarely granted. They do, however, outline perceived trial errors the defense is likely to focus on in its expected appeal.
In the motions, Herbert claims Gaughan "abused (his) discretion" in denying a defense request to move the trial outside of Cook County because Van Dyke was not offered the chance to "knowingly and intelligently waive his right to a jury trial." Herbert also alleges his client was denied a fair trial, not only due to its venue, but also because of rejected jury instructions he believes would have helped jurors better understand how the shooting was justified under use of force statutes.
Prosecutors have until December to file their written responses to those motions.
Chicago Police Department spokesman Anthony Guglielmi confirmed the state of Illinois revoked Van Dyke's police certification after his conviction, meaning he is no longer a certified officer.
Wednesday's hearing came only a day after attorneys for three other Chicago police officers argued that conspiracy and obstruction of justice charges stemming from an alleged cover-up of the McDonald shooting should be dismissed. A ruling on that request is expected next week and their trial is slated to begin late next month.
Jurors heard from more than 40 witnesses during the monthlong trial, including Van Dyke himself, who took the stand to tearfully recount shooting McDonald 16 times. He testified McDonald's eyes were "bugging out" as he walked down South Pulaski Road and claimed he only began firing after the teen raised a knife at him. But jurors didn't buy that story, telling media later his testimony came off as rehearsed and unconvincing.
Days after the verdict, Van Dyke was moved from Cook County to Rock Island County Jail, about three hours away, in a move local officials say was made in the "best interest of his safety." He remains housed there and reportedly spends 23 hours a day isolated in his cell, reading books and writing letters.
A GoFundMe campaign started by one of Van Dyke's attorneys has raised almost $85,000 as of Wednesday morning for the former officer's wife and their two daughters.
Van Dyke faces anywhere from six to 30 years on each aggravated battery count and four to 20 years for second-degree murder, though that charge does not require prison time. It will be up to Gaughan's discretion to decide how those sentences will fit together. But without a date scheduled yet, it's likely Van Dyke won't be sentenced until 2019.
"We're just hoping that the judge makes the right decision and sentences Jason Van Dyke consecutively for the aggravated battery charges," activist William Calloway said following Wednesday's hearing. "We just want him to make sure he makes an example out of Jason Van Dyke."
McDonald's uncle, the Rev. Marvin Hunter, was also asked what he hopes Van Dyke's sentence will look like.
"Justice," he said. "That it will reflect justice."
Contact Matt Masterson: @ByMattMasterson | [email protected] | (773) 509-5431
---
Related stories:
Jason Van Dyke Found Guilty of Second-Degree Murder
Closing Arguments in Jason Van Dyke Murder Trial Set for Thursday
Jason Van Dyke Takes Witness Stand, Tearfully Recounts Fatal Shooting
Van Dyke Defense Presents Fatal Shooting from Officer's Perspective
Van Dyke Defense Opens with Testimony of Laquan McDonald's Past
A Timeline of the Laquan McDonald Shooting
---