Jason Fries, an expert in video reconstruction, testifies Tuesday, Sept. 25, 2018 during the trial. (Antonio Perez / Chicago Tribune / Pool)
Tuesday would have been Laquan McDonald's 21st birthday. Instead members of his family watched an animated recreation of the last moments before he was shot and killed by Chicago police Officer Jason Van Dyke in October 2014.
Van Dyke's attorneys presented expert testimony and an animated video that purports to show how the shooting occurred from Van Dyke's perspective.
His attorneys thus far have tried to paint McDonald as a violent, aggressive teen who lashed out at multiple corrections officers during his various stays inside the Cook County Juvenile Temporary Detention Center.
That continued Tuesday with McDonald's parole officer testifying about an incident in 2013 where sheriff's deputies restrained and struck the teen after he resisted while being led out of a courtroom.
But the bulk of Tuesday's hearing – the sixth day of testimony in the high-profile case – involved testimony from Jason Fries, who heads the California-based company 3-D Forensics. He and his team spent around 100 hours "reverse engineering" the moments leading up to the shooting using laser scanning and drone images as well as the infamous dashcam video of the shooting.
The video tracks McDonald's movements from an initial 911 call through the first five shots fired during the shooting. Only five shots were included because, as Fries testified, those were the only ones that he was able to see where they came from on video.
The animation also appears to show McDonald staring in the direction of Van Dyke before the shooting.
The defense says this recreation shows McDonald closing the space between himself and Van Dyke from a distance of 39 feet down to 13 feet in only four seconds.
Fries touted the video's accuracy but special prosecutor Marilyn Hite Ross pointed out several discrepancies between the animation and the original video – from differences in McDonald's clothing (He's seen wearing all black in the animation.) to the exclusion of another CPD officer who had been trailing the teen on foot.
How compelling that evidence is depends on who you ask.
"It's a shame," said the Rev. Ira Acree, who sat with McDonald's family Tuesday. "This young man, it should be his 21st birthday, and here we are in court fighting for justice because his life was taken unnecessarily.
"It's clear this witness today … was nothing but merely a hired gun for Jason Van Dyke."
But Chris Southwood, who heads the Illinois Fraternal Order of Police, said the animation removed any "shadow of a doubt" that Van Dyke was justified in shooting McDonald.
"I think the defense did an excellent job in dispelling this myth that Laquan McDonald was walking away from the officers," Southwood told media, saying it was clear McDonald was "getting ready to attack."
11:54 a.m.: Jurors Watch Animated Recreation of Shooting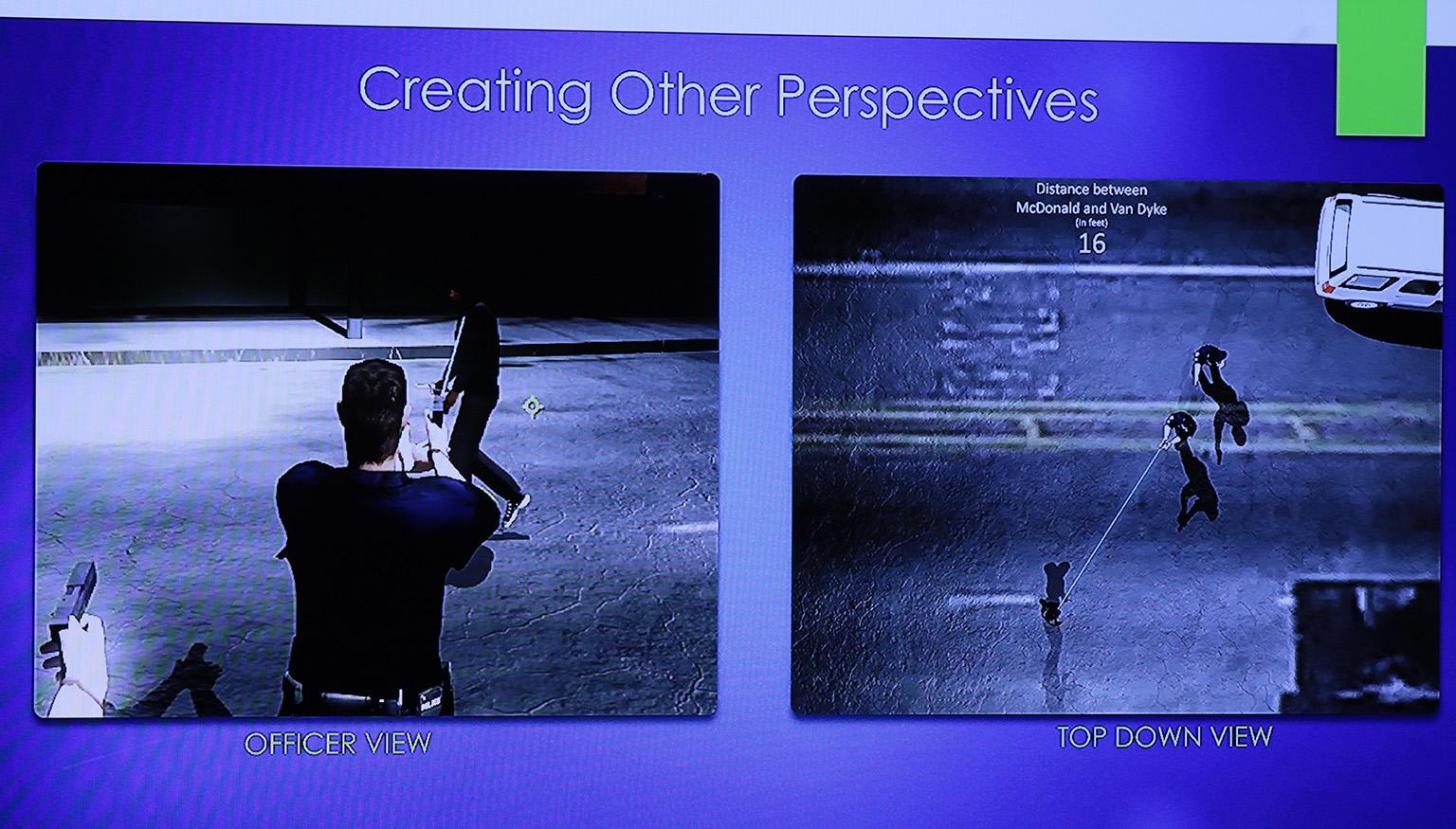 Two views of animated videos portraying Officer Jason Van Dyke and Laquan McDonald are shown to the jury Tuesday, Sept. 25, 2018 during the trial. (Antonio Perez / Chicago Tribune / Pool)
Jurors viewed an animated recreation of the shooting that purports to show McDonald staring at Van Dyke and closing the distance between himself and the officer from 39 feet down to 13 feet in a period of four seconds before the first shot was fired.
Jason Fries, head of the California-based company 3-D Forensics, testified that he used drones and laser-based analysis to map the scene of the shooting and convert two-dimensional video evidence into three-dimensional data.
"Our analysis demonstrates that Mr. McDonald was getting closer to Officer Van Dyke at the time of the shooting," he said.
Fries was contracted by Van Dyke's defense team to produce an animated version of the shooting from the officer's perspective. They used laser scanners, drone footage and the dashcam video to "reverse engineer" the full incident in from both a birds-eye view and Van Dyke's perspective.
"I'm not big into guesses," Fries said while explaining the precision of the technology in making various measurements.
On top of the dashcam footage, Fries and his team also re-created security footage from a nearby Dunkin Donuts that captured a portion of the shooting and mapped the trajectory of the first five shots that hit McDonald based off the medical examiner's report.
In doing so, Fries also consulted with Dr. Shaku Teas – the defense's expert pathologist – and then "made some adjustments" based on her recommendations. Unlike the original autopsy report, Teas believes McDonald was likely standing when he was struck by nearly every bullet.
But the animation shows McDonald on the ground after just the fifth shot is fired.
On cross examination, Fries said his team put together multiple drafts before the animation shown Tuesday was finalized. He estimates they spent about 100 hours putting it together.
---
10:23 a.m.: Judge Refuses Defense Evidence
Two pieces of evidence defense attorneys raised in their opening arguments will not be presented at trial, Cook County Judge Vincent Gaughan ruled.
In his opening, defense attorney Daniel Herbert referenced a CTA card found on McDonald's body that he said had been stolen from a disabled veteran. The card was used repeatedly on the day McDonald was killed, but CTA video could never link the teen to its use.
The card was not inventoried until two months after the shooting and was somehow used again in September 2015 – a full year after McDonald died. Because it could not be connected directly to McDonald, Gaughan ruled the card is inadmissible.
Van Dyke's attorneys have claimed McDonald was "out of control" and on a "wild rampage" in the hours leading up to his death.
The defense then tried to call a Chicago police officer as a Lynch witness to testify about an incident the night of the shooting in which a woman said a man tried to steal her car.
Defense attorneys believe that man was McDonald. But the woman refused to press charges, saying the man had "done nothing wrong," and the officer was not on scene at the time of the incident to visually identify whether it actually was McDonald.
Because of this, Gaughan ruled the officer cannot take the witness stand.
---
9:18 a.m.: Van Dyke's Perspective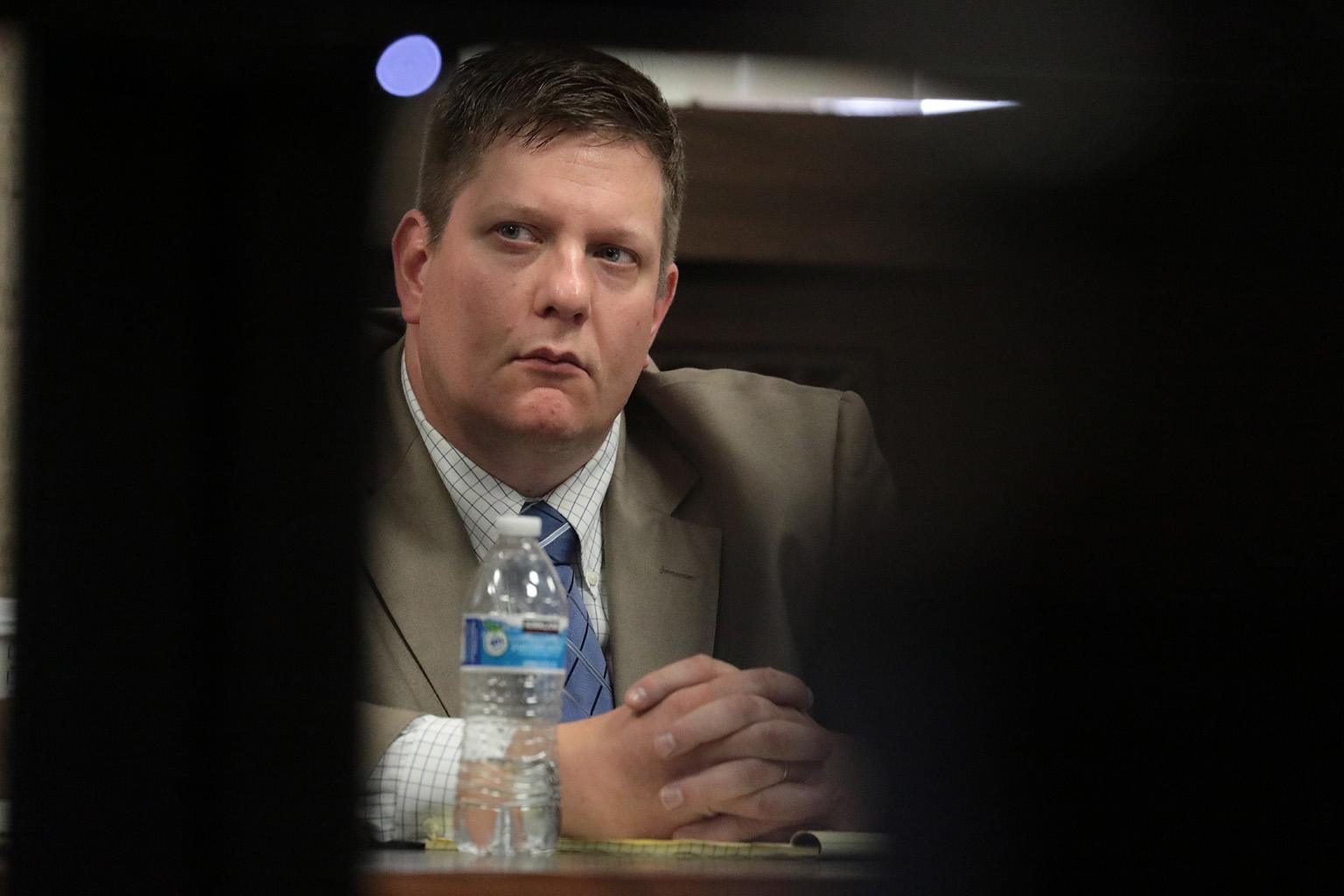 Chicago police Officer Jason Van Dyke listens Tuesday, Sept. 25, 2018 during the trial. (Antonio Perez / Chicago Tribune / Pool)
Van Dyke's defense team is expected to present an animated recreation of the shooting that purports to show what happened from his perspective.
Until now, the only visual evidence of the shooting has been the infamous dashcam video, which shows McDonald from behind as he walks down South Pulaski on Oct. 20, 2014 and encounters Van Dyke and his partner. McDonald can then be seen spinning and falling to the ground as he is shot.
The officers are out of frame for much of the shooting and the video contains no audio.
Van Dyke's attorneys have repeatedly argued that the video doesn't show what Van Dyke saw that night. They've instead hired an expert to re-create the scene to try and convince jurors that Van Dyke was justified in shooting McDonald 16 times.
Court resumes Wednesday morning. Get complete coverage of the trial here.
Contact Matt Masterson: @ByMattMasterson | [email protected] | (773) 509-5431
---
Related stories:
Van Dyke Defense Opens with Testimony of Laquan McDonald's Past
6 Key Points From Week 1 of the Jason Van Dyke Murder Trial
State Rests its Case Against Van Dyke as Week 1 of Murder Trial Concludes
Jurors See Graphic Autopsy Photos on Day 3 of Van Dyke Murder Trial
Van Dyke's Partner Takes Stand, Claims Shooting Was 'Necessary Action'
A Timeline of the Laquan McDonald Shooting
---