From left: Former Chicago Detective David March, officer Thomas Gaffney and former officer Joseph Walsh attend a pretrial hearing Tuesday, Oct. 30, 2018. (Zbigniew Bzdak / Chicago Tribune / Pool)
A Cook County judge will decide next week whether she'll grant a request to dismiss charges against three Chicago police officers accused of working to cover up the shooting death of black teen Laquan McDonald, less than a month before they are set to face trial.
Detective David March and officers Joseph Walsh and Thomas Gaffney were each charged last year with conspiracy, official misconduct and obstruction of justice. They're accused of falsifying official reports from the scene of the shooting in order to "conceal the true facts of the events" surrounding McDonald's death in an attempt to shield officer Jason Van Dyke from a criminal prosecution.
Following a lengthy hearing that dragged into Tuesday evening, Judge Domenica Stephenson said she will rule next Monday on a defense request to toss those charges. They claim there's no evidence to support the allegations against their clients.
In a 42-page proffer unsealed earlier this month, special prosecutor Patricia Brown Holmes claimed the defendants submitted "virtually identical false information" about the shooting, each stating McDonald had used a knife to attack Van Dyke along with Walsh and Gaffney. Van Dyke was ultimately convicted earlier this month of second-degree murder and 16 counts of aggravated battery stemming from the 2014 shooting.
Assistant special prosecutor Brian Watson on Tuesday laid out much of the state's case against the three men, claiming their conspiracy to cover for Van Dyke began in the hours and days after the shooting.
Specifically, he said the defendants' false statements were included in reports submitted shortly after the shooting in which the men claimed McDonald battered three officers including Van Dyke, and was not trying to flee when he was shot, contrary to the well-publicized dashcam video of the shooting. March also allegedly instructed another officer on the scene to include false information in their incident report that Van Dyke was injured during the encounter.
"You will find consistently false information," Watson said, "that could not have been submitted except for an agreement to write consistently false information."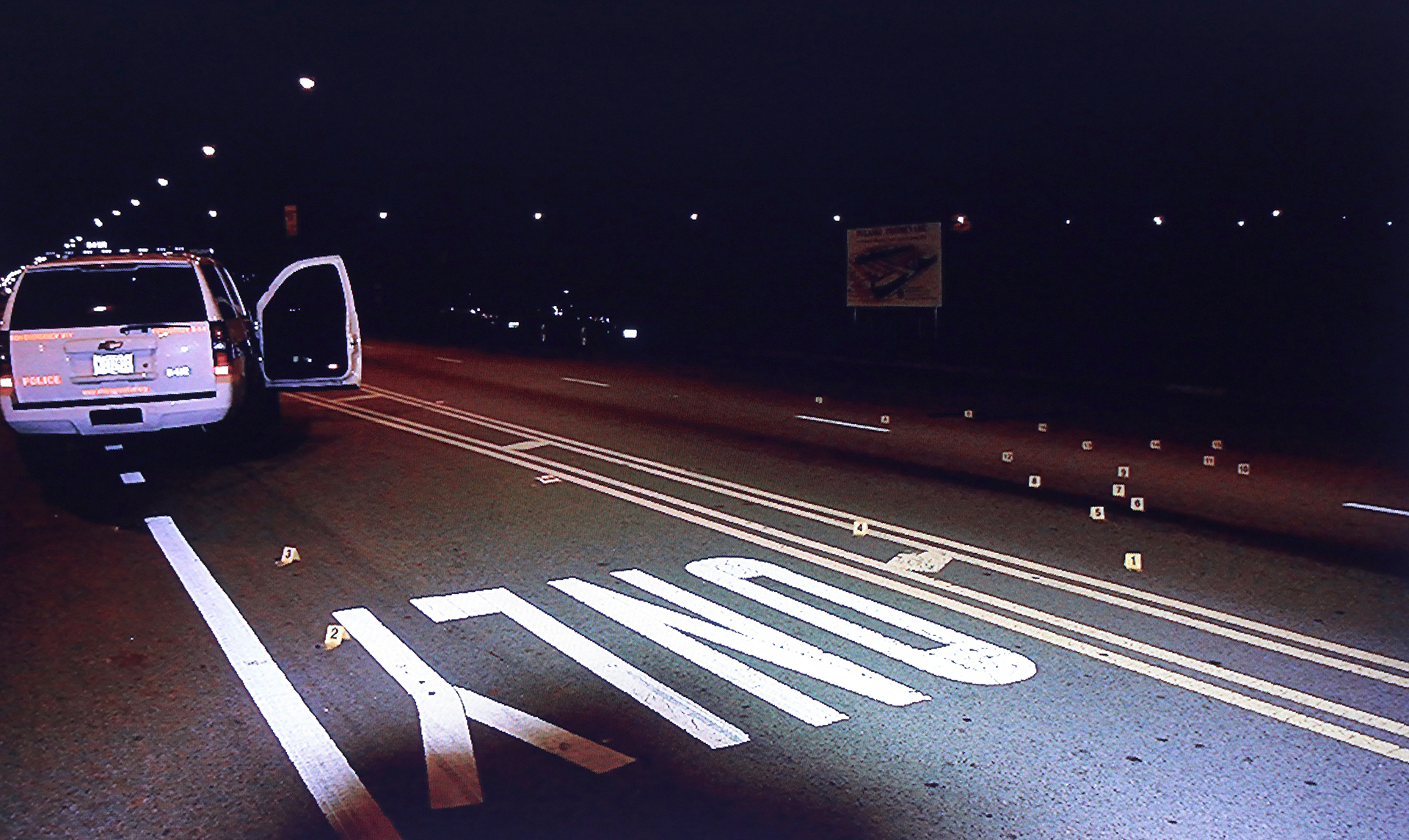 The scene of the Laquan McDonald shooting taken on the night of the fatal incident is shown on a screen to jurors during the trial of Chicago police Officer Jason Van Dyke on Tuesday, Sept. 18, 2018. (Chicago Police Department)
Defense attorneys representing the men deny any conspiracy ever existed, calling the indictment a "sham" that's based "not on evidence, but on politics."
"If there is a case where an indictment should be dismissed, this is the case. This is the case," defense attorney James McKay, who represents March, told the judge. "There is no evidence whatsoever that these three innocent men agreed … to protect Jason Van Dyke and to lie in police reports. There's no evidence of that whatsoever."
McKay and the other defense attorneys claim any inconsistencies between their clients' reports and the video do not prove they obstructed justice. They also allege prosecutorial misconduct during grand jury proceedings before Walsh, March and Gaffney were indicted.
Attorneys on Tuesday also argued three other defense motions relating to next month's trial: a request for typed and handwritten notes from prosecutorial investigators, a request to exclude hearsay comments from unidentified co-conspirators, and a request to bar the testimony of a Chicago police use of force expert.
That expert, CPD Sgt. Larry Snelling, has worked as a supervisor at the Chicago Police Academy. Defense attorneys claim his testimony — which they say will relate to the police training and use of force — is irrelevant, because this trial has nothing to do with whether Van Dyke was justified in shooting McDonald.
But prosecutors argued Snelling will testify about inconsistencies in tactical response reports filed by Gaffney and Walsh the night of McDonald's death. They say only officers who actually use force are supposed to fill out this type of report, and that the defendants only filled them out to further their false story that they were attacked by McDonald before his death.
"If you do not use force, you do not fill out the report. Period," assistant special prosecutor Ron Safer said. "These officers all checked the box that had to be checked to justify deadly force. That's the basis of the crime … they did it to justify the use of force."
Earlier this week, Stephenson agreed to allow extended media coverage inside her courtroom for the upcoming trial, over objections from all three defendants who claimed it threatened their safety by making their appearance widely public.
Cameras were allowed in the courtroom during Van Dyke's trial, but the judge in that case agreed that not all witnesses who testified would be recorded. That included Walsh, Van Dyke's partner on the night of the shooting, who testified as a state witness that he believed Van Dyke took "necessary action" when shooting McDonald.
March and Walsh resigned from the CPD after a city inspector general's report recommended they be fired. Gaffney remains suspended without pay. The men are scheduled to go to trial Nov. 26.
Contact Matt Masterson: @ByMattMasterson | [email protected] | (773) 509-5431
---
Related stories:
McDonald Cover-Up? How Van Dyke Verdict May Affect Police Conspiracy Trial
Three Cops Indicted in Alleged Laquan McDonald Cover-Up
Jason Van Dyke Takes Witness Stand, Tearfully Recounts Fatal Shooting
Van Dyke Defense Presents Fatal Shooting from Officer's Perspective
Van Dyke Defense Opens with Testimony of Laquan McDonald's Past
A Timeline of the Laquan McDonald Shooting
---