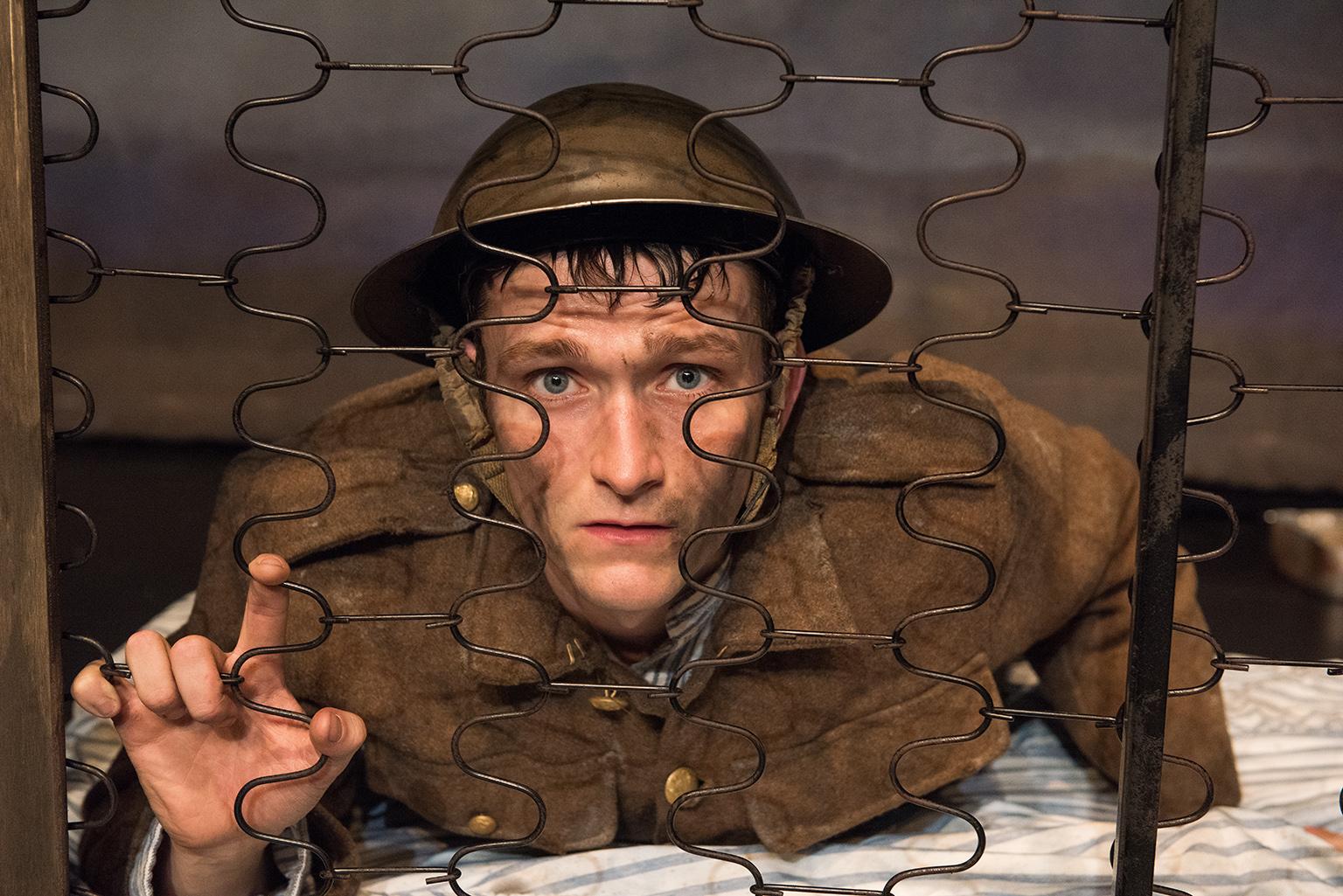 Shane O'Regan stars in the one-man show "Private Peaceful." (Credit: Ahron R. Foster)
World War I, which raged throughout Europe, the Middle East, Asia, and off the coasts of the Americas from 1914 to 1918 (with American involvement beginning in 1917), is often dubbed "the forgotten war," although in many ways it set the groundwork for World War II, as well as much of the chaos that continues to plague the world to this day.
Early on, it also was called "the war to end all war" by the British writer H.G. Wells (an expression soon adapted by U.S. President Woodrow Wilson). Yet any of the misguided optimism that might have been suggested by that phrase very soon turned into disillusionment and sarcasm as the horrors of trench warfare and the extensive use of poison gas became clear. And by the time it was all over, 8 million of the 60 million soldiers mobilized to fight were dead, with another 7 million permanently disabled.
A vivid reminder of all this is achingly limned in "Private Peaceful," the beautifully realized one-man show now being performed at the Greenhouse Theater Center in a performance of great heart by Shane O'Regan, a boyish-looking actor from County Dublin who possesses impressive physical and vocal skill and the easy charm of a naive teenage recruit who learns all too fast and furiously about the nightmare that is war. O'Regan has toured widely in the play, and his portrayal of the tragic fate of Tommy "Tommo" Peaceful recently earned him an Irish Theatre Awards nomination.
Based on the 2003 award-winning young adult book of the same name by the British writer Michael Morpurgo (famed as the author of the international hit, "War Horse"), "Private Peaceful" has been ideally adapted and directed for the stage by Simon Reade. And arriving in Chicago for a brief run, it serves as the perfect theatrical counterpoint to the Chicago Symphony Orchestra's ongoing musical commemoration of the 100th anniversary of armistice that finally brought the "Great War" to an end.
To start where it all ends: The haunting moral of this story is that if the enemy does not kill you your own government might very well do the job. For as a program note for "Private Peaceful" explains, during World War I more than 290 soldiers in the British and Commonwealth armies (many of them suffering from shell shock) were executed by firing squad by their own military for what was deemed "desertion, cowardice or simply sleeping at their posts." And it was not until 2006 that the government granted them posthumous pardons.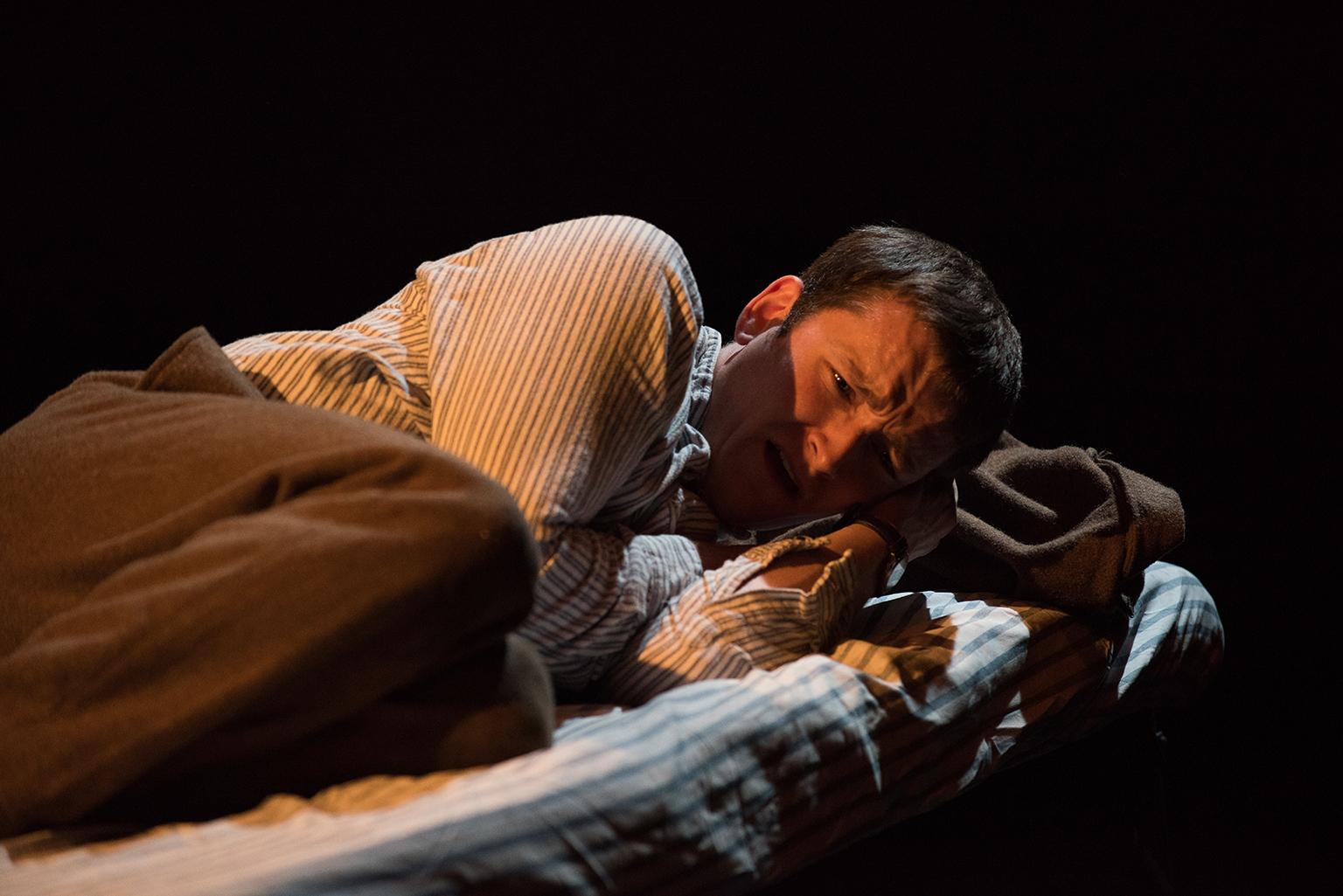 Shane O'Regan in "Private Peaceful." (Credit: Ahron R. Foster)
As you enter the Greenhouse Theater you will find Tommo in his uniform, curled up in darkness on a narrow cot, his helmet on the floor beside him. He is in prison, just hours away from death. And as the minutes tick away on the wristwatch passed down to him by his beloved older brother, Charlie, the 17-year-old – who has seen far too much and yet not nearly enough in life – is hell-bent on recounting it all. "I want to feel alive," he says of the hours that remain to him.
And so he relives crucial episodes in his small-town childhood, many involving his relationship with his brother, Charlie, who was three years older than he, and who loved (and married) Molly, the same girl he too adored.
We hear about his first days at school, the accidental death of his father (about which he always feels guilty), an encounter with the local bully, the diet of potatoes that got his family through rough economic times, a fishing outing that involved a bit of nudity and an early awakening. And, as the clock ticks on, Tommo also recalls his time spent in church, and how the image of Jesus in a stained glass window made him wonder about why God allowed such suffering.
Then, when he is barely 16, he senses something about a far-off war and the murder of "some archduke." Soon there is fighting in Belgium and France, and the Germans appear to be winning, and Tommo is in town just when a big recruitment rally gets underway, and the appeal to patriotism and manhood, and the enlistment of volunteers, reaches a fever pitch. Before long, both Charlie and Tommo (who must lie about his age), have signed up and are sent to Belgium, and then to the front in France.
There is the initial shock of seeing the walking wounded, and a moment of happiness in a tavern where Tommo gets a smile from the waitress and has his first drink. But then it's on to the trenches, with the rats and the mud, and the relentless, thunderous shelling, and the almost eye-to-eye encounters with the enemy, and the gas attacks from which no mask can really protect him.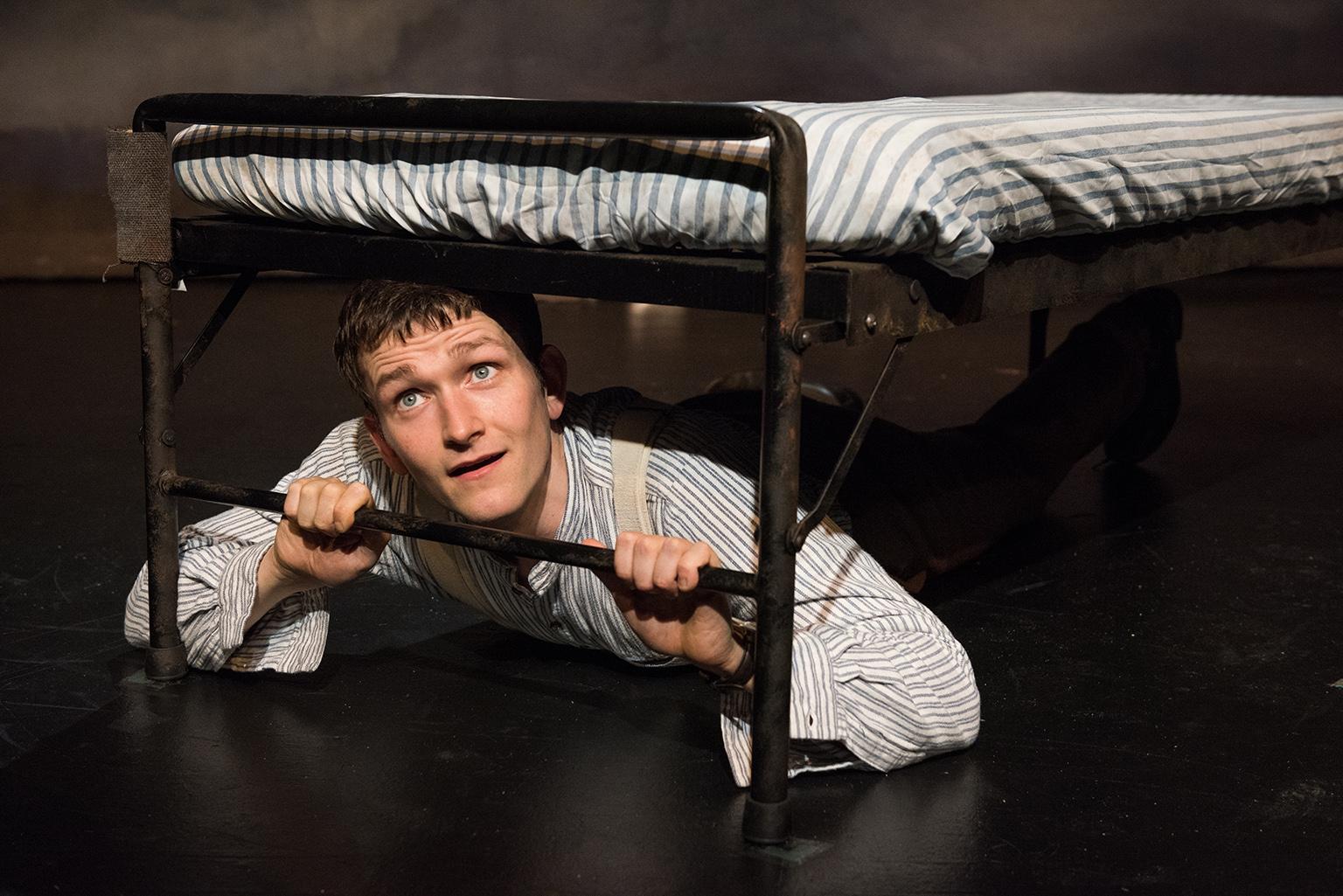 Shane O'Regan in "Private Peaceful." (Credit: Ahron R. Foster)
And there is much worse to come, but I will not give it away here. Suffice it to say, and Tommo does, there is just "all that death for nothing." And when he refuses to follow what he knows is "a stupid, suicidal order" from his superior, he engages in a true act of courage while simultaneously sealing his tragic fate.
Along the way, in this deeply moving 85-minute countdown of a play, O'Regan winningly captures the voices, accents, attitudes and body language of a score of different characters with great economy, while also revealing the inner life of Tommo as he all too quickly is transformed from boy to man. And with just the most minimal but effective set and lighting by  Anshuman Bhatia, and sound by Jason Barnes, he creates a fully cinematic landscape – a tour de force that is at once profoundly intimate and grand-scale.
"Private Peaceful" runs through Nov. 11 at the Greenhouse Theater Center, 2257 N. Lincoln Ave. For tickets ($40-$45) call 773-494-7336 or visit www.privatepeacefulusa.com. Running time is 85 minutes with no intermission.
Follow Hedy Weiss on Twitter: @HedyWeissCritic
---
American Blues Theater's 'Buddy Holly Musical' Tops 2018 Equity Jeff Awards
Joffrey Ballet Dancers Demonstrate Their Prowess in 'Swan Lake'
In Porchlight's 'Gypsy,' a Mama Rose of Hurricane Force
African-American Women Assert Their Independence in 'Flyin' West'
Fall Theater Recommendations from Hedy Weiss
---