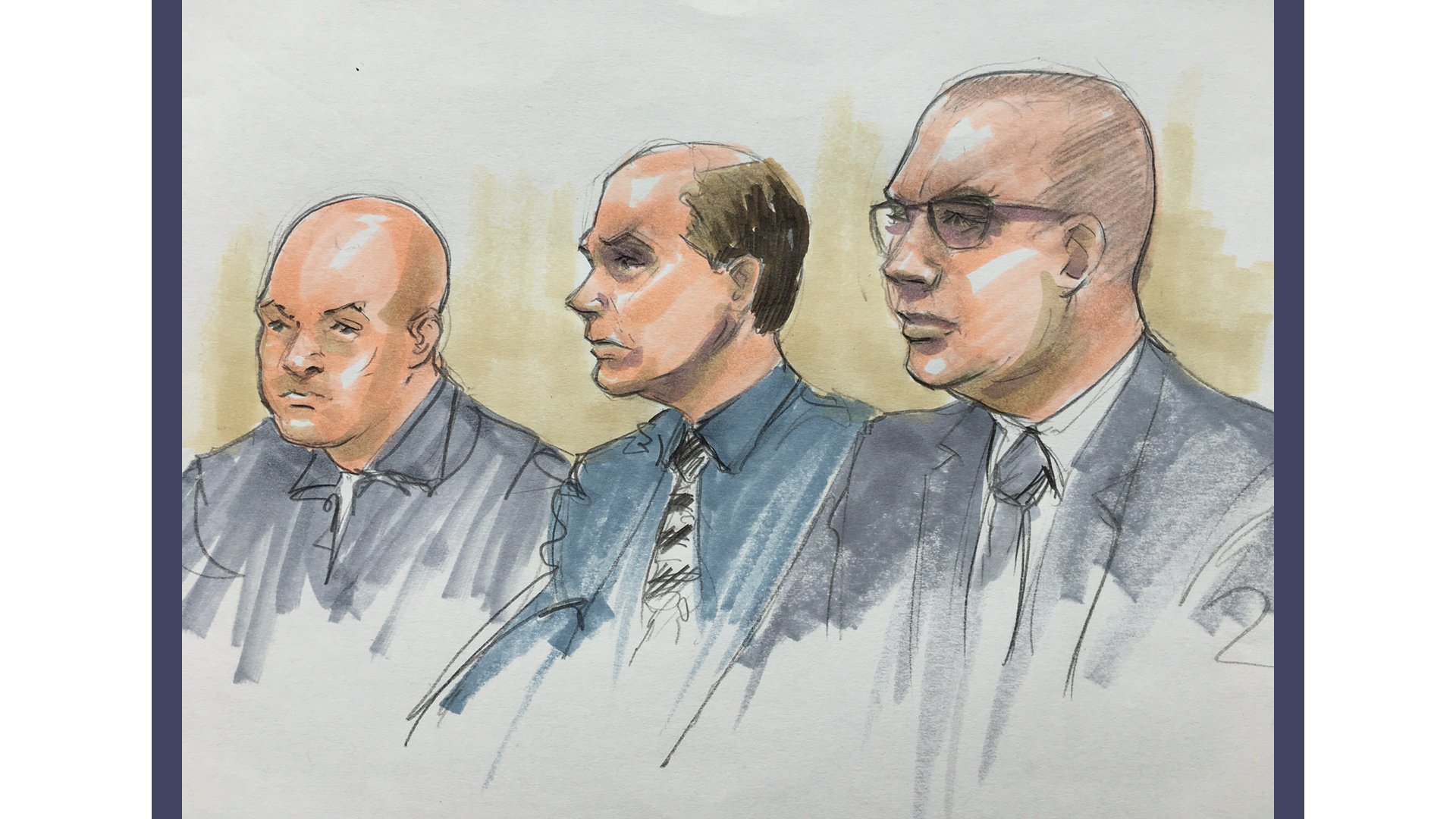 (Courtroom sketch by Thomas Gianni)
Last week, speculation over one of the city's biggest criminal cases in recent history came to an end: Chicago police Officer Jason Van Dyke was convicted of second-degree murder and 16 counts of aggravated battery with a firearm in the 2014 shooting death of black teen Laquan McDonald.
He's the first Chicago officer to be convicted for an on-duty shooting in 50 years. Sentencing and an appeal are sure to follow, but as that case comes to a close, another is yet to begin.
Next month, three other Chicago officers will go to trial on charges of conspiracy, obstruction of justice and official misconduct for their alleged attempts to cover up the McDonald shooting in the minutes and months after Van Dyke pulled the trigger 16 times.
Detective David March and Officers Joseph Walsh and Thomas Gaffney are scheduled to stand trial before Cook County Judge Domenica Stephenson beginning Nov. 26. They're accused of falsifying official reports from the scene of the shooting in order to "conceal the true facts of the events" surrounding McDonald's death in an attempt to shield Van Dyke from a criminal prosecution.
Defense attorneys representing the men say no such conspiracy ever existed. But with Van Dyke now labelled a convicted felon and murderer, will his trial outcome affect the impending cover-up case?
"If I were a defense lawyer in that case – and I'm not – I would be pouring over this testimony and this jury," Richard Kling, a former public defender and current clinical professor of law at IIT Chicago-Kent College of Law, said shortly after Van Dyke's verdict was announced, "because I would be seriously questioning whether or not I want to negotiate a plea."
---
Beyond a 'code of silence'
Like the Van Dyke trial, a special prosecutor – former Cook County judge and federal prosecutor Patricia Brown Holmes, in this case – has been appointed to handle the case. But unlike Van Dyke, the three officers here have opted for a bench trial, meaning Stephenson will decide their fate, rather than a jury.
When Holmes first brought charges against the officers in 2017, she claimed it was "clear" the men had done more than simply "obey an unofficial 'code of silence,'" and instead actively lied to conceal the events surrounding McDonald's death on Oct. 20, 2014.
Gaffney remains suspended while March and Walsh are no longer with the Chicago Police Department.
Jurors began deliberating Van Dyke's fate last Thursday on the fifth floor of the Leighton Criminal Court building. At the same time, three floors below, Judge Stephenson had just agreed to unseal dozens of pages of court documents in the conspiracy case following a lawsuit brought by local news outlets.
Among those documents was a 42-page proffer Holmes filed in June that outlined the state's case against March, Walsh and Gaffney. In it, Holmes claims the three defendants submitted "virtually identical false information" about the shooting, specifically that McDonald had used a knife to attack Van Dyke – who is identified only as "Officer Individual A" – along with Walsh (his partner that night) and Gaffney.
"The false information includes that Officer Individual A was 'injured by offender' and that Officer Individual A, defendant Walsh, and defendant Gaffney were 'VICTIM[S],'" the proffer states.
Police dashcam footage released more than a year later showed that while McDonald was carrying a knife the night he was killed, he never injured any officers before he was fatally shot in the middle of South Pulaski Road.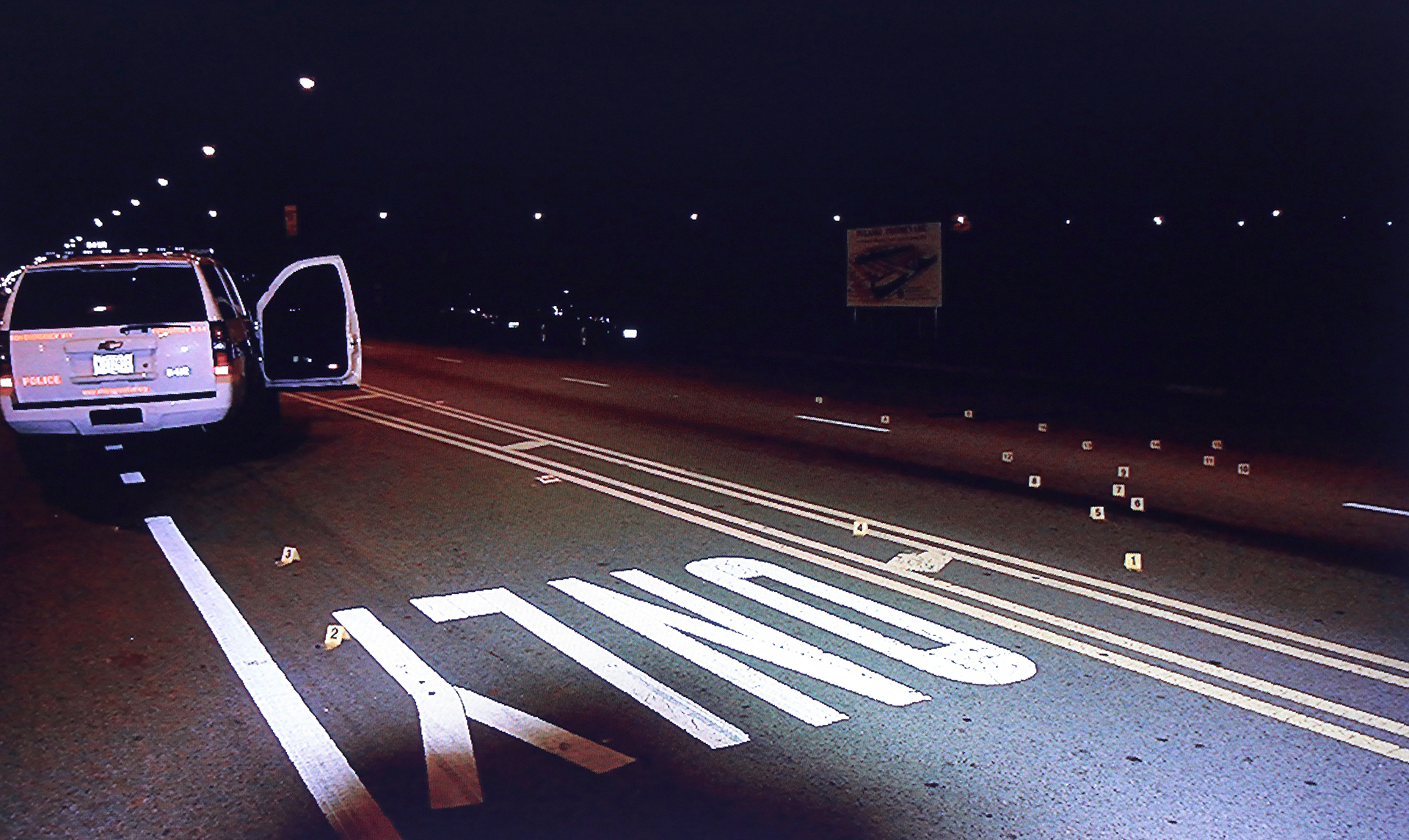 The scene of the Laquan McDonald shooting taken on the night of the fatal incident is shown on a screen to jurors during the trial of Chicago police Officer Jason Van Dyke on Tuesday, Sept. 18, 2018. (Chicago Police Department)
Gaffney and his partner, CPD Officer Joseph McElligott, were the first to encounter Laquan McDonald the night of the shooting. They pursued the teen – Gaffney in his squad vehicle, McElligott on foot with his weapon drawn – for a few blocks toward Pulaski Road. Gaffney eventually pulled up in front of McDonald, who popped a tire on the vehicle and slashed at one of its windows before continuing on.
McElligott testified in the Van Dyke trial last month, explaining that he never fired at McDonald because he felt both he and his partner weren't in any immediate danger.
Walsh testified as well, though he did so under a grant of use immunity, meaning his statements cannot be used against him at his own trial. While he said nothing of being attacked, Walsh largely stuck to his original story – even though it didn't match video of the shooting – saying McDonald threatened them with his knife, and expressing his belief that Van Dyke "took necessary action to save himself and myself."
Included in Holmes' proffer is an email exchange between two members of the Chicago Police Department – Sergeant Individual B and Lieutenant Individual E – who were on the scene the night McDonald was killed. The email, sent by the sergeant about two weeks after the McDonald shooting, states officers are trained to shoot until a threat is eliminated and claims Van Dyke "did exactly what he was trained to do."
"We should be applauding him not second guessing him," the email states, adding that McDonald never followed repeated commands to drop his knife. "(O)ffender chose his fate. Possibly suicide by police."
In a seven-page response to the state proffer, attorneys for each defendant claim prosecutors have failed to establish "by a preponderance of evidence, the existence of a single unified conspiracy."
"While the State may rely upon circumstantial evidence to show the existence of a conspiracy," the defense response states, "the State may not prove the existence of a conspiracy by simply piling inference upon inference and asking the Court to make unreasonable conclusions."
---
Impact of Van Dyke verdict
Documentation of Laquan McDonald's chest wounds, taken from an autopsy and shown during the murder trial of Chicago police Officer Jason Van Dyke. (Antonio Perez / Chicago Tribune / Pool)
By opting for a bench trial over a jury trial, the impact of the Van Dyke verdict could be somewhat nullified, according to Chicago lawyer Antonio Romanucci. He believes judges are better equipped than juries to tune out the noise around a given case and focus in on the law. But at the same time, he said, "they're not deaf" to what happened in the murder trial.
"When you look at (Walsh's) testimony versus the animation that the defense put on, it's completely different," Romanucci said. "So that really mystifies me that the defense – who knew what Walsh was going to say – prepared an animation that was really in contrast with what Walsh said. I think that's going to bode very, very poorly for those officers at their trials."
Just as it played a major role in the Van Dyke case, Romanucci believes the dashcam video will again have a significant role in the upcoming trial. For him, though, the "smoking gun" isn't the tape, but the three identical reports from the scene submitted by the defendants.
"We've all heard the narrative that you can have five witnesses see the same thing and you'll get five different stories," he said. "But when you get three officers telling the same story, that is the definition of the thin blue line in action."
Contact Matt Masterson: @ByMattMasterson | [email protected] | (773) 509-5431
---
Related stories:
Defense Attorney Daniel Herbert Says Van Dyke Was 'Sacrificial Lamb'
Closing Arguments in Jason Van Dyke Murder Trial Set for Thursday
Jason Van Dyke Takes Witness Stand, Tearfully Recounts Fatal Shooting
Van Dyke Defense Presents Fatal Shooting from Officer's Perspective
Van Dyke Defense Opens with Testimony of Laquan McDonald's Past
A Timeline of the Laquan McDonald Shooting
---