The EPA is collecting soil samples from properties near S.H. Bell's facility to assess levels of manganese, a heavy metal that can cause brain damage at high exposures. (U.S. Environmental Protection Agency)
Soil samples have been collected from more than 100 properties on Chicago's Southeast Side as the U.S. Environmental Protection Agency continues to assess the threat posed by brain-damaging manganese emitted from nearby industrial sites.
In an update posted on the agency's website, the EPA said it will "conduct additional assessment activities in the area through October … to evaluate potential sources and the extent of soil contamination." The sampling area is bordered by the Calumet River to the west, 100th Street to the north, South Ewing Avenue to the east and 104th Street to the south.
The EPA said it is mailing soil test results to property owners as they become available, and that it expects to have all results mailed by the end of the year. Based on results from its tests, the agency could decide to dig up and replace soil in highly contaminated yards.
The EPA began collecting soil samples in May after testing conducted by Chicago's Department of Public Health revealed high concentrations of manganese throughout the area. Of 27 properties tested by the city, 20 showed manganese levels higher than a screening level of 1,600 parts per million used by the Illinois EPA to assess health risks. Samples from three properties indicated levels in excess of the U.S. EPA's emergency removal threshold for manganese, which is 5,500 parts per million.
The most contaminated sample measured at 13,000 parts per million, more than double the EPA's emergency removal threshold, according to the city.
In response to the high manganese levels found during the city's soil testing, CDPH officials said residents should take several precautions to limit their exposure, such as taking off their shoes before entering their homes and cleaning floors and countertops regularly to remove dust that could contain manganese.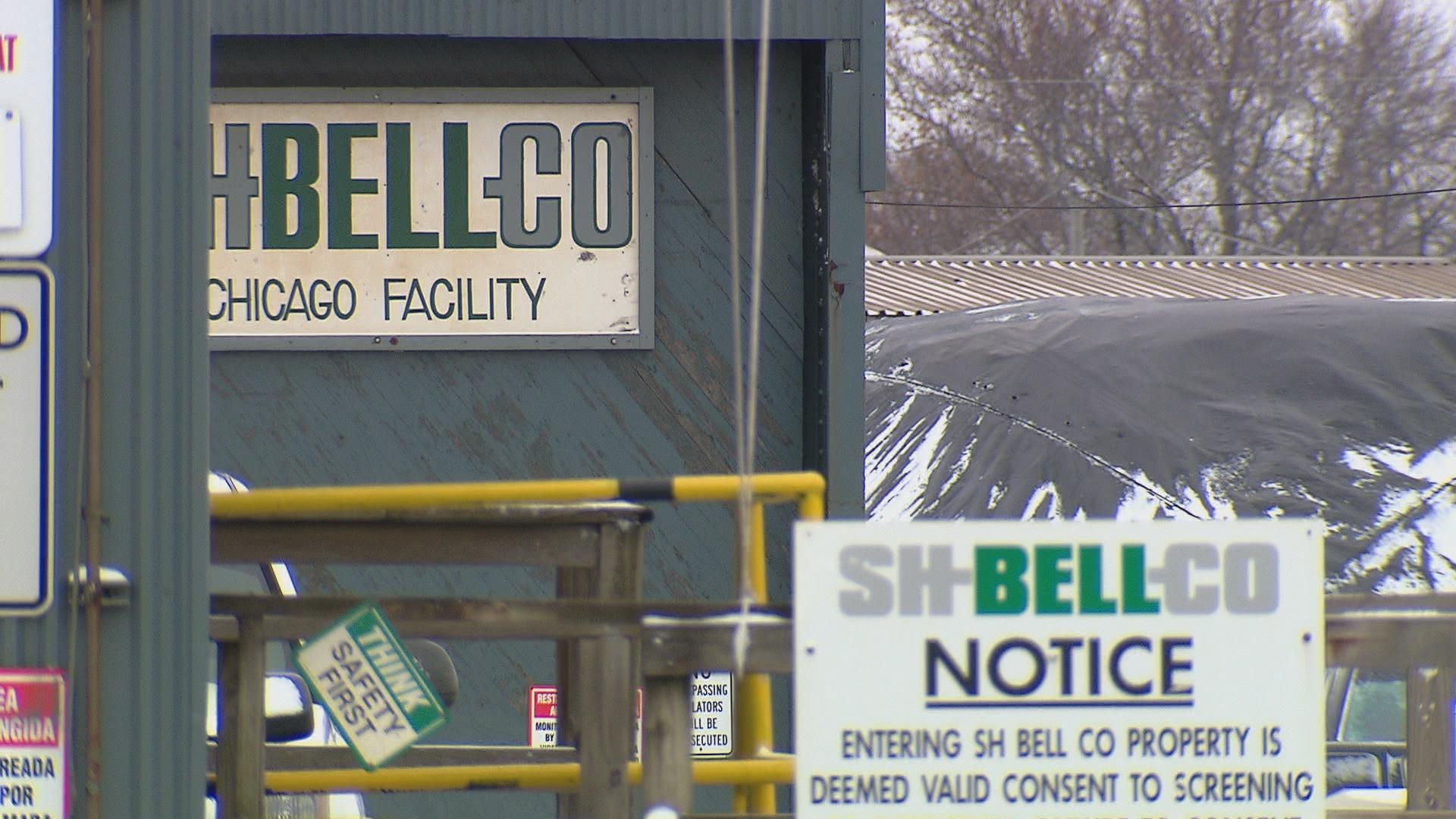 More: Read our full series on manganese on Chicago's Southeast Side
---
An essential part of the steelmaking process, manganese is a heavy metal that can cause Parkinson's-like symptoms at high exposures.
The metal is handled by at least four companies that operate in the area, including S.H. Bell Co., which the EPA cited last year with violations of the Clean Air Act for releasing high levels of manganese dust into the surrounding neighborhood. The Pittsburgh-based company was required to install air monitors at its Chicago facility as part of a settlement reached with the EPA over previous Clean Air Act violations.
In its most recent update, the EPA said that since it cited S.H. Bell last August, average manganese concentrations at the company's Chicago facility have dropped to 0.089 micrograms per cubic meter, which is below the federal limit of 0.3 micrograms per cubic meter.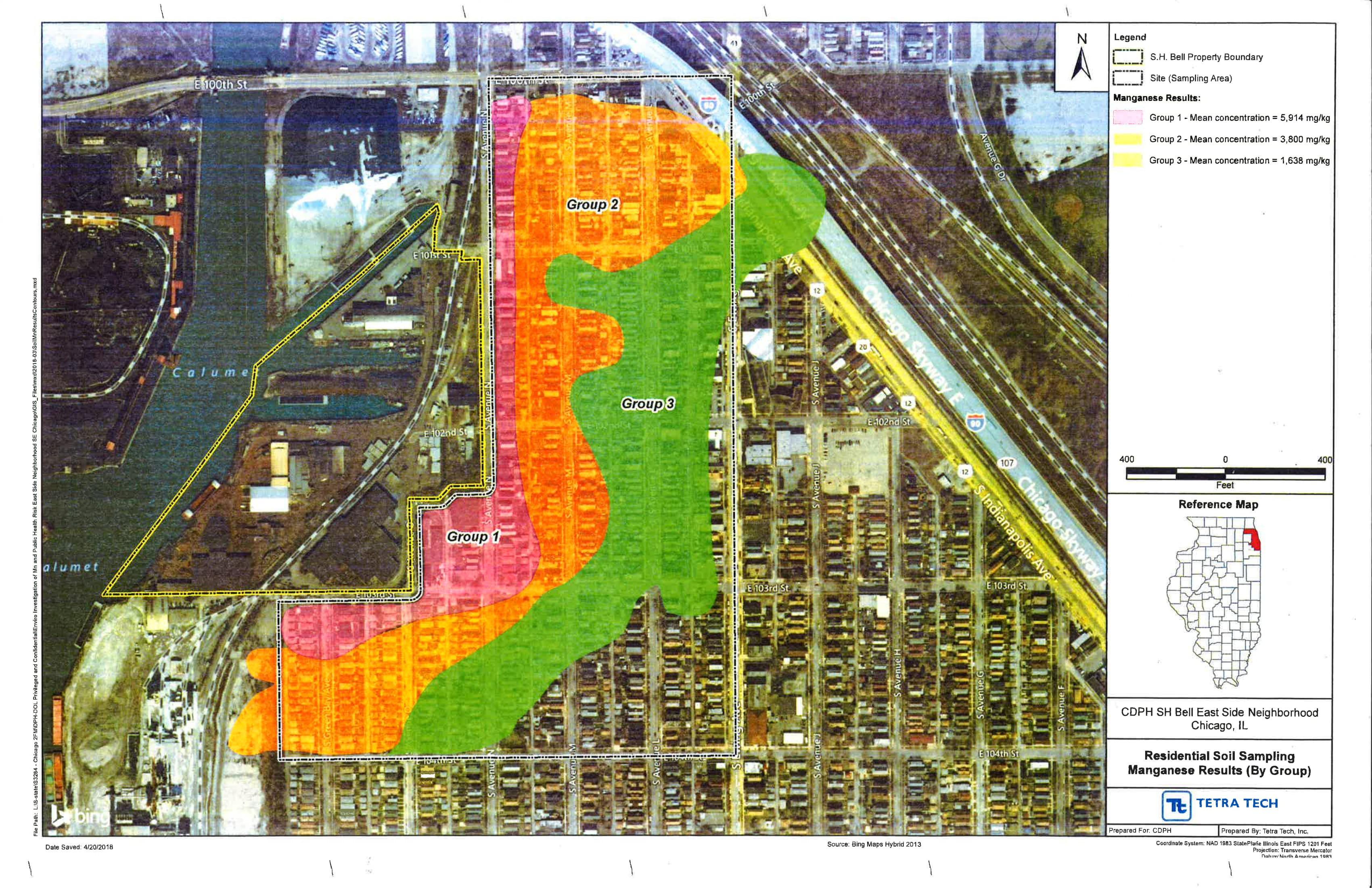 Click to enlarge: A map shows results of soil testing to detect levels of manganese on the Southeast Side. (Chicago Department of Public Health)
In a statement, S.H. Bell said: "The EPA has not informed us of its soil sampling plans or any results so we cannot comment on that at this time. In a recent report provided to the EPA and Chicago Department of Public Health, Gradient Corp., an environmental and risk sciences firm, determined that there is absolutely no health risk associated with the manganese levels in soil samples analyzed for CDPH earlier this year.
"Additionally, manganese is naturally found in all soils and it is well known that Southeast Chicago was built on slag, the leftover material from the steel mills that used to operate in the area. One of the neighborhoods is even called Slag Valley. Slag is filled with manganese and other metals and could very well be a potential source of any manganese in the EPA and CDPH soil samples." 
The EPA also said it is working with the city of Chicago and the federal Agency for Toxic Substances and Disease Registry to determine if homes near S.H. Bell have elevated levels of lead, in addition to manganese, in the soil.
As results come in and are mailed to homeowners, residents will also be contacted by the EPA's community involvement coordinator to explain the results and how to protect their families from potential lead and manganese contamination, according to the agency. The consultations are offered in English and Spanish.
The EPA said it will also develop a community involvement plan to formulate additional outreach and informational activities in the coming months.
Contact Alex Ruppenthal: @arupp | [email protected] | (773) 509-5623
---
Related stories:
Durbin Urges EPA to Expand Manganese Monitoring on Southeast Side
'You Have to Protect Us': Residents Speak Out About Manganese Pollution
High Levels of Manganese Found in Soil of Southeast Side Homes
City Council Approves Ordinance Banning Future Manganese Operations
UIC Professor Developing Finger-Prick Blood Test for Toxic Metals
---