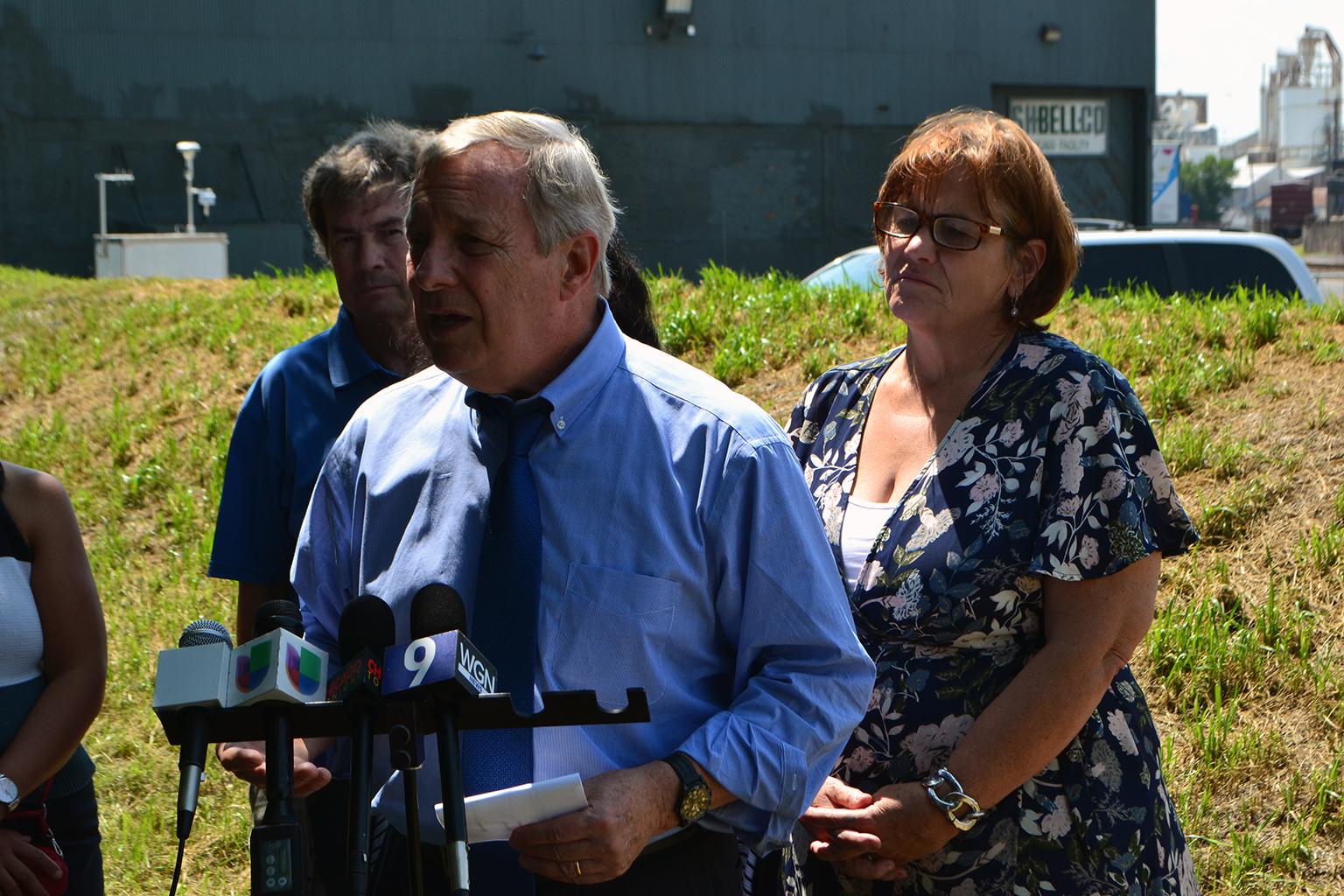 U.S. Sen. Dick Durbin speaks to the press after meeting with Southeast Side residents on Thursday, Aug. 9, 2018 to discuss public health threats stemming from nearby industrial facilities. (Alex Ruppenthal / Chicago Tonight)
U.S. Sen. Dick Durbin toured one of Chicago's most heavily polluted neighborhoods Thursday, calling on the U.S. Environmental Protection Agency to require more facilities to monitor the area for brain-damaging manganese dust.
The heavy metal has been detected at alarming levels near industrial facilities on the city's Southeast Side, prompting the EPA and Chicago's Department of Public Health to crack down on one company that handles manganese, S.H. Bell.
The city is also investigating manganese emissions from several other facilities in the area, while the EPA continues to test levels of manganese in the soil at residential properties.
S.H. Bell could not be immediately reached for comment Thursday. 
Before speaking at a press conference in front of S.H. Bell's facility along the Calumet River just south of the Chicago Skyway, Durbin met with neighborhood residents who described physical and mental ailments they believe are linked to their exposure to manganese and other toxic metals.
---
"Finding out the problem is taking too long," said resident Jade Mazon. "We already know that there's a problem. It's how to resolve that. It's how to put people first before these companies."
Another resident, Araceli Guerrero, said her children have been avoiding playing outside this summer because of the foul odors from the industrial facilities that line the Calumet River.
"They say it smells like rotting garbage," she said.
Manganese is just the latest public health threat facing area residents, who succeeded in driving out dusty piles of petroleum coke only to learn last year about their exposure to high levels of manganese dust. An essential part of the steelmaking process, manganese has been shown to cause Parkinson's-like symptoms at high exposures.
In May, Durbin sent a letter to the EPA raising concerns about the agency's "failure to consistently require companies to monitor and test their air emissions for manganese air pollution" on the Southeast Side.
U.S. Sen. Dick Durbin talks with a Southeast Side resident outside of her home Thursday. (Alex Ruppenthal / Chicago Tonight)
The EPA was at the time led by Scott Pruitt, who resigned in July after facing pressure over questions about his travel spending, security costs, influence from industry lobbyists and other management decisions.
"Washington is not a good place for us at this point to deal with these issues," Durbin said Thursday. "We have a president who doesn't recognize these issues. We have an Environmental Protection Agency which for the longest time was managed by a man who was trying to take away all the legal protections he could as fast as he could. He got caught red-handed, left, but still, we don't expect the next person to be much different or much better. That's the reality."
Given the current political climate, Durbin said residents' best strategy is to put pressure on companies that operate in the area. Just hours earlier, a number of residents joined 10th Ward Ald. Susan Sadlowski Garza in meeting with representatives from General Iron, the controversial Lincoln Park scrap metal yard that recently announced its plan to move to the Southeast Side. 
"These companies come to the place of least resistance," Durbin said. "By makin these companies come in ahead of time and sitting down and asking questions, you're putting pressure on them."
Contact Alex Ruppenthal: @arupp | [email protected] | (773) 509-5623
---
Related stories:
'You Have to Protect Us': Residents Speak Out About Manganese Pollution