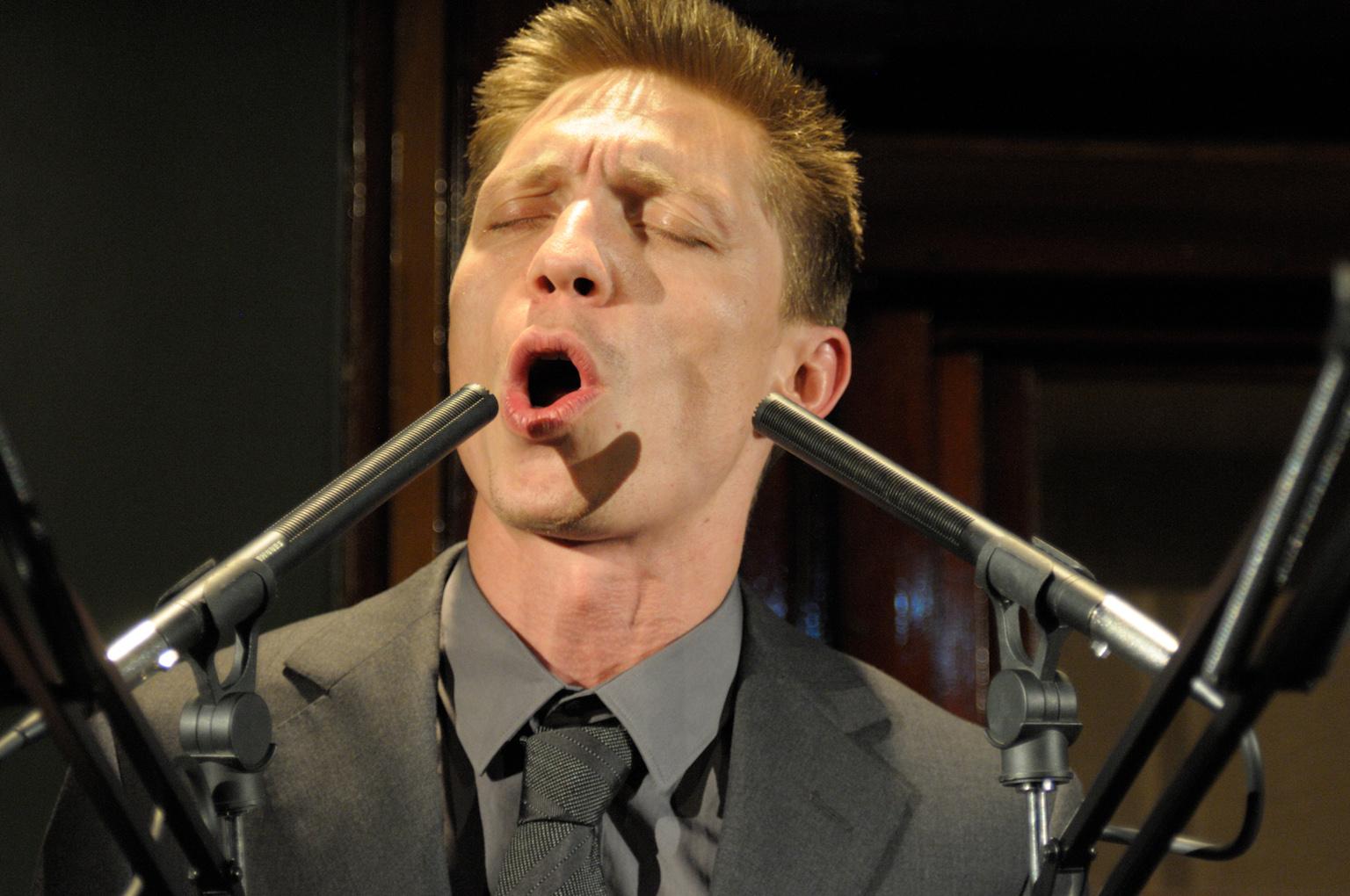 Valentijn Dhaenens in "BigMouth," on stage at Chicago Shakespeare Theater through Sept. 22, 2018. (Photo by Maya Wilsens)
Call it a knockout exercise in oratorical manipulation. Or a shrewdly provocative thought experiment in the shadowy boundary between political speechmaking and propaganda. Or a bravura lesson in the art of listening – and being jolted into deciphering what often can be the radical difference between content and style.
However you describe "BigMouth," the virtuosic, 85-minute, one-of-a-kind, one-man show created and performed by Valentijn Dhaenens – an actor, writer, director and co-founder of SKaGeN, a theater company based in Antwerp, Belgium – its impact is undeniable.
Enthralling in both concept and execution, it sends you out of the theater with your brain abuzz. And not only does it sound a resounding alarm bell as the opening salvo in Chicago Shakespeare Theater's 2018-2019 season, but it sets an almost impossibly high bar for the other two Belgian companies that will visit the theater in the coming months under the umbrella title of "Big in Belgium." (Belgium may be a relatively small country, but as Dhaenens sardonically notes at one point, "it IS the capital of Europe.")
Slim and blonde, with a rubbery face and a facility in English, French, Latin, German and a variety of accents (with supertitles projected for much of the text), Dhaenens, dressed in an understated gray suit, moves behind a long table outfitted with nine microphones. And as he moves seamlessly (with the subtlest shifts in body language and vocal tone) from one spot to another, he delivers fragments of speeches that run the gamut from Pericles' profoundly humane funeral oration of 431 B.C. on the complexity of democracy, and Socrates' calmly reasoned farewell before meeting his death sentence, to the rants and rationales of latter-day politicians and demagogues, generals, liberation leaders and terrorists.
The juxtapositions are often as intriguing and contradictory as the words actually spoken. And while you might well find yourself trying to decipher Dhaenens' personal politics, he manages to generate just enough ambiguity so that you can never be entirely sure where he stands (even if you can guess), which adds an extra frisson to the whole thing. And often the most horrific messages are delivered in the most surprising ways.
The most obvious example might come as Joseph Goebbels, Hitler's minister of propaganda, calls on Germans to prepare for a massive final war effort in 1945, and (unlike the far more familiar barking of Hitler), does so in an eerily controlled but understated way. At the same time, the U.S. Army General George Patton sounds off in full throttle as he exhorts his troops to destroy the enemy.
At one point, seated in a cross-legged position atop the table, Dhaenens evokes Osama Bin Laden's whispery voice as, in a 1996 speech, he condemns the U.S. for supporting Israel and justifies his rage at this country.
The actor's own roots come to the fore with his rendering of a 1990 speech by Belgium's King Baudouin, a Roman Catholic who explains why he could not sign a law permitting abortion, and found a loophole that enabled him to step away from adding his signature to it.
Dhaenens also gives us the fervent 1960 address by African nationalist Patrice Lumumba as he celebrated the Congo's emergence from Belgium's brutal colonial rule and its establishment as an independent republic. (Lumumba, it should be noted, was assassinated in 1961, and the actor goes on to give rather short shrift to three American victims of assassination of the 1960s: John and Robert Kennedy and Martin Luther King Jr.)
We hear briefly from Ronald Reagan, from Presidents HW and GW Bush, from Malcolm X and the virulent Louis Farrakhan, and there is a very brief bit of Ann Coulter (the only female voice in the lineup, which may signal a message all its own).
Dhaenens devotes a good deal of time to a perfectly rendered speech made in the U. S. in 2007, when a Belgian politician by the name of Frank Vanhecke, who is strongly opposed to "the Islamization of Europe," was invited to speak here by Pat Buchanan. Earlier in the show he also expertly captures the accent and stuttering voice of Nicola Sacco, the self-described "radical foreigner" who, in 1927 (along with another Italian immigrant, Bartolomeo Vanzetti) was sent to the electric chair for a crime many say the two men might not have committed.
The few remaining performances of the all-too-brief run of "BigMouth" are at 7:30 p.m from now through Friday, with both a 3 p.m. and 7:30 p.m. show on Saturday. This is a work that should, ideally, be filmed and shown in every high school and university classroom in this country and around the world – not so much because you can agree or disagree with its collage of voices, but because it could serve as a terrific catalyst for fully open discussions and debates.
"BigMouth" runs through Sept. 22 at Chicago Shakespeare's Upstairs Theater on Navy Pier, 800 E. Grand Ave. For tickets ($38-$56) call (312) 595-5600 or visit www.chicagoshakes.com. Running time is 85 minutes with no intermission.
Follow Hedy Weiss on Twitter: @HedyWeissCritic
---
3 Popular Musicals Sing of Quest for Self-Esteem
Shattered Globe's Piercing Dramatization of a Dostoyevsky Classic Soars
Funny, Heartbreaking 'No Child' Taps Into the Art of Education
Chicago Talent Headlines Bernstein's 'Candide' in Knoxville, Tennessee
---