The Chicago Symphony Orchestra and Civic Orchestra of Chicago, led by Zell Music Director Riccardo Muti, performed a free "Concert for Chicago" at the Jay Pritzker Pavilion in Millennium Park on Sept. 20, 2018. (Photo credit: Todd Rosenberg)
Music is not apolitical. Consider the two concerts that served as the opening events for the Chicago Symphony Orchestra's 2018-2019 season, and the impassioned comments made by Maestro Riccardo Muti at each of them.
First, the "Concert for Chicago" attracted more than 10,000 people to a free open air performance Thursday, Sept. 20 in Millennium Park, where the CSO was joined by the Chicago Civic Orchestra (the mentoring ensemble for young professional musicians who as Muti said  "are already accomplished"), and created a joint force of 150 exceptional players.
The three works on the program – Rossini's Overture to "William Tell" (whose most famous passage, as Muti quipped, was not written to be the theme for "The Lone Ranger," but as a call to freedom); "The Four Seasons" ballet from Verdi's opera, "I vespri siciliani;" and Tchaikovsky's "1812 Overture" –  were chosen with a very specific theme in mind.
"They are all connected to the desire for freedom," Muti said. "Everyone wants to occupy somebody else. I don't know why."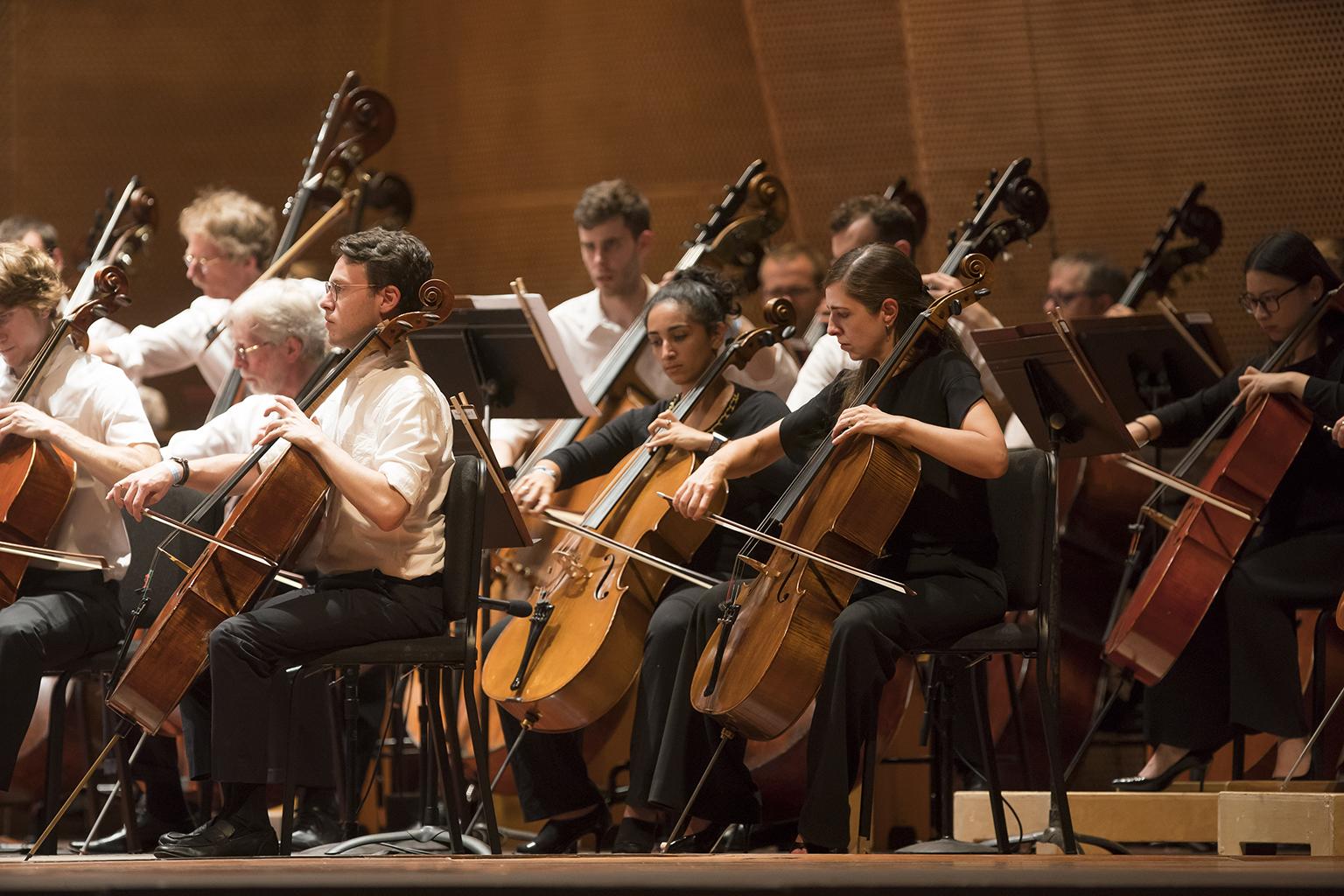 This special side-by-side concert launched the centennial season of the Civic Orchestra of Chicago, which was founded by the CSO's second music director, Frederick Stock. (Photo credit: Todd Rosenberg)
The Rossini piece begins with the solemn, lyrical sound of the cello and bass section and then builds into a great crescendo, with the sounding of horns suggesting the race into battle. The Verdi ballet music - melodramatic in a way typical of 19th century opera interludes - is nevertheless laced with gorgeous waltz sequences, rousing galops, something close to a tarantella and a great timpani roll for the finale.
The "1812 Overture," written to celebrate Russia's victory over Napoleon, begins with a solemn riff on a Russian Orthodox hymn, moves on to a powerful gathering of horns, percussion and strings, and then gives voice to the suggested French enemy with quotes from "La Marseillaise." There is always a lush emotional undertow in Tchaikovsky's music, along with Slavic folk themes, and of course there are the iconic cannon explosions in this work that, as Muti said, signal victory and liberty if not exactly the message of peace.
Muti Conducts Shostakovich 'Babi Yar'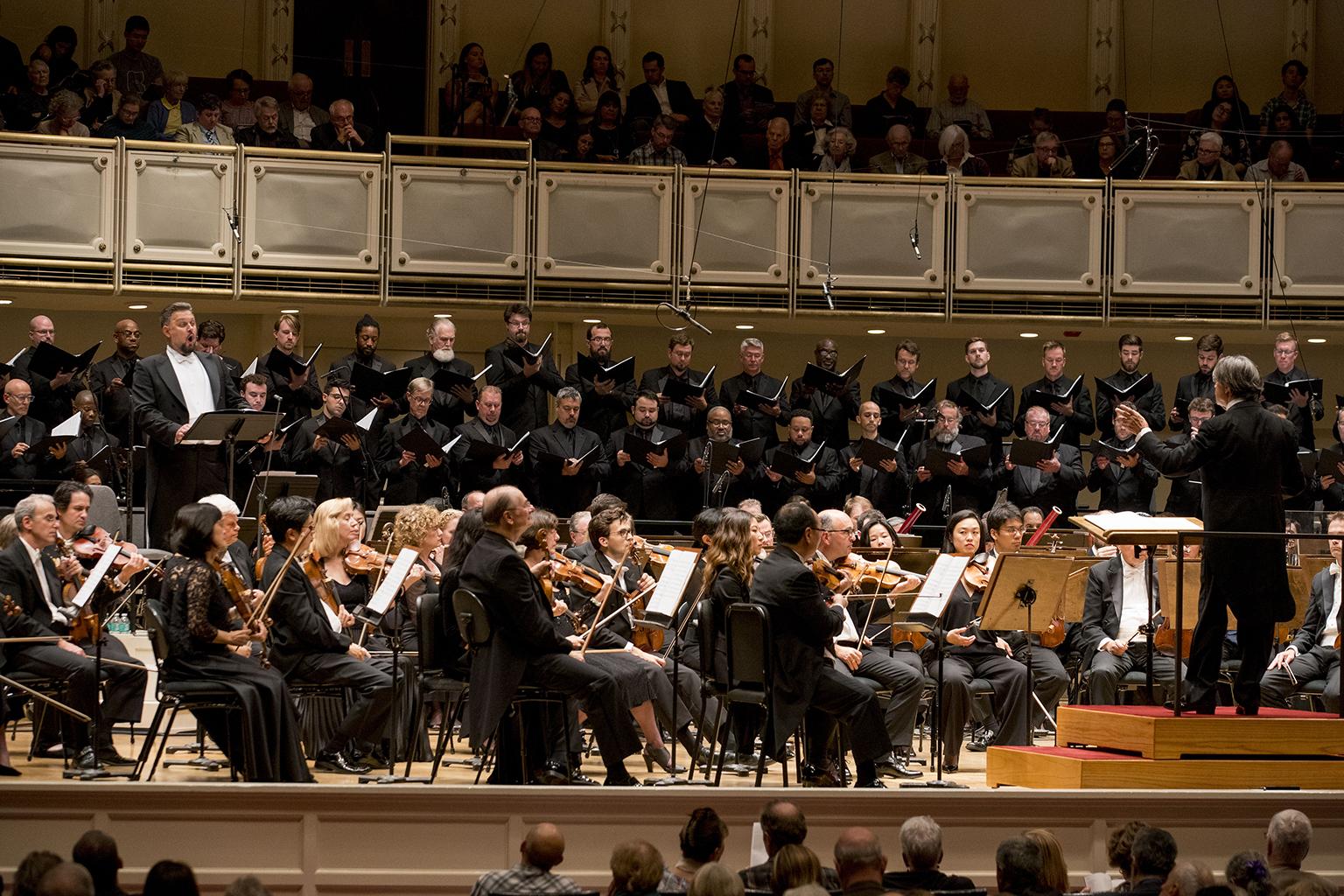 Zell Music Director Riccardo Muti leads the CSO in its first subscription concert of the season featuring Shostakovich's Symphony No. 13 ("Babi Yar"). (Photo credit: Todd Rosenberg)
There was far more extraordinary Russian music to be heard at the CSO's season opener at Symphony Center on Friday, Sept. 21, and it was performed with absolute brilliance.
First came Prokofiev's "Sinfonietta," a beauty of a piece written in 1909 when the composer was still in his teens. It was revised several years later and only now receiving its first performances by the CSO.
Prokofiev possessed a unique ability to suggest a dramatic scene even when no actual narrative was in play. He captured moods with swift, distinctive, motion-filled, rhythmically eccentric brushstrokes and certain signature themes emerged over and over again, but always in fresh ways. Listen closely to the "Sinfonietta" and you will hear strains of melodies that would be developed further in his later thrilling ballet score for "Romeo and Juliet."
There is always a sense of something brewing in a Prokofiev score. And this one is no exception from its lyrical, teasingly playful opening, to its darker mix of strings and wind instruments, to the plucking of strings, the seamless shifts from tonal to subtly atonal passages, with lush, sweeping dance sequences shifting on a dime to melodies laced with a ravishing ache. The CSO performed it with great delicacy, fluidity and clarity. A true gem.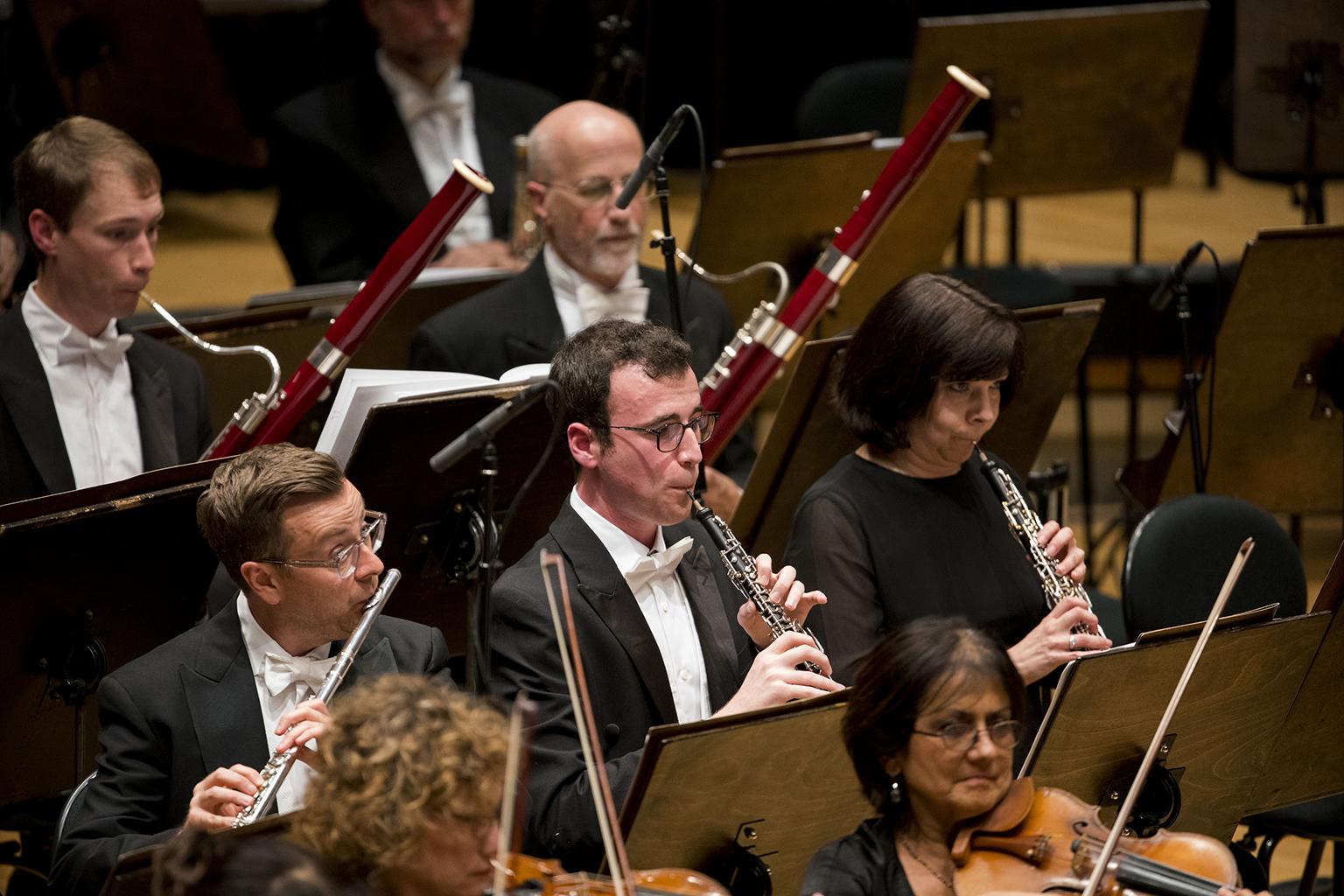 From left: Principal Flute Stefán Ragnar Höskuldsson, new Principal Oboe William Welter and CSO oboist Lora Schaefer join their fellow musicians in the CSO's first performances of Prokofiev's "Sinfonietta." (Photo credit: Todd Rosenberg)
But the main focus of the program was Shostakovich's altogether audacious 1962 masterpiece, "Symphony No. 13," better known as "Babi Yar," the first of the five poems by Yevgeny Yevtushenko that form its text.
With that fearless poem, Yevtushenko became the first to make the world face what had happened at a ravine in the Ukrainian capital of Kiev, where during two days in September 1941 the Nazis and their Ukrainian collaborators murdered 34,000 Jews. Until the poem's publication, the Soviet regime, which had its own history of anti-Semitism, never marked the site of the mass execution or dealt with its horrific implications. Yevtushenko brilliantly attempted to pierce the conscience of his fellow Russians, famously proclaiming: "There is no Jewish blood in my blood, but I feel the loathsome hatred of all anti-Semites as though I were a Jew, and that is why I am a true Russian!"
Almost immediately after the poem appeared, Shostakovich set it to music, and then went onto create what is more of a cantata than a symphony by setting four additional poems about Soviet life to music for orchestra, bass and male chorus. Muti's passion for the piece dates back to 1970 when he conducted its first performance in Western Europe with Italy's RAI National Symphony, using an Italian translation based on microfilm smuggled out of the Soviet Union.
A tape of Muti's performance was smuggled back to Shostakovich, whose widow, Irina, 83, attended the Friday, Sept. 21 performance by the CSO and recently sent that tape back to Muti as a gift. The Maestro's fervent attachment to the work and its profound message was evident in every moment of the CSO performance.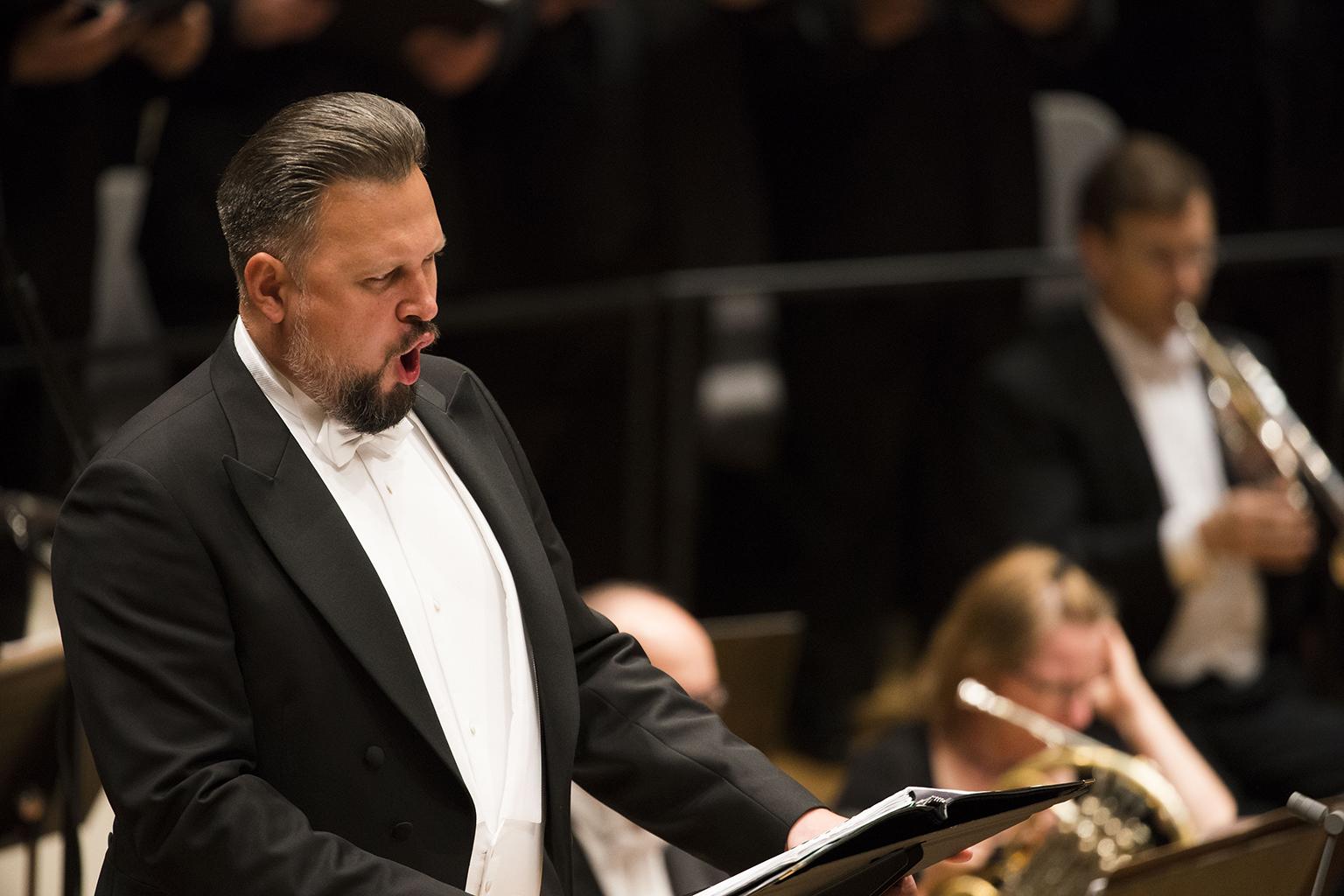 Russian Bass Alexey Tikhomirov makes his CSO debut in Shostakovich's Symphony No. 13 ("Babi Yar") with the Orchestra and Men of the Chicago Symphony Chorus led by Zell Music Director Riccardo Muti. (Photo credit: Todd Rosenberg)
While "Babi Yar" delves deeply into the historic plight of the Jews, it is very Russian in its sound from the chimes of the Orthodox church bells, to the richly expressive bass voice of the physically formidable Alexey Tikhomirov, whose notable restraint only enhanced the gravitas of Yevtushenko's words. The men of the CSO chorus provided added heft and emotion throughout.
From "Babi Yar" it was on to "Humor," a biting commentary on how the sensibility of the blackly comic and sardonic freethinkers of this world defy the worst punishments meted out by its "tsars, kings, emperors [and] rulers." Shostakovich's buoyant, taunting music captures that spirit of defiance and survival with palpable glee.
Endurance and survival are key to "In the Store," which pays tender homage to the lives of Soviet women as they go about the hard work of sustaining daily life with a mix of sweetness and fortitude. The composer makes you feel their exhaustion and persistence, with the use of woodblocks and cymbals to capture the sounds of the marketplace.
In "Fears," the eerie sound of horns and strings, and the low rumble of the bass voice, combine to conjure the ever-looming sense of terror and surveillance in a repressive regime. And while Yevtushenko half-nods at the post-Stalinist era "Khrushchev thaw," he confesses, "I write haunted by the single fear of not writing with all my strength."
The symphony ends with "A Career," a haunting, chiding poem (set to sardonically jaunty but mocking music), that toasts the lives of geniuses like Galileo, Shakespeare, Pasteur, Newton and Tolstoy – who all courageously ignored the safe road taken by commonplace careerists and ultimately emerged triumphant.
Shostakovich's work, a superb evocation of the poems that draws on the quintessential Russian voice but infuses it with many modernist inflections, serves as the opening salvo in a season whose overall theme is inspired by the 100th anniversary of the armistice that brought World War I to a close. The theme is being interpreted in the broadest sense, with an emphasis on the notion of memory and memorials, and with works ranging from the Verdi and Mozart requiems to William Schuman's rarely heard "Symphony No. 9," about Nazi massacre in Italy.
The remaining performance of the Prokofiev/Shostakovich concert is Tuesday at 7:30 p.m. at Symphony Center, 220 S. Michigan Ave. For tickets ($39-$227), call (312) 294-3000 or visit www.cso.org. Running time is 1 hour and 55 minutes with one intermission. This is an experience not to be missed.
Follow Hedy Weiss on Twitter: @HedyWeissCritic
---
On Eve of CSO Season Opener, a Conversation with Riccardo Muti
In 'BigMouth,' a Torrent of Oratory at Once Brilliant, Provocative and Dangerous
3 Popular Musicals Sing of Quest for Self-Esteem
Shattered Globe's Piercing Dramatization of a Dostoyevsky Classic Soars
Funny, Heartbreaking 'No Child' Taps Into the Art of Education
Chicago Talent Headlines Bernstein's 'Candide' in Knoxville, Tennessee
---