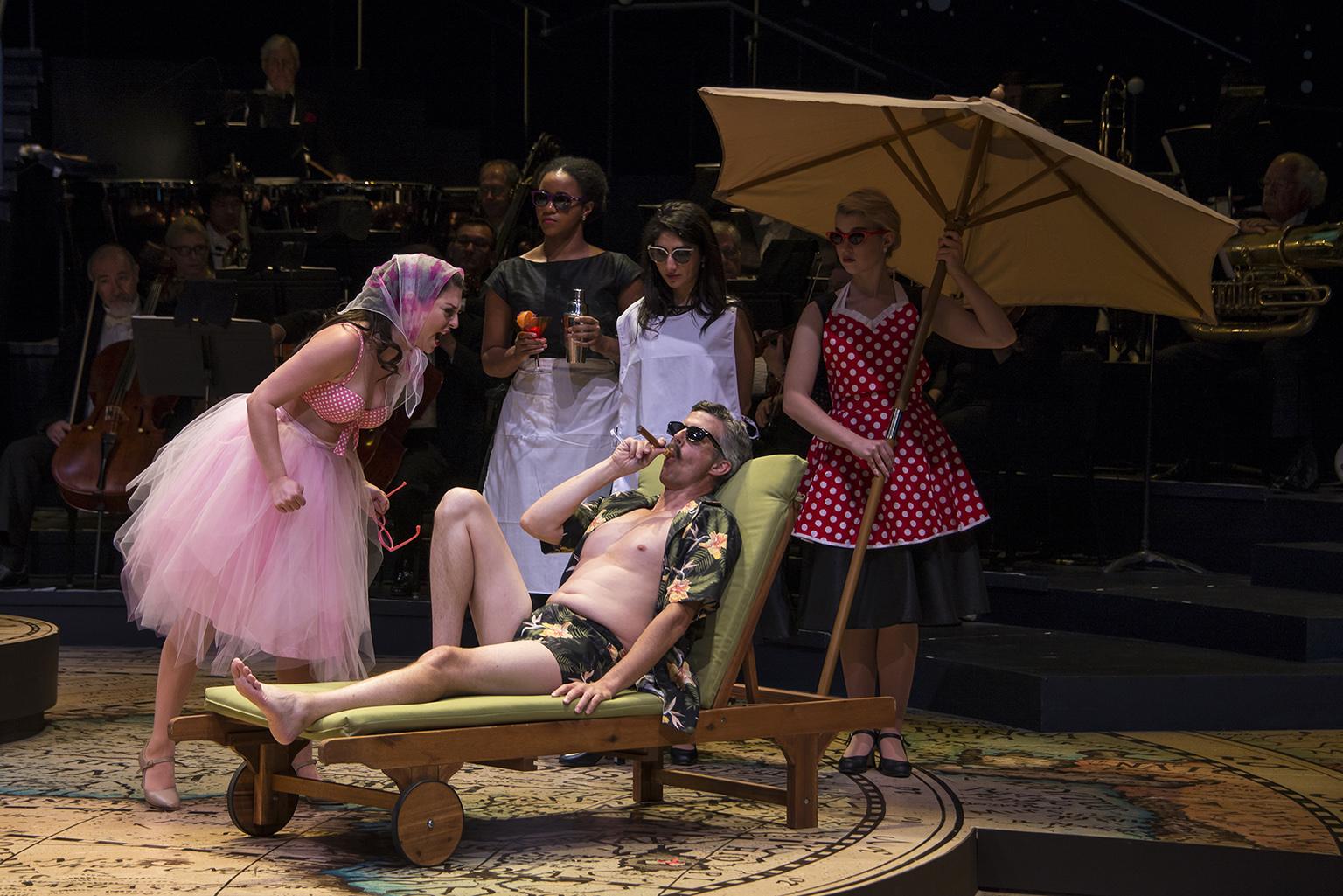 From left: Cecilia Iole, Aleah Vassell, Jeff Parker, Noelle Harb and Brittany Marie Pirozzoli in "Candide." (Photo by Brynn Yeager)
It was just about four years ago that a man by the name of Roy Cockrum bought a winning Powerball ticket at a Kroger grocery store in Knoxville, Tennessee, and ended up with a lump sum windfall of $115 million.
Cockrum, who grew up in Knoxville, studied theater at Northwestern University, worked for 20 years as an actor and stage manager in theater and television, and then left the stage to become a monk (known as Brother Roy) in the Society of Saint John the Evangelist, an Episcopal religious community in Cambridge, Massachusetts. He left the order in 2009 and returned home to care for his aging parents. And then there was that winning ticket which enabled him to establish a foundation whose mission is to "award grants to support world-class performing arts projects in not-for-profit professional theaters throughout the United States."
The first recipient of a Cockrum grant was the Goodman Theatre, where Robert Falls directed "2666," an epic five-hour stage adaptation of the novel by Chilean writer Roberto Bolano (now available online for free unlimited screening). It was soon followed by Steppenwolf Theatre's world premiere of Tracy Letts' play, "Mary Page Marlowe," which recently received an Off Broadway production at Second Stage. A number of other theaters throughout the country have already benefited from the foundation's support, with two shows (a new play by Craig Lucas and a reworking of "The Oresteia") already set for New York productions this season.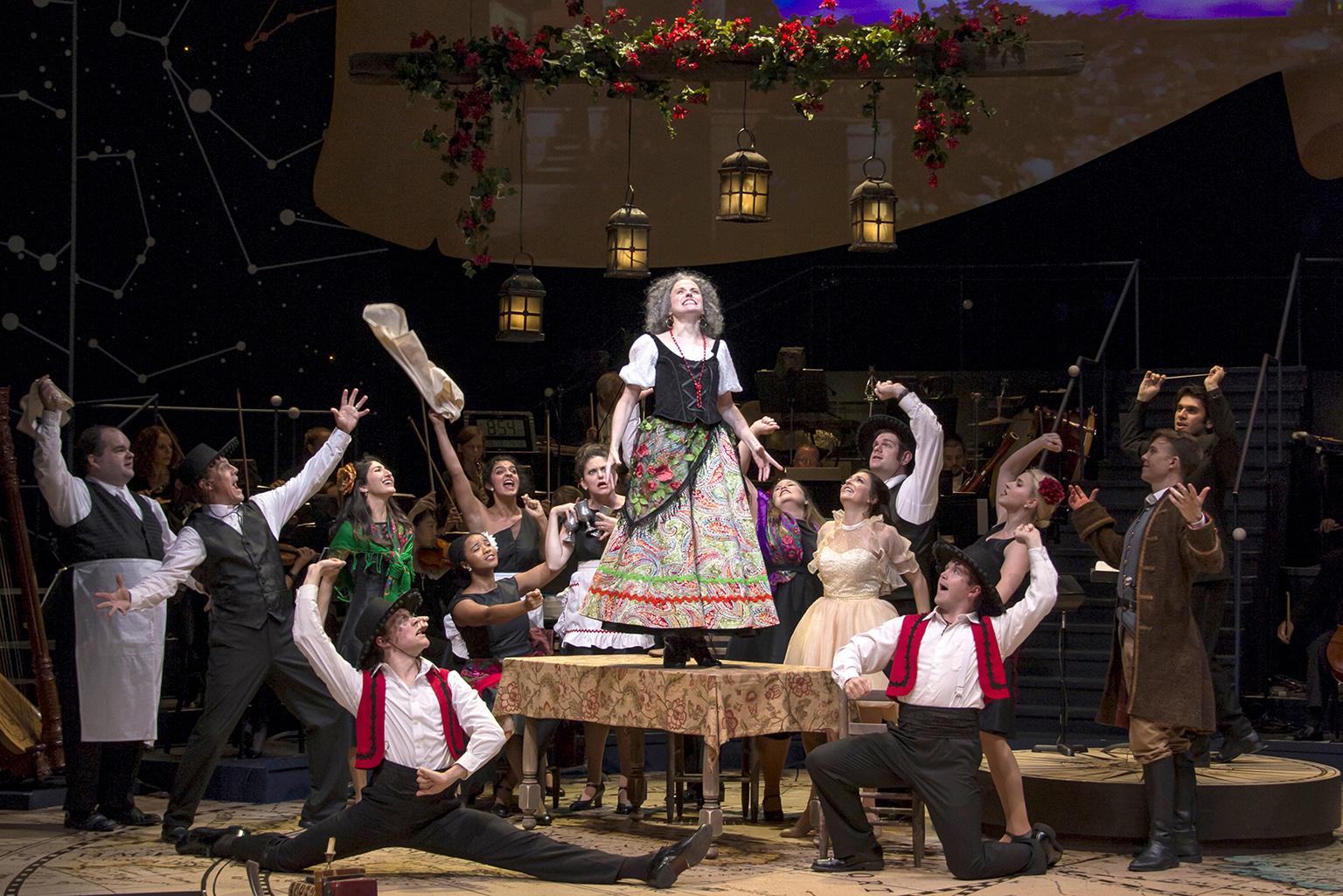 Heidi Kettenring and ensemble in "Candide." (Photo by Brynn Yeager)
But now back to Cockrum's hometown of Knoxville, where the Clarence Brown Theatre at the University of Tennessee, one of just 12 academic League of Resident Theatres in the nation, has joined forces with the Knoxville Symphony Orchestra for a formidable production of "Candide." The hybrid musical/operetta, based on Voltaire's incredibly timely 18th century satire, is being presented in celebration of the 100th anniversary of the birth of that musical polymath, Leonard Bernstein. And not only does its director, Calvin MacLean, have deep Chicago roots, but so do a number of the major players in his production, including Cecilia Iole, Heidi Kettenring, Jeff Parker and Roderick Peeples. (MacLean, still widely remembered for his fabled 1999 production of "Ghetto" at Famous Door Theatre in Chicago, went on to serve as artistic director of the Illinois Shakespeare Festival for 11 years and has spent the past 13 years as Clarence Brown's producing artistic director and UT's theater department head.)
With its ravishing score by Bernstein, and its impossibly clever lyrics by Richard Wilbur (with contributions by Stephen Sondheim, John La Touche, Dorothy Parker, Lillian Hellman and Bernstein), "Candide" was created as a subtle response to the McCarthy era and arrived on Broadway in 1956. Though far from a success initially, it was reborn under Harold Prince's direction in 1973 (with a revised book by Hugh Wheeler), and finally found its rightful place in the repertoire. And now, with its biting, often blackly comic tale of brutal wars, corrupt dictators, the terrible plight of refugees, the scandalous behavior of religious figures, the grotesque abuse of women, the inequities of social class, the spread of venereal disease, and countless other horrors perpetrated by one human being against another (along with several natural disasters), it seems more timely than ever.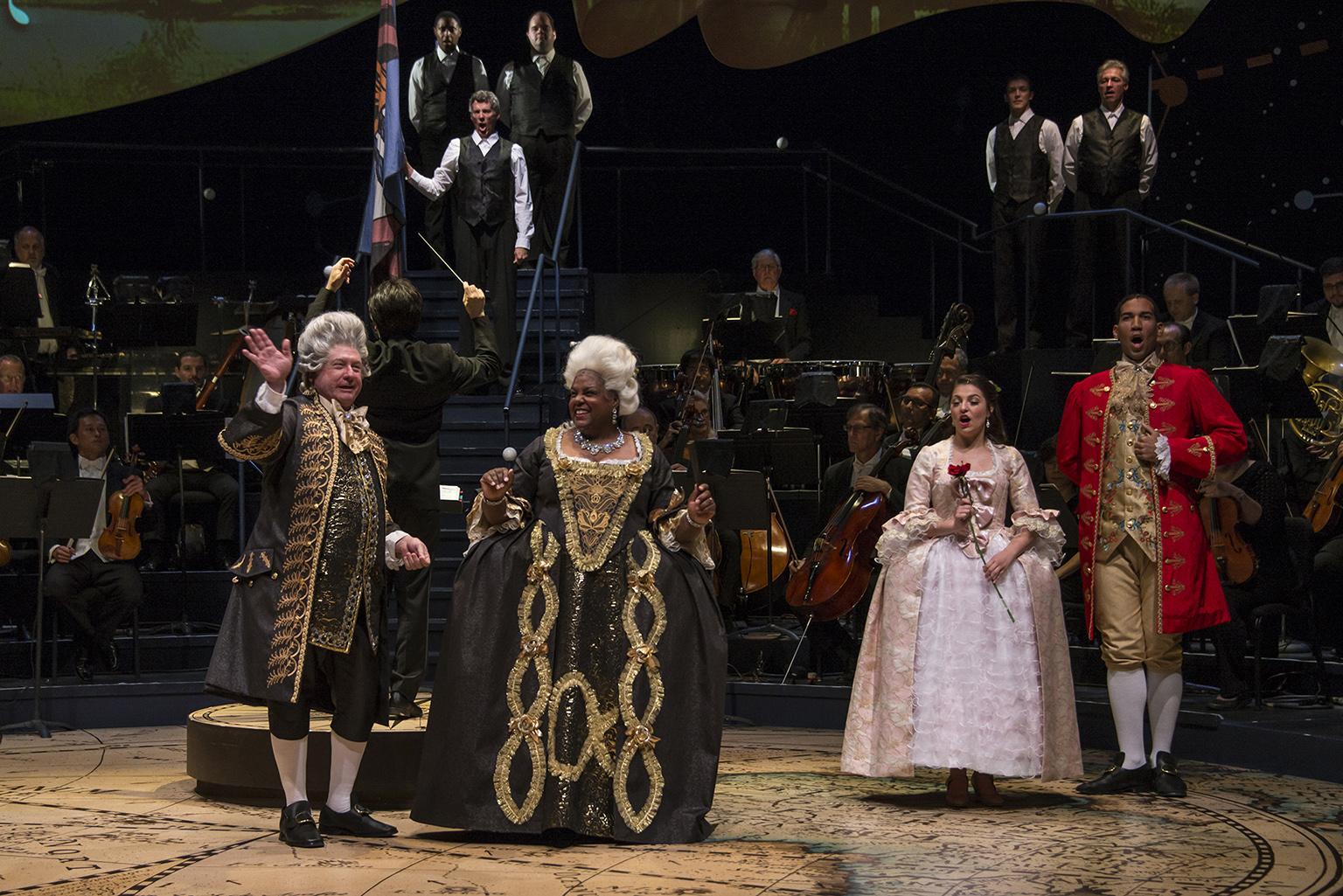 Roderick Peeples, Tracey Copeland Halter, Cecilia Iole and Jonathan Christopher in "Candide." (Photo by Brynn Yeager)
MacLean is using his own very deftly "tweaked" and fluidly staged version of the 1989 Scottish Opera edition of the work, with a 37-piece onstage orchestra superbly conducted by Aram Demirjian, a fleet young artist with an impressive list of credits, who even engages in a delightful comic cameo during the show. And Michael Ganio's set of curving platforms and a constellation-filled sky, Joe Payne's projections, Broadway master Jennifer Tipton's lighting, Bill Black's costumes and Curtis Craig's impeccable sound design (every lyric in this word-dense show was crystal clear), richly enhances the story's wildly picaresque, continent-and-history-spanning story.
The zanily convoluted plot? Candide (in a beautifully sung, emotionally true turn by James Onstad, a young tenor whose extensive credits include an appearance with Chicago Lyric Opera Unlimited), has grown up as the bastard nephew of the Baron (Peeples) and Baroness (Tracey Copeland Halter) of Westphalia, and has been educated by his tutor, Pangloss (David Kortemeier), who professes the crazily optimistic theory that we live "in the best of all possible worlds" – a theory grandly undermined in every scene, though applicable if this happens to be the only possible world.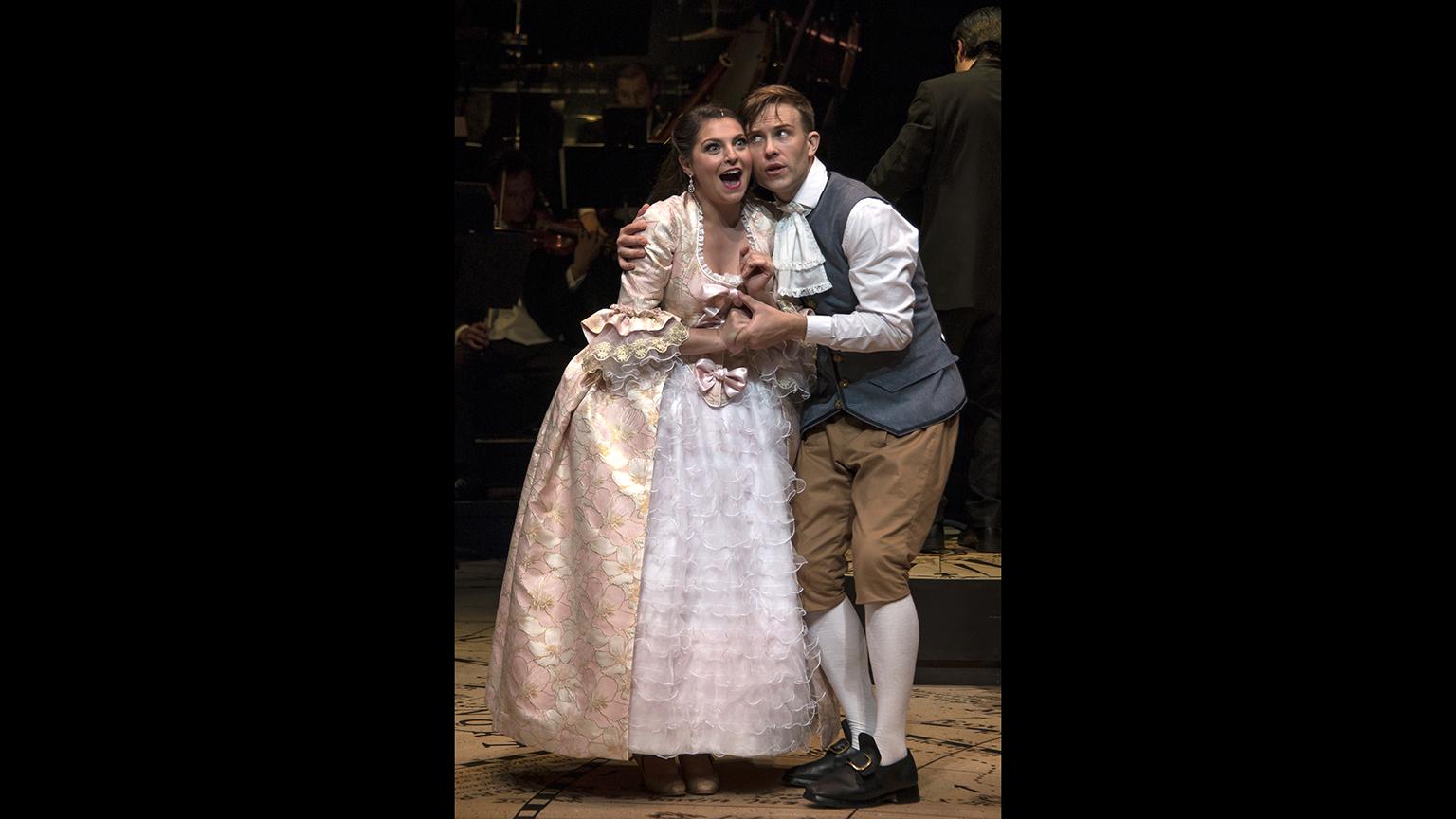 Cecilia Iole and James Onstad in "Candide." (Photo by Brynn Yeager)
Candide is madly in love with the Baron's daughter, Cunegonde (Iole, the sensational coloratura soprano who soars in the killer aria, "Glitter and Be Gay" – a role she played earlier at Evanston's Music Theater Works – and who also is known for portraying Joanna in both the Paramount Theatre and Theo Ubique productions of "Sweeney Todd"). But his plan to marry her is nixed by her parents and her evil brother, Maximilian (the sleekly villainous Jonathan Christopher), who consider him below her in status. Exiled from Westphalia, the poor lad proceeds to lose his innocence time and time again – in Europe and in the New World – as he searches for Cunegonde, whose sexually adventurous maid, Paquette (Charlotte Munson) has her share of trouble, too.
Along the way, Candide and Cunegonde encounter The Old Lady (Kettenring in top vocal and comedic form), an indomitable woman who has experienced and survived every indignity, and who explains her skills in the bravura "I Am Easily Assimilated." Once they all arrive in South America, Candide takes Cacambo (the most winning Pedro Tomas) as his valet, and Cunegonde encounters the smarmy, hedonistic Governor of Buenos Aires (Parker is ideal, and in especially fine voice for "My Love") who promises to marry Cunegonde, but never gets around to it. Candide moves on to experience the utopian society of El Dorado. The emigres eventually make their way back to Europe and the casinos of Venice.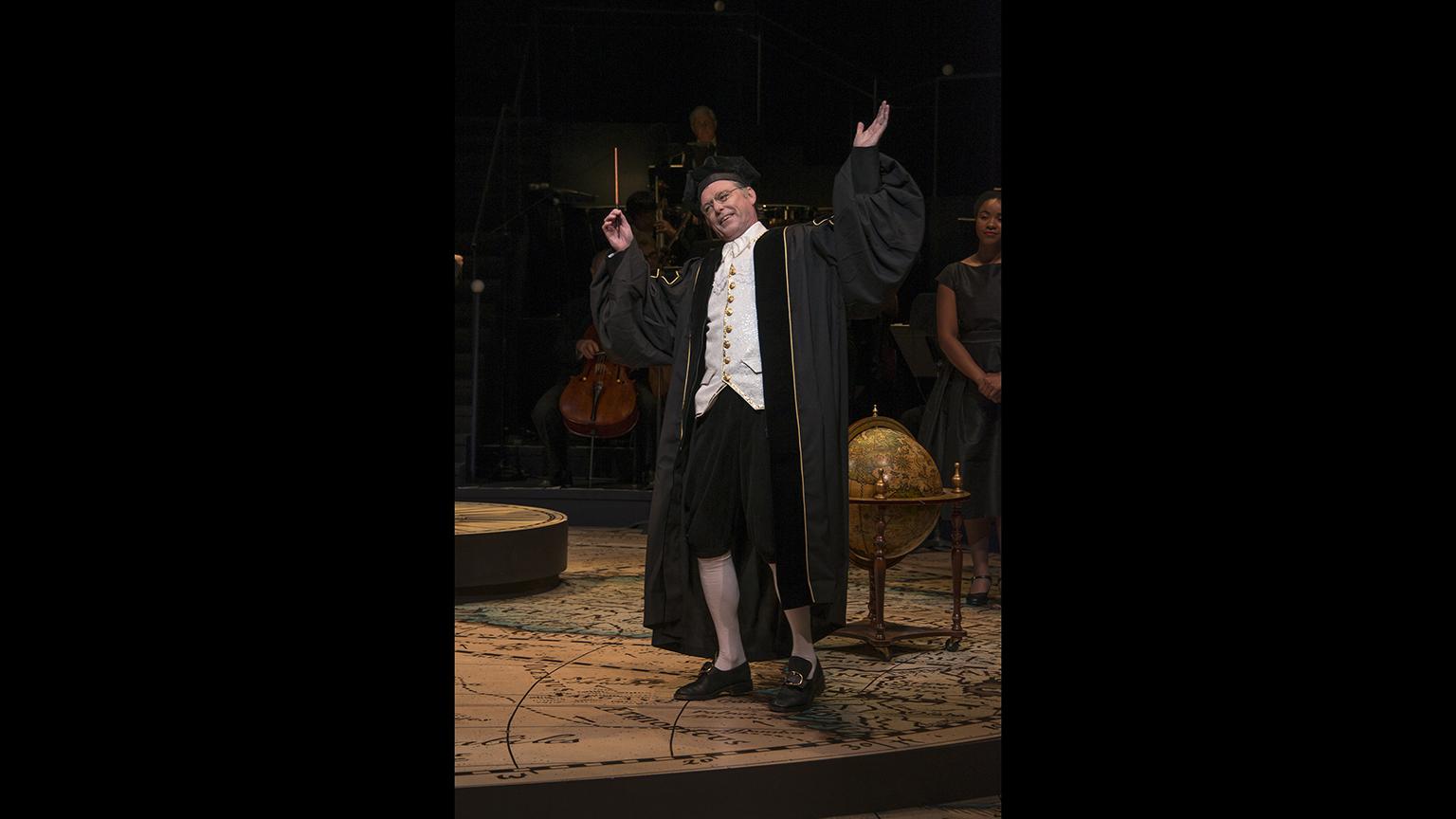 David Kortemeier in "Candide." (Photo by Brynn Yeager)
Finally, with both now a whole lot wiser about life and far more experienced in the ways of the world, Candide and Cunegonde (with Onstead and Iole wonderfully convincing in a crucial scene) realize that true happiness comes with the pursuit of a simple life. And backed by the full cast, they take a vow in the form of the show's gorgeous final song, "Make Our Garden Grow."
(Cockrum, now 62, was in last Friday's opening night audience for "Candide," and, dressed in a seersucker suit, floral tie and white patent leather boots, he moved unassumingly through the post-show crowd, expressing his delight with the production.)
"Candide" runs through Sept. 16 at the Clarence Brown Theatre, 206 McClung Tower, Knoxville, Tennessee. For tickets call (865) 974-5161 or visit www.clarencebrowntheatre.com.
One final note: Along with this exceptional "Candide," the big surprise of my trip to Knoxville was the city itself with its wonderful 19th century brick buildings, tree-lined downtown, steep hills, expanding university campus, first-rate restaurants, and the twisting Tennessee River framed by lush greenery. On top of everything, it's just 35 miles from Dolly Parton's Dollywood.
Follow Hedy Weiss on Twitter: @HedyWeissCritic
---
Black Button Eyes Brings John Collier's Twisted Stories To Life
2018 Equity Jeff Award Nominations Announced
'Vietgone' Explores Emotional Wars of Vietnamese Immigrants Forging New Lives In US
Reaping Faith, Fear and Ambivalence in 'The Harvest'
---