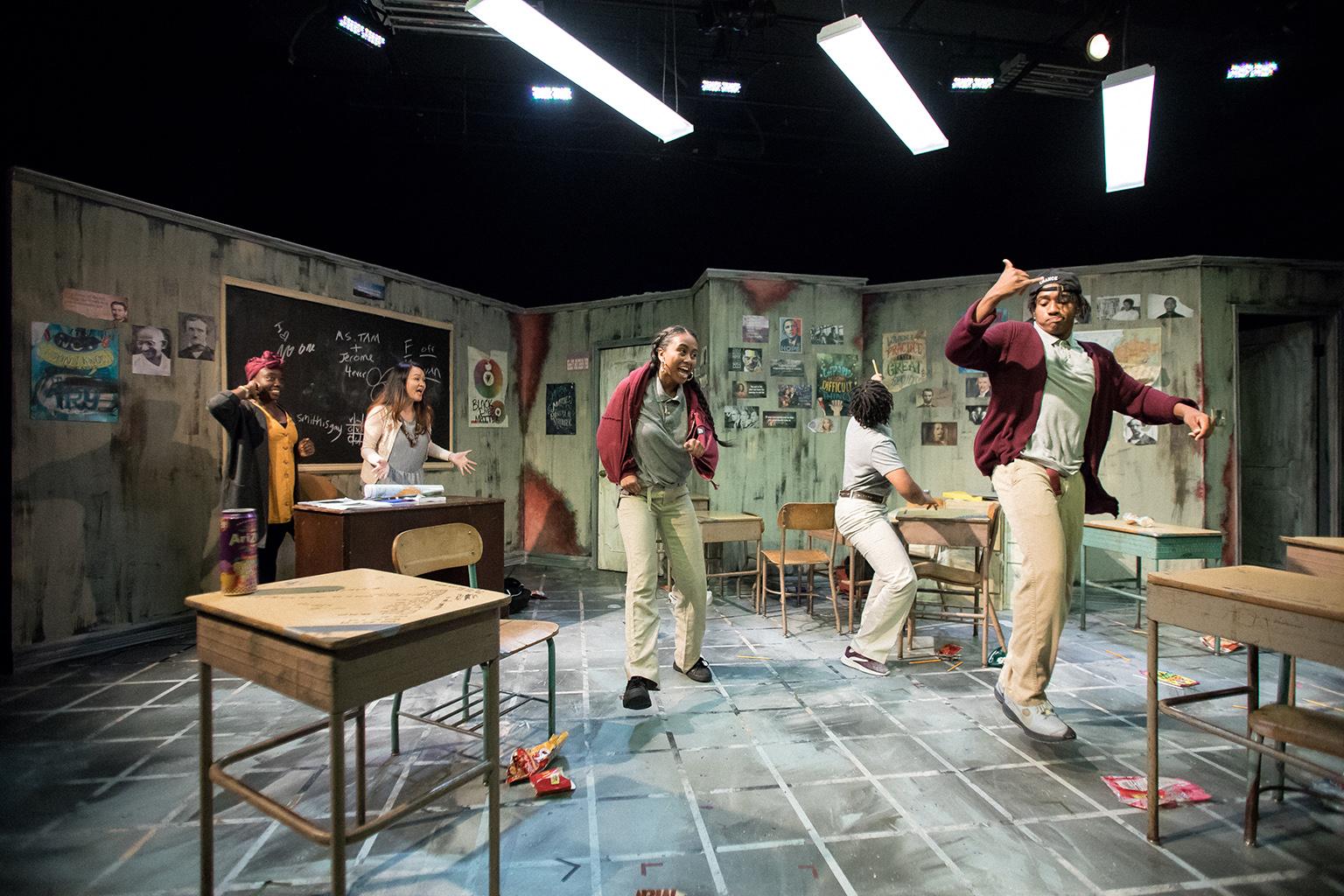 From left: Adia Alli, Kirsten Chan, Netta Walker, Lawren Carter and Victor Musoni in Definition Theatre Company's production of "No Child…" (Credit: Joe Mazza_Brave Lux, Inc.)
The blight, as well as the occasional bursts of beauty that define life in inner-city high schools is all too familiar. But rarely has it been captured with such a sense of wit, grace, exasperation and tragicomic insight as it is in "No Child...," the 2006 autobiographical theater piece by Nilaja Sun, an actress and writer with African-American and Puerto Rican roots who, beginning in 1998, worked as a teaching artist in New York City's public schools.
Originally conceived as a one-woman show in which Sun performed all 16 of its sharply drawn characters, "No Child..." is now receiving a sensational production by Definition Theatre that features the galvanic direction of Chika Ike and a peerless cast of six, all but one of whom plays multiple roles. And while no one can argue that the infusion of arts into the school curriculum is the solution to the many and profound problems facing public education these days, Sun's play serves as a powerful reminder that it can work its fair share of small miracles, and that it can alter the oppressive atmosphere of teach-to-the-test, metal detector entry, crumbling infrastructure, high teacher turnover and classroom rebellion so endemic to the system. (The play largely predates the plagues of social media and mass school shootings.)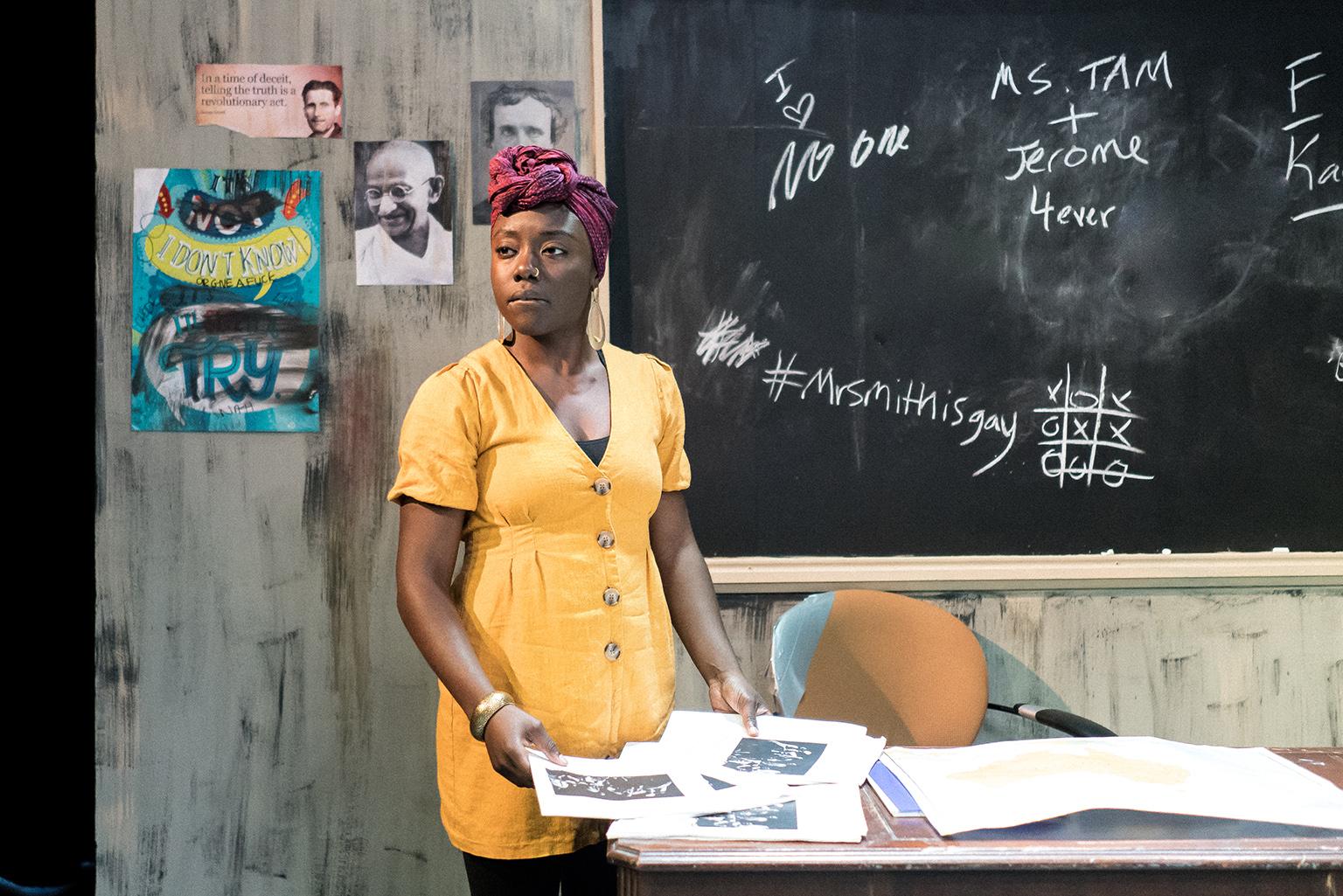 Adia Alli in Definition Theatre Company's production of "No Child…" (Credit: Joe Mazza_Brave Lux, Inc.)
The setting for "No Child..." (whose title evokes the 2001 Act of Congress mandating "standards-based educational reform" and "the establishment of measurable goals"), is a timeworn classroom at the Malcolm X High School in the Bronx to which Sun (the altogether radiant Adia Alli) arrives with a spirit of almost Candide-like optimism, as well as a solid sense of her own financial and health insurance challenges.
Guiding us into the story is the older and wiser school Janitor (the wholly remarkable debrah kneal), who has been on the job since 1958 and seen it all. She provides us with a frankly observed capsule history of the school – a building that was once in pristine condition and at the heart of an Italian neighborhood, but over the decades has gradually decayed because of societal change, lack of maintenance and the transition to a neighborhood rife with poverty, crime and fractured families.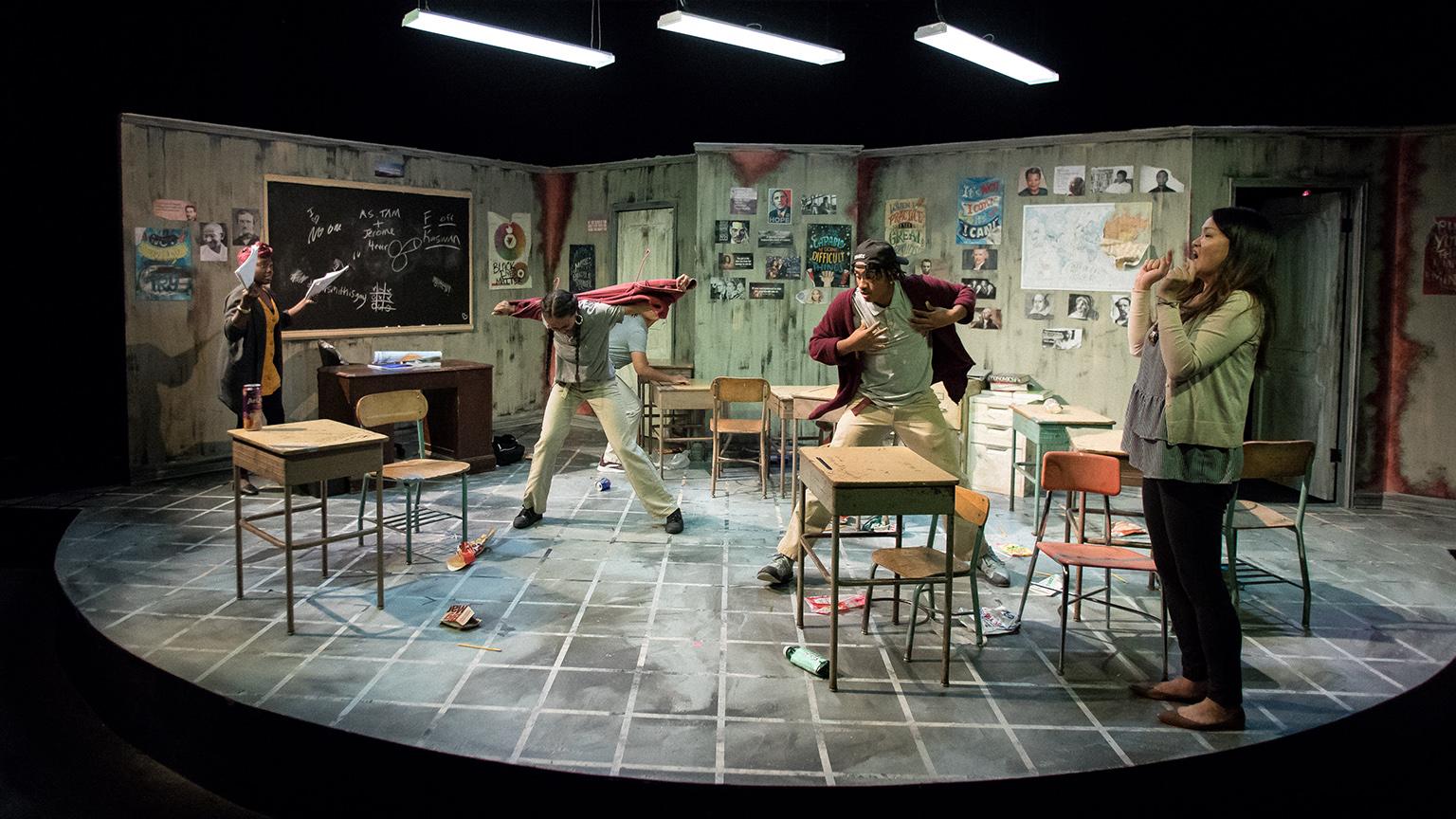 From left: Adia Alli, Netta Walker, Victor Musoni and Kirsten Chan. (Credit: Joe Mazza_Brave Lux, Inc.)
Sun enters a notoriously difficult 10th grade class over which the teacher, Ms. Tam (the deftly morphable Kirsten Chan), clearly has no control. But she has an ambitious plan and boundless energy. During the course of her six-week residency she plans to have her students read, analyze and perform "Our Country's Good," a 1978 drama by Timberlake Wertenbaker that tells the story of a British lieutenant in an Australian penal colony who tries to engage a group of convicts in rehabilitation by directing them in the play.
The students, who start their day acting out by dancing, twerking and rapping up a storm, are decidedly unimpressed with Sun's plan, but she puts up a good fight and tries everything in her considerable arsenal of tricks to get them engaged until a few even show signs of interest. Meanwhile, Ms. Tam flees her job and is replaced by a couple of other women (all expertly played by Chan, who also portrays the authoritative if largely oblivious school principal).
The students in the class are captured by just three other actors – Victor Musoni, Netta Walker and Lawren Carter – all of whom brilliantly suggest the mix of shyness, anger, pain, neediness and untapped talent in their many different characters.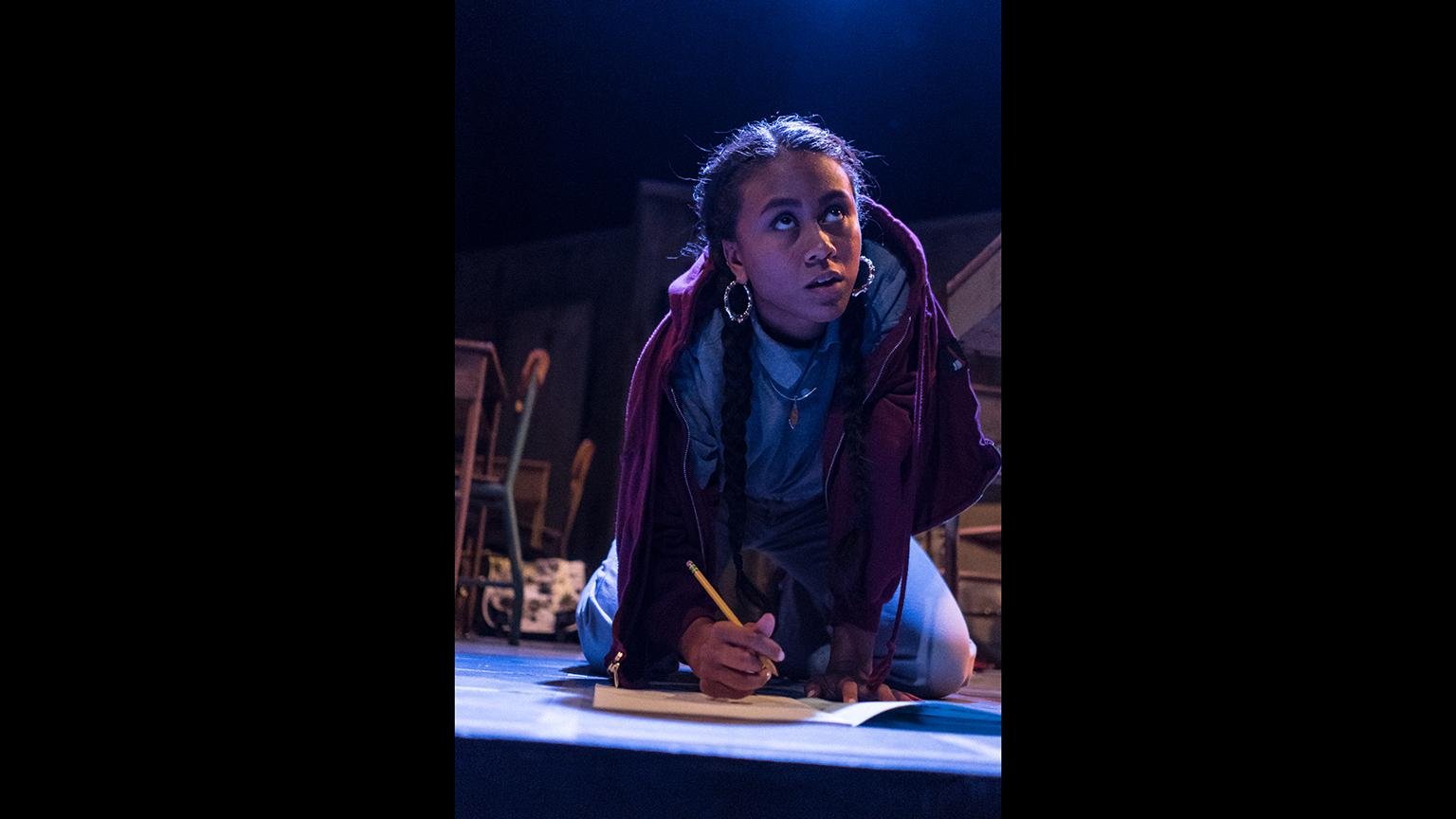 Netta Walker (Credit: Joe Mazza_Brave Lux, Inc.)
Sun's play is entirely free of politically correct sentiments, but she ideally nails the despair and euphoria of the situation she (and many undervalued teachers and teaching artists) face on a daily basis. She also has packed every aspect of what she describes as her "play-within-a play-within-a-play," into an airtight, profoundly moving 80 minutes.
No doubt by now you will be asking: Does the show finally go on in the school auditorium? For the answer to that you must head to Victory Gardens Theater's upstairs space, where, I guarantee, you will laugh, cry and applaud all involved. In fact, it would be difficult to imagine a more ideal way to open the fall season.
Definition Theatre's "No Child..." runs through Sept. 23 at Victory Gardens Theatre, 2433 N. Lincoln Ave. For tickets ($15-$35) call (773) 871-3000 or visit www.victorygardens.org.
One final note: Definition (which was founded by graduates of the University of Illinois at Urbana-Champaign, and is under the artistic direction of the hugely engaging Tyrone Phillips) has just announced that Chuck Smith – the resident director at the Goodman Theatre, who is an immense source of wisdom and talent, as well as a frequent collaborator with the company – has just joined its advisory board. An ideal pairing.
Follow Hedy Weiss on Twitter: @HedyWeissCritic
---
Chicago Talent Headlines Bernstein's 'Candide' in Knoxville, Tennessee
Black Button Eyes Brings John Collier's Twisted Stories To Life
2018 Equity Jeff Award Nominations Announced
'Vietgone' Explores Emotional Wars of Vietnamese Immigrants Forging New Lives In US
---