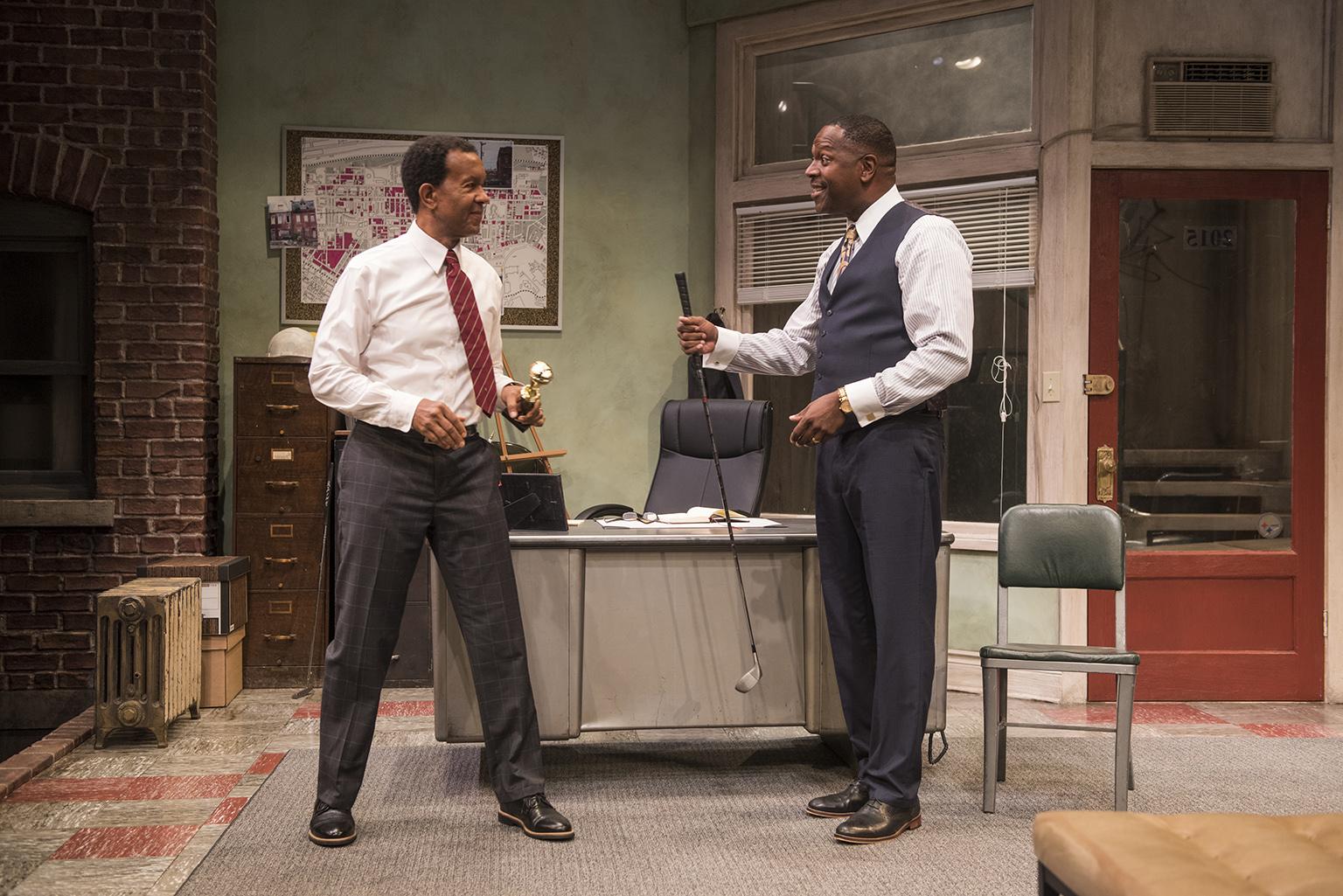 Allen Gilmore, left, and James Vincent Meredith in "Radio Golf" at Court Theatre. (Photo by Michael Brosilow)
August Wilson's play, "Radio Golf" – the 10th and final entry in his cycle of plays capturing an element of African-American life in each decade the 20th century – first came to the stage in 2005, the same year as the playwright's death. Barack Obama was still far from a household name and would not be elected president for another three years. The African-American cultural icon of the moment was Tiger Woods – not only one of the most successful professional golfers in history, but a man who had broken racial barriers, and amassed considerable wealth and social prestige in the process, until his personal life began to unravel. So when one of the characters in Wilson's play tapes a poster of Woods on the wall of his shabby office now it carries a more nuanced message. And in many ways it fits the arc of the story in remarkably prescient ways.
At Court Theatre, where director Ron OJ Parson's revelatory, brilliantly acted revival of "Radio Golf" opened Saturday night, the sight of that poster triggered a knowing laugh as it reverberated in a whole new way – one that Wilson might have appreciated. For "Radio Golf" is in many ways about the tremendously complex issue of success and failure among African-Americans in the 21st century. Yet at the same time, as in all of Wilson's work, it is haunted by generations of ghosts, and a long trail of past injustices.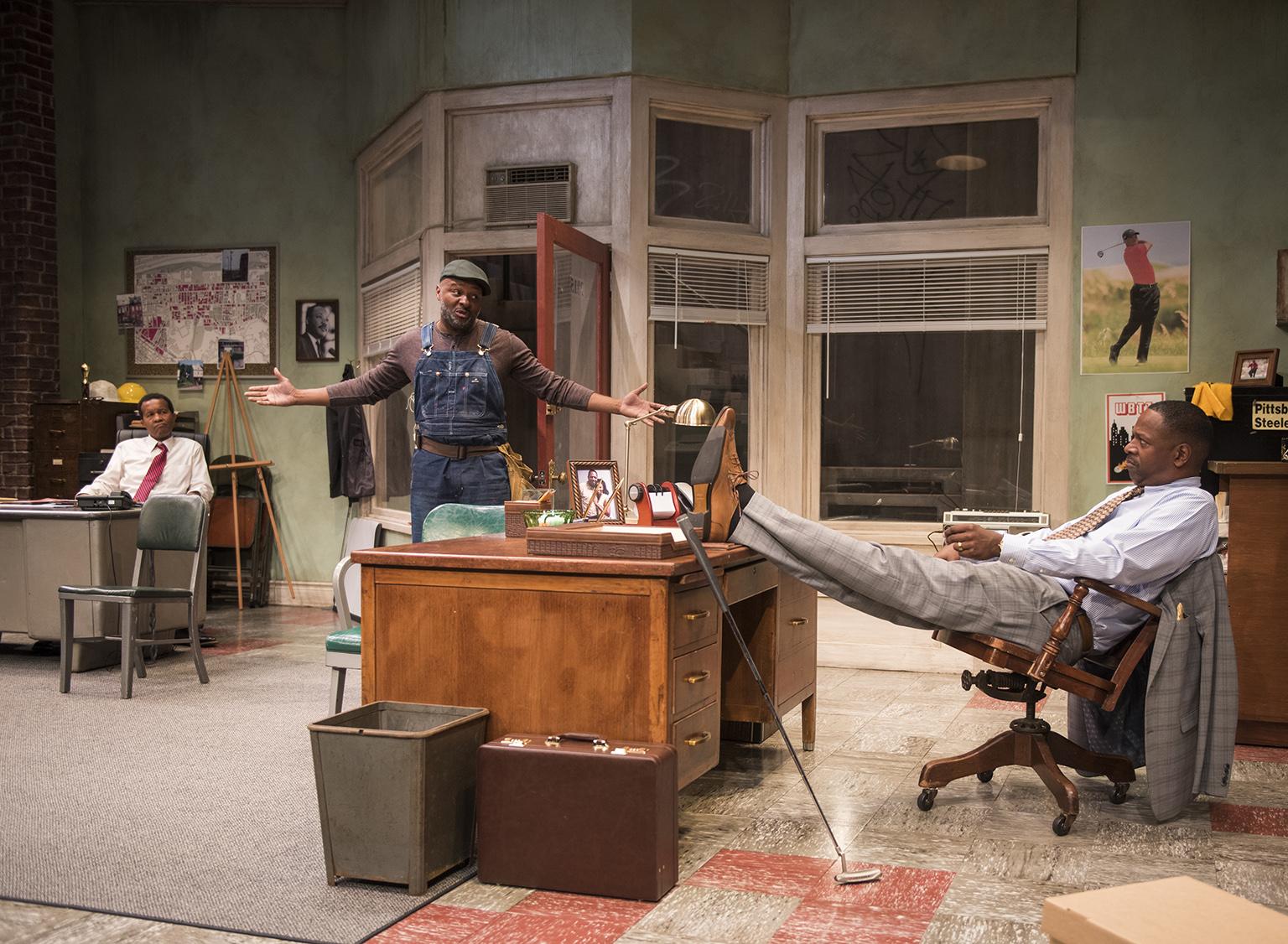 From left: Allen Gilmore, James T Alfred and James Vincent Meredith. (Photo by Michael Brosilow)
It is 1997, and Harmond Wilks (Allen Gilmore), a Cornell University-educated black man who inherited his father's real estate business, has joined forces with his friend Roosevelt Hicks (James Vincent Meredith), a newly appointed vice president of Mellon Bank (and fanatic golfer, who sees the sport as an emblem of prestige and entry into the wealthy white world), to launch the federally funded Bedford Hills Redevelopment Project designed to transform the long blighted Hill District of Pittsburgh.
A rendering of the project is ready, showing two apartment towers and the sort of retail anchors (Whole Foods, Starbucks and Barnes & Noble, then in its prime) that signify economic improvement. At the same time, Wilks is planning to run for mayor of Pittsburgh (he would be the first black person to hold the job), with his upwardly mobile wife, Mame (Ann Joseph), temporarily putting her own career on hold to serve as his campaign manager and publicist.
There is only one problem. A shabby, long-abandoned house that sits on the development site, and is scheduled for demolition, was supposedly bought by the redevelopment company, but as it turns out, it was not done to the letter of the law. And its owner, Elder Joseph Barlow (Alfred H. Wilson), now written off as a nutcase, has no intention of letting it go, even if Wilks is willing to pay him market value for the property. Backing up "Old Joe" in his battle against the powers that be is Sterling Johnson (James T. Alfred), a construction worker with a checkered past who prides himself in being his own labor union of one. (If you detect similarities to the controversy that has been swirling around plans for the Obama Presidential Center, and the objections of some residents of the South Side neighborhood where it is to be built, you will be right on target.)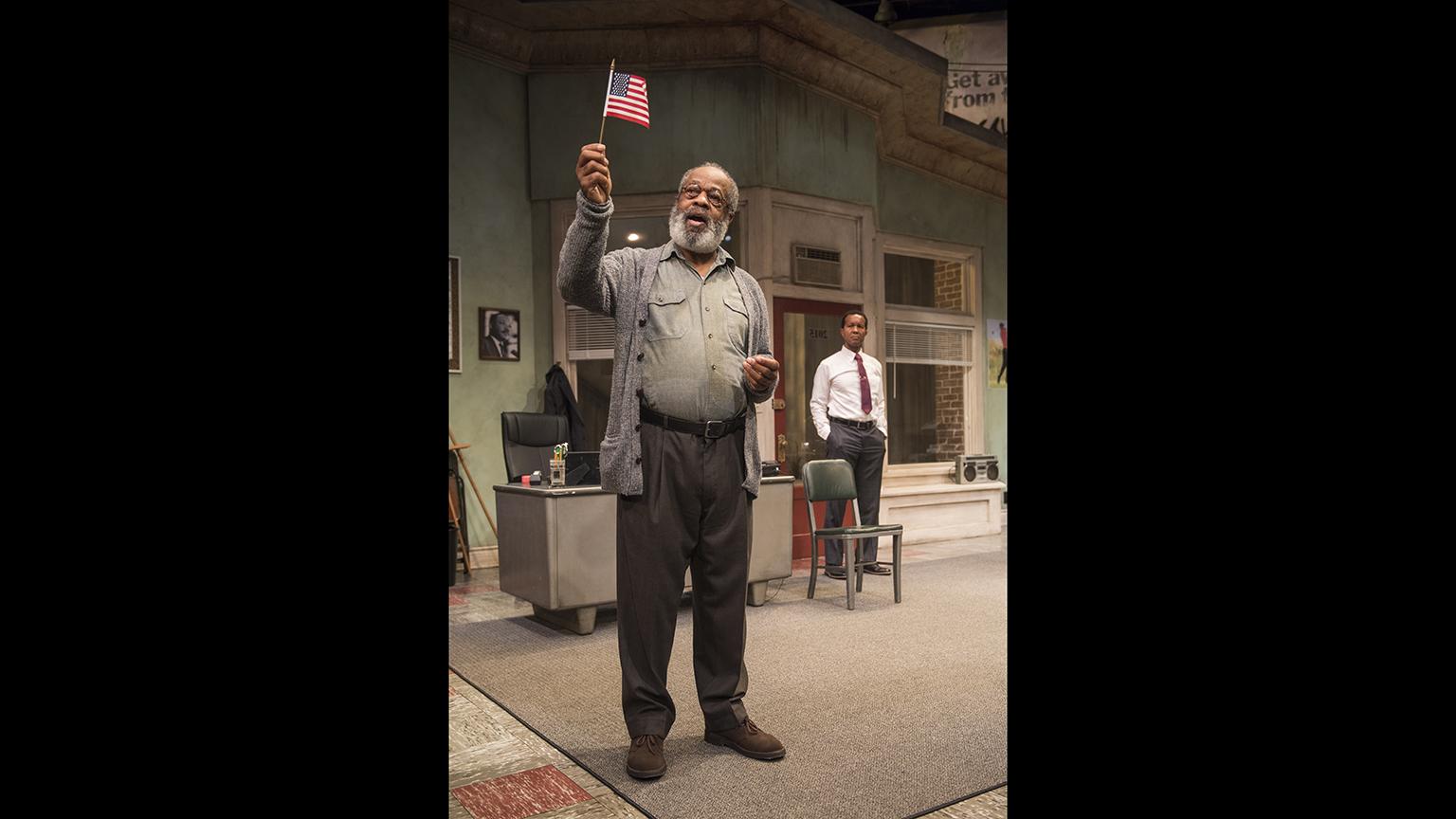 Alfred H. Wilson (Photo by Michael Brosilow)
Wilks' suggestion that the project be revised to incorporate the house as something of an homage to the neighborhood's history will not fly, and Roosevelt resents his partner's idea, claiming it will put the whole project in jeopardy. At the same time, Wilks is angry at Roosevelt for teaming up with a corrupt white power broker who is using him as the "black face" front man in a deal that will enable him to buy a radio station more cheaply because of a minority tax incentive.
The classic Wilson themes are all in place here: how the deck is stacked against the race, even once a certain level of success has been achieved; how money corrupts absolutely; how taking the moral stand involves major sacrifice; how wisdom is accrued through something far different than higher education.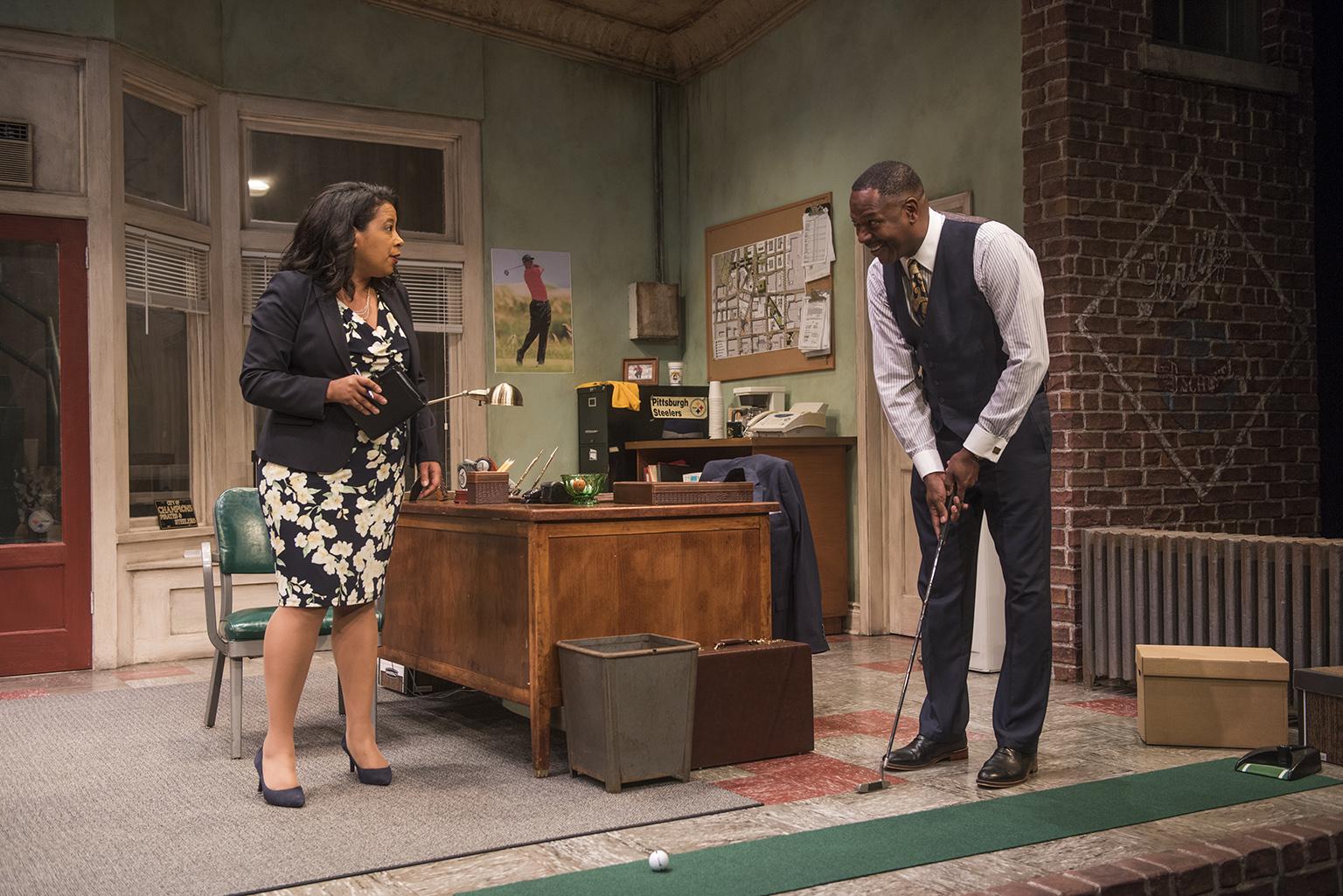 Ann Joseph, James Vincent Meredith (Photo by Michael Brosilow)
And it should be noted: Wilson plays fast and furiously with his use of the word Negro, as well as the reviled N-word, capturing both the wounding history and rage of racial discrimination those words can signify when used by black men against each other.
Had he lived longer, Wilson might have tightened the play. Nevertheless, there are many priceless speeches to be heard here – written as only he could write them, with the loopy, circuitous logic of a man who sees the power of common sense and life experience in contrast to "the law."
Gilmore brings a thoughtful low-key sense of decency to Wilks that suggests he will defy politics as usual. And as Roosevelt, Meredith deftly suggests the warping arrogance that can come with newfound success. Mame is the only female character in the play and feels a bit underwritten, but Joseph makes her hunger for recognition palpable.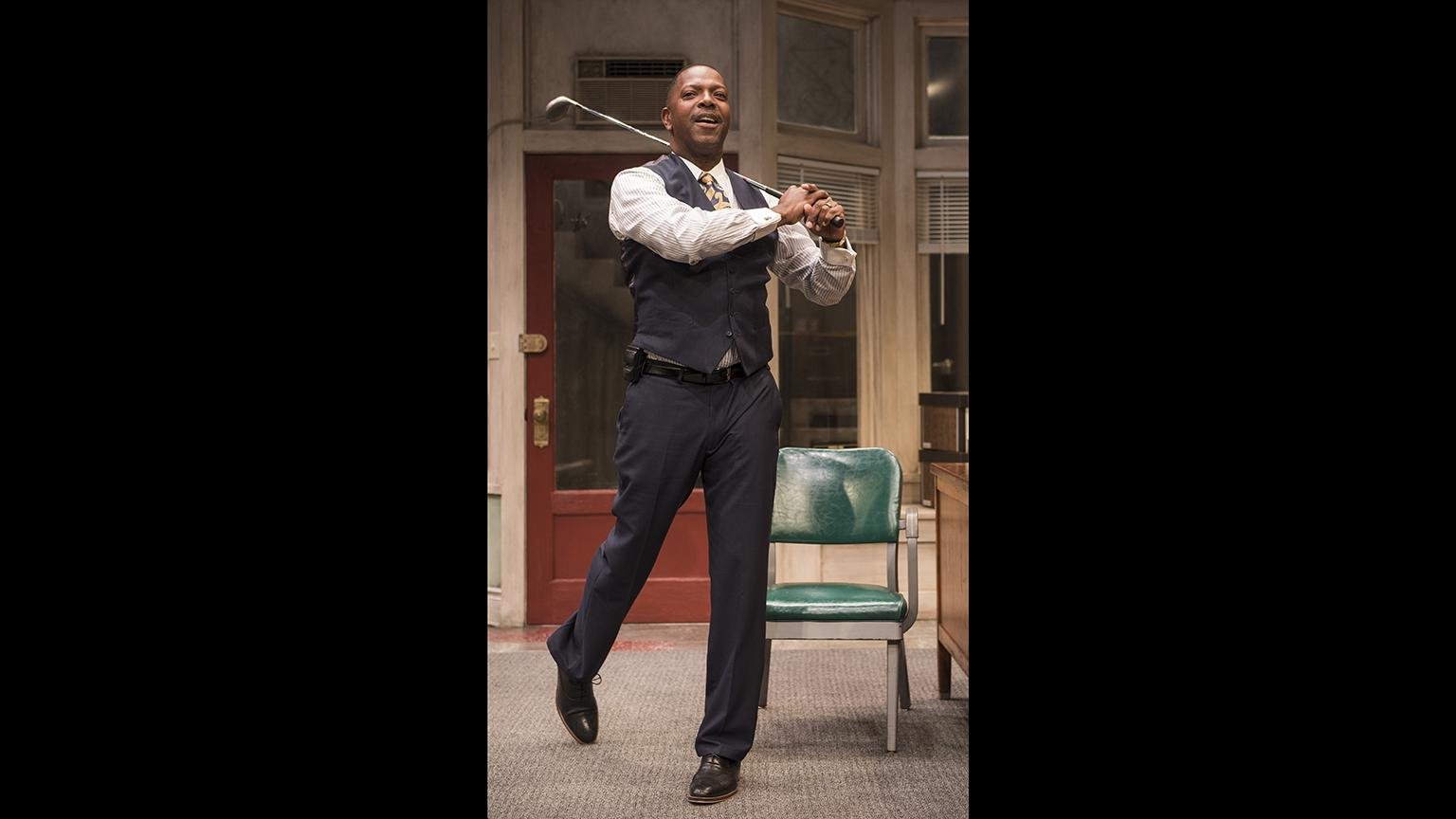 James Vincent Meredith (Photo by Michael Brosilow)
As is often the case in Wilson's plays it is the outsiders – the crazy free-thinkers – who have the most winning "arias" of self-expression and who engage in the most unorthodox forms of rebellion. And as Barlow, the man in search of a true Christian, Wilson invariably brings down the house, while Alfred's Johnson captures the crazy path of a man who has often paid for his independent spirit. Bravura turns by each.
Without giving away too much, it is the man who finally opts for the moral choice over the enriching one who becomes the play's hero as he paints his face in the ritualistic mode of a Native American preparing for war (a gesture that also finds its way into Tracy Letts' more recent play, "The Minutes") and prepares to stand up for his principles. In doing so he simultaneously assures his self-destruction and establishes his self-worth.
"Radio Golf" runs through Sept. 30 at Court Theatre, 5535 S. Ellis Ave. For tickets (50-$74), call (773) 753-4472 or visit www.courttheatre.org. Running time is 2 hours and 30 minutes with one intermission.
Follow Hedy Weiss on Twitter: @HedyWeissCritic
---
Funny, Heartbreaking 'No Child' Taps Into the Art of Education
Chicago Talent Headlines Bernstein's 'Candide' in Knoxville, Tennessee
Black Button Eyes Brings John Collier's Twisted Stories To Life
2018 Equity Jeff Award Nominations Announced
---