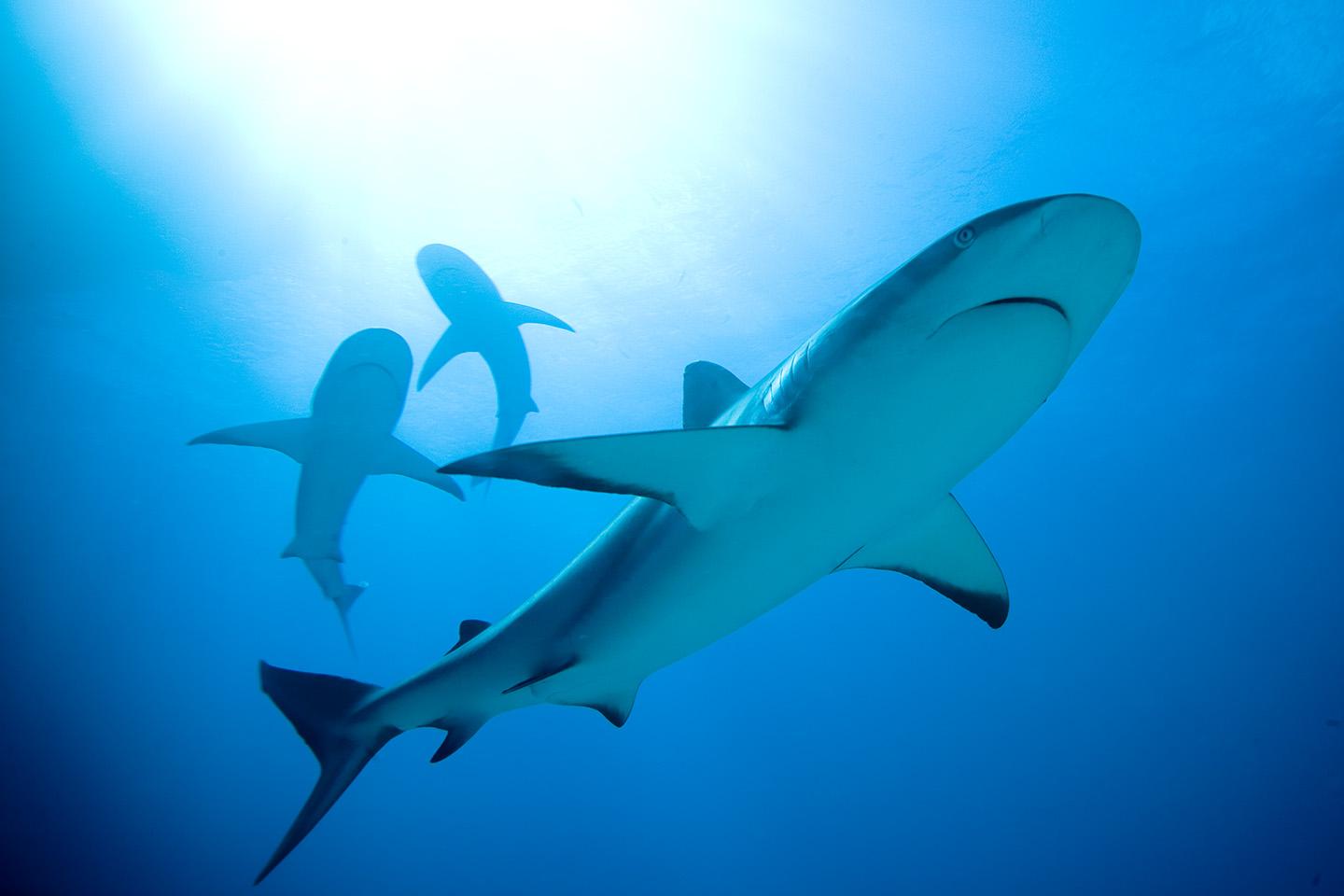 A group of Caribbean reef sharks swims in the Bahamas' shark sanctuary, which prevents harvesting of shark species anywhere within a 630,000 square-kilometer safe haven of Bahamian waters. (Courtesy Shedd Aquarium)
With the 30th anniversary of the Discovery Channel's popular "Shark Week" fast approaching, the Shedd Aquarium is calling on visitors to help protect a key habitat for "one of the world's most misunderstood species."
Through a new "digital conversation and advocacy campaign" titled #KeepSharksSwimming, the Chicago aquarium is asking visitors to sign a petition in support of protecting a shark sanctuary in the Bahamas. The island country maintains a 630,000 square-kilometer refuge in Bahamian waters that prevents harvesting of shark species for commercial or recreational purposes.
Despite their reputation as violent killers, sharks are much more likely to be killed by humans than vice versa, according to the World Wildlife Fund. In fact, overfishing of sharks has led to population declines for many shark species across the globe, said Dr. Steve Kessel, Shedd's director of marine research.
Kessel leads Shedd's shark conservation programs in the Bahamas, conducted in partnership with the country's Department of Marine Resources and the Bahamas National Trust.
"We really do need to protect these diverse hot spots for shark populations," he said. "Sharks are pretty easy to protect [when identified for conservation], but they don't have the ability to recover from targeted fishing."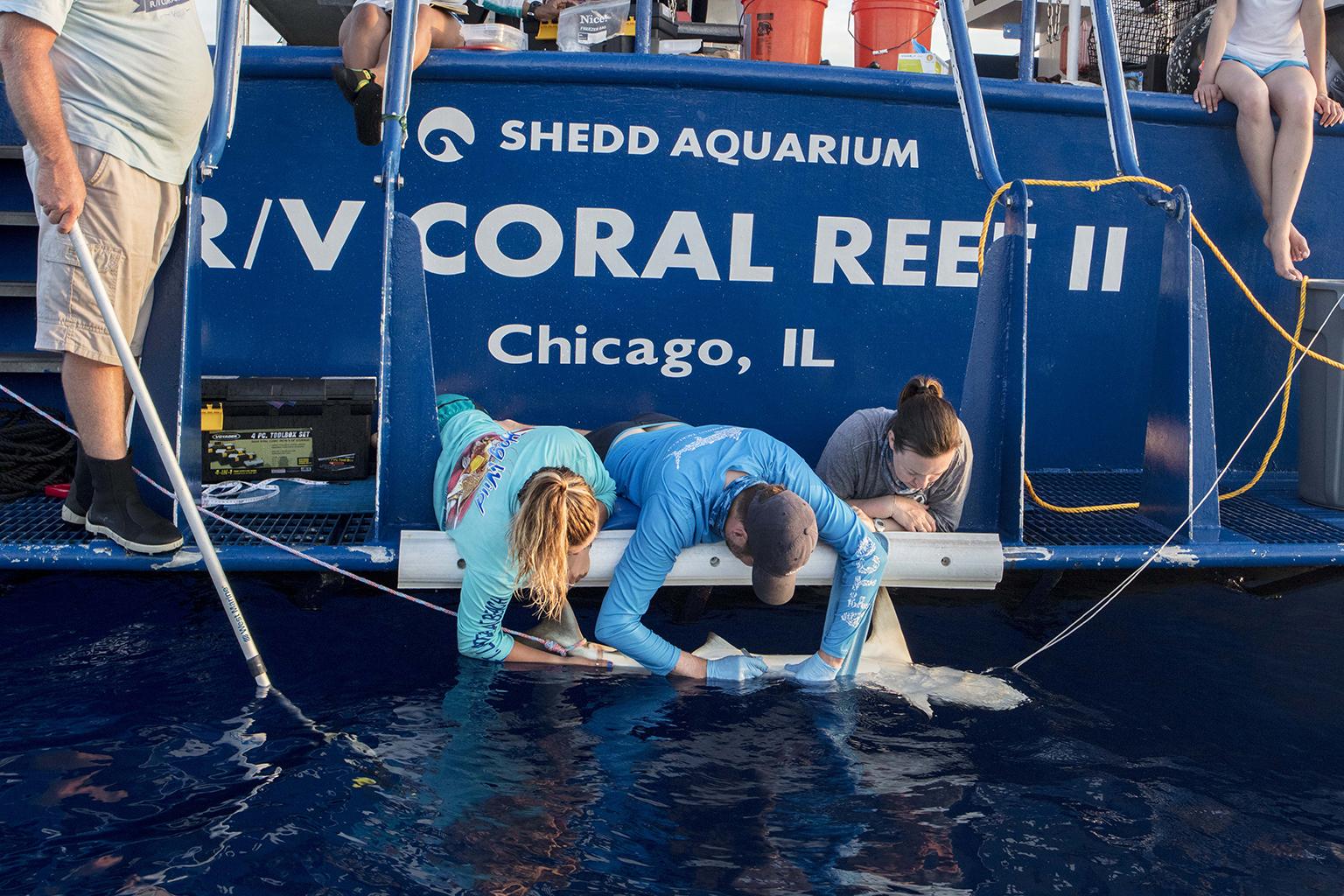 From the back of Shedd Aquarium's research vessel, the R/V Coral Reef II, Dr. Steve Kessel, middle, collects tissue samples from a Caribbean reef shark (Carcharhinus perezii) alongside two field research assistants, Abby Nease, left, and Jill Brooks. (Courtesy Shedd Aquarium)
Shedd's new website for the conservation campaign includes a series of 360-degree videos aimed at bringing people closer to sharks – virtually. In one video, viewers "swim" alongside Kessel as he studies protected sharks in the Bahamas. In another, viewers "dive" into the aquarium's Wild Reef tank to see how staff care for the 20-plus sharks in the exhibit.
Shedd will also provide virtual reality headsets to give visitors an up-close experience with sharks at a number of the aquarium's scheduled Shark Week events. 
Shark diving is a popular tourist activity in places like the Bahamas, but many will never have the chance to see the fascinating sea creatures in such an intimate way, Kessel said.
"The real dream for every ocean enthusiast is to be in the ocean with sharks," he said. "This is kind of the closest thing to that experience without actually being there."
Where did the shark's reputation as a ruthless predator originate? Kessel said much of it comes from the 1975 thriller "Jaws," which features a giant man-eating great white shark that attacks beachgoers in a fictional New England resort town. The film is among the ten highest grossing movies in U.S. history.
"It really made [several] generations scared of sharks," Kessel said. "But it did also inspire a lot of people. It was 'Jaws' that really pushed me to sharks as an interest."
As Kessel and many others have come to understand, sharks are vitally important beyond their role in cinema. As apex predators, or species with no natural predators, sharks feed on animals beneath them in the food chain, which helps regulate and maintain a balanced marine ecosystem.
"I think there's been a real positive change in the opinion of sharks, particularly in the last decade," Kessel said.
Kessel noted that in 2012, Illinois became the first inland state to ban the sale, trade or distribution of shark fins.
"A lot of people struggle to see the relationship between Chicago and sharks, but I think it's becoming increasingly more obvious that the things we do everywhere affect the oceans," he said.

Shedd has a number of related activities planned for "Shark Week," which runs July 22 to 28:
Virtual Swim
11 a.m. to 3 p.m., Sunday, July 22
Saint Sabina Church, 1210 W. 78th Place
Free
Shedd's new traveling aquarium kicks off "Shark Week" by stopping in the Gresham neighborhood, where guests can use a virtual reality headset to "swim" with sharks.
---
Science Pub: Shark Trivia
7:30 p.m., Tuesday, July 24
Trader Todd's, 3216 N. Sheffield Ave.
$15; ($10 for Shedd members), with proceeds supporting Shedd's shark conservation programs. Tickets available online.
Shedd shark scientist Steve Kessel hosts a special "Shark Week" trivia night, complete with a shark-themed menu and cocktail, prizes and giveaways.
---
Jazzin' at the Shedd
5-10 p.m., Wednesday, July 25
Shedd Aquarium, 1200 S. Lake Shore Drive
$25 (free for members). Tickets available online.
A special shark-themed version of Shedd's Wednesday night summer series, Jazzin' at the Shedd, features loads of information for shark enthusiasts and a discussion by Shedd shark scientist Steve Kessel about his ongoing conservation research project in the Bahamas.
---
Sip for Sharks
Monday, July 23 through Friday, July 27
aliveOne, 2683 N. Halsted St.
Easy Bar, 1944 W. Division St.
Estelle's, 2013 W. North Ave.
Remedy, 1910 N. Milwaukee Ave.
The Owl, 2521 N. Milwaukee Ave.
Bar and restaurant company Four Entertainment Group donates a portion of proceeds for every full-price signature house cocktail sold at five of its Chicago locations to the aquarium's Shedd the Straw campaign, an effort to decrease the use of single-use plastic straws. The bars will also show aquatic-themed movies such as "Free Willy" and "JAWS."
---
Shark Feeding Tour: Behind-the-Scenes in Wild Reef
9:45 a.m. Saturdays and Sundays
Shedd Aquarium, 1200 S. Lake Shore Drive
For Shark Week only, an additional tour will be offered at 9:45 a.m. on Tuesday, July 24
$89.95 for guests age 12 and older; $80.95 for guests ages 10-11; ($54 for members). Tickets available online
Dive into Shedd's Wild Reef with a 90-minute guided exploration into how the aquarium's experts care for the 20-plus sharks that live in the exhibit's habitat.
---
Hands-On Activities at Shedd
Saturday, July 21 through Friday, July 27
Caribbean Reef, Oceans Gallery and Wild Reef exhibits
Shedd Aquarium, 1200 S. Lake Shore Drive
Activity stations throughout the aquarium will help guests learn more about the 11 species of sharks that live there, including during daily shark chats.
Contact Alex Ruppenthal: @arupp | [email protected] | (773) 509-5623
---
Related stories:
New Shedd Shark Expert on Aquarium's Conservation Efforts