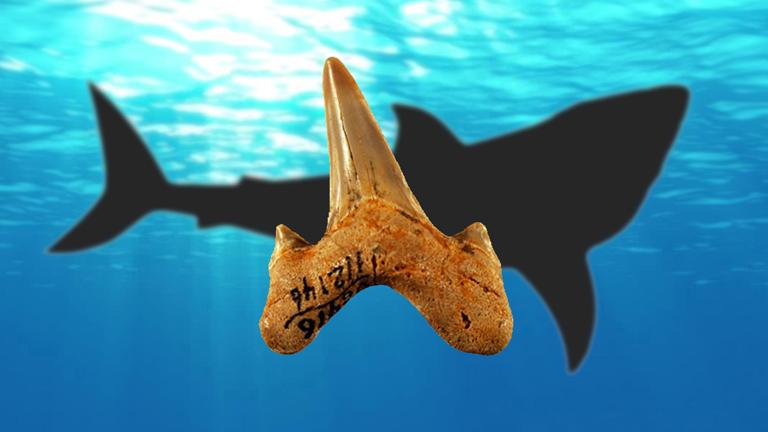 The discovery of a new shark species "tells just how little we still know about our ancient marine ecosystem," said DePaul University professor Kenshu Shimada. (Kenshu Shimada / DePaul University)
About 20 million years ago a 13-foot predator swam in warm, shallow seas across the globe. This extinct shark was recently discovered by an international team of researchers led by a DePaul University professor.
The newly identified shark—Megalolamna paradoxodon—is "an exceptionally rare shark," said DePaul University professor Kenshu Shimada, who discovered the new species.
While exploring the University of California at Berkeley collections, Shimada said he "unexpectedly found" a yet-to-be studied fossilized shark tooth that was originally discovered in 1974.
"Through communication with colleagues and amateur fossil enthusiasts around the globe, I found out that there were more examples of the species from other parts of the world," he said.
Teeth up to 1.8 inches tall have been discovered in California, North Carolina, Japan and Peru.
Megalolamna paradoxodon had "acutely pointed front teeth," suggesting the shark preyed on medium-sized fish, rather than large animals like whales, Shimada said.  
"The fact that such a large fossil shark with such a global distribution had evaded recognition until now was a big surprise to me," he added. "This tells just how little we still know about our ancient marine ecosystem."
This new shark belongs to the same group of sharks (called Lamniformes) as modern-day great white and mako sharks, and could be considered a close relative of the massive megalodon that could reach well over 30 feet in length.
Both Megalolamna paradoxodon and megalodon were members of the extinct Otodontidae family. "There are no close relatives [of Megalolamna paradoxodon] in the modern seas," Shimada said.
The discovery has also led to more questions about the evolution of sharks. When classifying the new species, researchers discovered a 45-million-year gap between the presumed origin of the Megalolamna lineage and the arrival of this new species. Scientists wondered if there were more unaccounted for sharks.  
"The gap suggests that there must have been one or more Megalolamna species present during the time span that we simply have not yet found or recognized," he said.
Follow Kristen Thometz on Twitter: @kristenthometz
---
Related Stories
Field Museum Fossil Identified as Early Relative of Dogs, Bears
Oct. 14: Thanks to an inquisitive Field Museum researcher, a nearly 40-million-year-old fossil housed at the institution has been identified as one of the earliest relatives of dogs, bears and foxes known as a beardog. 
---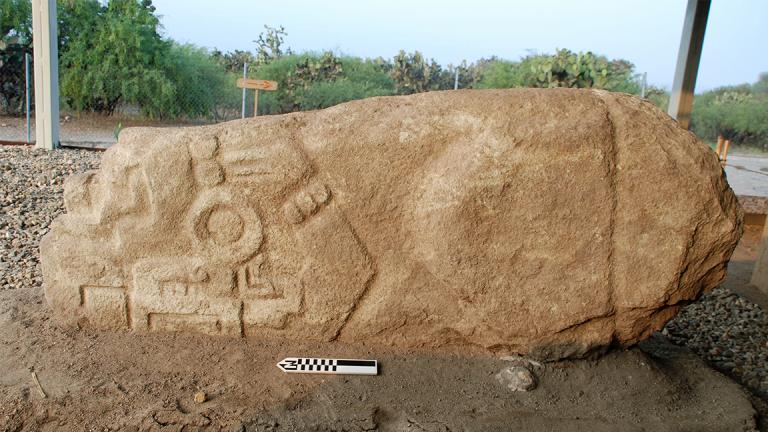 Field Museum Archaeologists Find Centuries-Old Crocodile Stone
Sept. 2: Field Museum archaeologists made an unexpected find while excavating an the site of an ancient city in southern Mexico.
---
April 23, 2014: Chris Fischer of OCEARCH is a man who tracks great white sharks, enabling scientists to learn about the mating, migratory patterns of the oceans' top predator. 
---