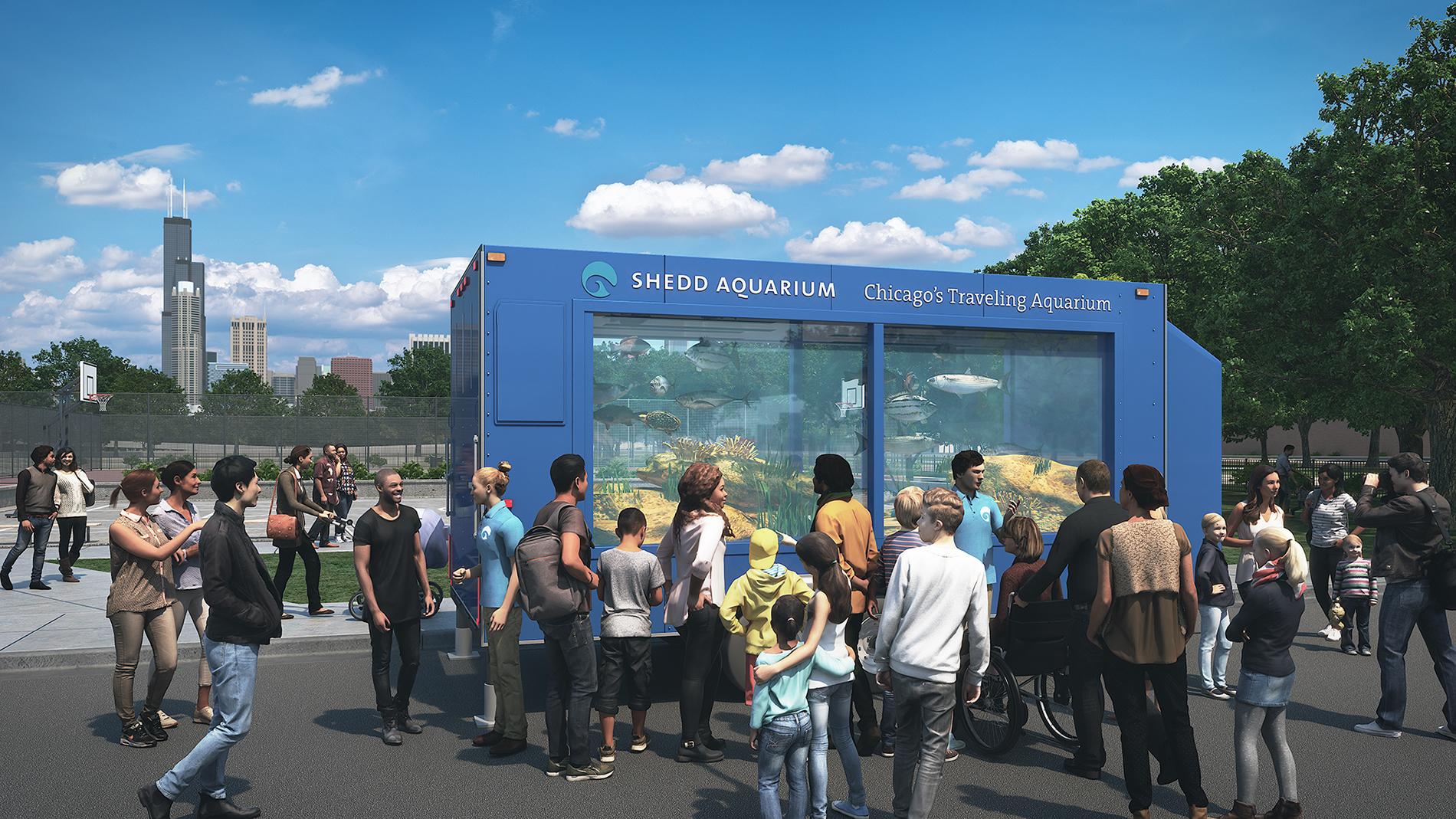 A graphic rendering of Shedd Aquarium's new mobile aquarium, which is scheduled to launch in July. (Courtesy Shedd Aquarium)
Shedd Aquarium is rolling out several new outdoor programs this summer aimed at bringing Chicagoans closer to local waters and aquatic life, including a traveling aquarium on wheels that will pop up in neighborhoods across the city.
Shedd this week also announced plans to offer 90-minute boating trips on the Chicago River and Lake Michigan, along with kayaking excursions exploring the larger Chicago River ecosystem.
The new programs, set to begin in July, will be led by aquarium staff and include interactive elements, such as examining fish scales and fossils, exploring the lake with underwater robots and taking measurements of growing plants along the river.
"Looking nature in the eye has never been more necessary or powerful," said Shedd President and CEO Bridget Coughlin in a statement. "There is a widening disconnect between people and nature, and we are determined to close that gap."
Shedd's new mobile aquarium will make planned visits across the city but will also pop up unannounced at various sites. The traveling aquarium, provided by the Ohio River Valley Water Sanitation Commission, will allow guests to identify plants and animals native to the Great Lakes.
Shedd staff will also share information about the dangers of plastic pollution to bodies of water as part of the aquarium's ongoing Shedd the Straw campaign, an effort to decrease the use of single-use plastic straws and other plastics.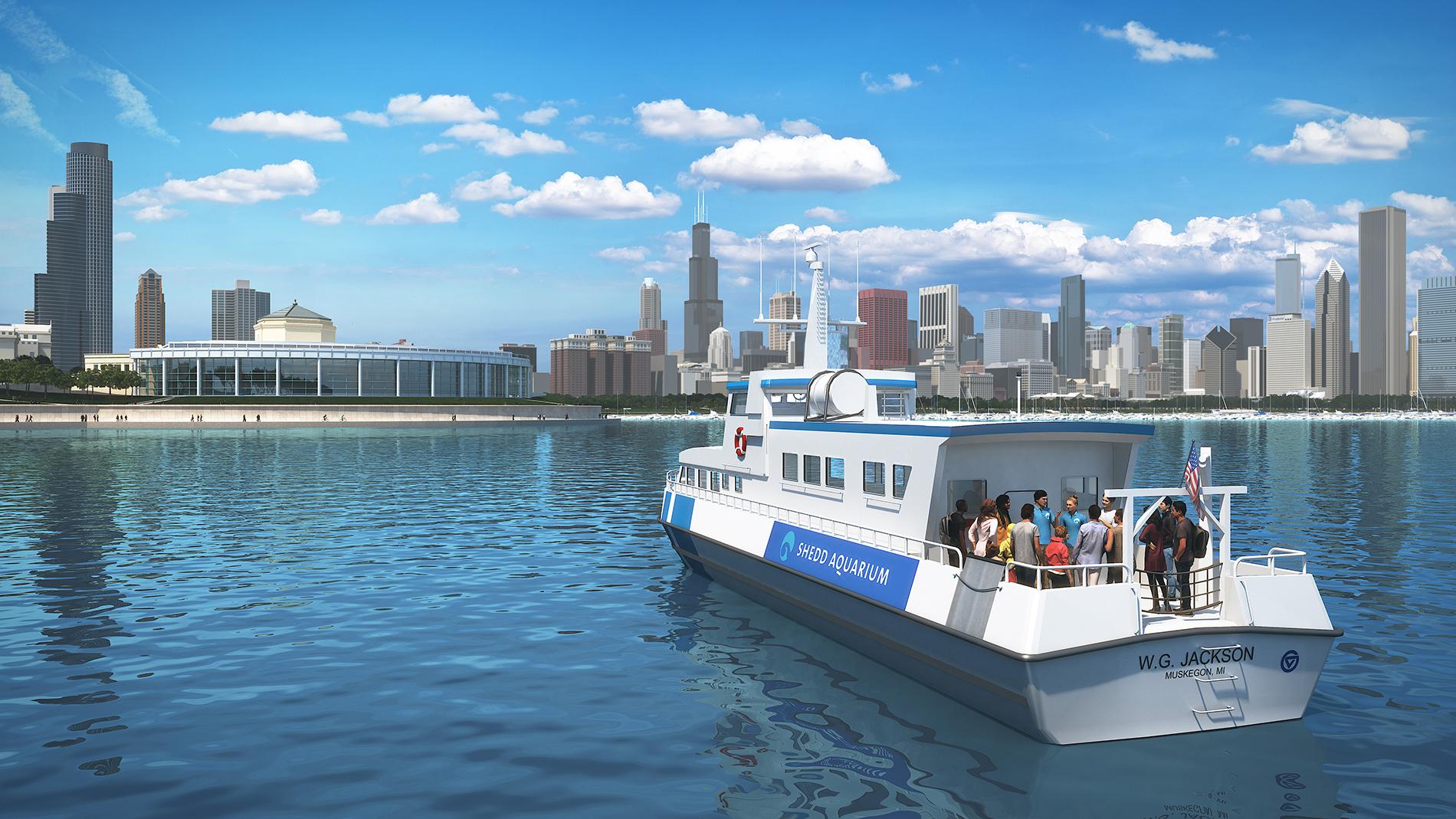 A graphic rendering depicting Shedd Aquarium's new 90-minute boating experiences, which will take place on the Chicago River and Lake Michigan starting in July. (Courtesy Shedd Aquarium)
During Shedd's new boating experiences, participants will roll up their sleeves and conduct water experiments and analysis while learning how a research vessel operates. Using tools employed by Shedd experts, guests will be able to measure the depth, clarity and temperature of the water. Samples will then be analyzed using microscopes to reveal plankton, tiny organisms that drift in the water, along with unwanted materials, such as microplastics.
Another boating program will use underwater robots to monitor and explore depths of Lake Michigan that are difficult to reach.
One boat will be reserved for community organizations in the city and will offer both lake and river experiences, while another will provide lake trips for groups of up to 28 people. The cost is $20 for Shedd members and $25 for non-members. The boating experiences will run July 23-27 and can be booked on Shedd's website.
Finally, the aquarium is launching a Kayak for Conservation program designed to introduce residents to the Chicago River and other waterways that play a vital role throughout the region. Open to those with or without kayaking experience, the program will allow participants to take plant measurements and document local species while removing litter and invasive plants.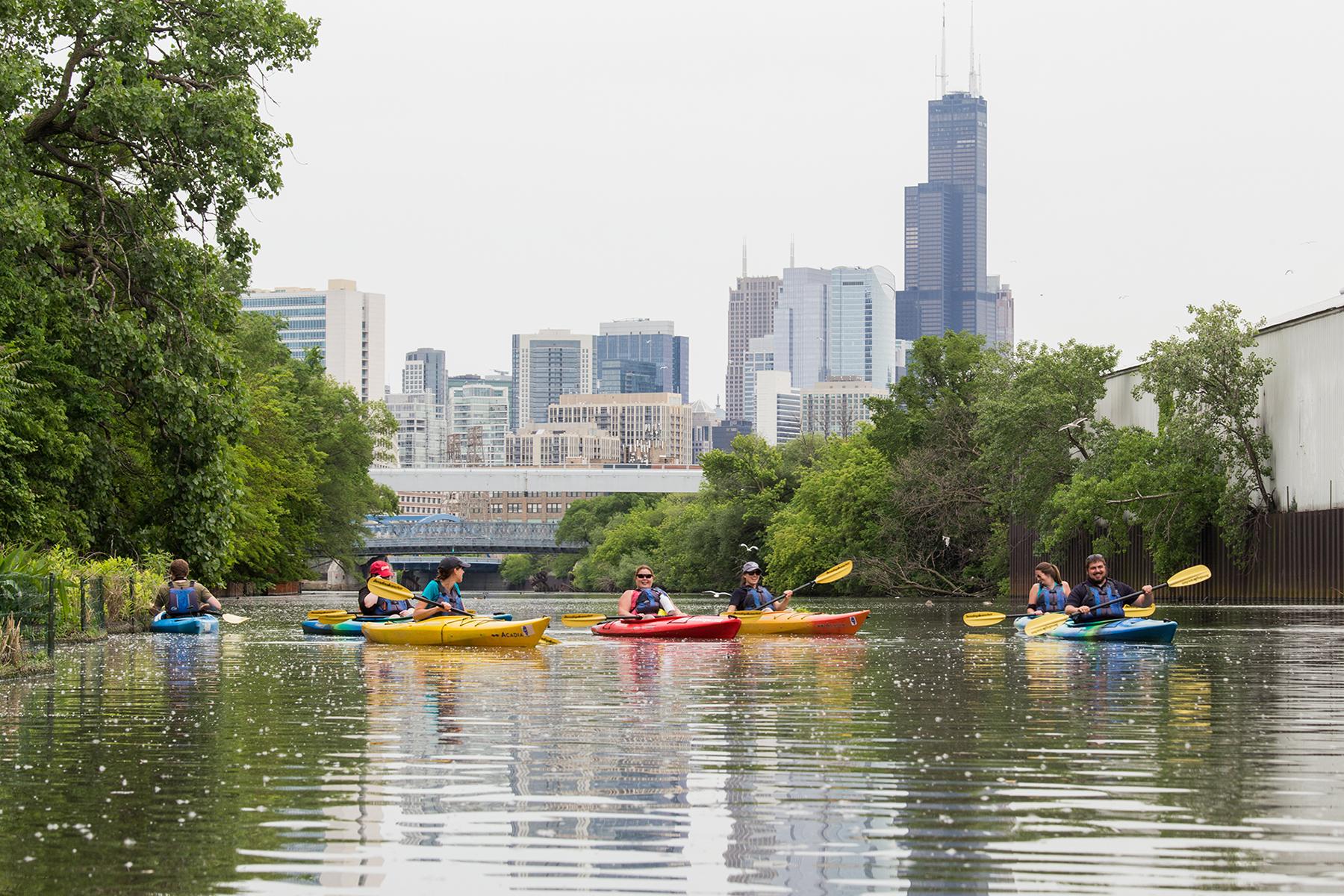 Shedd Aquarium's new Kayak for Conservation program aims to introduce residents to the Chicago River ecosystem and the wildlife that call the waters home. (Hilary Wind / Shedd Aquarium)
Kayakers will also stop at Shedd's new River Island, a 260-square-foot structure designed and built in partnership with the nonprofit Urban Rivers. The island, which is scheduled to be installed July 6, will host up to 15 different plant species that grow above and below the surface and will feature habitat structures intended to welcome wildlife, such as fish, turtles and ducks.
The island is part of Urban Rivers' vision to transform the industrial channel east of Goose Island into the world's first mile-long eco park, featuring floating gardens, wetlands, public walkways and kayak piers.
The kayaking programs will run from July 12 through Oct. 27, from 2 to 4 p.m. on Thursdays and 9 to 11 a.m. on Saturdays. Evening paddling trips will run on the third Thursday of each month.
For more information, visit Shedd's website.
Contact Alex Ruppenthal: @arupp | [email protected] | (773) 509-5623
---
Related stories:
Shedd Aquarium's New Exhibit is All About Beauty