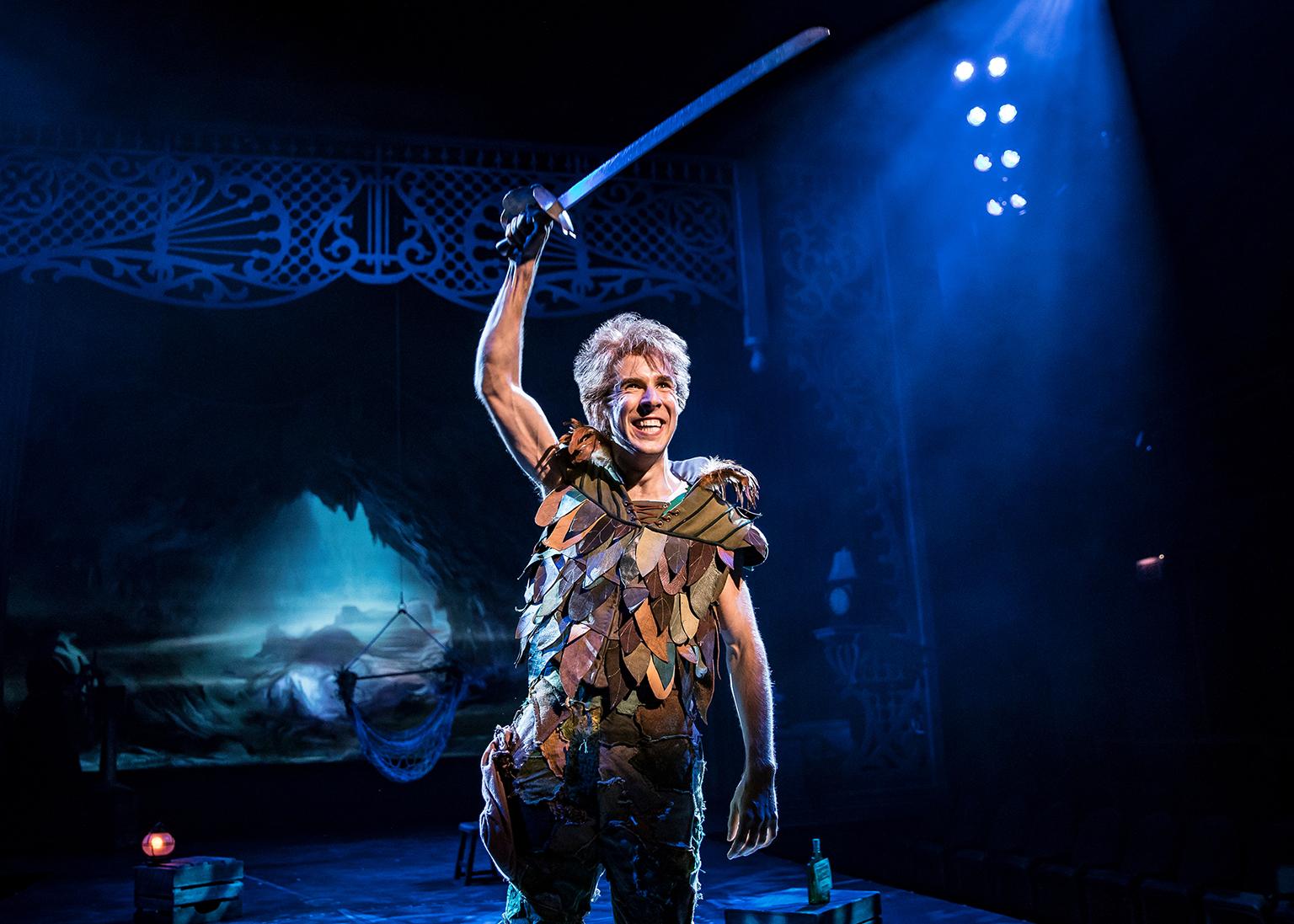 Peter Pan (Johnny Shea) in "Peter Pan – A Musical Adventure," directed and choreographed by Amber Mak. (Photo by Liz Lauren)
From the moment in 1904 when Scottish writer J.M. Barrie first put his character, Peter Pan, on a London stage, the boy who steadfastly refused to grow up, flew off to the island of Neverland to escape adulthood, and lived a life full of adventure, has been a mainstay of the theater, and later film and television. And each generation has found its own particular Peter, whether by way of actresses Mary Martin, Sandy Duncan or gymnast Cathy Rigby, a Disney animated film, or countless other iterations.
This summer, for its grand-scale family musical, the Chicago Shakespeare Theater has chosen "Peter Pan – A Musical Adventure," the 1996 version of the story that features a score by the British team of composer George Stiles and lyricist Anthony Drewe, with a script by Elliot Davis (based on a book by Willis Hall and the original play by Barrie).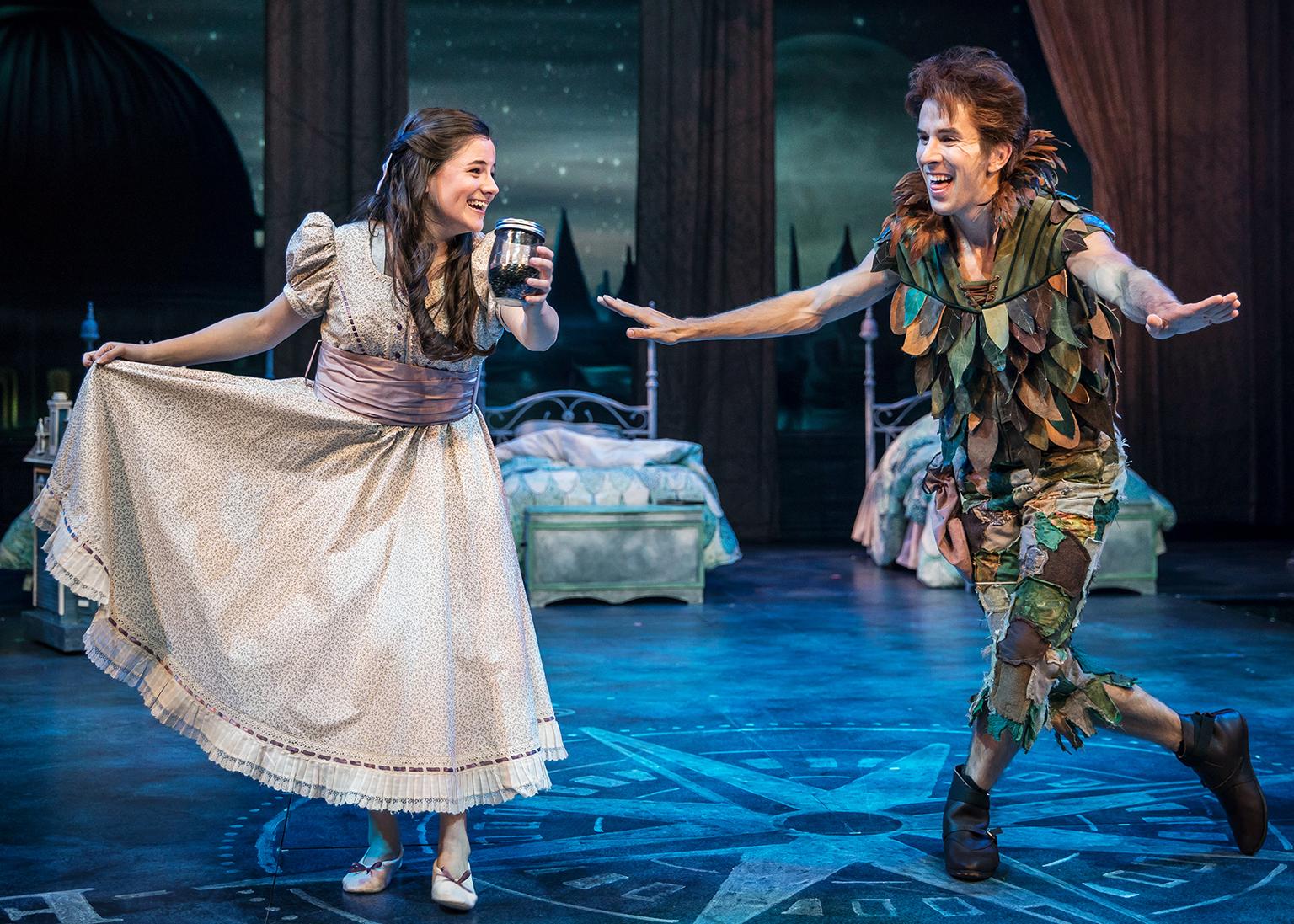 Elizabeth Stenholt and Johnny Shea in "Peter Pan – A Musical Adventure." (Photo by Liz Lauren)
The elaborately produced 75-minute show – winningly directed and choreographed by Amber Mak, with music direction by Kory Danielson, exceptionally fine aerial work by ZFX Flying Effects, and an exemplary cast and design team – has all the energy and magic necessary to keep young audiences engaged. At the same time, the adult aspects of the story emerge with particular force and clarity – from the sense of responsibility that comes with marriage and parenting, to the sometimes differing attitudes of men and women in regard to those things, to a full acceptance of aging and mortality.
Although the familiar 1954 score by Mark "Moose" Charlap, Carolyn Leigh (and others) remains in a class all its own – and holds a certain nostalgic charm for me – there is a lovely lyricism and wistfulness to the songs in this Stiles-Drewe version. And the initial flying song, "Never Land," which is broken into two words here as opposed to one, even takes on a bit of a fresh meaning, becoming not just a place (Neverland), but an admonition to keep flying to new adventures in one's life.
In addition, Mak and her actors make the male-female dichotomy exceptionally clear, with the clueless Peter in search of a mother while Wendy is hoping for romance.
Johnny Shea, who resembles a young Benedict Cumberbatch, is not only a notably fleet and natural Peter who easily steers clear of cuteness, but he also is an exceptionally fine flyer who soars up to a perch on the theater's top balcony with easy confidence while singing in full voice.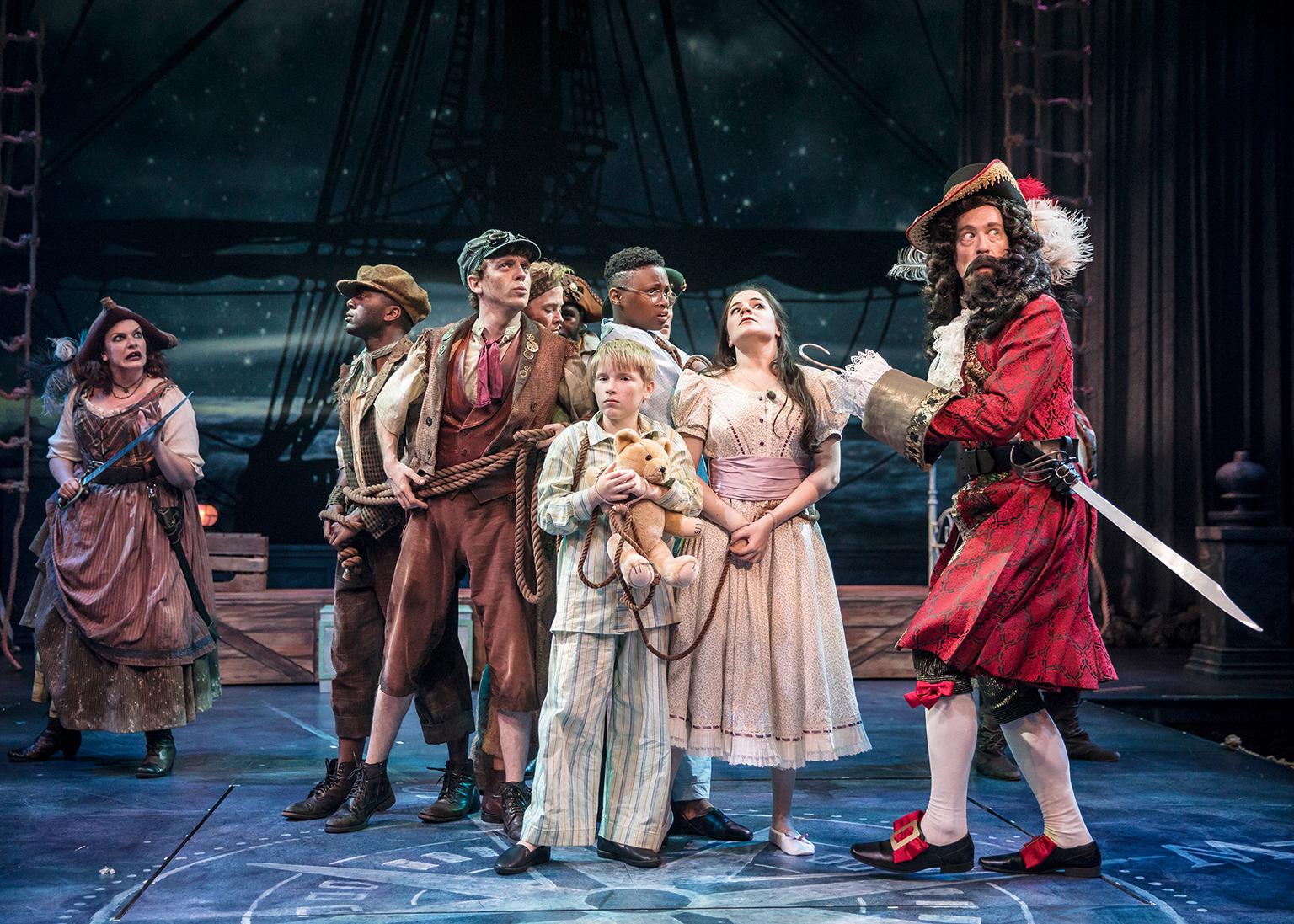 Captain Hook (James Konicek) taunts the captured Lost Boys and Darling siblings, with the help of Starkey (Christina Hall) in "Peter Pan – A Musical Adventure." (Photo by Liz Lauren)
Elizabeth Stenholt's Wendy possesses both strength and warmth, and she does a fine job of mothering Peter and his rowdy pals, the Lost Boys (an exuberant quartet of singer-dancers that includes Colin Lawrence, Travis Austin Wright, Michael Kurowski and John Marshall Jr.), while maturing in full sight and realizing that she must return home. And as the Storyteller (and fully evolved Wendy), the elegant Rengin Altay brings a wise and bittersweet resolution to the musical.
The rich-voiced Roberta Burke is the ever-anxious mother of Wendy and her younger brothers John (Cameron Goode) and Michael (Carter Graf), and introduces the show's fervent anthem, "Just Beyond the Stars." And James Konicek morphs perfectly from the inept and comically narcissistic Mr. Darling to the self-important, vengeance-hungry Captain Hook, who commands his jaded assistant Smee (the earthy Sean Patrick Fawcett) and pirate crew (Christina Hall, Jonathan Butler-DuPlessis and Burke).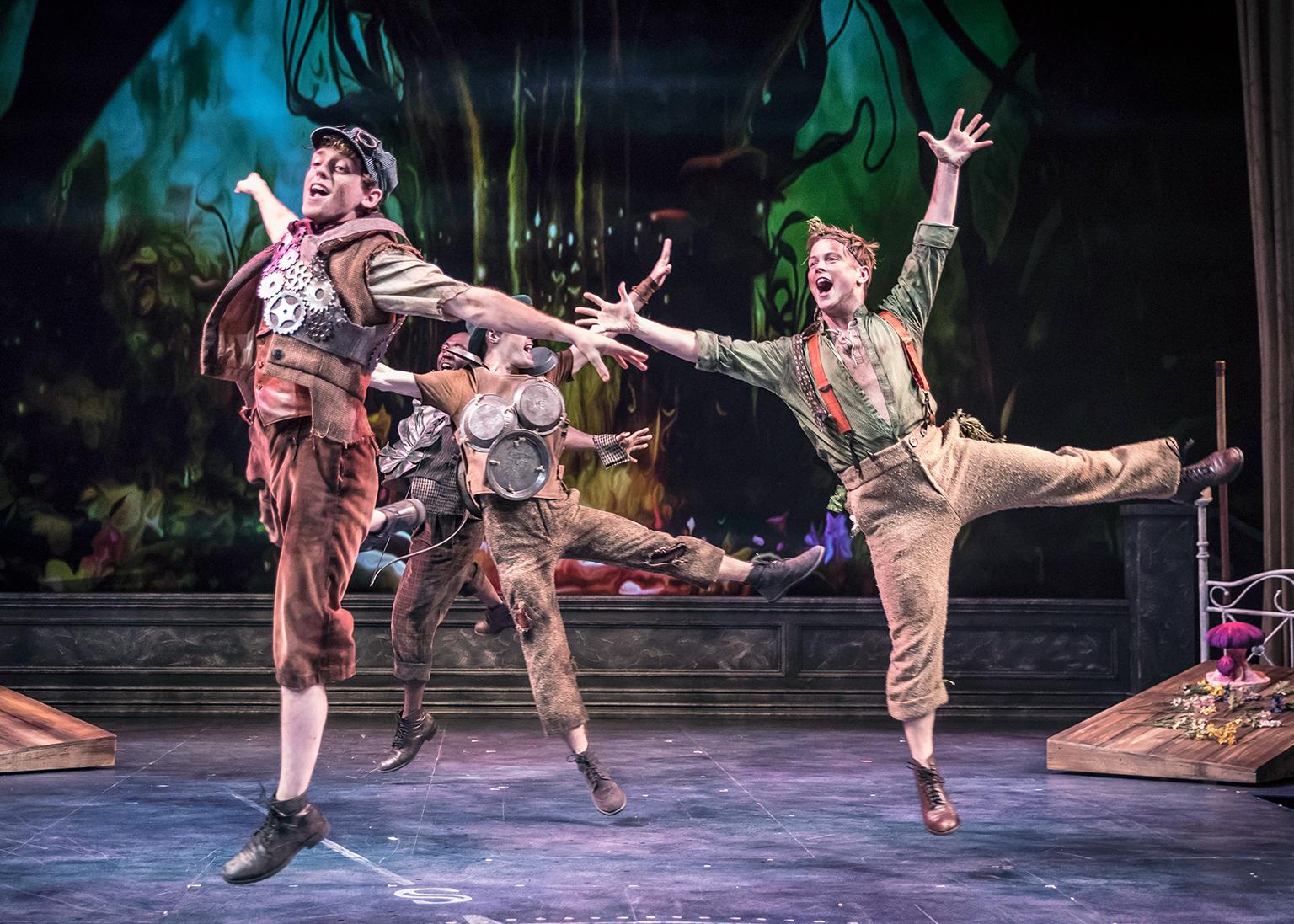 Toodles (Michael Kurowski), Nibs (Travis Austin Wright), Curly (Colin Lawrence) and Slightly Soiled (John Marshall Jr.) in "Peter Pan – A Musical Adventure." (Photo by Liz Lauren)
DuPlessis also easily steals the show early on as Nana, the Darling family's giant watchdog who is brilliantly costumed in shaggy gray fringe by designer Theresa Ham.
Conductor-keyboardist Danielson leads an excellent group of musicians (Julia Schade Armstrong, Dominic Trumfio, Dave Saenger and Ethan Deppe). Jerry Galante's fight choreography is full of daring. And the ever-masterful Jeff Kmiec – aided and abetted by Greg Hofmann's exquisite lighting and Mike Tutaj's projections – has devised an altogether magical set that moves with dreamy ease from London steeples, to island vegetation, to the deck of a pirate ship.
Mak has dedicated this production to her friend and mentor, Rachel Rockwell, the immensely talented director-choreographer who died of cancer earlier this year at the age of just 49. As the program notes, "Rockwell showed us [as Barrie wrote], that 'All the world is made of faith, and trust, and pixie dust.'"
A most fitting tribute.
"Peter Pan – A Musical Adventure" runs through Aug. 19 at the Chicago Shakespeare Theater, 800 E. Grand Ave., on Navy Pier. For tickets ($34 for adults and $22 for children 12 and under) call (312) 595-5600 or visit www.chicagoshakes.com. Running time is 75 minutes with no intermission.
Note: This summer's free Chicago Shakespeare in the Parks production is "A Midsummer Night's Dream," directed by CST's artistic director Barbara Gaines. The 75-minute, music-filled show will visit 18 neighborhood parks throughout the city, with 25 performances from July 25-Aug. 26. In addition, to help celebrate the 2028 Illinois Bicentennial, the production will head out on its first "tour," playing Aug. 18 and 19 in Peoria's Glen Oak Park. For the full schedule visit www.chicagoshakes.com/parks.
---
At Goodman and Steppenwolf, 2 Plays That Mirror Each Other While Stretching Believability
Mercury Theater's 'Avenue Q' Revival Taps Into Irresistibly Funny Truthiness of Life's Disappointments
Clunky 'Cher Show' Better Suited for Vegas Than Broadway
In Suzan-Lori Parks' Epic Civil War Ballad, the Unbearable Weight and Complexity of Freedom
'Mies Julie' a Shattering Reworking of a Strindberg Classic
---