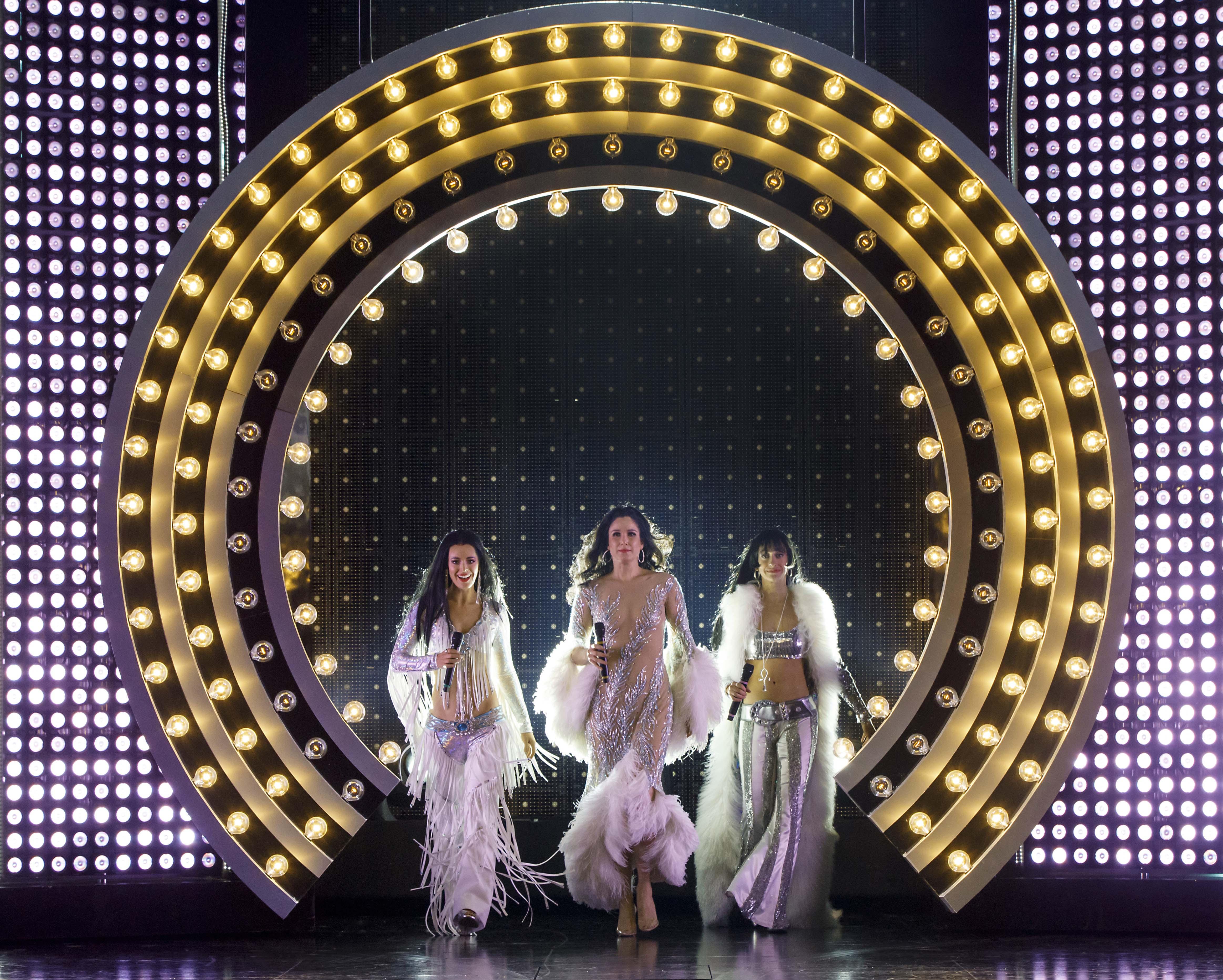 Teal Wicks, Stephanie J. Block and Micaela Diamond in "The Cher Show" at Broadway in Chicago's Oriental Theatre. (Photo by Joan Marcus)
Part retro jukebox, and part biography of the enduring singer, actress, businesswoman and fashionista who has won Grammy, Emmy and Academy Awards and been part of the pop scene since the early 1960s, "The Cher Show," the new musical now at the Oriental Theatre in what is being billed as its "pre-Broadway premiere" is a flashy, high-budget floor show of a production. And were its eponymous star not still working her tail off with a full touring schedule of engagements that (in just the remainder of 2018) will take her from Atlantic City, New Jersey, to Australia, and then back to her ever-dependable fan base in Las Vegas, I'd suggest its producers jettison their plans for any future Broadway run and simply drop the show down on a stage in Vegas, which is where it belongs.
Featuring the widely familiar song list that spans the many decades of the singer's career (orchestrated and arranged by Daryl Waters), the show comes with a surprisingly perfunctory, often clunky book by Rick Elice (who did such a fine job with "Jersey Boys"), and with pedestrian direction by Jason Moore and choreography by Christopher Gattelli. It makes all the predictable stops as it chronicles the life, loves, ever-morphing career and self-actualization of the woman born Cherilyn Sarkisian. And along with focusing on how Cher's distinctive contralto voice, raven-haired beauty and stylistic daring catapulted her to stardom, it also emphasizes her search for a true Prince Charming – an effort that repeatedly turned into a dysfunctional fairy tale, and that was no doubt a quest set in motion by the fact that both her father and step-father walked out on her and her mother.
The most winning aspect of the show is how three different actresses with powerful voices so deftly capture Cher at various stages of her life, often overlapping in a way that allows them to play off each other.
Micaela Diamond is the naive, insecure but ambitious Babe who is a teenager when she falls under the spell of Sonny Bono (Jarrod Spector in an aptly cartoonish version of the short man with the quirky voice who was an enduring force in Cher's life). Teal Wicks is the sleek workaholic Lady who falls for the heavily addicted rock star, Gregg Allman (Matthew Hydzik), with whom Cher had a short-lived marriage. And Stephanie J. Block plays the mature Star who gets to perform the big knockout numbers, and who tries to recapture youthful romance with Rob Camilletti, the baker and wannabe actor from Queens who is 18 years her junior. (Michael Campayno gives a spot-on performance as Camilletti, and his scenes with Block are among the strongest in the show.)
The hackneyed framing device for the musical finds the mature, notably willful Cher preparing to star in a television memoir – the production of which she is wholly in control. She quickly decides to scrub a big opening production number of her megahit, "Believe," in favor of a powerful childhood memory of seeing a performance of "Cinderella" at Hollywood's Grauman's Theater. And so the "autobiography" begins.
The highs and lows of her major romantic entanglements are front and center, beginning with her marriage to Bono, the other half of the "Sonny & Cher" odd couple pairing that soared to success with recordings in the 1960s, and then found new favor with a television show in the early 1970s. But their financially unequal teaming eventually leads to a late-blooming feminist revolt (with obvious appeal in this #MeToo era), as Cher finally takes control of her career and her money with a little musical moral support from another gifted businesswoman, Lucille Ball (conjured rather broadly by Emily Skinner, who also plays Cher's mother, Georgia Holt).
Aside from the three Chers, the other star of the musical (as he has been throughout Cher's career) is this show's costume designer, Bob Mackie, who dressed the tall, exotic performer in the late 20th century equivalent of Follies splendor. (Mackie also is a character in the show, played by Michael Berresse.)
Racks of outfits are wheeled into view at various moments, with the actresses donning an endless array of form-fitting, often skin-revealing, lavishly beaded gowns and elaborately feathered headdresses. In fact, the scene that won the greatest applause on opening night was a grand, campy, runway-like parade of over-the-top costumes modeled by the leggy ensemble. (The costumes could easily become the subject of an exhibit at New York's Metropolitan Museum of Art's Costume Institute.)
The scenes that explore Cher's transformation into an actress – including a brief, dyslexia-troubled Broadway turn in "Come Back to the Five and Dime, Jimmy Dean, Jimmy Dean," and such memorable films as "Silkwood" and "Moonstruck" – feel stiff and pasted on. 
Of course the Cher story is innately retro in terms of the many pop culture periods it evokes. But the musical's overall style of storytelling fails to give it much of a fresh life. Ultimately, it is the enduring affection of Cher's many fans that supply the necessary sense of immediacy and emotional engagement.
"The Cher Show" runs through July 15 at the Oriental Theatre, 24 W. Randolph St. For tickets ($35-$115) call (800) 775-2000 or visit www.BroadwayInChicago.com. Running time is 2 hours and 40 minutes.
---
In Suzan-Lori Parks' Epic Civil War Ballad, the Unbearable Weight and Complexity of Freedom
'Mies Julie' a Shattering Reworking of a Strindberg Classic
Two Very Different Musicals to Carry You to The Brink of Summer
Scalia and His Clerk Joust Their Way Through Constitutional Arguments in 'The Originalist'
---