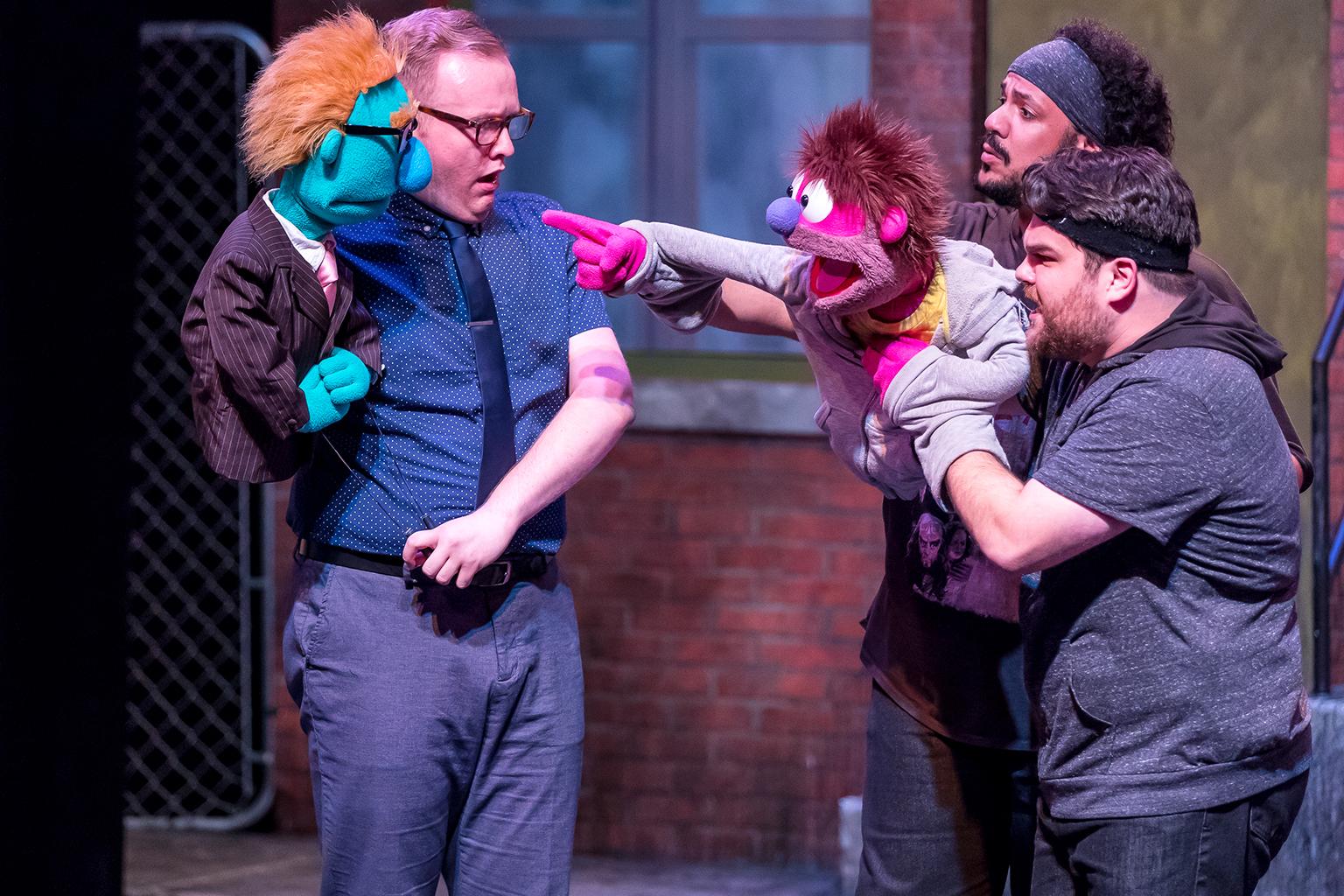 Christian Siebert, Jonah D. Winston and Dan Smeriglio in "Avenue Q" at Mercury Theater. (Credit: Brett A. Beiner)
The marquee on Mercury Theater Chicago goes straight for the playful titillation factor that lurks within every edition of "Avenue Q." It reads simply: "Warning: Puppet Nudity."
The sign is the perfect introduction to the irresistible musical satire with its book by Jeff Whitty and ingenious score by Jeff Marx and Robert Lopez that first arrived on Broadway in 2003, received a hugely successful production at the Mercury in 2014, and has now been remounted there with all its exuberant, irreverent, truthiness and heartache intact. After all, what better way could there be to introduce a show whose song list features such titles as "The Internet is for Porn," "Everyone's a Little Bit Racist" and "You Can Be as Loud as the Hell You Want (When You're Makin' Love)."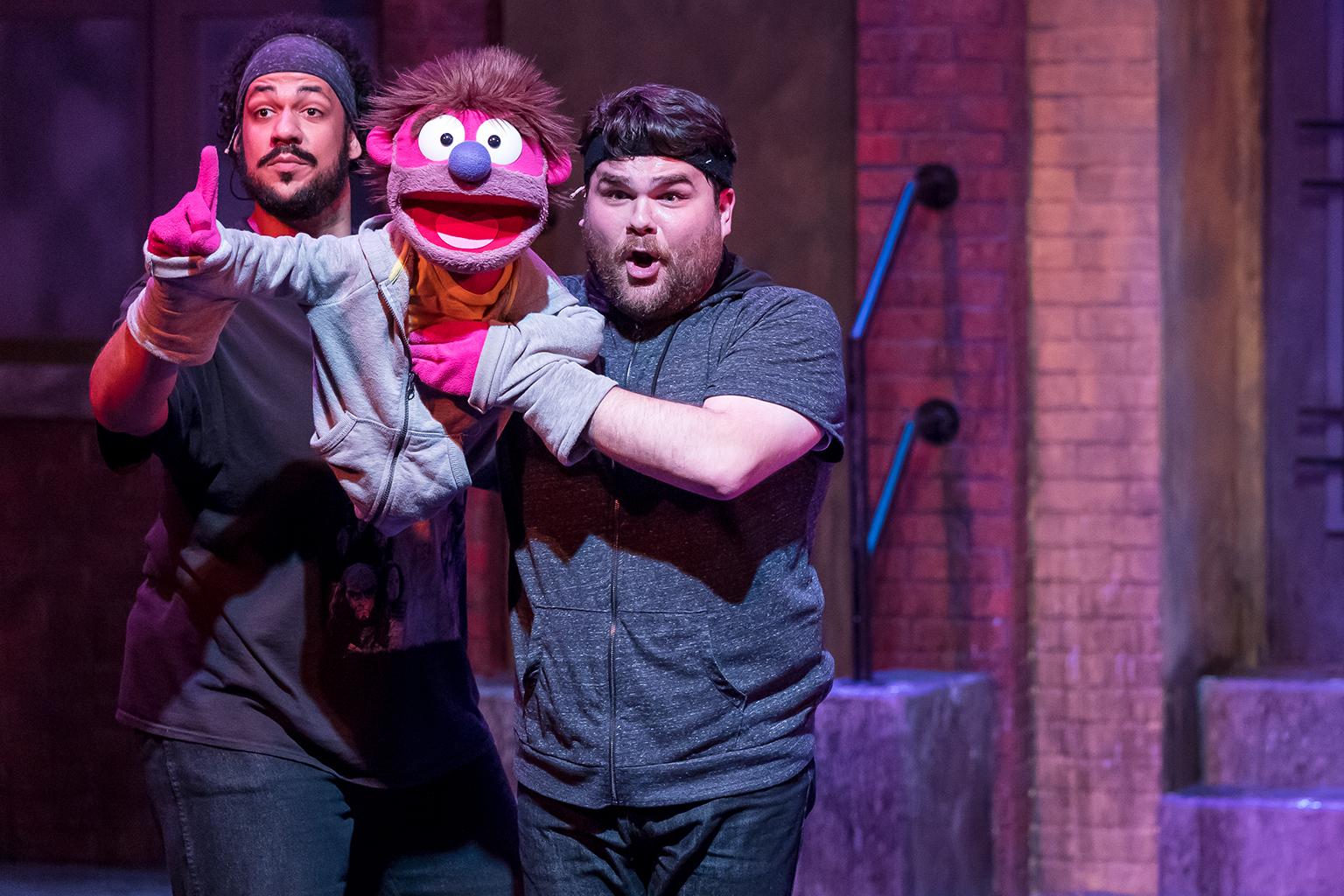 Jonah D. Winston and Dan Smeriglio in "Avenue Q" at Mercury Theater. (Credit: Brett A. Beiner)
For those who have yet to experience "Avenue Q," all this might just sound like an adolescent exercise. But as it happens, the show is not only clever and refreshingly frank about many subjects, but it is wholly charming in its hiply bittersweet way. It also requires a gifted group of actors who can act, sing, dance, walk the fine line between comedy and despair, and, to top it all off, manipulate alter-ego puppets with the ease of a Muppets veteran. And be advised: The Mercury cast – under the fleet and funny direction of L. Walter Stearns, and with impeccable musical direction by Eugene Dizon, high-energy choreography by Kevin Bellie and expert puppetry coaching by Rick Lyon – is terrific.
Although "Avenue Q" was created during the flowering of the millennial generation – and before the 2008 recession or the arrival of the age of Trump – it remains remarkably timely, with just a single brief tweak appended to the script. That's because the angst and confusion of the post-college years – when many are faced with the question posed in another song title ("What Do You Do With a B.A. in English?"), combined with the necessity of finding a job and an apartment, paying bills, starting a relationship and above all, figuring out one's "purpose " in life – is an evergreen subject.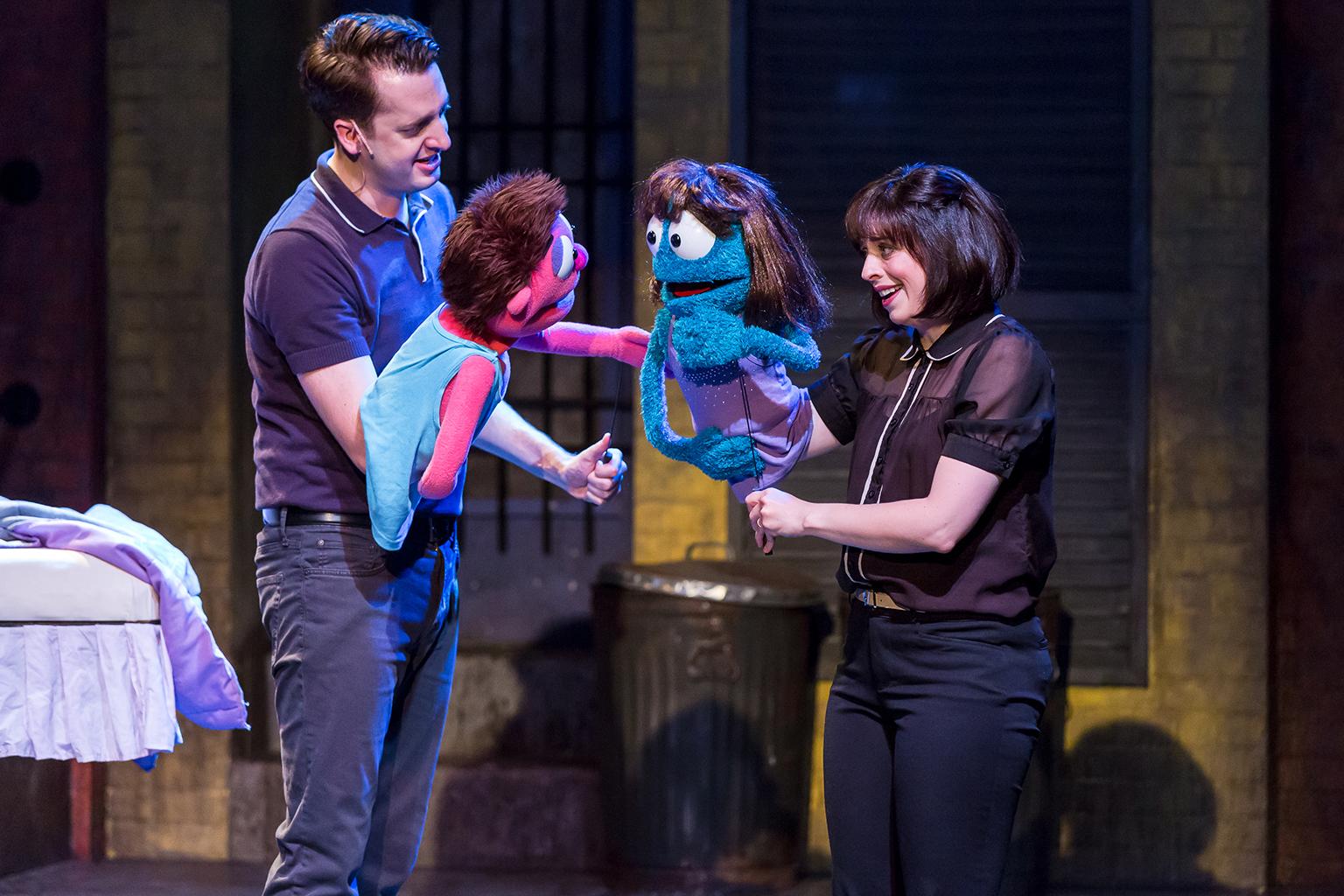 Jackson Evans and Leah Morrow in "Avenue Q" at Mercury Theater. (Credit: Brett A. Beiner)
It is that quest for "purpose" that suddenly begins to dawn on the preppy, slightly nerdy college grad, Princeton (played by Jackson Evans, who perfectly captures his character's cluelessness and panic) after he rents an apartment in a run-down New York neighborhood near the subway stop of the show's title. And in one way or another that quest also animates his wildly eccentric neighbors.
Chief among those neighbors is Kate Monster (the easily endearing Leah Morrow), the pretty, warm-hearted kindergarten teaching assistant who for some reason finds it difficult to land a date, and is instantly drawn to the rather shy but sweet Princeton. Also in residence in the shabby buildings is Gary Coleman (played with great zest and acrobatic moves by David S. Robbins), the hugely successful former child actor who ended up bankrupt, and who is seen here working as a janitor – the sort of dramatic fall from celebrity that, in a song titled "Schadenfreude," he explains generates a certain perverse pleasure in others.
Also among the residents are Brian (Matthew Miles), a failed stand-up comedian and his Asian-American fiancé, Christmas Eve (Audrey Billings), a decidedly offbeat psychiatrist who has trouble finding clients; Rod (Christian Siebert), a closeted gay investment banker and his straight and hapless roommate, Nicky (Dan Smeriglio); and Trekkie Monster (Jonah D. Winston, whose gravelly voice and demeanor are just right for the lonely, porn-watching pervert with a heart of gold).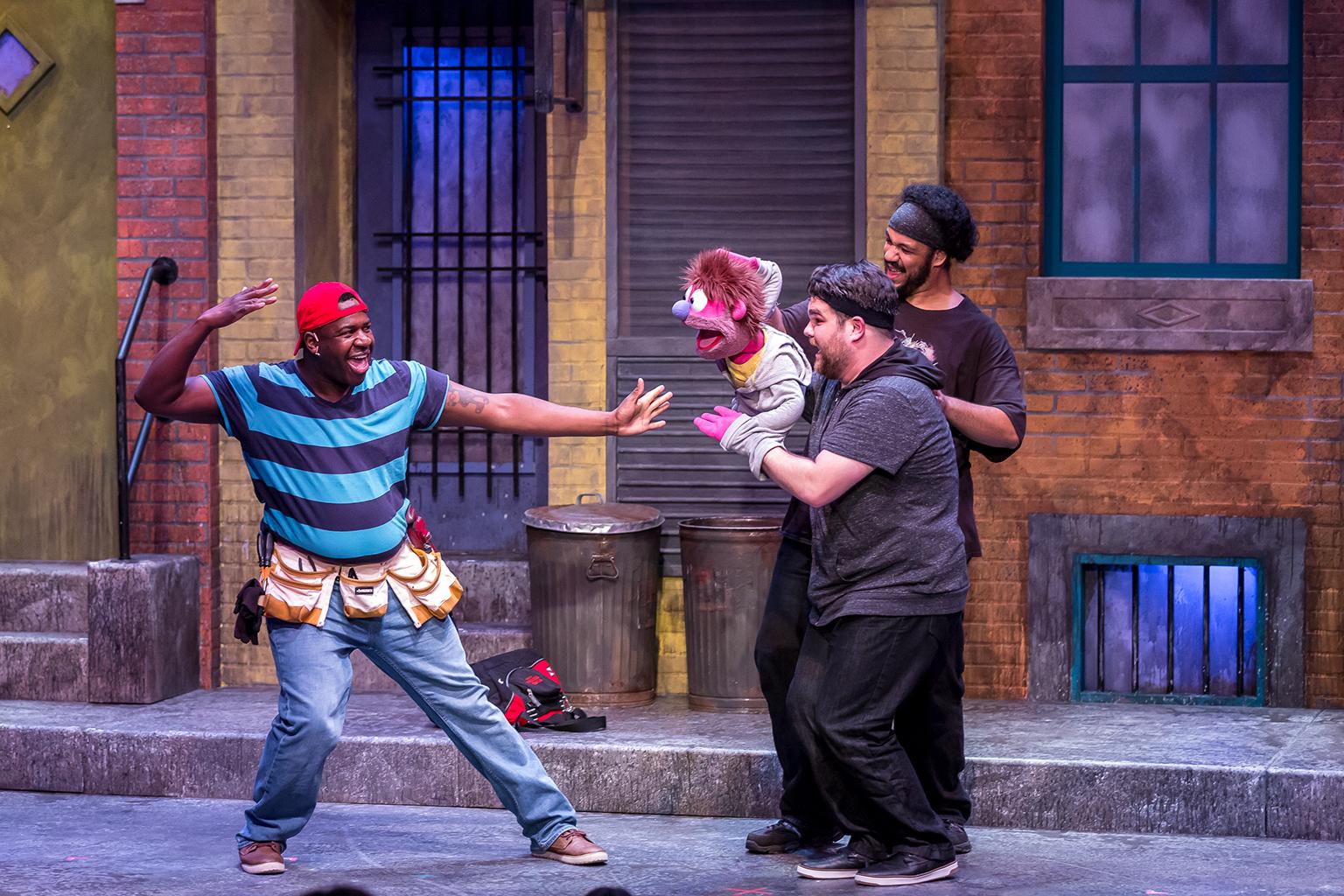 David S. Robbins, Dan Smeriglio and Jonah D. Winston in "Avenue Q" at Mercury Theater. (Credit: Brett A. Beiner)
Last but not least there are the distracting temptations of life who come in the form of Lucy (Stephanie Herman as the salacious blonde bombshell who, as it turns out, doesn't have half as much fun as Kate), and the alcohol-swilling Bad Idea Bears (Herman and Smeriglio).
Alan Donahue's set (a timeworn brick row house facade), Dustin L. Derry's lighting, Carl Wahlstrom's sound and Rachel Boylan's costumes are all first-rate. And special applause goes to the personality-filled puppets designed by Russ Walko.
The surprising thing about "Avenue Q" is just how wise, witty, open-minded and openly devoid of by-the-book political correctness it manages to be. And the Mercury production's mix of warmth and naughtiness easily seals the deal as it makes an instantaneous connection with its audience.
"Avenue Q" runs through Sept. 9 at the Mercury Theater Chicago, 3745 N. Southport Ave. For tickets ($35-$65) call (773) 325-1700 or visit http://mercurytheaterchicago.com. Running time is two hours and 15 minutes with one intermission.
---
Clunky 'Cher Show' Better Suited for Vegas Than Broadway
In Suzan-Lori Parks' Epic Civil War Ballad, the Unbearable Weight and Complexity of Freedom
'Mies Julie' a Shattering Reworking of a Strindberg Classic
---