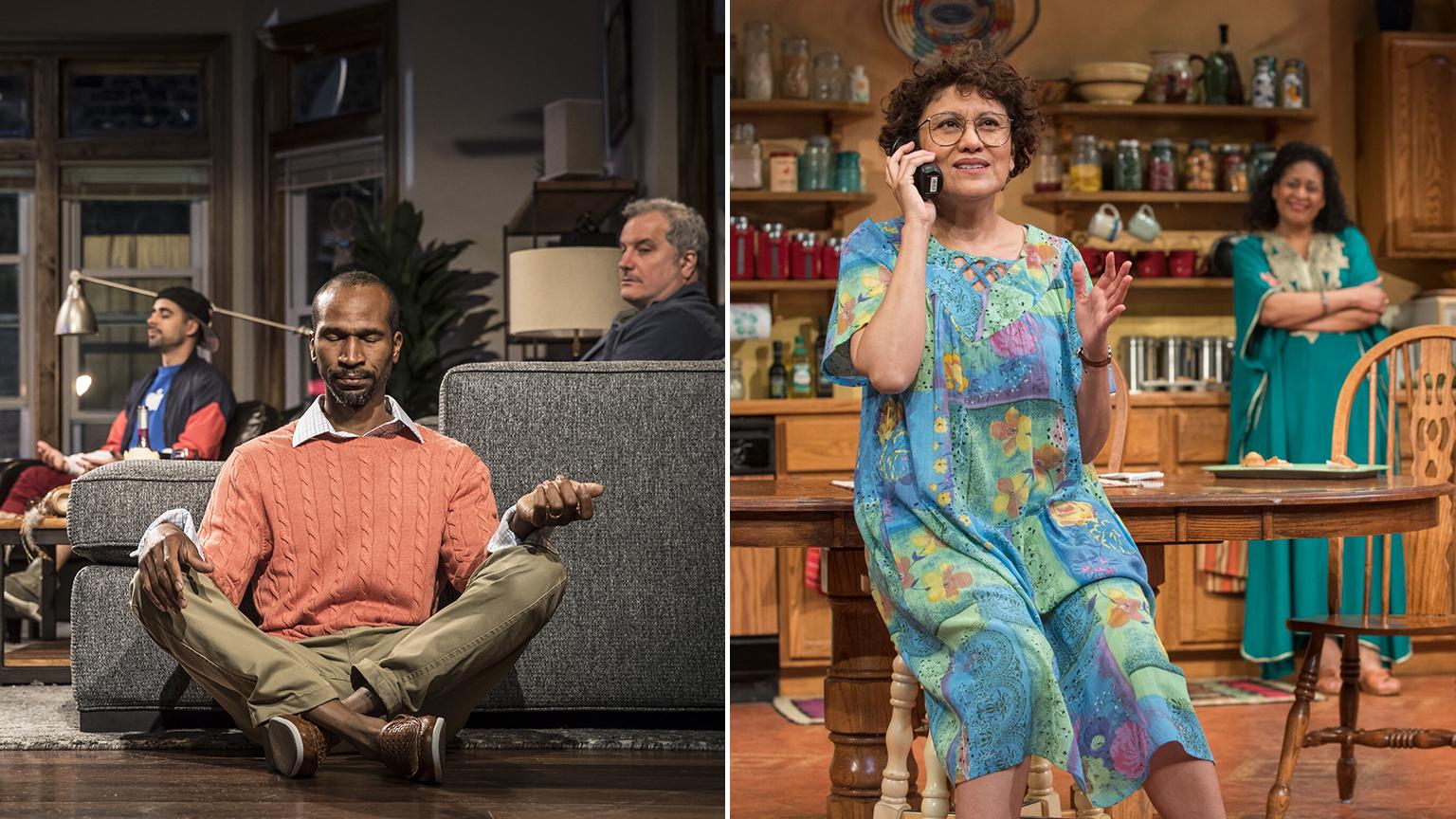 Scenes from "Support Group for Men," left, and "The Roommate." (Photo credit: Liz Lauren, left, and Michael Brosilow)
Perhaps it is sheer happenstance. Or perhaps it is simply a matter of predictable responses to the temper of these times.
Either way, the two plays that have just arrived on major Chicago stages – Ellen Fairey's world premiere, "Support Group for Men" (at the Goodman Theatre), and Jen Silverman's "The Roommate" (at Steppenwolf) – in many ways turn out to be similar riffs on contemporary notions of gender, sex, aging and the confusion and fear that can accompany dramatic personal and social change. And not only do these plays turn out to form something of opposite sides of the same coin, but they also both rely on predictable clichés while simultaneously stretching believability to the breaking point.
The productions share another trait, too, which is that each serves as a prime example of how absolutely first-rate actors invariably bring total devotion to mediocre scripts.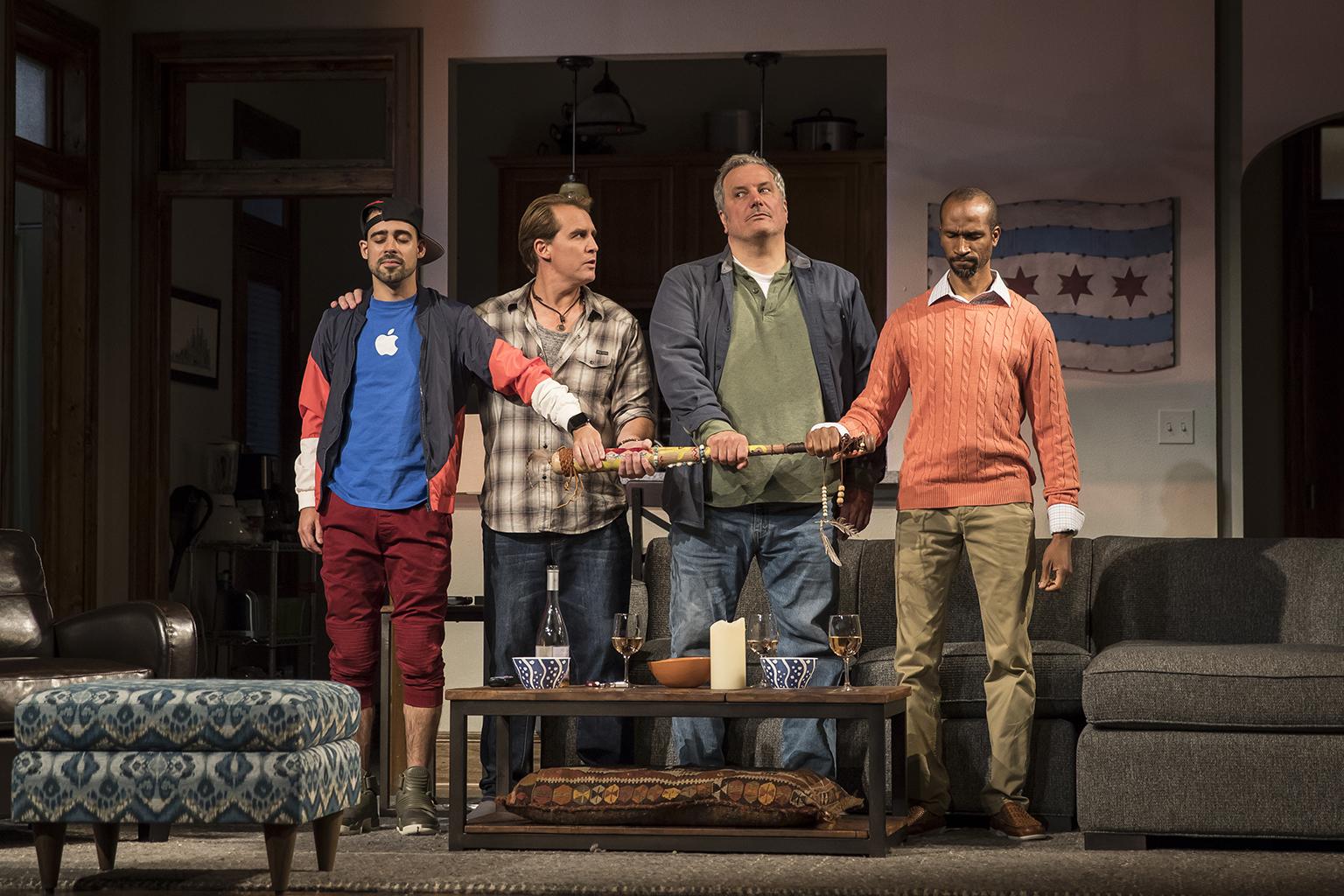 Tommy Rivera-Vega (Kevin), Ryan Kitley (Brian), Keith Kupferer (Roger) and Anthony Irons (Delano) in the world premiere of "Support Group for Men." (Photo credit: Liz Lauren)
Set in a nicely appointed apartment in a vintage building in the Wrigleyville-meets-Boystown neighborhood – a place where a hyperactive nightlife scene can be something of a blight – "Support Group for Men," under the high-energy, drolly comic direction of Kimberly Senior, is true to its title.
Gathering for one of their regularly scheduled, self-devised group therapy sessions are three longtime friends in middle age. Brian (Ryan Kitley), the host, works in an Apple store and has a girlfriend 20 years his junior. Roger (Keith Kupferer, ever the master of the blue collar everyman), is a never-married construction worker whose long career on high-rise buildings ended with a panic attack, and has left him with a job cleaning The Bean sculpture in Millennium Park. And Delano (Anthony Irons, both fleet and droll), is a preppy, married, African-American guy who grew up in Oak Park and has known Brian since high school. Also invited to the meeting is Kevin (Tommy Rivera-Vega in a sensational comic turn). A borderline millennial/Gen Z type from a Puerto Rican family, he works with Brian, has just been promoted to Apple's Genius Bar, and earns extra money teaching salsa dancing.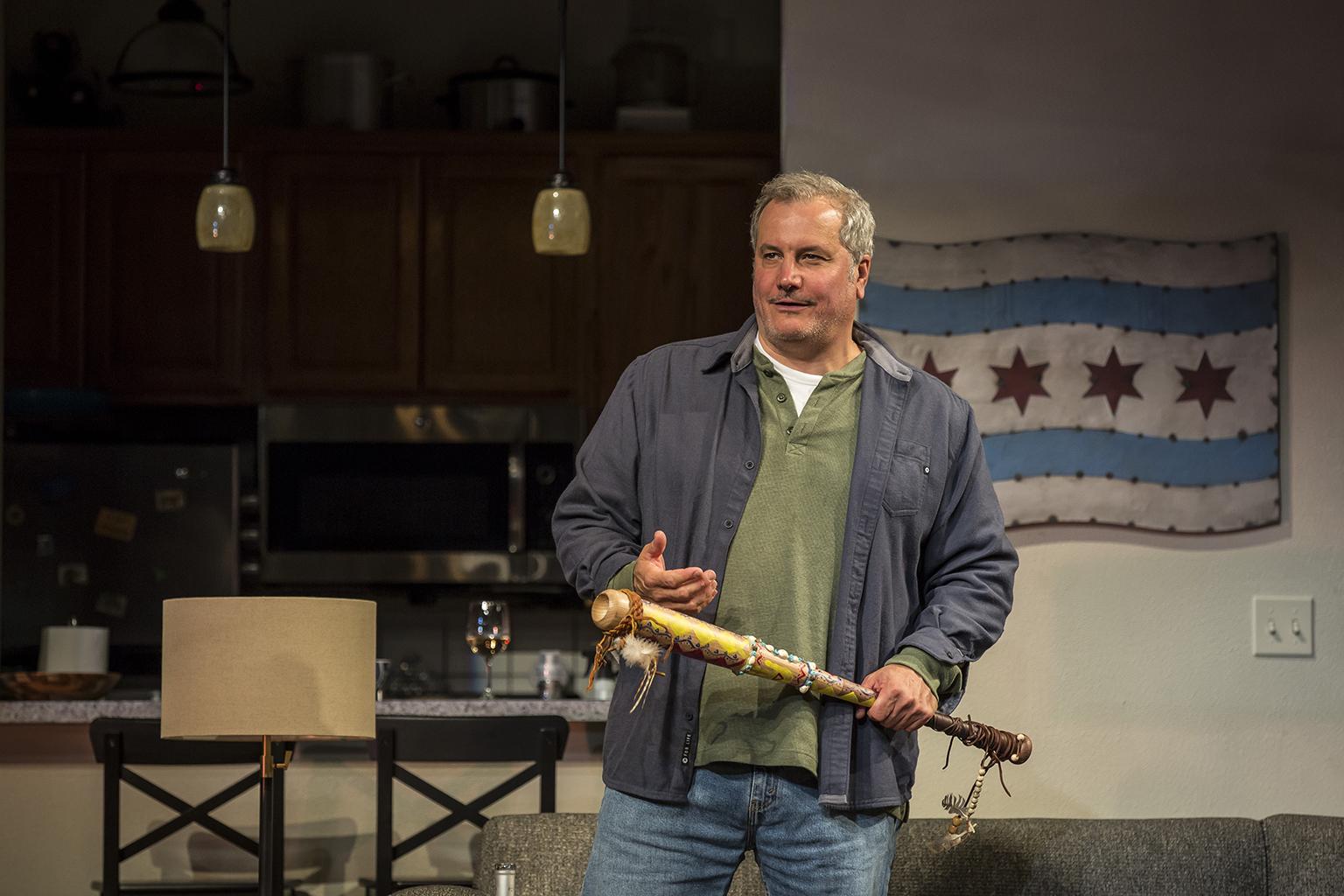 Keith Kupferer in "Support Group for Men." (Photo credit: Liz Lauren)
The meeting gets underway as the men grab hold of a ritual baseball bat (decorated in "tribal" style by Kevin), and intone an oath that assures them they are in a "safe" space where they can air their anxieties about work, relationships and the whole notion of masculinity at a time when everything seems to be in flux.
The most overtly troubled of the group is Roger, whose macho, tough-guy veneer is an obvious cover for his loneliness, vulnerability and self-doubt, and for his inability to make sense of the gender-fluid attitudes of Kevin and his peers. All this is only exacerbated by the unexpected arrival of Alex (an intriguing turn by Jeff Kurysz) – a man who has indulged his transgender impulses by masquerading in a dress and red wig, and who is brutally beaten in the alley outside Brian's apartment by frat boys angry at the deception. The incident also brings a pair of Chicago cops to the apartment. (They are played by Eric Slater and Sadieh Rifai, who have their own masculine/feminine issues.)
Along the way, a ceremony fueled by a hallucinogenic vapor erupts in chaos. The men reveal more than they ever expected to reveal of themselves. And everyone is changed and somewhat "woke."
I didn't believe a minute of it. And while Fairey's heart is in the right place, "Support Group" feels more like a TV sitcom pilot than anything else.
Ora Jones, left, and Sandra Marquez in Steppenwolf's Chicago premiere of "The Roommate." (Photo credit: Michael Brosilow)
In Silverman's "The Roommate" it is two women who share the spotlight as they engage in something of an unexpected role reversal. Once again I didn't buy into a single moment of the play, but any opportunity to watch the cat-and-mouse work of its two formidable actresses – Sandra Marquez and Ora Jones, who have been directed by none other than Phylicia Rashad – has its pleasures.
The premise is tissue-paper thin. Sharon (Marquez), is a bored and lonely fiftysomething divorcee living in a big house in Iowa City that is decorated in grandmotherly style. Her son, a fashion designer, lives in New York, and is probably gay, although he hasn't come out of the closet, at least to his mother.
By the time the play opens, Sharon is already welcoming Robyn (Jones), the woman she has apparently found online to rent a room in her house. The whole experience is new to her, and it seems she knows nothing about this stranger aside from the fact that she has decided to move to the Midwest from the Bronx, a place Sharon knows only from the news as "dangerous."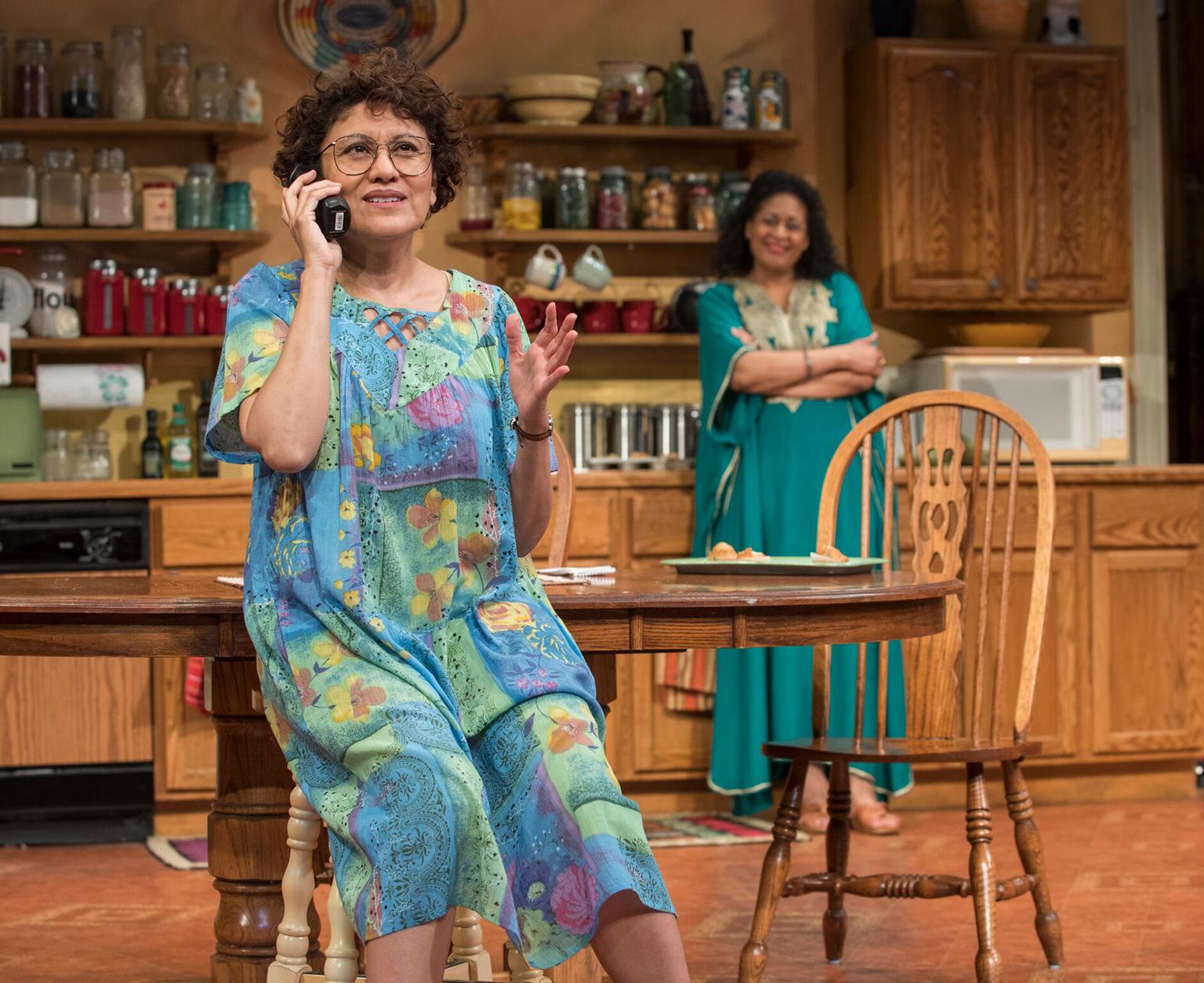 Sandra Marquez, left, and Ora Jones in "The Roommate." (Photo credit: Michael Brosilow)
So, the overworked trope of the naive Midwesterner encountering the worldly New Yorker is set in place. And while Robyn, who describes herself as a slam poet and sculptor, explains she needed to leave New York to clear her head, Sharon soon learns there is far more to the story. As it turns out, neither woman is quite who or what they seem (or perhaps want) to be. And Sharon's long-suppressed hunger to be reawakened to life, combined with Robyn's desire to flee from her very disreputable past, result in a series of tragicomic interactions and belief-stretching transformations.
Martinez and Jones are wonderful to watch, and they manage to make the most of the play's comedy and surprises, but they can't camouflage the fact that "The Roommate" is a wholly artificial construct. These actresses deserve far better material.
"Support Group for Men" runs through July 29 at the Goodman Theatre, 170 N. Dearborn St. For tickets ($25-$80) call (312) or visit www.GoodmanTheatre.org. Running time is 95 minutes with no intermission.
"The Roommate" runs through Aug. 5 at Steppenwolf Theatre, 2650 N. Halsted St. For tickets ($20-$93) call (312) 335-1650 or visit www.steppenwolf.org. Running time is one hour and 40 minutes with no intermission.
---
Mercury Theater's 'Avenue Q' Revival Taps Into Irresistibly Funny Truthiness of Life's Disappointments
Clunky 'Cher Show' Better Suited for Vegas Than Broadway
In Suzan-Lori Parks' Epic Civil War Ballad, the Unbearable Weight and Complexity of Freedom
'Mies Julie' a Shattering Reworking of a Strindberg Classic
---