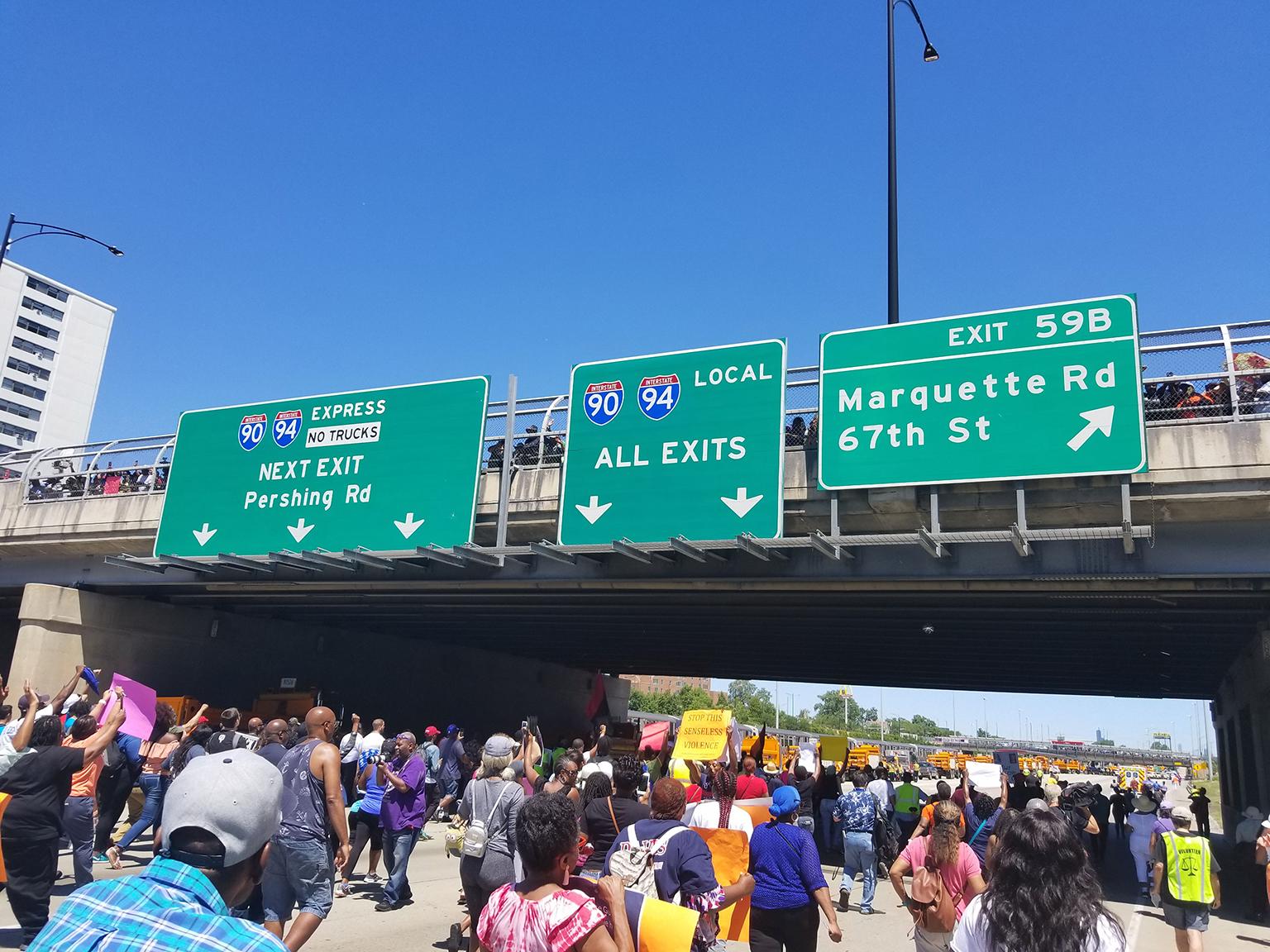 Protesters move into the home stretch Saturday under a 71st Street overpass filled with hundreds more onlookers. (Matt Masterson / Chicago Tonight)
A controversial plan for an anti-violence march along a portion of the Dan Ryan Expressway got a green light Saturday from the Illinois State Police.
What started as a state police plan for "limited access" to the busy thruway turned into a complete shutdown of the expressway's northbound lanes to make room for protesters, who began exiting the expressway as the march wrapped up about 12:15 p.m.
.@MichaelPfleger and @Chicago_Police Supt. Eddie Johnson walking off the 67th St. exit arm-in-arm pic.twitter.com/Pr3bqjkAAA

— Matt Masterson (@ByMattMasterson) July 7, 2018
---
The march will make a "statement to the nation that it's time to reinvest in urban America," the Rev. Jesse Jackson said as hundreds of protesters readied to move toward the expressway just after 10 a.m. Saturday. Protesters gathered earlier at the 79th Street Red Line CTA station for a 1.5-mile march led by the Rev. Michael Pfleger of St. Sabina Catholic Church. 
Some carried signs depicting friends and family who've fallen victim to gun violence. Others wrote messages like "respect" and "enough" in chalk on the expressway pavement and chanted "Shut it down" and "No justice, no peace."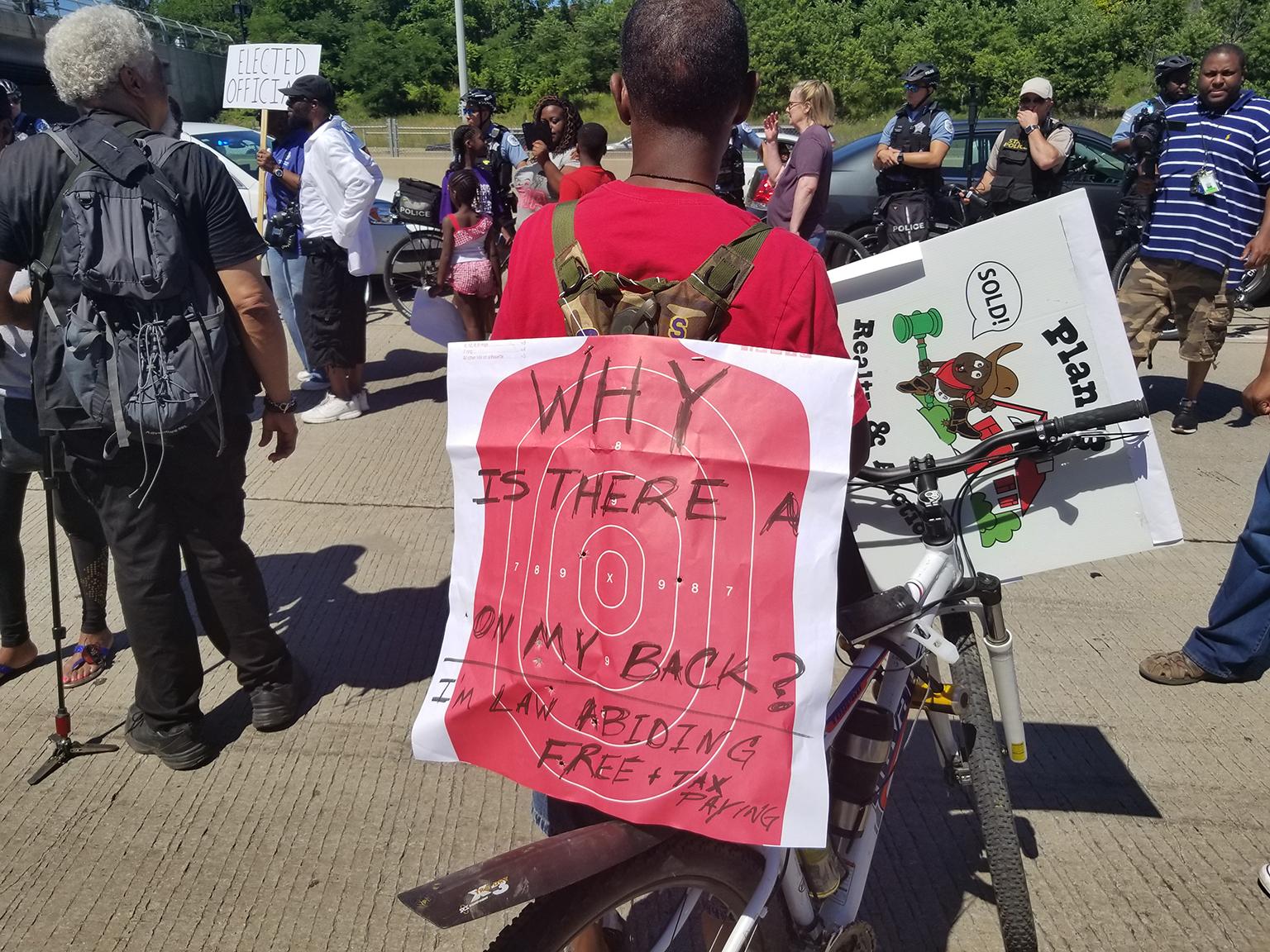 A protester with a "target" on his back stands on the Dan Ryan Expressway. (Matt Masterson / Chicago Tonight)
Both Chicago and state police officials spent last week encouraging Pfleger to hold the march elsewhere, but the activist priest refused to back down. Earlier this week, ISP Director Leo Schmitz called the plan "reckless" and said protesters making their way onto the Dan Ryan could face arrest.
Mayor Rahm Emanuel went in another direction, saying Friday he wanted to "align" himself with the march, telling media he believed it should be allowed to go on as planned.
Gov. Bruce Rauner chimed in Saturday morning, warning motorists on the Dan Ryan to be careful during the peaceful protest. "We want their voices to be heard," he tweeted, "and not more senseless loss of life." Once the protest took over all lanes of the expressway, the governor changed his tune, saying there had been an "agreement in place" and calling the protest "chaos." Emanuel quickly shot back with a tweet of his own, calling it a "peaceful protest" and telling Rauner to "delete your account."
It was a peaceful protest. Delete your account. https://t.co/QoKyIHmuQj

— Mayor Rahm Emanuel (@ChicagosMayor) July 7, 2018
---
Prior to the rally, Rauner issued a statement pointing to an agreement he said had been reached that would allow protesters to use the grass and expressway shoulder for their march. Pfleger said that was never the case.
"I don't know what they're doing," he told Chicago Tonight before the march. "I know the governor put out a statement this morning that we are walking on the side of the road. That's a lie."
After making their way onto two northbound lanes of the Dan Ryan, the march stalled for the better part of an hour as protesters negotiated with law enforcement to shut down the full expressway.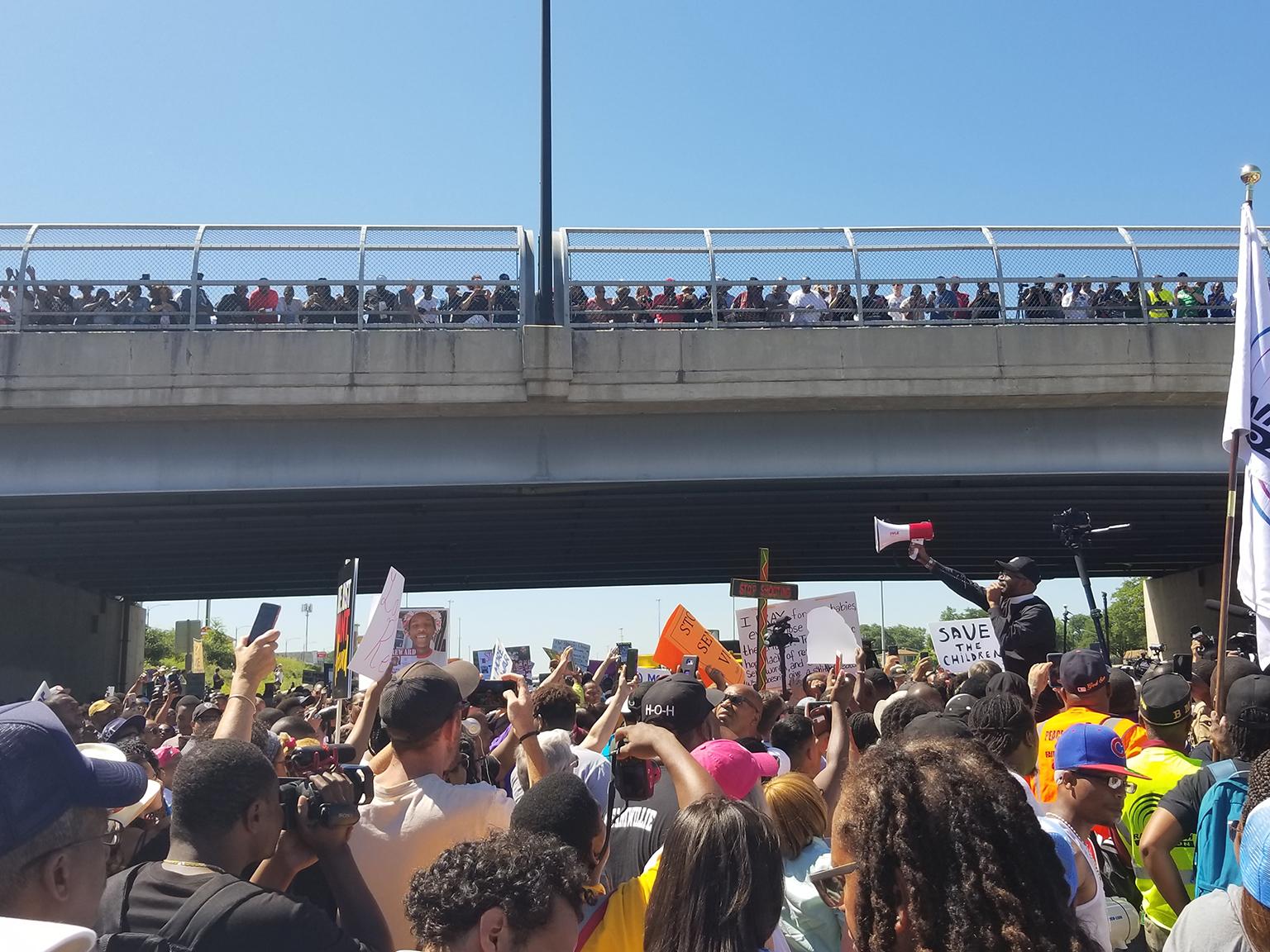 Protesters pause at the 76th Street overpass on the Dan Ryan Expressway on July 7, 2018. (Matt Masterson / Chicago Tonight)
Around 11:30 a.m., state police agreed to close all northbound lanes and the march continued without incident. CPD Superintendent Eddie Johnson called those negotiations "challenging," and said it was a joint decision between his department and state police to allow the march to take over every inbound lane.
"At the end of the day, the march moved peacefully," said Johnson, who marched arm-in-arm with Pfleger and other protesters. "They got the message out."
Activists used the protest to draw attention to ongoing violence within Chicago. They carried signs demanding an end to violence, higher-quality education, more jobs and common-sense gun reforms.
Mandy Tovar, a teacher at KIPP Academy on the West Side, said she was marching because she fears for the safety of her students over the summer months.
"When you look at Lake Forest or Lakeview or any other neighborhood, they don't have that same kind of anxiety or fear," she said.
"This is something that's going to make noise, it's going to be big and I want to be a part of that."
March moving into the home stretch under a 71st St. overpass filled with hundreds more onlookers #DanRyanShutdown pic.twitter.com/jQF2jSJD2I

— Matt Masterson (@ByMattMasterson) July 7, 2018
---
Heather Poppe, a suburban resident, decided to march after witnessing a fatal shooting in broad daylight earlier this year.
"I lived in the city for 10 years, I saw shootings all the time," she said. "I've never witnessed anything like I just saw in my life. It replays in my head over and over. All these kids dying, it didn't used to happen."
She heard about Pfleger's activism and wanted to get involved, saying there needs to be better economic development and job creation in the city to stem the tide of violence.
"I hope Rahm and these rest of these people are listening," she said. "They need jobs. The unemployment level on the South and West Sides, it's unfathomable."
Northbound lanes on the Dan Ryan were open as of 12:45 p.m.
---
More scenes from the Dan Ryan protest: pic.twitter.com/u2p9bOFafV

— Matt Masterson (@ByMattMasterson) July 7, 2018
Already a few hundred protesters on scene here before St. Sabina busses arrive #DanRyanShutdown pic.twitter.com/Cyjh7p2tAb

— Matt Masterson (@ByMattMasterson) July 7, 2018
Scores of @Chicago_Police bike cops making their way into the Dan Ryan pic.twitter.com/0FiuFu1NF6

— Matt Masterson (@ByMattMasterson) July 7, 2018
Right two northbound lanes now completely cordoned off. @ILStatePolice say they reached agreement with protesters to allow limited access on expressway #DanRyanShutdown pic.twitter.com/C3YM1WEVhf

— Matt Masterson (@ByMattMasterson) July 7, 2018
A handful of protesters already on hand an hour before march. @MichaelPfleger says he's expecting 9 busloads coming from St. Sabina plus more coming from elsewhere pic.twitter.com/bm9a3LLKHw

— Matt Masterson (@ByMattMasterson) July 7, 2018
.@MichaelPfleger already on scene here at 79th Street. He tells me he was surprised by @ChicagosMayor comments yesterday in support of march, but says "violence is real in this city" pic.twitter.com/OduspdKxNA

— Matt Masterson (@ByMattMasterson) July 7, 2018
At 79th/Dan Ryan @IDOT_Illinois workers have begun closing off right two northbound lanes pic.twitter.com/ps5x8fMxqH

— Matt Masterson (@ByMattMasterson) July 7, 2018
Contact Matt Masterson: @ByMattMasterson | [email protected] | (773) 509-5431
---
Related stories:
Mayor Emanuel: Anti-Violence Protesters Should be Allowed to March on Dan Ryan
Youth Activists Hope Dan Ryan March Will Focus Attention on Violence
'Reckless' Anti-Violence March on Dan Ryan Expressway Could Lead to Arrests: State Police
Gun-Rights Advocates Beat Back Effort to Regulate Illinois Gun Dealers
Parkland Shooting Survivor Wants Fresh Focus on 'Never Again' Movement
City's Top Cop on Crime and Policing in Chicago
---