House Speaker Michael Madigan's top aide, Tim Mapes, resigned from multiple roles Wednesday following allegations by a state employee accusing Mapes of making sexually inappropriate remarks.
"At my direction, Tim Mapes has resigned as my Chief of Staff and Clerk of the Illinois House of Representatives," Madigan said in a statement. "Further, Mr. Mapes has resigned as the Executive Director of the Democratic Party of Illinois and all other roles with my political committees."
Sherri Garrett, an account technician and minutes clerk for the speaker's office, said Mapes bullied and harassed her in the workplace on multiple occasions. She is the latest to come forward about abuse and harassment under Madigan's watch.
"I have decided to come forward because we have a serious and pervasive problem in our state government, and I could no longer remain silent about my own mistreatment," Garrett said Wednesday.
Garrett outlined multiple instances of Mapes' behavior that she characterized as harassment. She says that in 2014, Mapes said she needed "to make sure I was not showing my pink bra … because he knows how the girls on the second floor like to leave little to the imagination." Garrett added there was no context for this comment, and that she never dresses provocatively.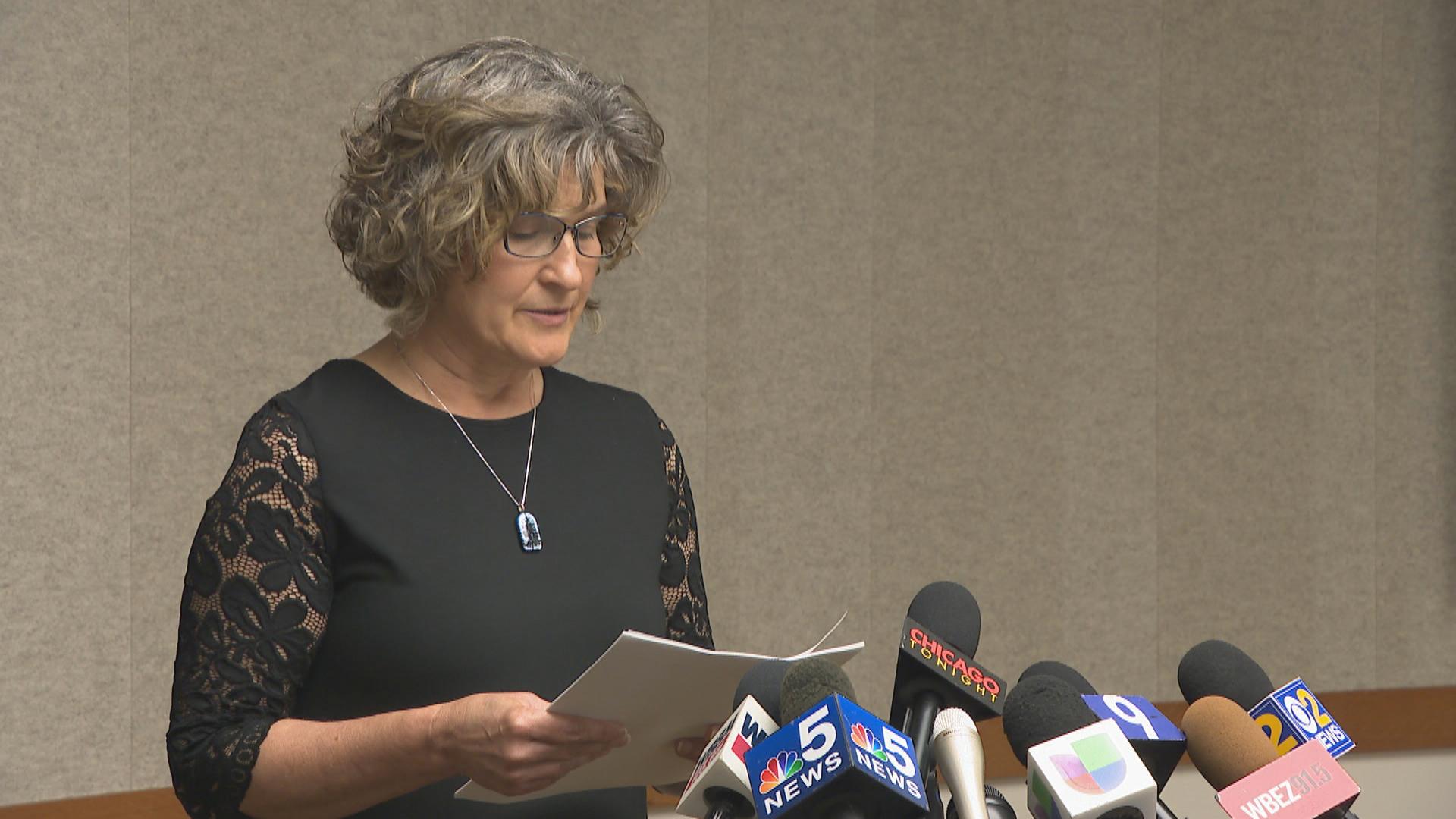 Sherri Garrett speaks at a press conference Wednesday, June 6, 2018. (Chicago Tonight)
Garrett says the most recent incident took place a few weeks ago, well after the current #MeToo firestorm engulfed Madigan's office and after he vowed to make sweeping changes. Garrett described an awkward conversation with Mapes in which she says he jokingly asked another person present whether Garrett was cheating on her husband.
She also says that during the State of the State address, Mapes wore blue when others were wearing black to show solidarity with the "Times Up" movement. 
"I'm wearing blue today because there's not a woman on the House floor that would want me to tell them what to wear," Mapes allegedly said, an act Garrett says she viewed as Mapes thumbing his nose at the movement.
Garrett says she is conflicted about coming forward because she is a loyal Democrat and views herself as loyal to Madigan. But she says she's disappointed in his response to sexual harassment allegations. Garrett said she had nowhere else to turn before making her complaints public because she doesn't believe an independent process exists that will handle sexual harassment complaints and protect accusers. She says that a memo that Madigan put out several months ago that outlined anonymous cases of harassment that the speaker was adjudicating had a "chilling" effect, as if warning potential victims not to come forward. 
Garrett expressed concern with the fact that Mapes is Madigan's gatekeeper. She says she never sought to share her allegations with Madigan directly because "you have to go through Mapes to get an appointment with the speaker." Mapes was Madigan's top lieutenant, serving as his chief of staff, clerk of the Illinois House and executive director of the Democratic Party of Illinois.
Mapes has worked on Madigan's state staff nearly his entire professional life, joining the speaker's research and issues staff two years after his 1975 graduation from Western Illinois University. He had been Madigan's chief of staff for more than a quarter century – since 1992 – and parlayed that position to centralize his own power, including assuming the title of Illinois House clerk in 2011.
In that position, he managed "the clerical duties for all Illinois House members and the administrative and support staff operations on a daily basis," according to his LinkedIn profile.
As clerk, Mapes was also a member of the state board overseeing the capitol architect. Mapes was a leading figure in the expensive, and controversial, renovation of the statehouse.
"Mapes has an inordinate amount of power in this state," Garrett said. "And the speaker's office, which he helms, is charged with leading the effort to reform the system to address concerns like mine. They should be held to the highest standard."
In a statement, Madigan said, "neither I or the House Democratic Ethics Officer had been made aware of Ms. Garrett's complaints against Tim Mapes. ... It is clear that the culture needs to change and we need to ensure all issues are dealt with quickly and appropriately."
Earlier this year, Alaina Hampton, a former Madigan political worker, came forward with allegations of sexual harassment against another campaign worker, and said that Madigan not only looked the other way but retaliated against her for stepping forward. Since then, a handful of other women have made similar allegations of misconduct in Madigan's political and government offices.
State Rep. Kelly Cassidy speaks Wednesday, June 6, 2018. (Chicago Tonight)
Two weeks ago, state Rep. Kelly Cassidy (D-Chicago) accused Madigan's office of retaliation against her for being critical of his handling of sexual harassment cases. Among other things, she says that Mapes called the Cook County Sheriff's Office and inquired whether she was working there. Cassidy, who has since quit her job in the sheriff's office, says Mapes was trying to intimidate her with that call.
Cassidy, who attended Wednesday's press conference, praised Garrett for coming forward and says there are more stories like Garrett's.
"This isn't surprising," Cassidy said. "We just want to go to work and not have to deal with this nonsense."
Madigan said he is committed to "eliminating harassment of any kind in the Capitol, as well as all political committees, and my desire to ensure we create a culture where individuals feel secure in making a complaint. I intend to appoint an individual with extensive experience conducting investigations to review all operations of the House of Representatives, including but not limited to the Clerk's Office where Ms. Garrett works."
Follow Paris Schutz on Twitter: @paschutz
---
Related stories:
Lou Lang Steps Down from Leadership Posts, Calls Accusations 'Absurd'
State Watchdog Asked to Investigate Sexual Harassment Claims in Madigan's Office
Former Staffer Sues Madigan, Democratic Party for Sexual Harassment
---