A day after being hailed by feminists for shepherding ratification of the Equal Rights Amendment through the Illinois House, longtime state Rep. Lou Lang suddenly stepped down from his leadership positions in the General Assembly, citing as a "distraction" allegations of abuse made Thursday by a medical marijuana activist.
Lang, a Democrat from Skokie who has been a state representative since 1987, is the latest of House Speaker Michael Madigan's inner circle besieged by fallout from the #MeToo movement.
He has called for an investigation by the state's legislative inspector general, a post currently held by former federal prosecutor Julie Porter.
"I was harassed, I was intimated, I was humiliated and blackballed," the activist, Maryann Loncar, of Plainfield, said at a press conference.
Lang denied the allegations, characterizing them as "false."
Loncar said the inappropriate behavior includes Lang asking, "Does your husband know how lucky he is to have a wife like you?" while putting his hand on her lower back. In another instance, she said Lang told her by phone, "I would have dinner with you if you weren't with your husband."
Such behavior began as long as 10 years ago, Loncar said, when she started lobbying for medical marijuana – a cause long advocated for by Lang, who was key to helping pass Illinois' medical marijuana law in 2013. But then it stopped because she says she didn't put up with it.
Loncar said she became "privy" to information she shouldn't have when she witnessed Lang being offered a $170 million bribe, and that's when Lang retaliated, with behavior such as telling her ex-husband: "I can help you bury her if you want."
She says she never contacted police or other authorities in part out of distrust and fear of further retaliation, but that she came forward Thursday despite fearing for her life, hoping that other women will speak out against Lang and others in power.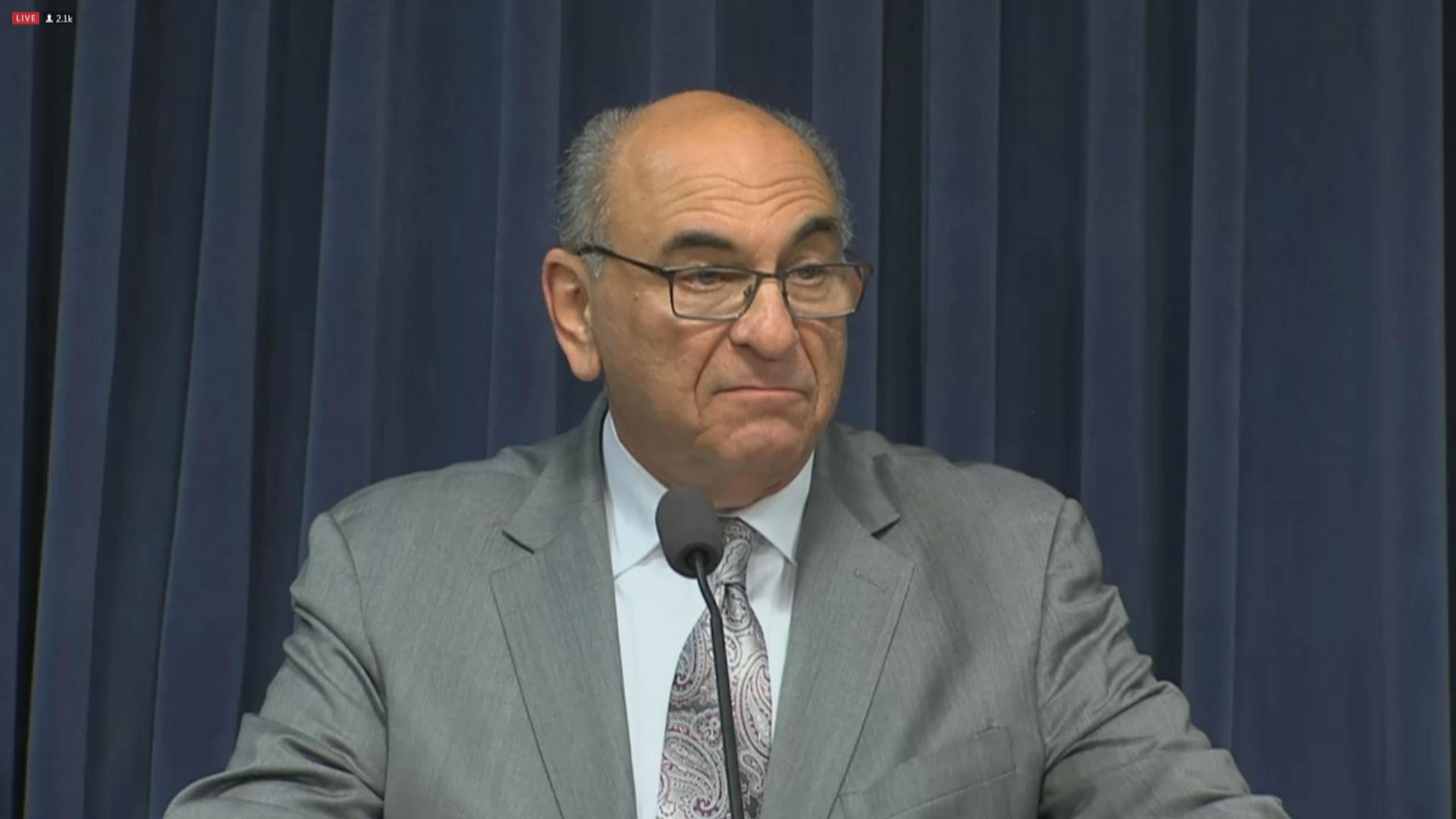 "This is a person that did not get what she wanted out of state government," state Rep. Lou Lang said Thursday, May 31, 2018, of the woman accusing him of harassment.
"From beginning to end the allegations are absurd," Lang said later at his own press conference, in which he hinted that Loncar was upset because her company, Patient's Health Center, did not get one of the state's sought-after licenses to run a medical marijuana dispensary.
"This is a person that did not get what she wanted out of state government. She apparently blames me for that. Some people lose in this process. Some people do not," Lang said. 
Lang also denied any suggestion of a bribe.
"If I have $170 million somewhere, help me find it," he said.
During his event, Lang was surrounded by a female lobbyist, a female state employee and a handful of Democratic legislators who stood up for his character.
That display of camaraderie stands to raise new questions from observers who say that such behavior is one of the reasons victims of harassment fear coming forward, and that it feeds into a perception that the General Assembly's internal ethics investigations process is rigged in lawmakers' favor.
Lang himself had been a key member of that process, as an appointee to the Legislative Ethics Commission.
It is one of the posts from which he resigned on Thursday; Lang also is stepping down from the Joint Committee of Administrative Rules.
Lang will, however, remain a state legislator and will continue his campaign for re-election. 
"This is nothing. The allegations are absurd. I'm running in November and as far Novembers in the future as I can imagine," Lang said.
Alaina Hampton, who has an Equal Employment Opportunity Commission complaint filed against House Speaker Michael Madigan's political organizations over his handling of her own sexual harassment allegations against one of Madigan's former operatives, Kevin Quinn, called it a "perfect example of why victims don't come forward."
"To see so many Democratic women standing with and singing the praises of a powerful man, just hours after he was accused of harassment, in an effort to undermine his accuser, was truly disheartening," Hampton said in a statement. "To the women who stood with Lang today – think about what message you sent to all of us who have been victimized by men in power in Springfield." 
Loncar's press conference was organized by Denise Rotheimer, a victim rights activist who distrusts Illinois' process for investigating lawmakers' potential unethical behavior after a watchdog found unwarranted Rotheimer's allegations of sexual harassment by Sen. Ira Silverstein, D-Chicago; special Inspector General Porter found Silverstein's interactions with Rotheimer inappropriate for his position.
Rotheimer was temporarily a Republican candidate for state representative, and was featured by conservative political consultant Dan Proft in a series of campaign ads for Republican candidates leading up to the March primary. 
Follow Amanda Vinicky on Twitter: @AmandaVinicky
---
Related stories:
State Watchdog Asked to Investigate Sexual Harassment Claims in Madigan's Office
Madigan Under Fire for Handling of Harassment Claims
Watchdog: Senator's Behavior 'Unbecoming' But Not Sexual Harassment
---