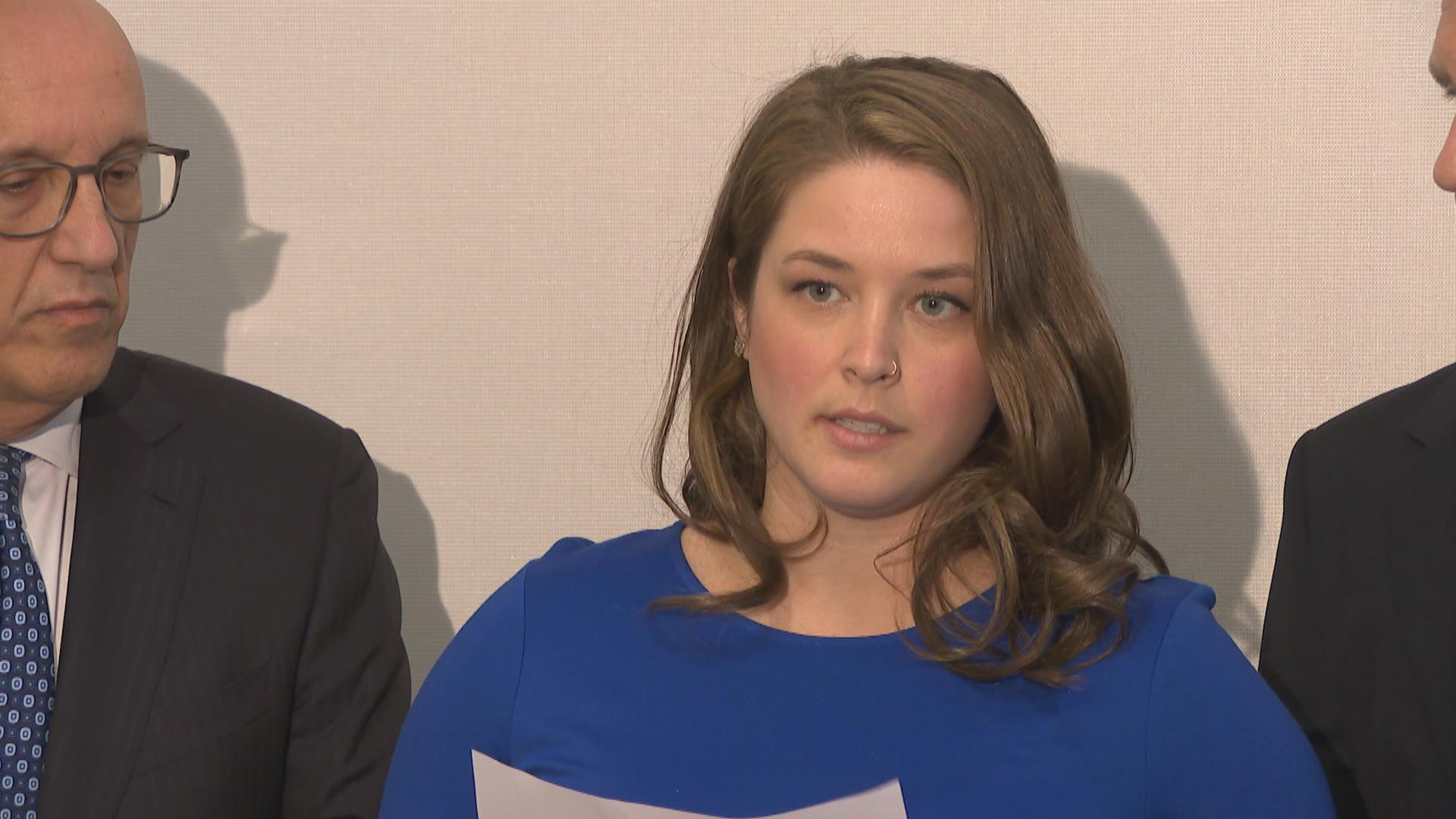 Alaina Hampton, who is accusing a former staffer in House Speaker Michael Madigan's political organization of sexual harassment, reads a statement on March 22, 2018.
The former campaign worker in House Speaker Michael Madigan's political organization who accused another former Madigan worker of sexual harassment, and the organization of retaliating against her, is asking the state's top legislative watchdog to investigate.
Alaina Hampton filed a formal complaint Monday with Illinois Legislative Inspector General Julie Porter, claiming that former Madigan lieutenant Kevin Quinn, who she is accusing of sexual harassment, was working for the state during the period that some of the alleged harassment was taking place. 
State records show that Quinn, who served mostly as a political campaign operative for Madigan, was on the state payroll from early November 2016 through the end of July 2017. Hampton says Quinn, who was her supervisor, sent her persistent text messages asking her out on dates and commenting on her body. She says she repeatedly rebuffed his overtures, asking that they keep their relationship strictly professional. The text messages were sent between August and December of 2016.
Hampton has filed a federal lawsuit against the Madigan-controlled Democratic Party of Illinois and the 13th Ward political organization, accusing them of retaliating against her for coming forward with sexual harassment complaints. She also says the party conducted a sham investigation into her complaints and only fired Quinn when they knew she was going to go public about her experience.
Hampton has also asked Chicago's Inspector General Joe Ferguson to investigate 13th Ward Ald. Marty Quinn's role in the affair. Hampton went to Ald. Quinn, a top political worker in Madigan's organization, about his brother Kevin Quinn's repeated text messages to her and says nothing was done. She eventually left the organization to work on the campaign of Marie Newman, a progressive candidate for Congress who took on U.S. Rep. Dan Lipinski, a Madigan ally, in the 2018 primary election.
The latest action comes as some efforts spearheaded by Madigan to root out sexual harassment within the Democratic Party have stalled. A Madigan-appointed sexual harassment task force committee is facing new questions, more than two months after Madigan announced its formation. A spokesperson for state Comptroller Susana Mendoza, one of the four members on the task force, says she and other members are still determining how the group will be structured and whether or not an executive director will be brought in. They say the aim is to be independent of Madigan and the Democratic Party. On April 18, U.S. Rep. Cheri Bustos, who was one of the original members of the task force, decided to step down because it was determined the task force couldn't raise money as an independent legal entity with a federal officeholder on board.
"I am disappointed that I cannot help lead this important effort to eliminate sexual harassment and advance women in the Democratic Party of Illinois," Bustos said. "While I wish I didn't have to step away before taking this panel to the next level, this decision will allow Comptroller Mendoza and state Rep. (Carol) Ammons to establish an independent, legal entity that can do the work that needs to be done. It is going to take all of us doing our part to stamp out sexual harassment, not just in political campaigns, but in all workplaces — and I'm proud to continue my efforts in Congress."
To further complicate efforts, Democratic committeemen and women approved the appointment of Cook County Recorder of Deeds Karen Yarbrough, a close Madigan ally, to join the panel. The move raised the eyebrows of many observers, including Hampton, whose complaint in February against Quinn set all of the succeeding events in motion.
"I think her appointment raises serious questions as to the independence of the task force from the party and the speaker," Hampton said. "Yarbrough is very close to Madigan and to Ald. Marty Quinn."
Despite the inaction, Madigan voiced support for the #MeToo movement and said he would consult with the sexual harassment panel to come up with solutions.
"It's good it's become such a public issue, it's good for the country and Illinois, good for women, good for men, it'll make a better country. Very positive affirmative steps are being taken to change the culture," Madigan said right after his near-unanimous re-election to lead the state Democratic Party.
The scope and focus of the panel have yet to take shape as well. Hampton met with panel members in Springfield, and says they told her that they were explicitly not an investigative body.
"The mission of the Anti-Harassment, Equality, and Access Panel is to engage our primary stakeholder, women in Democratic politics, to identify and help eliminate obstacles, including sexual harassment, and to elevate women into positions of leadership in the Illinois Democratic Party by providing recommendations to promote a culture of equity, safety, and respect," said panel spokesperson Christie Lacey.
Madigan also appointed an independent counsel, Kelly Smith-Haley, to investigate claims of sexual harassment within the party. A report on Hampton's case is expected in May, but Hampton, through her attorneys, declined Smith-Haley's request for an interview.
"We are moving forward with our review of the previous investigation to see if it was done in accordance with their policy," Smith-Haley said.
Separately, state Rep. Kelly Cassidy (D-Chicago) called for the creation of an independent apparatus that could investigate sexual harassment within the party. Cassidy says she has received four bids from law firms interested in taking the job, and has sent the information to the House Democratic Women's Caucus. She says the caucus has yet to determine the structure and funding of the independent investigative body.
Hampton says she fears that all of the efforts to root out sexual harassment in the wake of her coming forward were an attempt to do political damage control, rather than get to the root of the problem.
"These bodies exist, but they're not taking any real action," she said. "it's almost like they're just put into place to look like something is happening."
She says the inaction could have a chilling effect on anyone else who has experienced sexual harassment while working for the party and is mulling whether or not to come forward about it.
"There are other victims that are watching this case, and they're watching to see how its handled, and if it's handled inappropriately, nobody else is going to come forward," she said.
Follow Paris Schutz on Twitter: @paschutz
---
Related stories:
Former Staffer Sues Madigan, Democratic Party for Sexual Harassment
Woman Accusing Madigan Aide of Sexual Harassment Speaks Out
Madigan Fires High-Ranking Aide Amid Sexual Harassment Claims
New Watchdog to Investigate Ethics Complaints in Springfield
---